Insights & Stories
Working with Pride: Transgender Professionals Tell Their Stories
Reading time: 10 Minutes
June 19th, 2019
Imagine having to live your life hiding who you really are, for the legitimate fear that, if you expressed your true self to family, friends or coworkers, you could risk discrimination, harassment, losing your job or even violence.
For many transgender, gender-nonconforming, and non-binary individuals throughout Hawaii and across the nation, many of these struggles are a difficult, day-to-day reality in the workplace. According to the Williams Institute, an estimated 1.4 million adults in the United States identify as transgender. Perhaps you know someone who is transgender in your office, within your circle of friends, or in your family. Perhaps you identify as transgender yourself or are considering transitioning.
When Bank of Hawaii employees Ptani Pagaduan and Makana Leong first considered how their respective transitions might affect their lives and careers, they were initially apprehensive. Although each of their journeys were unique, they shared similar challenges on the path to presenting their truest selves to their loved ones and the world. Today, they are able to live and work openly and freely as women. Bank of Hawaii is proud to be an ally of Ptani, Makana and all our LGBTQ+ colleagues, supporting an inclusive and welcoming workplace for all. We asked them to share their stories with us, to better understand the experience of transitioning, and of living transgender.
Meet Ptani Pagaduan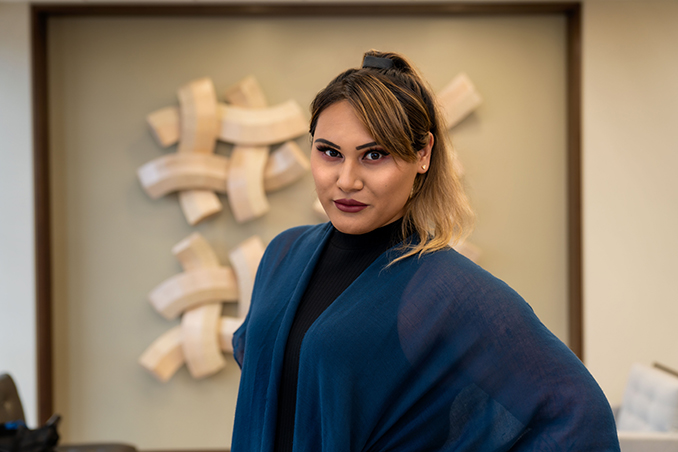 I've always known that I wanted to be a girl. I remember turning five and my family asking me what I wanted for my birthday. I said I wanted to be a girl! Instead, I got scolded. My family loved me, but it was clear that they didn't accept this part of me. For the rest of my childhood and teenage years, I tried to push my feelings aside and hide them, to better fit in, but they were always there. And my feminine side came out in my natural behavior anyway: I always felt more comfortable with my girl friends and considered myself one of the girls.
I remember so clearly the night when I reached a turning point with my self identity. It was a Halloween event in my early 20s, and I dressed up as Strawberry Shortcake. That night, my dress was hideous; I wore a cheap wig with pigtails that was falling off by the end of the event. I didn't look put together at all that night, but I had never felt more myself. Just that brief experience of walking around in the world as a woman—even in a silly costume—made me realize how strongly I felt inside about this, and how much of myself I had been suppressing.
It took a conversation with a sympathetic coworker to encourage me to take the next step. I told him I was curious about trying hormones. He was enthusiastic and said I should go for it, and recommended I go to Kaiser Permanente for the hormone therapy. His enthusiasm confused me at first. Did he want to transition himself? Or did he know someone who had? He then revealed to me that he had been born female and transitioned to male. I can't tell you enough how simply being able to talk to someone who was willing to listen to my feelings changed my life. If it wasn't for him, I wouldn't have known that Kaiser Permanente offered those services. Sometimes you just need that one little push to get you going.
Feeling a little apprehensive, but motivated, I made an appointment to see my doctor, who then referred me to a specialist. The process goes like this: a specialist will consult with you to make sure this is something you truly want, then do some bloodwork, you have to see a psychologist and, after everything is cleared, you can start taking hormones.
When you undergo hormone replacement therapy, every day you have to take pills (called Spironolactone, T-blockers, or testosterone blockers) and, every week or two, you have to inject yourself with estrogen. People may not realize that it's not like you just wake up one day and all these changes happen. It's a slow and gradual process.
After I got the all-clear to begin my transition, I realized I would have to actually come out as a woman to everyone in my life, including my family and all my coworkers.
Telling my family wasn't too hard. They might have scolded me back when I was a kid, but as I grew up, I lived more of a half-boy, half-girl lifestyle.
After I transitioned, it was a little easier for the women to understand. The men in my family, though, are older and a little set in their ways. They'll acknowledge that I look like a girl and that maybe I look pretty but they won't use pronouns; they'll still call me a boy. My grandfather will say I'm handsome and I'm like, papa!
When it came to telling my workplace about my transition, I wasn't sure what to expect. Most people don't really share too much of their private lives while they're at work, but I didn't have much of a choice. Once I transitioned, the very personal issue of my gender would become plainly obvious to everyone around me.
One of the first people I talked to about my pending transition was my manager, and, to my relief, she was very understanding. That gave me the encouragement I needed and, from that point on, I was very open with my coworkers. I was lucky to have such a supportive team at Bank of Hawaii.
Transitioning didn't affect my work duties too much—I worked in loan operations at the time. However, my coworkers were used to referring to me with male pronouns, so it took a while for them to switch over to female pronouns. Even today, if someone ever uses the wrong pronoun, I simply correct them: It's "she" or "her," you know? I understand this isn't something that just happens overnight.
For me, probably the most uncomfortable element of being at the office while transitioning was going to the restroom. Before my transition, when I was still presenting as a man but dressing as a woman, I used the men's bathroom. Sometimes I'd be in the bathroom, washing my hands, when a guy would walk in and see me. He would immediately walk out to check if he was in the right bathroom. Imagine that happening to you almost every time you need to use the restroom. It got to the point where I was so uncomfortable that I would hide in the stall until everyone left, then quickly wash my hands and run out.
I finally shared my problem with my manager, and she ruled that, effective immediately, I could go ahead and use the women's bathroom. I was so overwhelmed with joy, I cried. At first, the other women kind of gossiped about it. But now, it's just a normal thing.
And then there's the paperwork you have to handle when you transition. For your state photo ID, it's easy to change your gender. All you do is get a note from your doctor and take it to a satellite city hall, and they'll update your ID with the correct gender.
The process was harder at Bank of Hawaii: To change my gender in my employee file, I needed to provide two forms of identification, both an ID and something like a social security card or birth certificate. That took me longer to do—about a year—which isn't ideal at all.
That's because the organization wasn't setup to handle something like transgender transition—I'm not even sure it's ever happened before me. But through the creation of our LGBTQ+ diversity and inclusion group, which allows the company to hear our voices and concerns, the process for people who would like to transition in the future will be easier and faster. And I'm so thankful for that.
If you're curious to learn more, or struggling with gender identity, feel free to ask questions. It takes a very secure person to go through what we go through, but you should definitely talk with someone who's been there. You need that rapport; it's the most helpful thing instead of going through it alone. If this is who you truly are, you'll be glad you did it. I believe we all deserve to live as our authentic selves.
Meet Makana Leong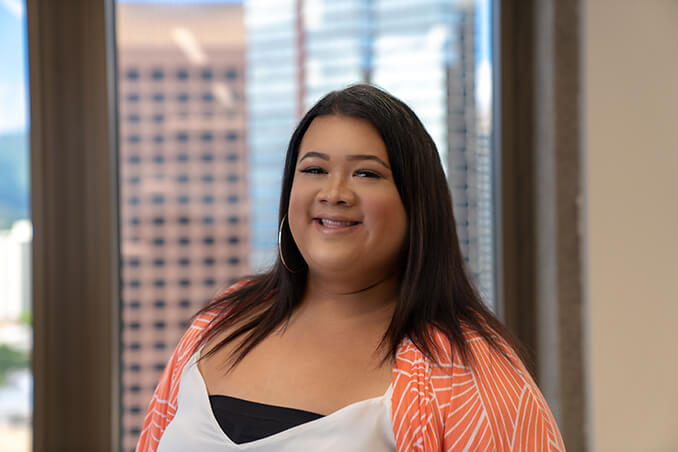 I started working at Bank of Hawaii when I was 18, right out of high school. At that point, I was living as a boy and not open at all about how I felt about my gender. I had been raised in a traditional, religious upbringing and, in my family, the idea of being LGBTQ was so frowned upon. I didn't have anyone in my life who I could confide in. It was even a struggle to be able to tell myself that I truly identified as a woman.
When I started working in Bank of Hawaii's loan department, however, I met Ptani and for the first time I felt I had found someone who understood what I was feeling, someone I could freely talk with about these kinds of things. She was already so far along in her own transition, and seeing her positive example really helped me to come to terms with the fact that I was meant to be a woman, and that I had to make this change in my life. It took a couple of years, but when I was ready, I was ready.
When I began transitioning, there were a few people I worked with who had a hard time accepting my transition. One person in particular, who had been close to me, who I looked up to, gave me a hard time. Personal things were said and it was really tough for me, emotionally. Fortunately, most of my other coworkers were much more accepting. And, most importantly, my manager, who is a member of the LGBTQ community, strongly supported me and also looked out for me within the department, making sure everybody addressed me with the correct pronouns. I also had friends who stood with me and supported me, including Ptani and others who worked at the bank. Having that network of friends and allies at work who had my back made all the difference.
My experience at Bank of Hawaii was a huge contrast to what I went through at my second job at a restaurant. My coworkers at that job didn't accept who I was, or this change I was going through. Harsh, derogatory things were said behind my back, even by management. The owner himself was very against it. He asked, what will customers think?
It was sometimes difficult, but I like to think that, at the end of the day, I took it all in stride. I learned a long time ago that, in this world, you can't expect everyone to be accepting. So I just try my best to look for the positive everywhere I can find it. My customers who knew me and had nothing but positive feedback; they said I looked great and that it was always so good to see me.
I'm no longer working at that restaurant, as you might have predicted, but I'm still with Bank of Hawaii. I transferred from the loan department and now am at the in-store branch at Times in Mililani, helping customers as a relationship banker. I haven't had my first hormone treatment yet, but I've started the process of seeing my doctor and getting referred to a specialist, and taking the necessary steps to prepare for the first hormone treatment. Also, for a while now I have changed how I present myself by wearing women's clothes and I know deep down that this is who Makana is supposed to be. Honestly, I feel like some of my customers don't really know that I'm transgender.
I'm so happy that I'm transitioning. Nobody else can make you happy but yourself, and for a long time, I put my happiness to the side because I knew it was going to hurt people who weren't accepting. But at the end of the day, you come home to yourself, not to those people.
If you know people who are going through this change, be sensitive around them. Because they have a lot of emotions they're going through. Just be understanding and don't necessarily give advice, but be that open person who is listening. Sometimes people just need somebody to talk to. And if you are someone thinking about transitioning or in the process, don't ever feel as though you need to hide who you are or be afraid to be your true, authentic self. I'm always here if you ever need someone to talk with and confide in.
Bank of Hawaii Stands with the LGTBQ Community
Bank of Hawaii is proud to support all of our employees, no matter their orientation or gender identity. Our Diversity and Inclusion Program is just one of the ways to express that Bank of Hawaii is here to serve and support the whole community. We will continue to pursue diversity and inclusion within our workplace and promote the same for the community we serve and love. As a longstanding member of the community, Bank of Hawaii does not tolerate discrimination against anyone. We encourage people to be their authentic selves. Because we know that when people are true to themselves, we all win.

The mention of any individuals or businesses is not an indication of affiliation or endorsement by Bank of Hawaii. The individuals and owners of any other trademarks, logos, brands or other designations of origin shown, named or mentioned herein did not sponsor, endorse or preview this article.
You're about to exit BOH.com
Links to other sites are provided as a service to you by Bank of Hawaii. These other sites are neither owned nor maintained by Bank of Hawaii. Bank of Hawaii shall not be responsible for the content and/or accuracy of any information contained in these other sites or for the personal or credit card information you provide to these sites.