How do I change my address, phone number, or email address?
Requests to change your address, phone, or email address can be made via online banking, in person at a branch, by mail, or by phone. To learn more about updating your contact information, click here.
How much does a cashier's check or money order cost?
For Bankohana II and III account holders, cashier's checks are free of charge. For all others, cashier's checks are $12. We do not offer personal money orders at this time.
How do I transfer money between my Bank of Hawaii accounts?
Easily move money from one account to another.
Click the transfer tab in your online account or the "+" button in the mobile app and select the "Transfer" frequency.
Enter requested information and Click "Continue" if you agree.
Review and confirm your transfer request
The transfer amount will be processed in minutes
How can I get a safe deposit box?
Contact your local branch for information on safe deposit boxes.
How can I find a notary service?
How do I set up direct deposit?
For information on how to set up direct deposit and other options, visit our direct deposit page.
I need to make a wire transfer but I am out of state. What can I do?
Wire transfer requests received by fax or email can only be accepted if we have an executed Wire Transfer Authorization form on file. If a Wire Transfer Authorization form was not completed and approved prior to you leaving the state, please contact your branch to see if there is another available solution.
How can someone wire funds from a non-BOH account to my (or someone else's) account at BOH?
The sender of the wire will need the following information:
Our ABA/Routing Number: 121301028
The name of the account owner; and
The full 10-digit Bank of Hawaii account number, including any leading zeroes, of the account to receive funds.
Please be sure that the sender has the correct information to avoid possible rejection of the wire transfer or the funds being applied to an incorrect account.
How can I reactivate my inactive account?
If you have had no activity on your checking account for 12 months, or on your savings account for 24 months, your account is considered inactive. You may reactivate an inactive account by doing one of the following:
Make a Mobile Deposit through the Bank of Hawaii Mobile App
Make a POS purchase with an active debit card connected to your checking account
Make a deposit, withdrawal, transfer, or balance inquiry1 with the active Bankoh BankCard or debit card tied to your account at any Bank of Hawaii ATM
Make a transfer through Bankoh By Phone
Make a deposit, withdrawal, or wire transfer to or from this account at any Bank of Hawaii Branch
Sign the Inactive Account Notice mailed to you and drop it off at any Bank of Hawaii branch that is convenient for you or mail it to us at Bank of Hawaii, DMC #118, P.O. Box 2900 Honolulu, HI 96846. Please be sure to make a copy for your records.2
We will charge your account a monthly inactive fee starting the month after you receive an inactive notice if your account has not been reactivated. For additional details, you may reference your fee schedule and account agreement found on the Agreements and Disclosures page.
1 Balance inquiry option is not available for Guam, Saipan and Palau accounts.
2 These options are not available for Saipan accounts due to applicable local law.
What is a one-time payment?
With our one-time payment option, you can make a single payment to your Bank of Hawaii personal and business loans, lines and leases as well as mortgages and home equity lines of credit. You don't need to enroll in online or mobile banking, or create a log in or password. You simply enter your account information, the amount you want to pay and the payment date. You can pay from any checking or savings account at any bank in the US. If you want to make another payment, simply repeat the process. Make a payment here.
What is Bill PaySM?
Bill PaySM makes paying your bills easy and convenient. All you need to do is add your payees (individuals or businesses); then you can make a payment from your computer or your mobile device anytime, anywhere!
How do I add a payee for Bill Pay?
You can add payees or change your payee information at any time by signing on to your online banking account.
How do I set up a payment in Bill Pay?
Add payees or change your payee information at any time by signing on to your online banking account.
How do I set up autopay for bill payments?
You can set up autopay by selecting the payee in your online banking account and clicking "Options".
How do I view, edit, or cancel bill payments?
You can view, edit or cancel bill payments through online banking or the Bank of Hawaii mobile app. Learn more and download the mobile app, here. It's available now for iPhone®, iPad® and AndroidTM devices.
How do I cancel or edit autopay set up through Bill Pay?
How do I schedule an expedited payment through Bill Pay?
We do not currently offer expedited bill payments.
How do I organize my payees into groups or categories?
When you add a payee, select a category for the payee.
How do I delete/remove a payee from bill pay?
Can I make a payment without using Bill Pay?
If you prefer not to use Bill Pay, you can still make payments online. Our one-time payment option makes it convenient to pay from any checking or savings account at any bank in the US without creating a log in or password. Make a payment here.
How do I check the status of my home equity line application?
Applicants can use our App Tracker to check the status of their home equity line of credit application. View App Tracker.
How do I log in to my home equity line account?
You can log into your home equity line account through online banking. If you still need to enroll in online banking, you can sign up here. You can also manage your accounts by visiting your local branch or calling us at 808-643-3888 (Hawaii), 1-877-553-2424 (Guam and Saipan), or 1-888-643-3888 (U.S. Mainland and Canada).
How do I set up autopay, internal transfers, or a one-time payment?
How do I sign up for online banking?
What is mobile deposit and how does it work?
How do I sign up for account alerts?
How do I sign up for paperless statements?
Checking, Savings and CD Accounts
What's the difference between the account balance and available balance?
Your account balance is made up of all posted credit and debit transactions. It's the amount you have in the account before any pending charges are added.
Your available balance is the amount you can use for purchases or withdrawals. It's made up of the account balance minus pending debit card authorizations and holds on funds. Items not reflected in your available balance include, but aren't limited to:
Pay-at-the pump transactions or restaurant tips that aren't included in the original authorization.
Checks written that haven't been cashed. Authorized automatic withdrawals, like your monthly gym membership or car payment.
Future payments scheduled through bill pay. Authorizations that no longer appear as pending due to merchant delay.
Funds held from deposits.
How do I open a new account (checking, savings or CD) with Bank of Hawaii?
You can open an account online in minutes – just visit our Checking, Savings and CDs page to get started and choose the account that's right for you. For a step-by-step guide, watch one of the demos below:
If you'd prefer to open an account by visiting a branch, we recommend you book an appointment in advance to ensure you're able to get the dedicated time you need.
How do I change my name on my account?
Contact your local branch for information on changing the name on your checking and savings accounts.
How do I find my account and routing number?
Bank of Hawaii routing numbers:
Domestic Wires
All Bank of Hawaii Branches 121301028
International Wires (SWIFT Code)
All Bank of Hawaii Branches BOHIUS77
Electronic Debits / ACH
State of Hawaii Branches 121301028
Guam & Saipan Branches 121405018
The sample graphic below shows where the Bank of Hawaii routing number can also be found on your checks.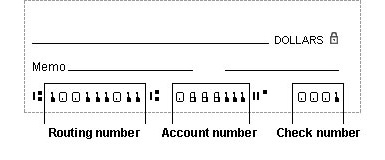 What are the different ways I can fund a new checking or savings account?
Fastest: With an existing BOH account (BOH internal transfer)
With another financial institution (instant, with online log-in)
With another financial institution (3-5 days with account details)
When funding my new account with another financial institution (instant, with online log-in), what happens to my online banking credential information that I provide?
If you use another financial institution (with online log-in) to fund your new account, your information is secured and protected through BOH's partner MX (privacy policy). Any data you share with MX will be governed by their privacy policy. Credentials are used on a tokenized basis and are not seen by BOH. The tokenized credentials and bank information, such as bank routing number and account number, will only be stored by MX until the application is submitted or is deleted at the end of the day, whichever is sooner.
When will my funds become available?
Another financial institution: Once the account opens and BOH receives funds it will be available on the fifth business day.
Internal Transfer: Funds will be available once new account is open.
How do I change my ATM or debit card PIN?
How do I activate my debit card?
How do I lock or unlock my debit card?
How do I report my debit card as lost or stolen?
How do I add, edit, or delete a travel notification on my debit card?
*Bank of Hawaii Time Deposit Account
Connect with a specialist
Book an appointment
Choose from in-person or phone appointments at a time and location that's convenient for you.
Send a message
Send us your question and one of our specialists will reach out.
Credit Cards
Servicemember Civil Relief Act (SCRA)
The Servicemembers Civil Relief Act (SCRA) was enacted in 2003 to support members of the military and their families with the financial challenges of military finances during active duty. Bank of Hawaii can help you understand your rights as they relate to key provisions of this law. But it's important to understand that you're not automatically covered for all of the protections. After you are called to active duty, you must formally request that certain SCRA provisions apply to you. Contact your local branch for details.
Bank of Hawaii Policies and Information
What is Zelle® and how do I use it?
Bank of Hawaii has partnered with Zelle to make banking more convenient for you. Now, there's a quick and easy way to send money to and receive money from friends and family members who have a bank account in the U.S. Learn more about Zelle here.
How can I check my credit score for free?
Three credit bureaus, Experian, TransUnion and Equifax, collect data on your spending and repayment habits. You can get a copy of your report at each of the bureaus' individual websites. The bureaus are required to share your report with you for free once a year.
You're about to exit BOH.com
Links to other sites are provided as a service to you by Bank of Hawaii. These other sites are neither owned nor maintained by Bank of Hawaii. Bank of Hawaii shall not be responsible for the content and/or accuracy of any information contained in these other sites or for the personal or credit card information you provide to these sites.