Home Equity Line of Credit – HELOC
Welcome back!
We're here to help.
Complete your HELOC application today to secure up to $400,000 without an appraisal for most properties.*
Our new, larger HELOC helps you do more
Now offering nearly double our previous line limit, our new HELOC allows you to access up to $400,000 of your home's equity without an appraisal for most properties.* Remodel, refinance, reinvent yourself—if you can dream it, we want to help you achieve it.
See all available rates below.
*Available for a qualifying Bankoh Home EquityLine secured by property located in the State of Hawaii only. Line limits are based on occupancy and property location. Based on these and other factors, you may be eligible for a line less than $400,000 without an appraisal. In some cases, we may determine a full appraisal is required, resulting in estimated costs to you ranging from $500 – $1,500. You may incur other closing costs.
HELOC Rates
Introductory and fully indexed rates

Introductory APR

---

Current Fully Indexed Variable APR

24 Months1
7.35%2
8.75%1
36 Months1
7.45%2
8.75%1
Understanding HELOC rates and options >
1 The Bankoh Home EquityLine introductory Annual Percentage Rate ("APR") will be effective for the first 24 or 36 months from the date your new Bankoh Home EquityLine account is opened (the "Introductory Period"). Offer is valid for qualifying applications received 6/1/2023-6/30/2023. After the Introductory Period, the APR may vary at any time and will be equal to the U.S. Prime Rate, published in the Money Rates section of The Wall Street Journal, plus a margin of 0.50% for a qualifying second lien behind a Bank of Hawaii first mortgage on an owner occupied fee simple property if the Combined Loan to Value ratio is ≤ 70%. For introductory APRs provided above, the current non-introductory fully indexed variable APR, as of 5/22/2023, is 8.75%, for lines with a 0.50% margin. Other fully indexed APRs are available for qualifying applications ranging from 8.25% - 10.00%, for margins ranging from 0.00% to 1.75%, respectively. In no event will the APR be less than 4.50% or more than 19.00% for properties located in the State of Hawaii and 18.00% for properties located in the territory of Guam. There is a $50 annual fee. Payments to third parties of certain fees, which generally total between $0 and $6,000 for Hawaii ($1,300 - $2,700 for Guam) may be required at closing. Any existing junior liens you may have must be paid off and may be paid by an initial draw from the new line of credit. The initial advance must be $12,000 or more (applicable for Guam only). Property that will secure your home equity account must be located in the State of Hawaii or territory of Guam. You must also maintain fire, hurricane, and flood (if in a flood hazard zone) insurance on the property that secures the home equity account located in Hawaii or fire, typhoon, and flood (if in a flood hazard zone) insurance on the property that secures the home equity account located in Guam. If you have an existing Bank of Hawaii home equity line account, it will not be eligible for these introductory APRs, unless (1) your account has been paid off and closed at least 6 months prior to submitting a new application, or (2) your existing Bank of Hawaii home equity line's draw period is scheduled to end within the next 12 months and a new application is submitted. Certain requirements and restrictions may apply. Subject to change. Loan approval is required. See the Bankoh Home EquityLine Application Disclosures and all current addenda for terms and conditions.
2 With automatic payments from your Bank of Hawaii personal checking or savings account. Please see your deposit account agreement, disclosures, and fee schedule for terms, conditions, fees, and additional restrictions that may apply.
Live fully, Bank Simply with SimpliFi

Local, digital, personal
Convenient online tools and trusted local experts to help guide you through the HELOC application process.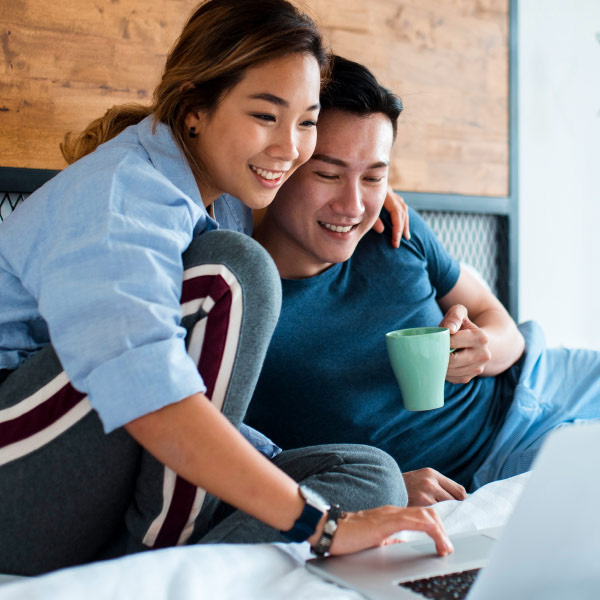 Applying with SimpliFi
What is a HELOC?
Planning for your HELOC
How to use a HELOC to refinance
Book an appointment
Choose from in-person or phone appointments at a time and location that's convenient for you.
Send a message
Send us your question and one of our home loans experts will contact you.

Trusted Lender
#1 in total dollars and numbers of loans made in the State of Hawaii.*
*#1 Residential Lender ranking is for total number of residential loans and total dollars made by a lender in the State of Hawaii in 2022. Information compiled by Title Guaranty derived from Hawaii Bureau of Conveyances tax data recorded information for 2022. Information is deemed reliable but not guaranteed.
You're about to exit BOH.com
Links to other sites are provided as a service to you by Bank of Hawaii. These other sites are neither owned nor maintained by Bank of Hawaii. Bank of Hawaii shall not be responsible for the content and/or accuracy of any information contained in these other sites or for the personal or credit card information you provide to these sites.