Insights & Stories
Honolulu Pride Month Employee Spotlight: Kuuleikinipuahoomahiehie Zoller-Domingo
Reading time: 8 minutes
October 20th, 2023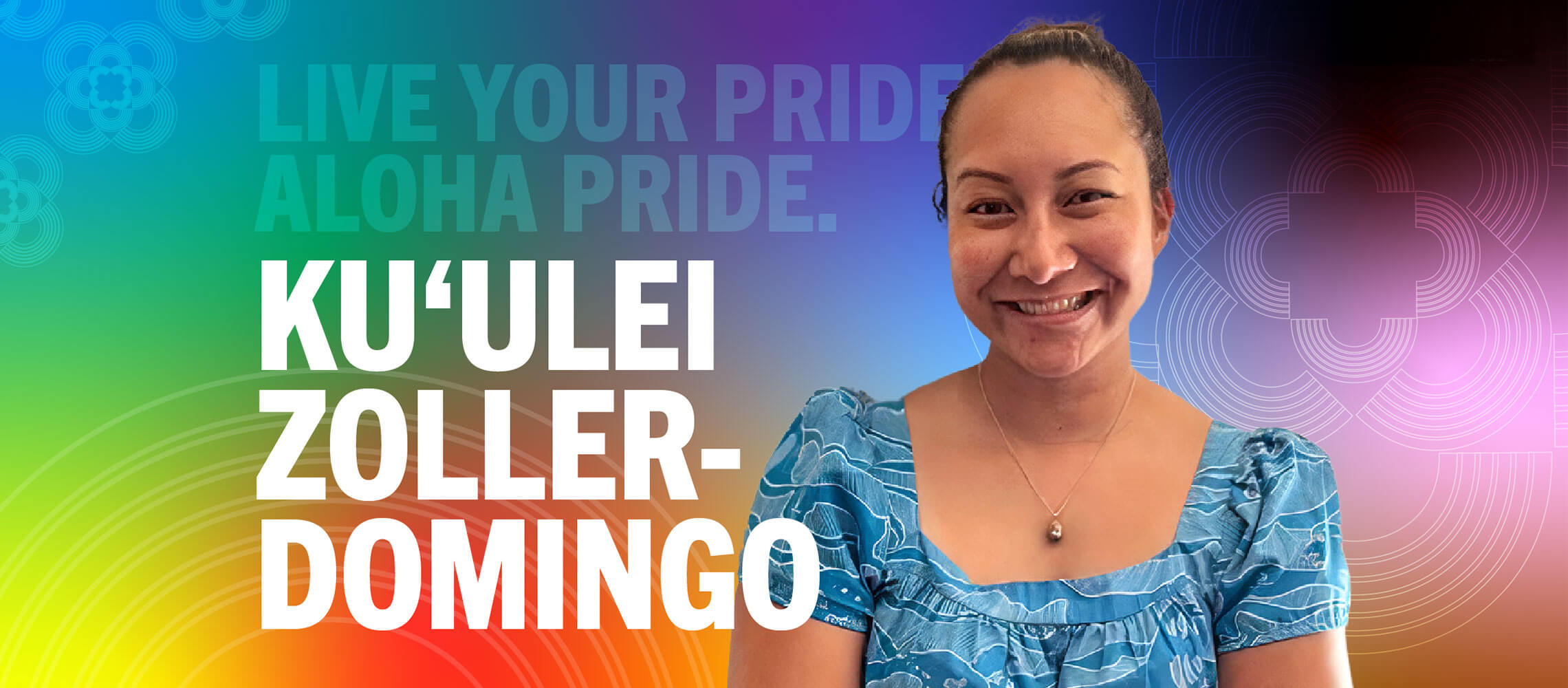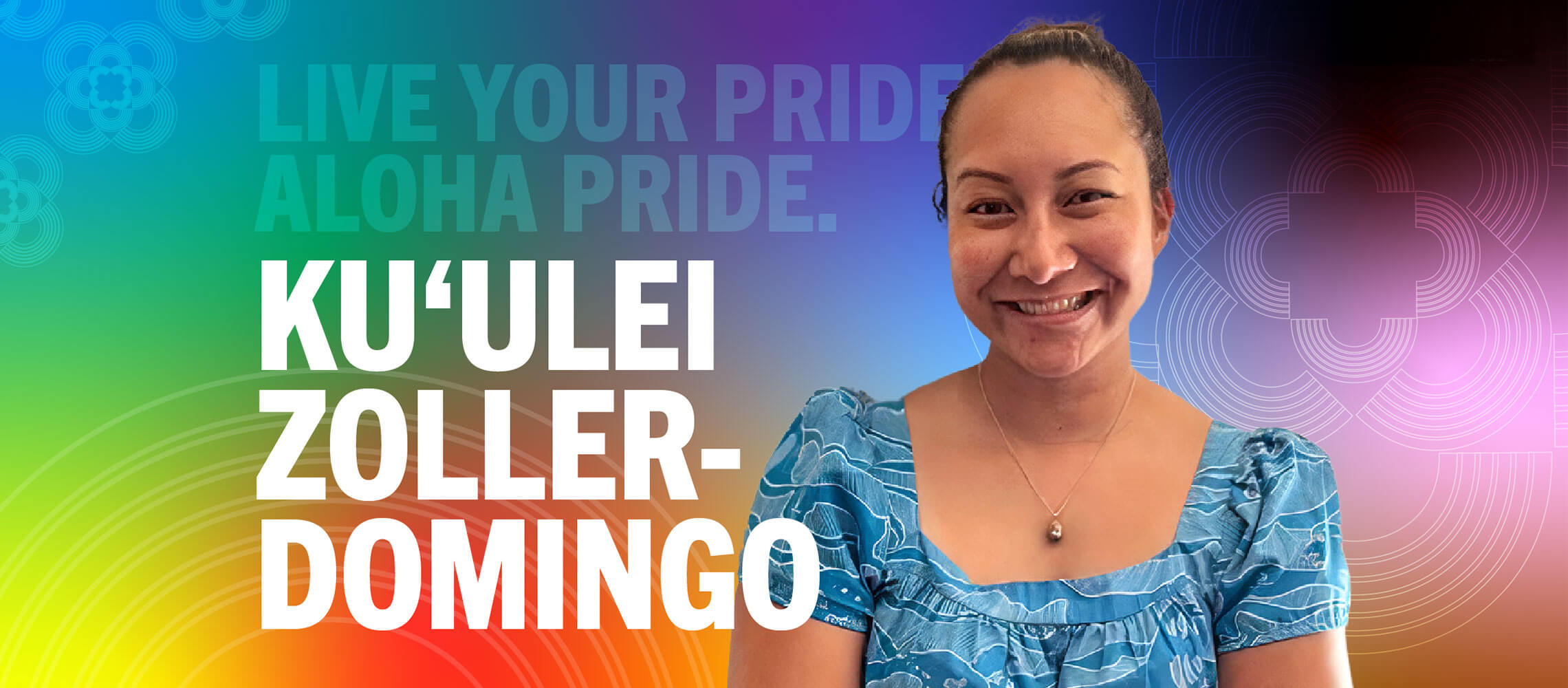 In the United States, June is LGBT Pride Month in honor of the 1969 Stonewall riots and achieving equal opportunity and justice for lesbian, gay, bisexual, transgender, and questioning (LGBTQ+) Americans. This important month is dedicated to supporting LGBTQ+ rights; celebrating LGBTQ+ culture and achievements; and uplifting LGBTQ+ voices. In the Islands, Honolulu Pride Month is held every October to coincide with LGBT History Month, which was designated as October in 1995, and to commemorate the National March on Washington for Lesbian and Gay Rights on October 14, 1979. Local celebrations during October include the Honolulu Pride Parade, the largest parade in the state with thousands of unique units; Pride Parade and Festival, featuring live performances and all-day entertainment; and plenty of social, cultural, and educational gatherings that show gay pride and celebrate the LGBTQ+ community.
National Coming Out Day is also on October 11. This annual day of recognition is one of accepting and sharing one's sexual orientation and gender identity with the public. "Coming out of the closet" represents a meaningful step for LGBTQ+ individuals who choose to live openly as their authentic selves. It is also a day of encouragement for those who are thinking of coming out, as well as a day of support for those who choose to keep their sexual identity a secret. This is a time of encouragement for those who are thinking of coming out, as well as a day of support for those who choose to keep their sexual identity a secret—which many in the LGBTQIA+ community may choose to do as a result of how other aspects of their identity, such as ethnicity or gender, may also factor into their treatment upon coming out. This framework is known as intersectionality.
Intersectionality is vital for understanding the nuanced experiences for members of the LGBTQ+ community, as it highlights how overlapping identities can compound discrimination and marginalization. For Kuuleikinipuahoomahiehie Zoller-Domingo, coming out was one of the most important—and nerve-racking—decisions in her life. Though she had previously only dated men, Zoller-Domingo also began dating women in her early 20s. "I've always been my true self to my ohana so I needed to be truthful about my identity, especially with those who I was raised by, which are my grandparents," Zoller-Domingo says. At 23, she decided to write her grandparents a letter, explaining to them that she was bisexual and had begun living with her girlfriend. "I had already packed my stuff and I told them I would understand if they felt they had to disown me."
Zoller-Domingo was worried about her grandparents' response, especially because she was part of a close-knit family. Since she was seven years old, Zoller-Domingo paddled with her relatives; her parents had met while paddling and both sets of her grandparents have their own canoe clubs. On days off, her whole family would go to the beach for swimming and cookouts. "We were always water people; that's how we grew close," says Zoller-Domingo. The thought of becoming estranged with her loved ones was stressful, but Zoller-Domingo was determined to be honest about who she was.
"When I got home from work, my grandmother said she read the letter and had already told my grandfather, my uncle, and my parents, who already knew. She said, we all love you regardless," Zoller-Domingo says. "There were some folks who had things to say. But it wasn't mean, more like, 'When are you going to start a family?'"
When Zoller-Domingo later married her wife, the couple moved to Las Vegas for employment opportunities (Zoller-Domingo's professional background was in hospitality) and a lower cost of living. When they had their son, they then moved back to Hawaii to raise him close to family. The couple bought Zoller-Domingo's childhood home in Wahiawa, where they live with Zoller-Domingo's grandmother. "Our son gets to be raised around the same people I was raised with, including his great-grandmother," she says.
Today, Zoller-Domingo works as a universal banker at Bank of Hawaii, where she also worked before she moved to Las Vegas. "Everyone mostly knows why they're going to the bank, whether it's to make a deposit or ask about a loan or so on. But they may not know about banking promos we might have, where people can receive higher interest, bonuses, or other specials. I love helping customers find what they may not have even known they needed," says Zoller-Domingo. "Our customers also like to talk story, so you learn a little about what they might be going through in life. Building those relationships and providing care is important to me."
"Everyone's path is different, and I know not all families are as supportive as mine has been. But my advice is to be yourself and come out to whomever you're comfortable coming out to," Zoller-Domingo says. "Those friends and loved ones who you can be your absolute true selves with—those are your people. It's important to share who you really are."
Bank of Hawaii and Bank of Hawaii Foundation is committed to supporting the LGBTQ+ community as well as diversity, equity, and inclusion for all in the workplace.
To learn more about Honolulu Pride Month, visit the Hawaii LGBT Legacy Foundation website. For additional reading, discover the story behind the creation of the Rainbow Flag or go behind-the-scenes with Residential Youth Services and Empowerment (RYSE), which provides safety for homeless youth, nearly 20% of which identify as LGBTQ+.
You're about to exit BOH.com
Links to other sites are provided as a service to you by Bank of Hawaii. These other sites are neither owned nor maintained by Bank of Hawaii. Bank of Hawaii shall not be responsible for the content and/or accuracy of any information contained in these other sites or for the personal or credit card information you provide to these sites.