With Bank of Hawaii Merchant Services, you can accept major credit and debit cards, so your customers can conveniently buy your goods and services. Our exceptional support, progressive point-of-sale hardware and software, along with a simplified pricing plan, enable you to affordably accept credit cards and better accomplish your business goals.
We're the right partner for you.
Whether you're just getting started or looking to upgrade, we have the technology, features and support to help your business succeed.
Convenient processing of credit or debit cards payments onsite, online or on the go
Gift card and loyalty programs with custom branding and card inventory management
Online tools to view transactions, create and schedule reports, and manage chargebacks
More than 400 applications in the Clover® App Market to support your unique needs
Local servicing and support with a dedicated partner who understands your needs
Industry leading technology and products provide flexible and powerful solutions
Competitive pricing, customized to meet your business needs
Expedited next day funding allows you access to funds as soon as the next business day
point-of-sale devices
Let Clover drive your business forward
Join the many local businesses including, but not limited to, retail, quick-service and full-service restaurants, personal and e-commerce who count on Bank of Hawaii to provide industry-leading technology and products to grow their business. Clover offers a wide range of POS devices to meet any small business need at an unbeatable value.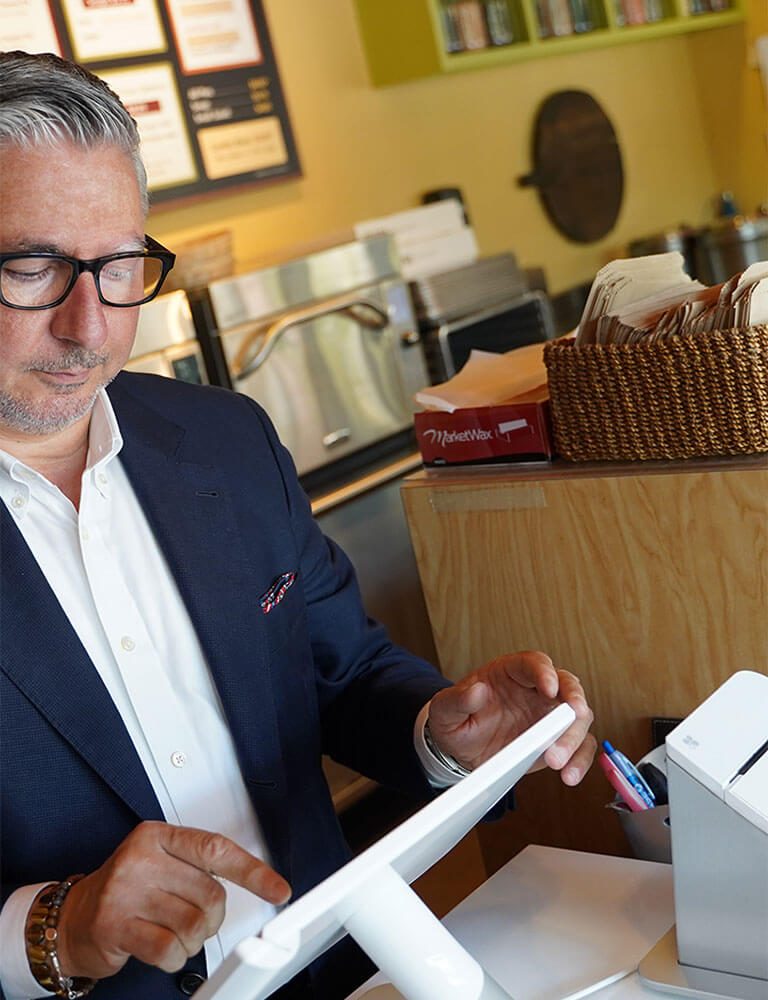 Frequently Asked Questions
What are my fees? There are costs associated with payment card acceptance that include monthly terminal fees, if applicable, and a monthly discount fee. Contact us at 1-800-279-4195 to determine your specific fees.
What is a discount fee? A discount fee is the cost charged to you for collecting, assessing, approving, processing and settling your organizations' payment card transactions. This fee is typically a percentage of the credit card or debit sales amount and is collected on the first of the month for the preceding month's sales. Contact us at 1-800-279-4195 to discuss your discount fee.
What kind of cards can I accept? The most common types of cards that can be accepted are: Visa®, MasterCard®, American Express®, Discover®, JCB®, Diners Club®, and Union Pay®.
Why do I have to fill out an application and why do you need to check my credit? A merchant account is in essence an open-ended line of credit. An application is needed so that we can review and verify the information you provide on your business.
Can out-of-state and internationally-based merchants open a Bank of Hawaii Merchant account? Yes. For consideration, out-of-state and internationally-based merchants must have a physical address location in Hawaii. Additionally, the merchant must be registered with the State of Hawaii Department of Commerce and Consumer Affairs to do business in Hawaii. They also must include compliance to United States Federal regulations such as the Patriot Act and OFAC.
When will my new equipment arrive? Upon approval of your new Bank of Hawaii Merchant Service account, it will take between 3 to 5 business days for your equipment to be delivered to you.
How can I get more information about PCI registration and compliance? Visit the Clover Security Learning Center for helpful information regarding your PCI registration and compliance at https://cloversecurity.com/using-cloversecurity.html.
Basics of eCommerce
What is eCommerce? eCommerce, or electronic commerce, is a sales transaction that is conducted over the Internet or other telecommunications network.
What is a payment gateway? A payment gateway is a connection between Bank of Hawaii and your website. It's the technology that authorizes, settles, and manages payment card transactions online. When your customer makes an online purchase, the information from your web site must be sent through a payment gateway before an authorization is obtained, and Bank of Hawaii must settle any funds through the gateway once an authorization is received.
What is the difference between a payment gateway and a shopping cart? A payment gateway facilitates the "checkout" process and takes the place of a card swipe terminal. It takes the customer's card data from the merchant's website or internet browser and securely sends that information to Bank of Hawaii for processing. A shopping cart is a software program that allows customers to select and list multiple products prior to the "checkout" process.
Why do you ask an internet only merchant to have a business phone number listed in the local directory assistance? It is recommended that all our merchant accounts have a business phone number listed in local directory assistance as we want to ensure your customers can reach you by phone in case they cannot reach you by email. Having easily accessible contact information can help to minimize disputes, since a customer may be able to more quickly and effectively resolve any billing concerns.
Why do I have to post a refund/service/return policy? The payment card companies mandate that you must post your refund/service/return policy. We also want to make sure your customers understand your return policy in the event that they are unhappy with your product or service.
What is an electronic check? An electronic check is another Internet purchase type. It works just like a paper check, except it is processed electronically and it clears faster than a paper check.
Why should I offer electronic check processing as a payment option? Allowing electronic checks enables another payment method for customers. Customers may not wish to use payment cards, or may not have one, so allowing electronic checks provides a safe, cost effective alternative payment option.
Can I manually process transactions? Yes, you can manually process transactions with the use of a virtual terminal.
About virtual terminals
What is a virtual terminal?A virtual terminal is a browser-based application to process payments over the internet. A virtual terminal allows you to accept cards from customers over the phone, fax, or mail by manually entering card transaction data. It provides a simple way for you to do eCommerce without website integration with a payment gateway.
Does a virtual terminal have an auto-settle function? Yes
Does a virtual terminal check AVS on the authorization? Yes
Can you import or export transaction data with a virtual terminal? Yes
Being PCI compliant
Payment Card Industry Data Security Standard (PCI DSS)
PCI DSS Compliance is managed and maintained by the PCI Security Standards Council. The Payment Card Industry Data Security Standard (PCI DSS) is a security standard established to help organizations protect customer payment card data. PCI DSS is applicable to all merchants who accept payment cards bearing the logos of Visa®, MasterCard®, American Express®, Discover®, or JCB®.
In accordance with the requirements of the payment brands listed above, Bank of Hawaii requires merchants to comply with PCI DSS. By demonstrating compliance with PCI DSS, your organization can attain safe harbor and be exempt from fines and penalties should a cardholder data compromise event occur involving your organization or your organization's service provider. Your organization's ability to process credit card transactions may be affected if you are not in compliance with PCI DSS.
How do I become PCI Compliant?
A Qualified Security Assessor (QSA) recognized and certified by the PCI Security Standards Council to perform their PCI security assessments and Reports on Compliance (ROC) is required to validate PCI Compliance. Bank of Hawaii is partners with First Data® to offer Clover Security PCI Rapid Comply in which qualifying Bank of Hawaii Merchant Services customers can comply with the PCI Data Security Standard. Their "Site Certification" program provides full merchant compliance and automatic reporting to Bank of Hawaii. Full compliance includes either Annual or Quarterly Security Testing of your Internet connections and the completion of a Self-Assessment Questionnaire.
Qualifying Bank of Hawaii Merchant Services customers may enroll in the Clover PCI Rapid Comply program at no additional cost. To enroll in the program, follow the instructions you receive in your welcome email.
When enrolling, please have your list of IP addresses (if applicable). Knowledge of your card acceptance equipment and software will speed the enrollment process. Enrollment takes approximately 10 minutes. Visit the Clover Security Learning Center for helpful information regarding your PCI registration and compliance at https://cloversecurity.com/using-cloversecurity.html.
Notice: Bank of Hawaii Merchant Services customers may be contacted by email, phone or mail regarding enrollment in a Site Certification Program and validating compliance with the Payment Card Industry Data Security Standard. If you have any questions, please call Bank of Hawaii Merchant Services at (808) 694-7300.
Where can I find additional information on PCI Standards?
For more information about the PCI Data Security Standard, please contact Bank of Hawaii Merchant Services at (808) 694-7300. The following resources are also available:
PCI Security Standards Council: https://www.pcisecuritystandards.org/faqs
Visa: https://usa.visa.com/support/small-business/security-compliance.html
Mastercard: https://www.mastercard.us/en-us.html
Protecting against fraud
What is fraud? Fraud is an occurrence where the cardholder certifies he or she did not authorize or participate in a sales transaction or someone unknown to the cardholder misrepresented the cardholder's identity or financial status to obtain the payment card used.
Who is liable? Will I suffer a loss when fraud occurs? The merchant must perform certain activities to protect against fraudulent use of a payment card at their organization. A Bank of Hawaii Merchant Services Sales Officer can assist you in setting up the optimal preventive measures at the time of terminal installation. Please note, a card-not-present sale is more risky and losses are more likely to occur in comparison to a face-to-face card transaction.
What are some fraud prevention tools? A Bank of Hawaii Sales Officer can assist you in better understanding what fraud prevention tools are available to your industry. These tools include systems such as the Address Verification System (AVS), which helps card-not-present merchants match an order address with a card's billing address, to verify CVV/CVC codes (the security codes printed on the card), as well as procedures for accepting cards and what to do if you suspect a fraudulent transaction occurred or is occurring.
Understanding dispute resolution
How does dispute resolution work? When an issuer needs to request additional information about a transaction and/or return a transaction to Bank of Hawaii, payment card companies have dispute resolution processes which provide their members the means to correct errors and resolve disputed transactions.
What is presentment? Presentment is the normal way Bank of Hawaii passes on the transaction to the cardholder's bank. The payment card company credits Bank of Hawaii and debits the cardholder's bank.
What is a chargeback? A chargeback is a dispute of a purchase that has already been charged to a customer's account that can result in a return of funds. As a merchant, in order to respond to chargebacks in a timely manner, we recommend using our dispute management tool located in your businesstrack.com portal.
Questions?
Whether you're new to merchant services or looking to make a change, our experienced and knowledgeable consultants can help.
You're about to exit BOH.com
Links to other sites are provided as a service to you by Bank of Hawaii. These other sites are neither owned nor maintained by Bank of Hawaii. Bank of Hawaii shall not be responsible for the content and/or accuracy of any information contained in these other sites or for the personal or credit card information you provide to these sites.