Insights & Stories
Women's History Month Spotlight: Ma'i Movement
Reading time: 6 Minutes
March 15th, 2022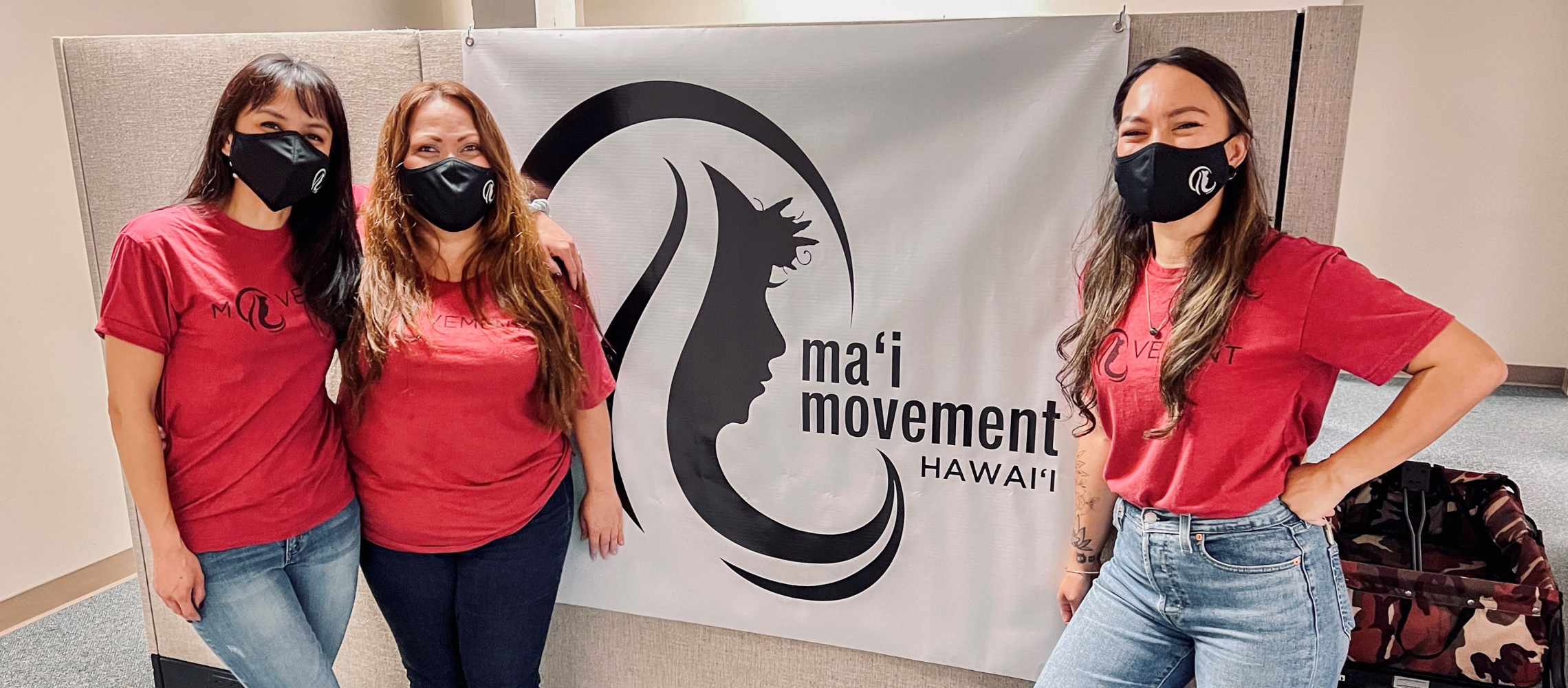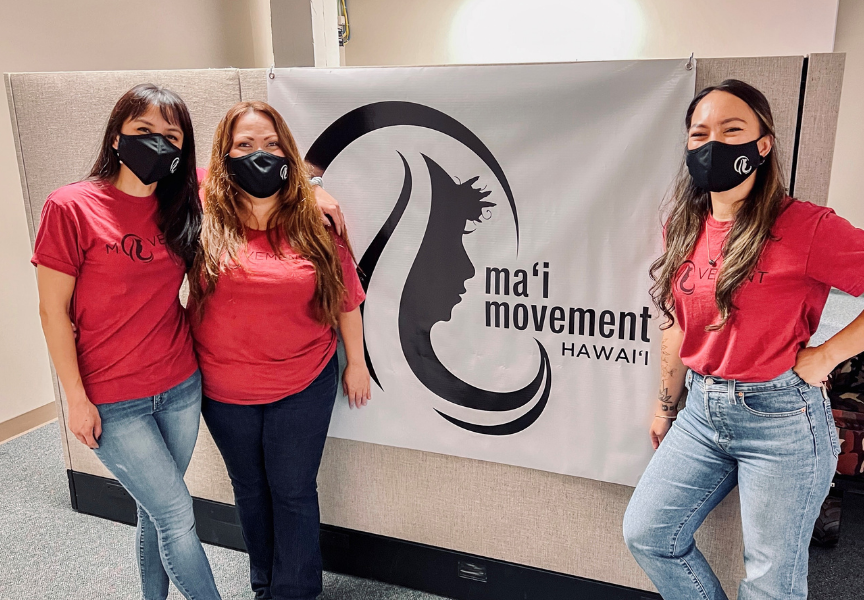 Every week, Jamie-Lee Kapana carefully packs individual boxes with a month's worth of tampons, disposable pads, liners and wipes. On Oahu, most of the kits go to organizations like Hui Aloha, Kokua Kalihi Valley, Hale Kipa and many more. During one week, she put together a total of 500 care kits and sent them to people in need.
Kapana's work is part of the Ma'i Movement, a non-profit put together by her and her two sisters Nikki-Ann Yee and Brandy-Lee Yee. Launched in 2020, the organization's goal is to end period poverty in Hawaii. Menstruation isn't typically something you bring up in casual conversation, let alone the dialogue surrounding period poverty. These three women's work doesn't just end with getting period products out to people. They have their sights set on the bigger picture – to take away the stigma surrounding menstruation through education and advocacy.
A Passion Project
Ma'i Movement was the love child of Nikki-Ann Yee, the middle sister. It all began in 2018, when Yee was living in Hong Kong and happened upon a CNN article about girls and women in Tanzania who couldn't go to school or work because they couldn't afford period products. "I felt deeply impacted by just the thought of these people not having such a basic need," says Yee. "It just struck me. At the time, my daughter was nine and as a woman, mother and someone who is a menstruator herself, I couldn't imagine something like this happening and I wanted to do something about it," says Yee.
She came up with a plan to start a nonprofit in Hong Kong for domestic workers and refugees to alleviate period poverty, but the timing didn't work out. She had to move to Maryland for her husband's job. Then, the pandemic hit. Resigned, she put that dream on permanent hold.
Then, in the summer of 2020, her older sister Brandy gave her a call. An employee at Queens' Native Hawaiian Health Department on Hawaii Island, Brandy had been sitting on a Zoom call with the Hawai'i Diaper Bank. "These community organizations were talking about their different services during COVID-19, like giving away diapers. I thought about period poverty and the nonprofit Nikki had wanted to start in Hong Kong," she says. "I called Nikki up and asked, why don't we do this in Hawaii?"
They did some research and discovered there weren't any nonprofits solely addressing period poverty and those they found were tied to national organizations. "As Native Hawaiians, we wanted something that resonated with the community and was locally driven," says Nikki-Ann Yee. It didn't take long for the pieces to fall into place. Nikki already had a plan outlined for the organization—it had been brewing for years. "I took what I wanted to do in Hong Kong and changed things so it could speak to Hawaii," says Yee.
She and her sister soon realized they would need someone with boots on the ground for Oahu, so they roped in their younger sibling Jamie, who lived on the island, and asked her to be the hands-on operations director of the organization.
When Ma'i Movement officially launched in October 2020, crowdsource funding and an emergency pandemic grant allowed the organization to hit the ground running. By February 2022, they were able to send out close to 250,000 disposable and reusable products across the islands.
The Real Issue
At the beginning, Yee admits she held the common assumption that period poverty was a distant problem. Here in Hawaii, she thought, surely most everyone could afford menstruation products.
She was shocked to discover, however, that an alarming number of people in Hawaii struggle with period poverty. After joining forces with the Hawai'i State Commission on the Status of Women to survey 361 Hawaii residents, the stats were astounding. Nearly one in four people had to make sacrifices to afford period products and 42% of Ma'i Movement recipients identify as Native Hawaiian.
Growing up in Waimanalo, Yee and her sisters were familiar with the struggle local families go through to make ends meet. "We had family members who were in the system, using food stamps and living from paycheck to paycheck. I remember we had an aunty living in a shelter and our mom would make sure to include period products whenever she visited," says Yee.
It was clear that period poverty didn't just mean financial difficulty. There was a cascading chain of events caused by having no access to disposable pads or tampons. It caused students to miss class. Half of the participants shared that they missed school or work because of menstruation or not having supplies. Keiki were using period products beyond the recommended safe period of time because they couldn't easily get what they needed – it was a public health concern.
"I don't think any of us expected the support from the community. It was overwhelming," says Yee. "My dad always said just keep going until you hit a wall. Just keep going and figure it out. That has carried us throughout this whole time. It's been a really incredible journey."
She's thankful for hard-working volunteers like Leigh Mamuad, who tirelessly support their work by helping with collection drives and packing monthly kits. On top of distributing period products, the sisters work to educate the public on menstrual equity through research and collecting data. Nikki herself is a passionate advocate in the legislature and works to make a difference through statewide campaigns. In May 2021, she worked with the Hawai'i State Commission on the Status of Women to get proclamations issued by Gov. David Ige and all county mayors about period poverty in Hawaii – it was a big win. She has also been working with 'Ilima Intermediate students and teacher, Sarah Milianta-Laffin, on legislation to make period products free in all public and charter schools this legislative session.
When Yee talks about her work, she is careful to use phrases like "menstruators" and "people who menstruate" instead of "women." She says, "What we do at Ma'i Movement isn't just for one gender – it's for anybody who menstruates. Gender is how you feel and identify – any gender can menstruate. We want to be inclusive for everybody and we are being conscious about how we word the information in all our education and materials," says Yee.
Addressing Ma'i in Public Schools
In 2021, Ma'i Movement Hawaii conducted a statewide pilot program called the Ho'ohanohano Initiative School Pilot where they partnered with six public schools and placed free period products in bathrooms, classrooms, main office, teen centers, athletic department, health rooms and counselor rooms. As the program began, they conducted surveys of 278 faculty and 871 students in those schools.
The results were harrowing. It showed that eight out of ten students faced difficulties getting period products and embarrassment was a big barrier for students to access period products. When they lacked period products, they would resort to using newspapers, diapers, leaves or napkins. Still more, 56% of faculty witnessed students having difficulty to getting period products while 22% of students reported missing part of the school day because they lacked access to period products.
Joseph Passantino, principal of Princess Ruth Ke'elikoalani Middle School, has nothing but praise for what Ma'i Movement is doing. Many of his students come from government housing, low-income households or are homeless and reside in shelters. Prior to joining the program, they would need to go to the health room and pay for a disposable pad or tampon. "Some students wouldn't have money or they would feel embarrassed about it and wouldn't ask," says Pantassino. "What the Ma'i Movement is doing, it puts everybody on equal footing."
He adds, "I remember during my 7th grade year, a girl in school had her period in the middle of the cafeteria. She was called names – it was a traumatizing time for her and I felt so bad for her. I don't want that to happen to anyone at any school."
In midyear surveys, Yee said that students are missing less school, becoming more empowered in class, and are more comfortable knowing that there are free products more readily available throughout their campus. At Farrington High School, Yee heard the young male students are becoming more open and supportive about the dialogue surrounding menstruation. "These boys at Farrington are going to get period products for their girlfriends," says Yee. During the mid-survey, only 1% of faculty reported witnessing students have difficulty accessing period products – a massive improvement from 56% at the beginning of the year.
Although the pilot program is completed after the 2021-2022 school year, Yee asks the public's help in making period products free through Bill SB2821. "My hope is that eventually we will see period products becoming free, just like toilet paper. Someone made that decision to make toilet paper free, right? I hope it happens in our lifetime, soon," says Yee.
"Even within us three sisters, we have different experiences with periods. We just never talked about it. That's also why Ma'i Movement has grown the way it has – we have different experiences and different opinions as sisters do. I think it makes the organization very well rounded," says Yee. "I'm proud that we are still here. We all have our own families, and our own jobs, I'm so proud that we were able to work through all of that and still support menstruators on the island."
You're about to exit BOH.com
Links to other sites are provided as a service to you by Bank of Hawaii. These other sites are neither owned nor maintained by Bank of Hawaii. Bank of Hawaii shall not be responsible for the content and/or accuracy of any information contained in these other sites or for the personal or credit card information you provide to these sites.