Insights & Stories
Hawaii for the Holidays Gift Guide: Bank of Hawaii Employee Favorites from the 2022 Mana Up Showcase
Reading time: 6 minutes
December 6th, 2022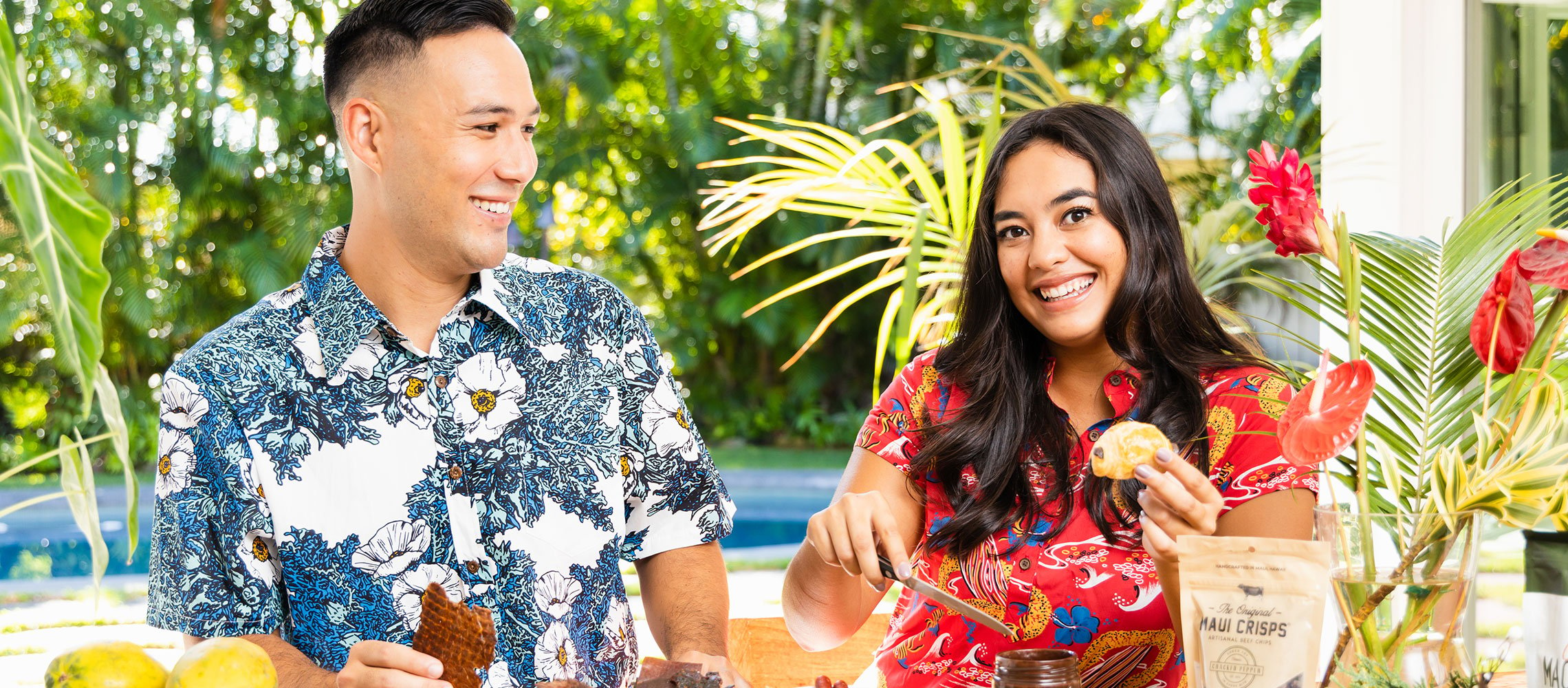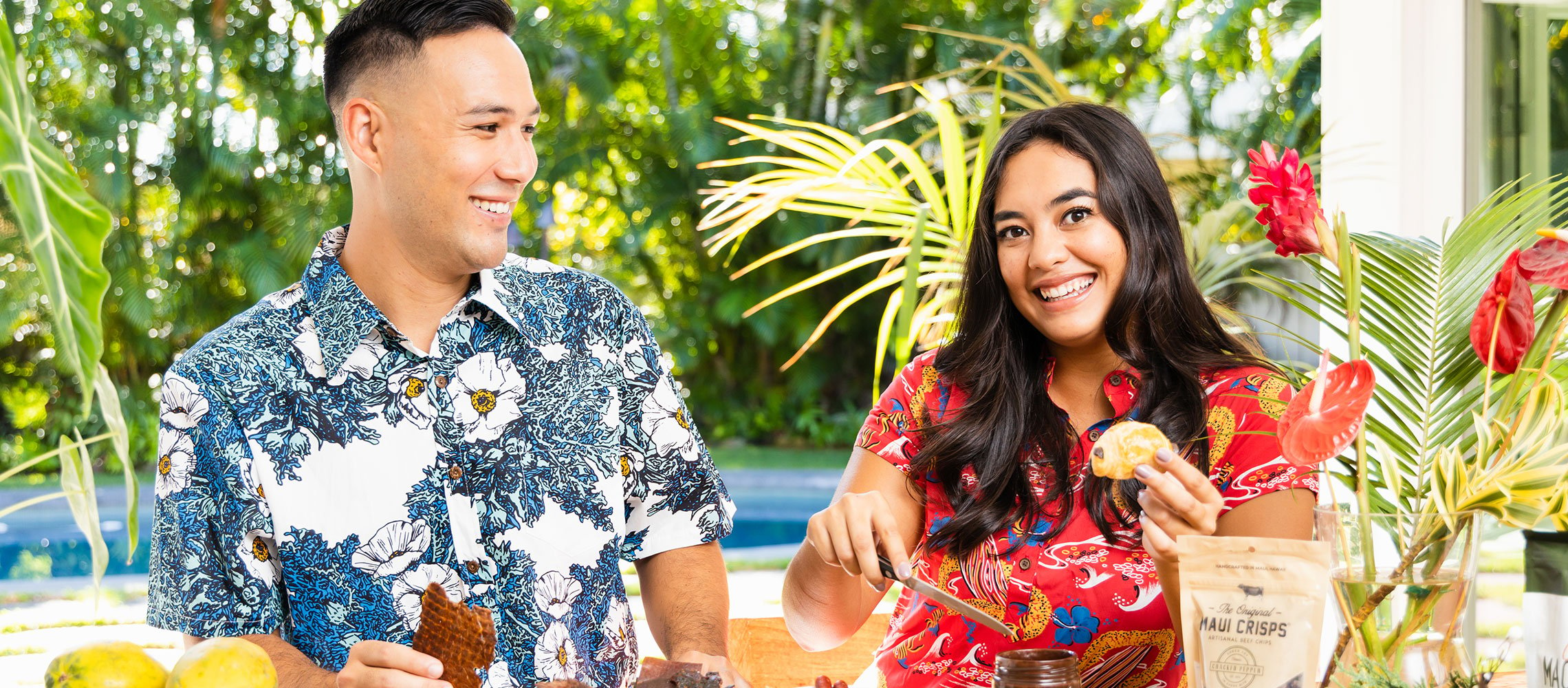 In case you missed it, Mana Up hosted its 2022 Showcase, in-person at Bloomingdale's with a livestream online, on November 3.
The Mana Up Showcase is the annual event to celebrate Hawaii's entrepreneurs and rising talent. The entrepreneurs featured are from Mana Up's latest entrepreneur growth accelerator, a 6 month program where selected companies get connected to mentors, workshops, sales channels, and resources to help them grow their businesses. To date, Mana Up has had 74 local product companies graduate! Join us in supporting these companies' entrepreneurial journeys, including their contributions to Hawaii's economy, job creation, community giveback and so much more. The 11 companies featured this year were picked from 137 applications!
If you weren't able to catch it the first time, fear not: a recording of parts of the spectacular showcase is available to watch on Facebook! But, if you're overwhelmed with the amazing options (spoiler: everything), our employees are ready to share some their favorite picks from the Showcase, for the ultimate holiday (or anytime!) gift guide.
Nick Kuchar Art and Design Co
Jessica Young, Assistant Vice President and Engagement Program Manager, shared that the Ewa Beach print from Nick Kuchar Art and Design Co was her favorite purchase from the showcase. "I liked the vintage vibes and callouts to my hometown (the sugarcane, historic train, etc.)."
Nick Kuchar is an Oahu based artist who creates vintage inspired surf and travel art featuring our favorite locations of this aina we call home. In 2010, founder Nick Kuchar and his wife were looking to spruce up their apartment with some wall décor but couldn't find the vintage styled travel art his wife envisioned. Nick's fun, mid-century styled work was noticed and picked up by a handful of local galleries – born was Nick Kuchar Art and Design Co.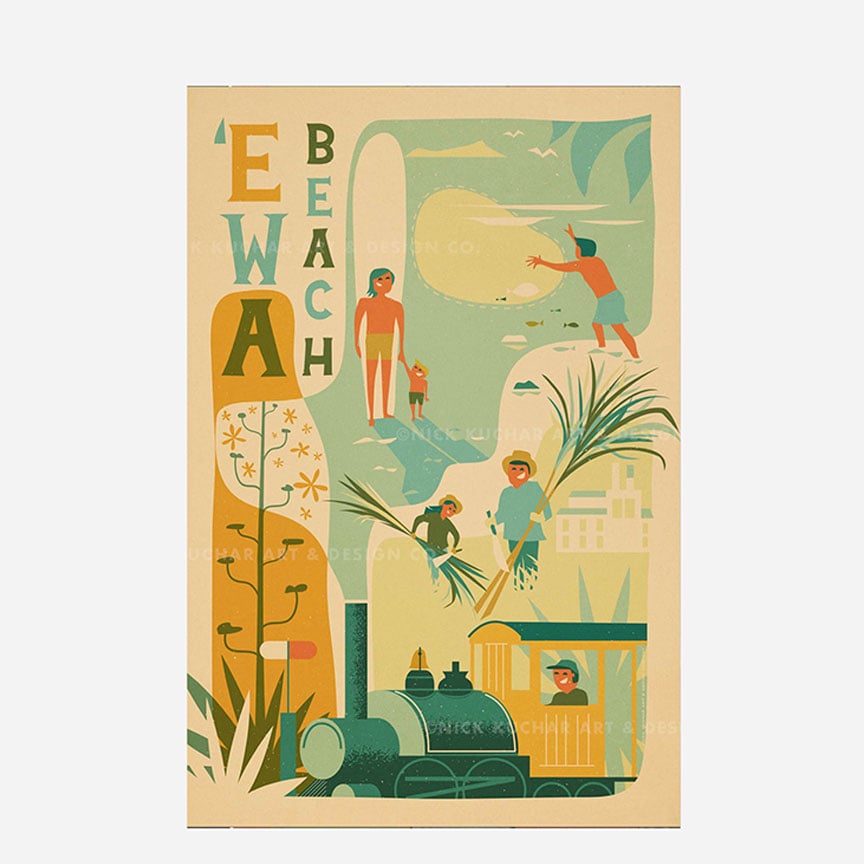 Pawniolo Pets
Ruth Erickson, Senior Executive Vice President and Senior Executive Director of Marketing Operations, shared her favorite products were the Furry-kakes from Pawniolo Pets. Offering healthy, nutritional options for our beloved four-legged family members, Pawniolo Pets was founded by third generation cattle rancher Nick and his wife Miki, using grass-fed animals raised on their family cattle ranch in Kamuela on Hawaii Island.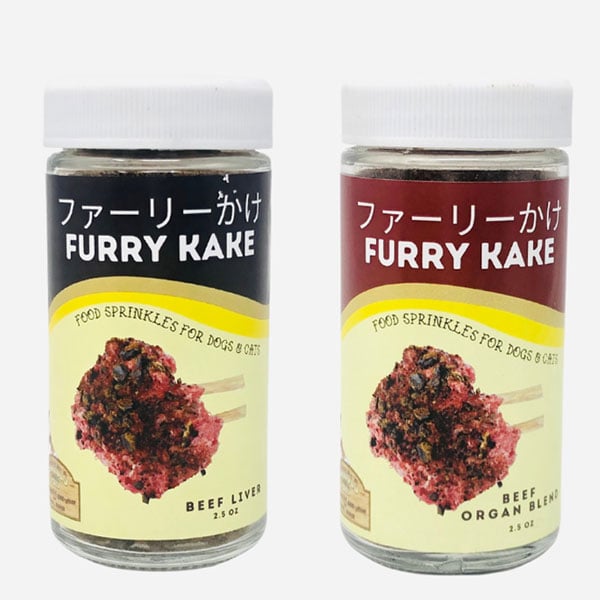 Surf Shack Puzzles
Eva Ohia, Assistant Vice President and Digital Sales Development Supervisor, gushed over the Under the Sea (in Olelo) by Kelsie Dayna puzzle from Surf Shack Puzzles. "Whether a gift that's fun for the family or kids, Surf Shack Puzzles has some solid finds!"
Founded by Mahina Tuteur, Surf Shack Puzzles is an 'ohana-operated puzzle company highlighting Hawaii-inspired artwork designed by female artists. Their puzzles are 100% recycled and donate a portion of proceeds to ocean conservation programs.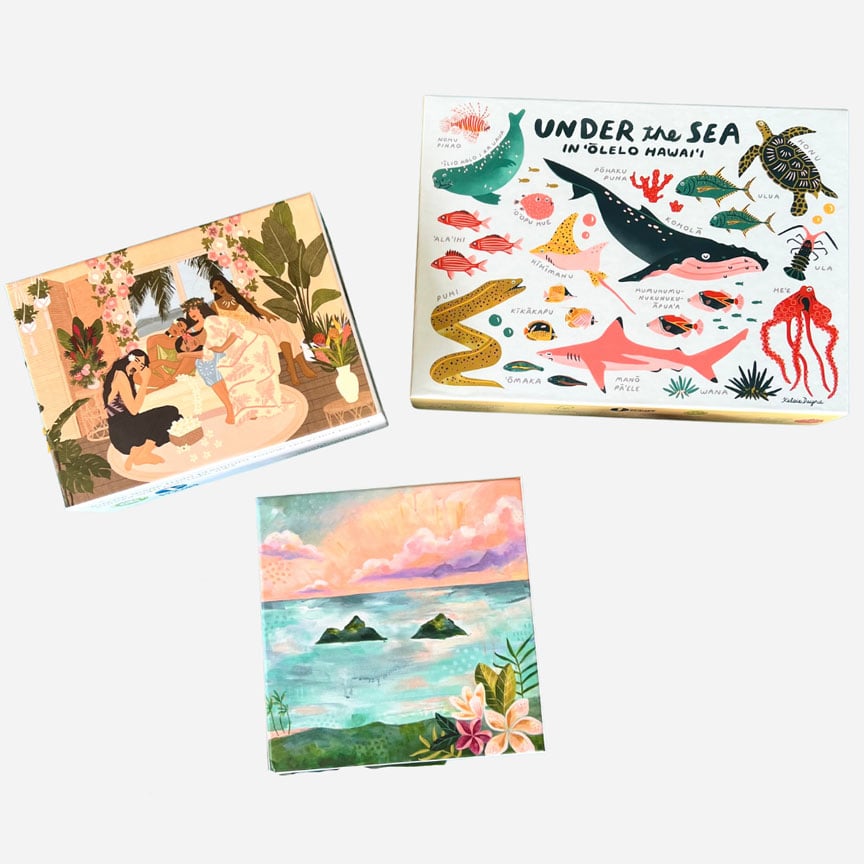 A Tie: Keiki Kaukau and NOHO Home
Marissa Machida, Vice President and Fiduciary Relationship Manager, was torn between Keiki Kaukau toys and NOHO Home placemats as her favorite gifts to give this season! Keiki Kaukau (kay-kee cow-cow) means "kid food" in local lingo.
Created by a Hawaii mom and school teacher, Keiki Kaukau creates toys, books, and games that celebrate the Aloha State and its diverse blend of cultures. Their collection encourages keiki to delight in the uniqueness of their own heritage, while discovering a rich array of Pacific Rim flavors!
NOHO HOME designer Jalene Kanani's creative process is true to her organic design aesthetic. As an artist who is naturally attuned to the patterns of her surroundings, she prefers open, freeform creativity to explore the fullness of a focused design before layering it for added depth. In doing so, she approaches each print through a Hawaiian perspective to balance the Ku and Hina elements in each. In native traditions these opposites are often referred to as masculine and feminine energies. NOHO HOME explores the nature of opposites through pattern play and color to find a harmony of both. NOHO HOME is a sophisticated island experience cultivated through artful home decor.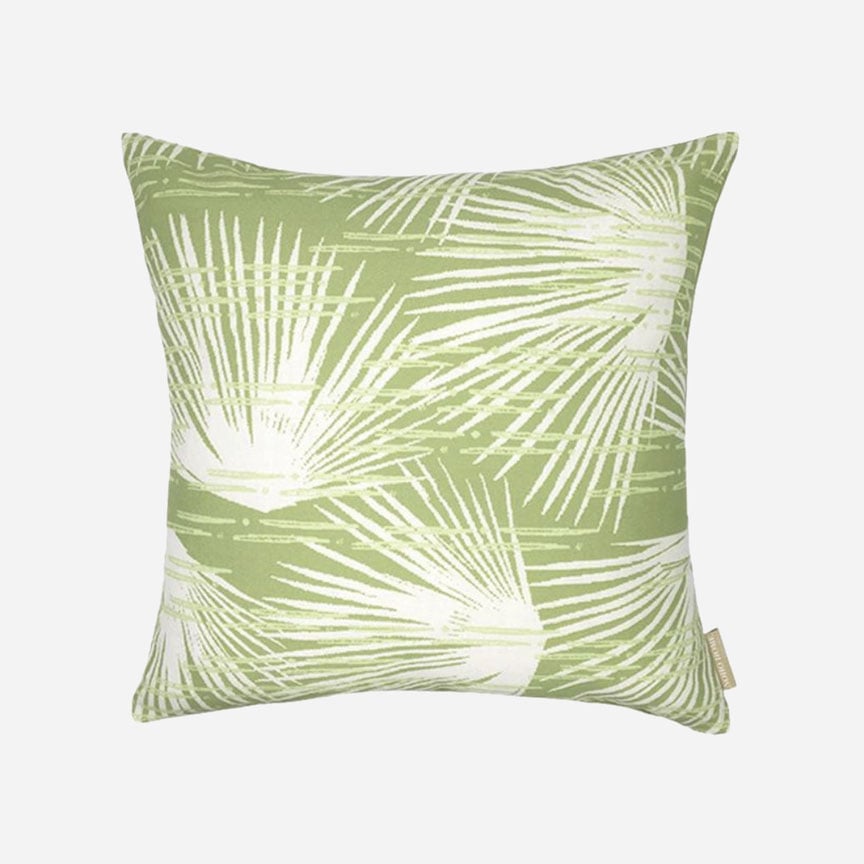 Mohala Eyewear
The Pikake sunglasses from Mohala Eyewear, sold in special low nose bridge options, are Reena Manalo's must-haves from the Mana Up Showcase. Reena, Brand & Creative Studio Account Manager, shared that "Ashley is all around amazing. I think what makes her so special is how much she cares about people, and you can see it through her business!"
Most eyewear is designed for a slender Caucasian face shape. Ashley Mariko Johnson, Mohala Eyewear founder, created the only inclusive eyewear line with 3 unique fits to solve the pain points of eyewear slide, resting on cheeks, being too tight or too narrow and hitting long lashes. Plus each pair sold sends a girl to school at Room to Read. 140+ years of school donated and counting.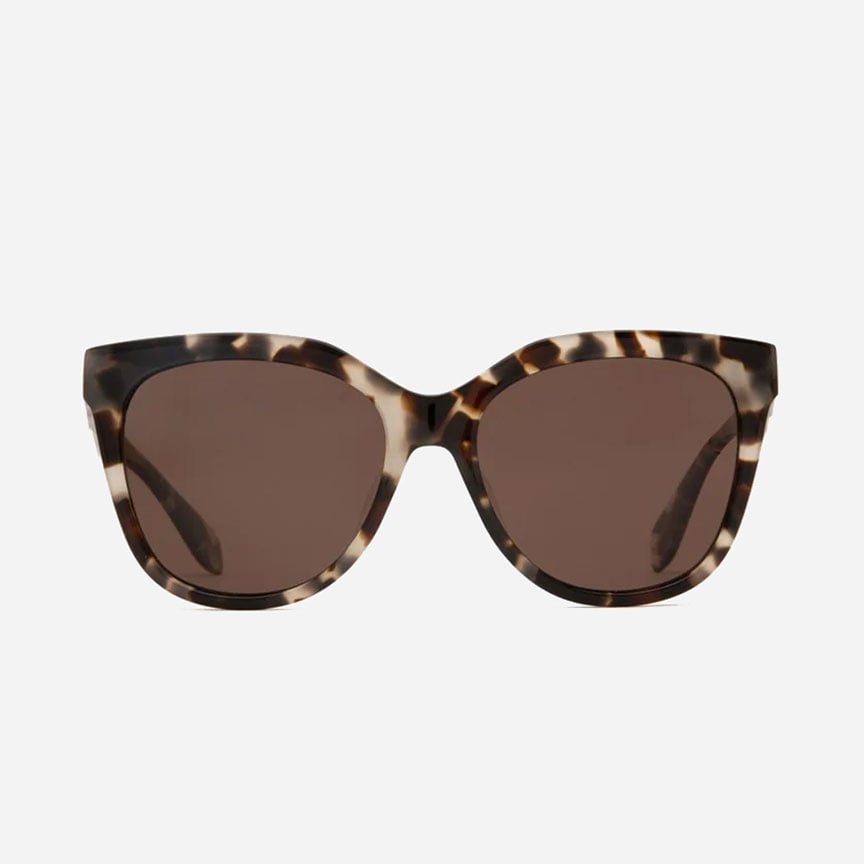 Ua Body
Savannah Rezabek, Vice President and Senior Manager of Marketing Operations shared, "I purchased Ua Body's Kupaloke (tuberose) lotion at the Mana Up Showcase; it's absolutely divine. I know I'll be gifting their products this season to my family and friends!"
Ua Body was started 30 years ago, by the now-founder's late mother on Hawaii Island. Their natural, clean, and vegan skin care products are all handcrafted in small batches in their workshop in Hawaii. Their promise to you is high-quality, additive-free formulas consisting of natural and native ingredients that replenish, hydrate, and protect your skin. In an effort to reduce single-use plastic, their packaging comes in glass and paper and a percentage of each sale goes to the Hawaii Conservation Alliance, whose mission is to preserve the culture, land, and oceans that we call home.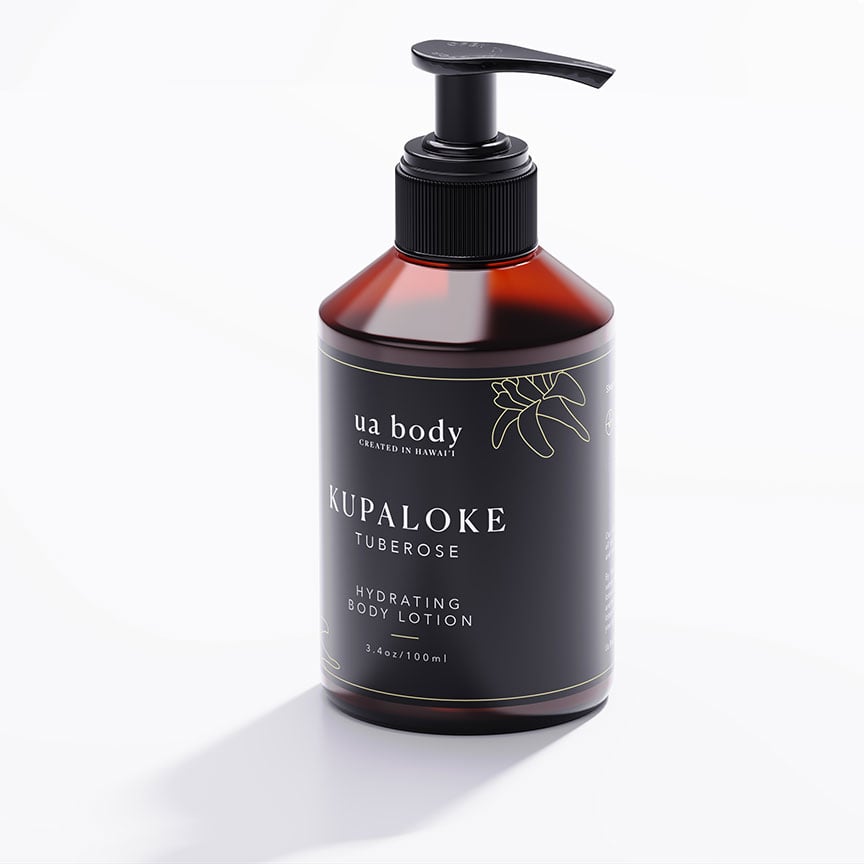 LexBreezy
"LexBreezy has the hottest items this season and I'm so glad I got to see them in person at the Mana Up Showcase," expressed Mari Martin, Assistant Vice President and Content Marketing Manager.
LexBreezy Hawaii is a custom cut and sew clothing brand which comprises of one-of-a-kind signature styles in a modern twist of Aloha and resort wear. Designed in Hawaii each piece speaks to a new generation of women, eager to wear cutting-edge, elegant, tropical designs that reflect the true beauty of our Hawaiian culture. Lexbreezy Hawaii tells a story of what aloha wear is today and inspires all generations to embrace the adornment of aloha wear. Woven into every garment is a timelessness, creativity and sentimentality that is as random as it is unique.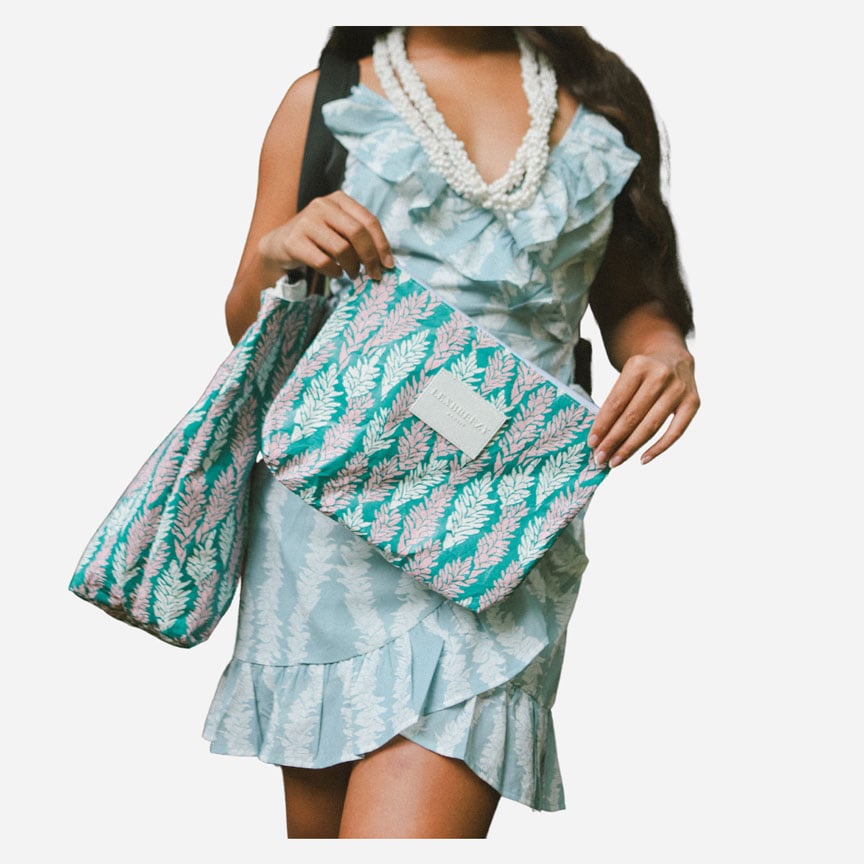 Ready to start your holiday shopping? Shop the BOHxManaUp Collection for the Holidays Gift Guide Now!
About Bank of Hawaii x Mana Up
Supporting local has never been more meaningful than it is today. That's why we've partnered with Mana Up, a local accelerator program, to help Hawaii's entrepreneurs grow and succeed, with an overall mission to diversify the local economy for generations to come.

Together, this initiative will highlight Hawaii's growing entrepreneurial ecosystem and propel local companies to the next level. Bank of Hawaii is the exclusive Mana Up banking partner at the Founder Level to lead key strategic programs, including a new executive mentorship program, and to offer a platform to share local entrepreneur stories.
You're about to exit BOH.com
Links to other sites are provided as a service to you by Bank of Hawaii. These other sites are neither owned nor maintained by Bank of Hawaii. Bank of Hawaii shall not be responsible for the content and/or accuracy of any information contained in these other sites or for the personal or credit card information you provide to these sites.