Our Community
Finding Ways to Give Back
During our anniversary year, Bank of Hawaii committed to showing our appreciation for the communities where we live and work. Each of the bank's 2,000-plus employees was given the opportunity to select a nonprofit to receive a $125 donation from Bank of Hawaii Foundation.
Additionally, the bank planted the equivalent of 125 trees per week throughout 2022, and provided grants to Hawaii and West Pacific nonprofits that work to protect the environment. The total from these two initiatives alone is nearly $345,000. More information about the ways we gave back in celebration of 125 years can be found on pages 12–15 of this annual report.
Bank of Hawaii, its employees, and the Foundation contributed nearly $3.4 million to community and philanthropic causes in 2022.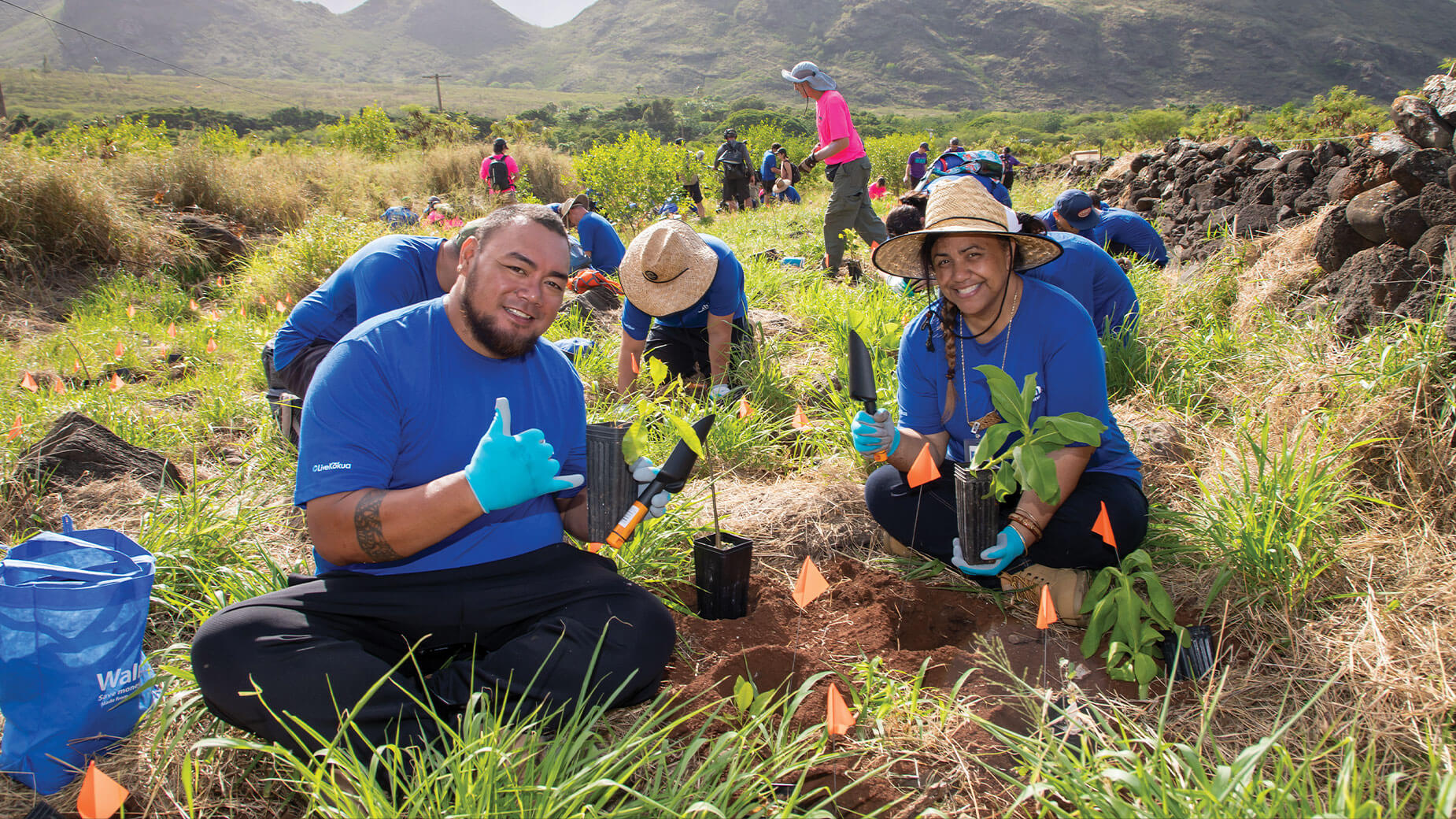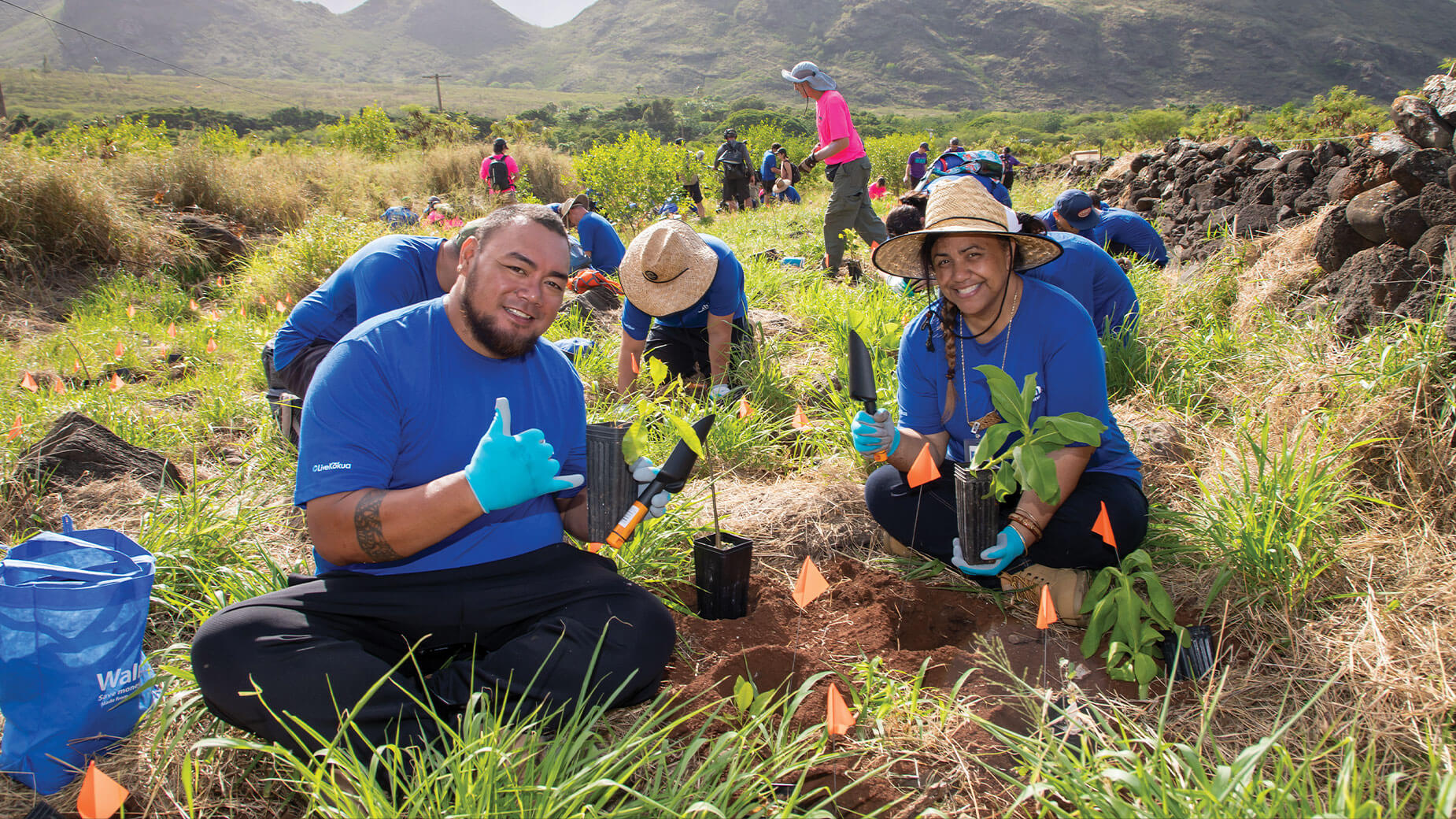 Kanani Ioapo and her husband, Ken, were among hundreds of volunteers who planted trees at Waianae Kai Forest Reserve for our annual Community Service Day.
Employee Giving through Live Kokua
In 2022, our Bankoh Blue Crew (which references our bright blue shirts) has been highly visible doing good for the community.
Live Kokua Volunteer Program
Here are a few of the community service events in 2022.
Homeless Shelter Lunches: Bank volunteers returned to prepare and serve lunches to Institute for Human Services (IHS) residents. Prior to the pandemic, Bankoh Blue Crew members consistently volunteered for this service, and stepped up again once IHS made the opportunity available.
YWCA Dress for Success: Volunteers helped YWCA sort through donated items that are sold to raise funds to help empower participating women, including those transitioning out of prison or shelters, or who are new or returning to the workforce. The program provides mentorship, professional attire and job training.
Goodwill Goes GLAM! returned to the Blaisdell Exhibition Hall after a two-year hiatus. Volunteers assisted Goodwill Hawaii with their signature fundraiser to help people with employment barriers find work. Their community initiatives help more than 10,000 people statewide each year.
Live Kokua Giving Campaign
Employees and retirees raise funds every year for the Live Kokua Giving Campaign, first created in 2010.
This year's campaign, #BankohCares, ran from Oct. 11 to Dec. 12 and raised $569,717 to support a selection of Aloha United Way's partner nonprofits. To date, employees and retirees have donated over $7.5 million through the Live Kokua Giving Campaign for nonprofits in Hawaii and the West Pacific region.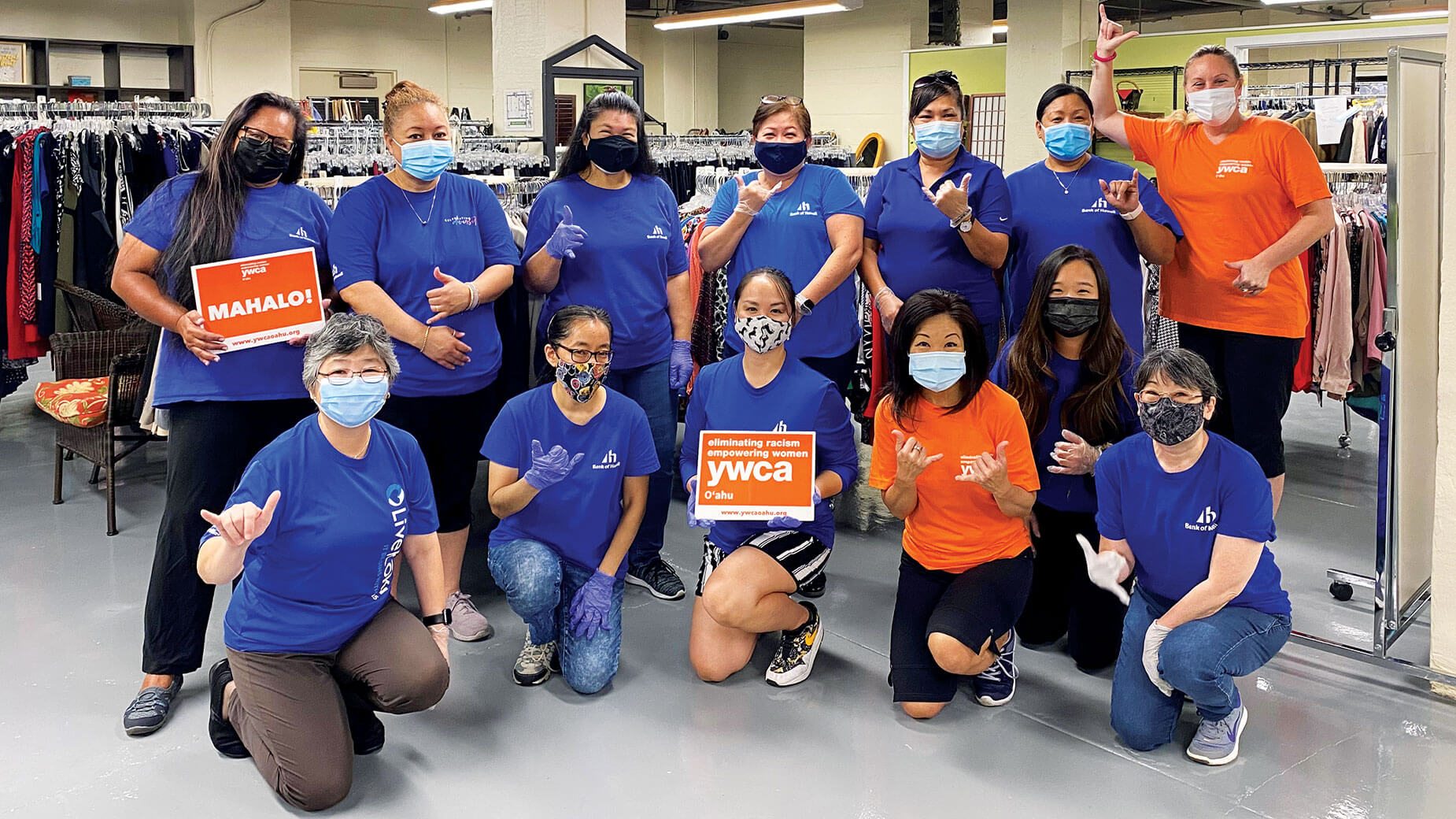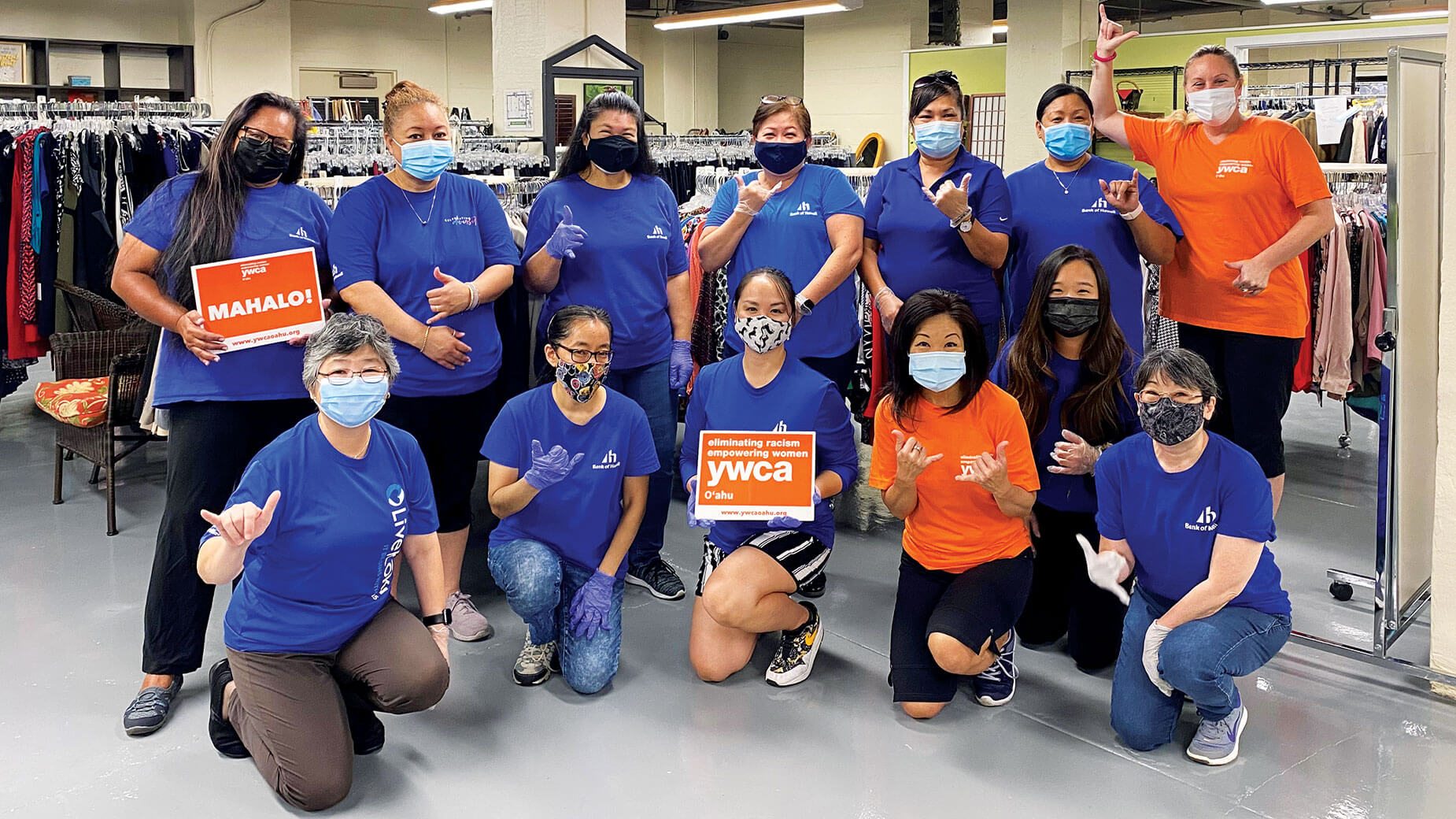 Our Bankoh Blue Crew helped sort donations at YWCA's Dress for Success.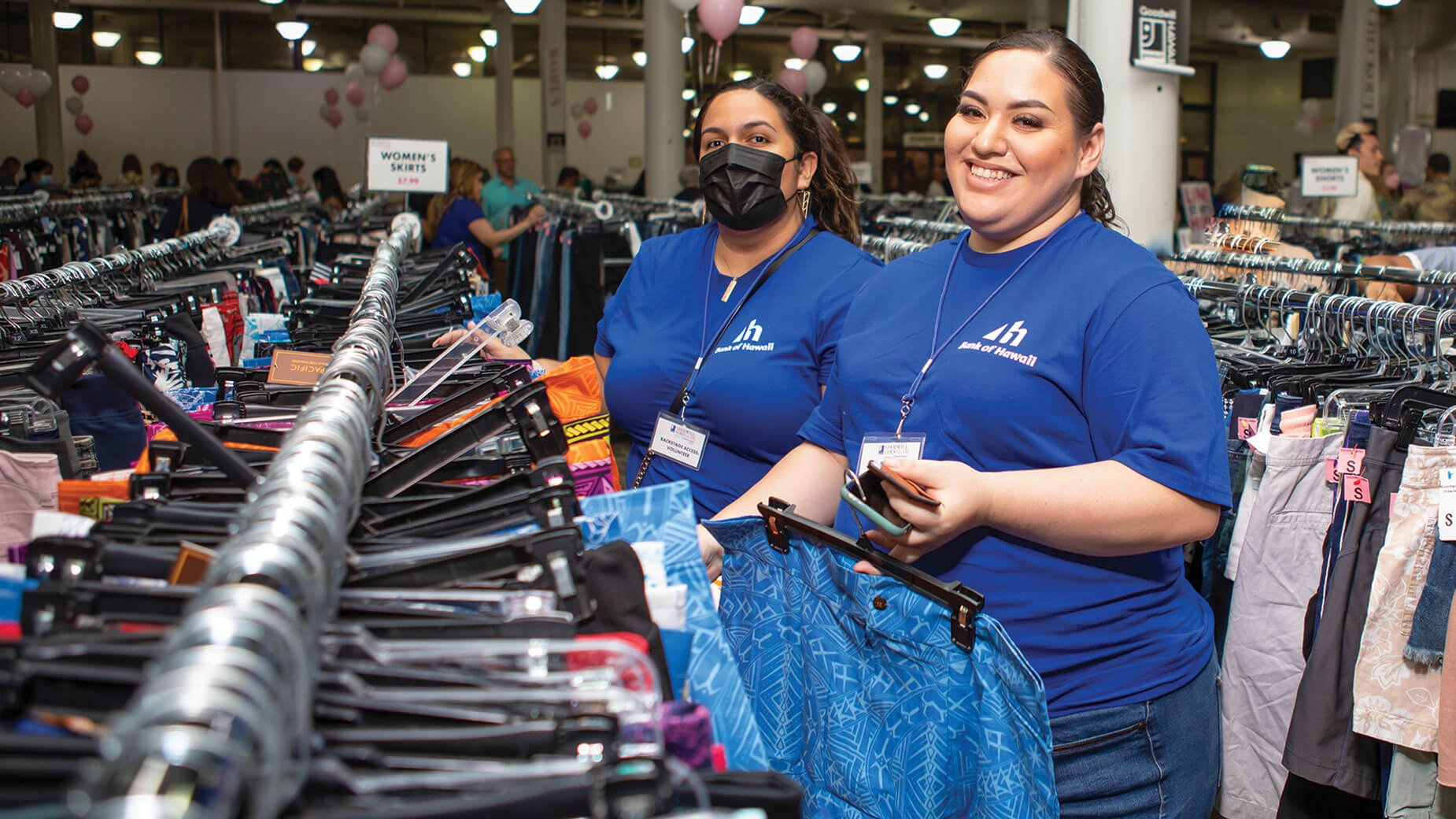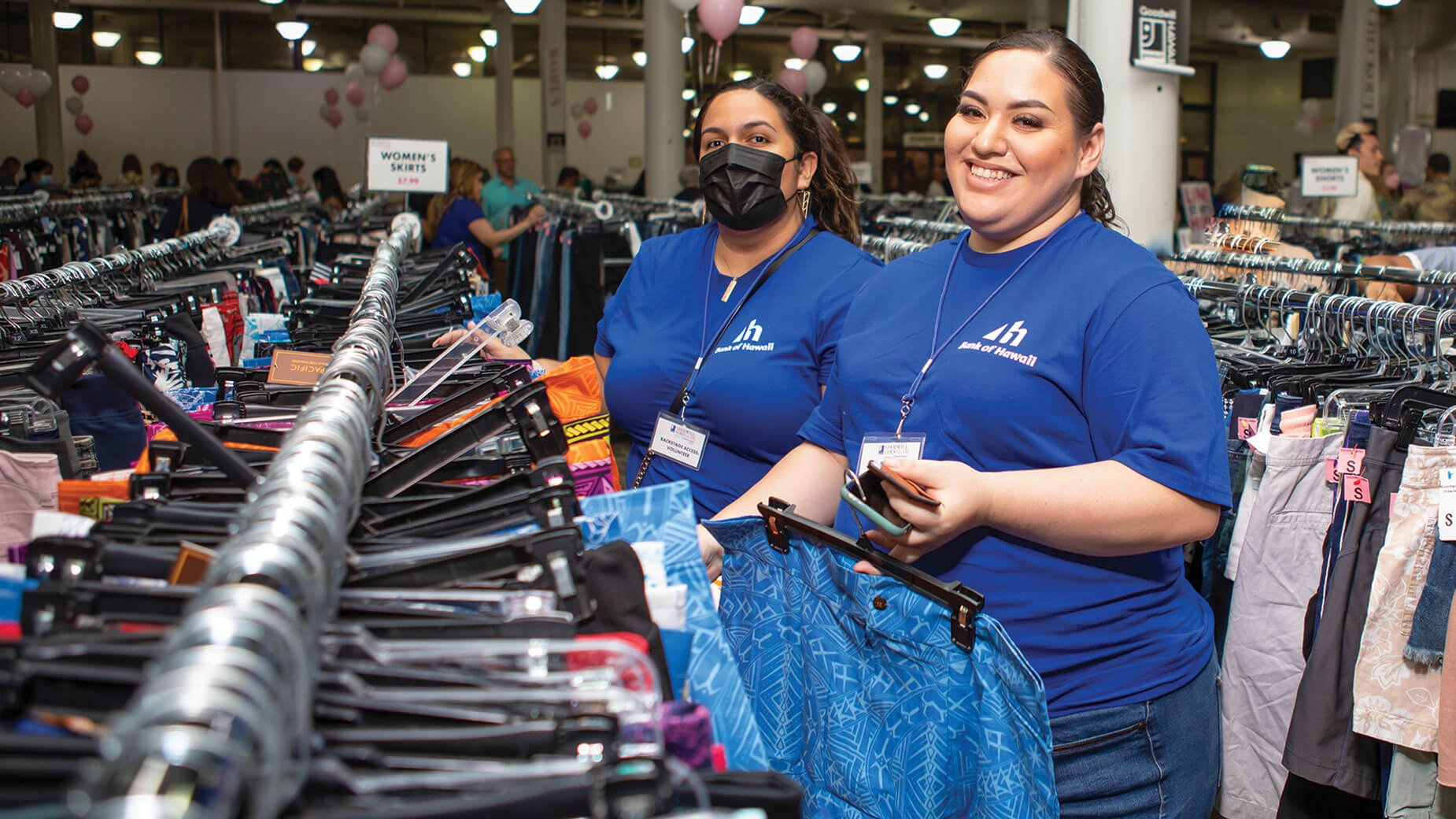 Kayla Matautia and Sheri Lynn Freitas were thrilled to volunteer at the popular Goodwill Goes GLAM! in person again this year.
Support for 2020–2024 ALICE Cohort
For almost half of our residents, Hawaii's high cost of living is taking a toll. Hawaii's ALICE (Asset Limited, Income Constrained, Employed) Cohort Initiative raises awareness about a huge, but sometimes hidden, segment of our community that is struggling to afford basic necessities.
Hawaii's ALICE Cohort Initiative focuses on lifting ALICE households—existing above the Federal Poverty Line, but still struggling—to greater financial and social stability, and increasing access to safe and affordable housing.
The 2022–24 ALICE Fund invests in the ALICE Cohort Initiative, which includes 17 nonprofits collectively working to develop and implement impactful and scalable programs to help Oahu's ALICE households. It is overseen by Aloha United Way (AUW) and Hawaii Community Foundation. Bank of Hawaii Foundation is one of many supporting the 2022–24 ALICE Fund over three years.
ALICA in Hawaii: 2022 Facts and Figures
Bank of Hawaii has sponsored the ALICE Report for Hawaii since 2018.
In 2022, Bank of Hawaii Foundation provided a grant of $97,500 to sponsor ALICE in Hawaii: 2022 Facts & Figures. The report was released in December 2022 and made available publicly through AUW's website. It includes data for the entire state of Hawaii and helps to inform government decision-making at the state and county levels.
Nonprofit Partnerships At-A-Glance
Bank of Hawaii Foundation
Bank of Hawaii Foundation is honored to support hundreds of nonprofits in our community each year. The following are some of the grants and sponsorships from Bank of Hawaii Foundation in 2022.
PBS Hawaii's HIKI NO
$100,000 continues Bank of Hawaii Foundation's 11th year of supporting the nation's first and only statewide student news program and digital media learning initiative.
Hawaii Foodbank
$50,000 was donated to improve the Foodbank's data tracking through new technology that will help them provide more reliable information to the federal government, and improve sustainability in their food distribution services.
Hawaii P-20 Partnerships for Education
$100,000 was provided to the University of Hawaii Foundation for college scholarships.
Catholic Charities Hawaii's 75th Anniversary
$50,000 was donated to celebrate the organization's anniversary and to provide funding to their multiple services for Hawaii's elderly, immigrants, mentally ill, families and others in need.
Bank of Hawaii Foundation Family Sundays
$100,000 funded the return of Family Sundays at the Honolulu Museum of Art after a two-year hiatus due to the pandemic. Since 2004, Family Sundays by Bank of Hawaii Foundation has offered free admission for residents on the third Sunday of every month, providing access to arts, culture and entertainment.
Legacy Foundation, Honolulu Pride Parade and Festival
A $15,000 annual commitment was made to continue our visionary level sponsorship through 2024 as part of our focus on diversity and inclusion in the community. Bank of Hawaii Foundation has been a sponsor for the past four years.
21st Annual Native Hawaiian Convention, "Hulihia"
$10,000 was provided to the Council for Native Hawaiian Advancement for their Honolulu convention. More than 1,500 community members attended the convention, which explored sustainability in Hawaii.
2022 Financial Education/ Community Reinvestment Act (CRA)
Partnering with other organizations to support small businesses, improve financial education, create affordable housing and well-paying jobs, address homelessness, and improve healthcare are all areas of focus for our participation under the CRA. Bank of Hawaii holds an outstanding Community Reinvestment Act rating.
Supporting Saipan's Small Businesses
This is the 11th year of the I Kinometi Para I Kumunidat I Isla-ta Small Business and Revitalization and Development grants. Grants of up to $5,000 are awarded each year by Bank of Hawaii Foundation for projects that promote new small businesses on Saipan and encourage existing ones to expand with an emphasis on projects that will benefit the community.
In 2022, the five awardees included:
A gourmet cookie shop that purchased signage and furnishings so it could move from catering operations to a brick-andmortar store.
A locally owned dive shop that paid for scuba diving instructors and offered discounted classes to residents.
A family-owned clothing company that purchased new inventory including quick-dry tees.
A childcare service for preschool children that purchased supplies and provided teaching staff with the latest educational and childcare training.
A locally owned outpatient hemodialysis center that purchased equipment to ensure continuous dialysis care and related services in the event of a disaster or power outage.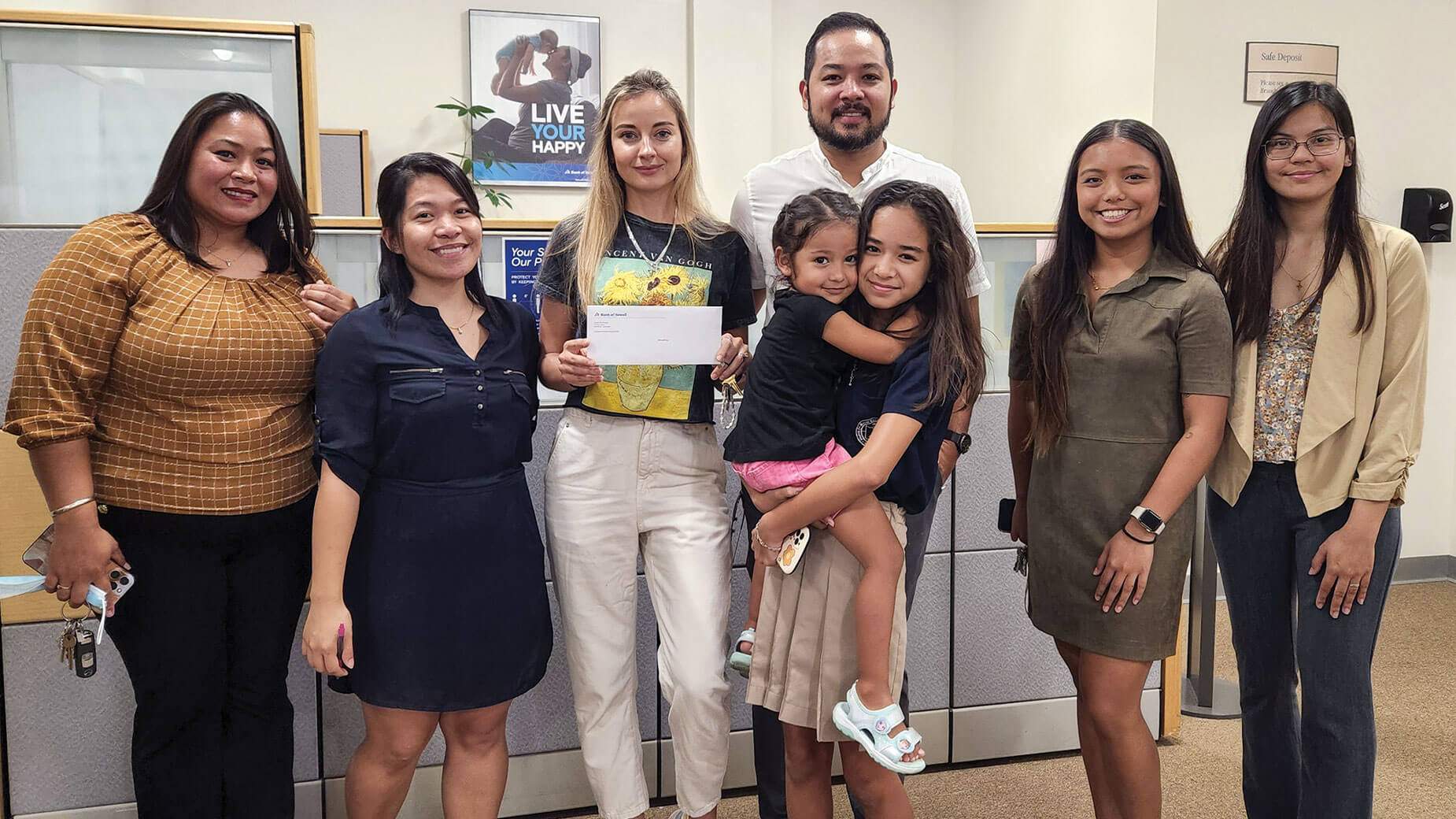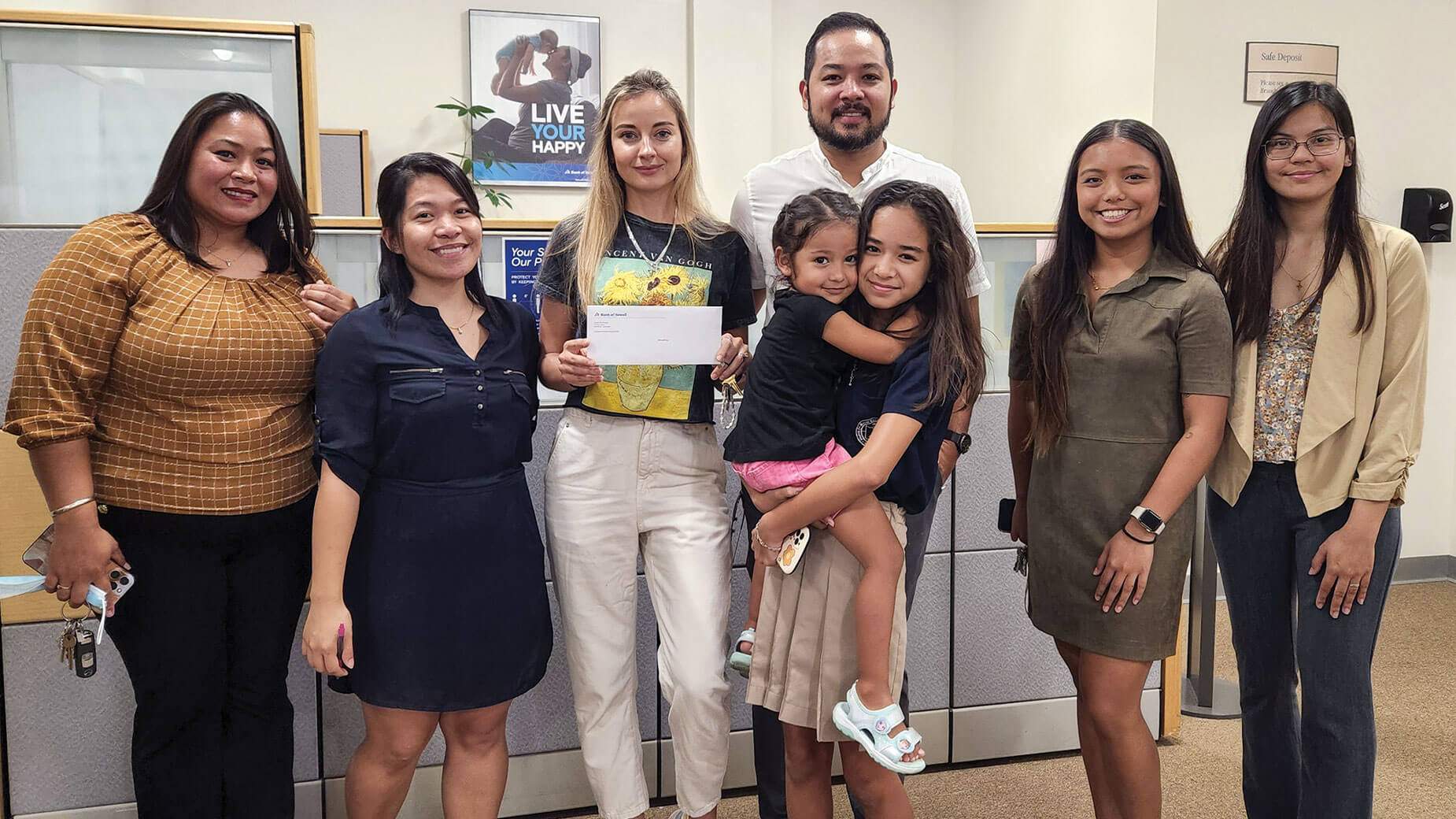 Grant recipient, DreamPlay, used their funds to purchase learning and development tools for toddlers.
Helping Low-Income Families Receive Tax Refunds
Every year since 2010, Bank of Hawaii employees have partnered with Goodwill Hawaii's Volunteer Income Tax Assistance (VITA) program. This year, 29 volunteers became IRS-certified for the 2022 season and were accepted in the Consumer Financial Protection Bureau (CFPB) Tax Time Initiative Cohort. Our volunteers prepared 95 tax filings that resulted in over $126,000 in refunds back to the community. This was the first year we had representation on four of the major Hawaiian Islands.
Supporting Princess Ruth Keelikolani Middle School
Bank volunteers have provided unique financial education opportunities to public schools across Hawaii and the West Pacific since 2009.
Built in the heart of downtown Honolulu on the grounds of the former palace of Princess Ruth Luka Keelikolani of Hawaii, this Title 1 school serves students in grades 6 through 8. While nearby neighborhoods feature luxury apartments and homes, the majority of students reside in government and affordable housing complexes or transitional and homeless shelters.
In April, nearly 50 Bank of Hawaii volunteers returned to the school to teach 300 students in 23 classrooms for our SmartMoney Lesson Day during Financial Literacy Month. Topics were explored in a fun way, and included the importance of saving money as well as saving energy to help protect the environment. Dozens of other schools also welcomed bank volunteers to share SmartMoney financial lessons in the spring, and again in October and November.
We returned to Princess Ruth Keelikolani Middle School on Career Day in May to share experiences about working at a bank and to answer students' questions.
Helping Young People Who Have Experienced Foster Care
The HI H.O.P.E.S. Initiative (in partnership with EPIC Ohana, Hawaii Community Foundation, the Jim Casey Youth Opportunities Initiative, and the Annie E. Casey Foundation) works to ensure that Hawaii's young people who experience foster care have the resources they need for success. Since 2010, Bank of Hawaii has been a supporter of HI H.O.P.E.S., and continues to provide individual development savings accounts (IDAs) while building relationships with young people striving to create independence after experiencing foster care.
Since the start of HI H.O.P.E.S., Bank of Hawaii has opened 968 IDAs for large purchases such as housing, education and vehicles. Forty-two percent of the accounts were used to make a qualified-asset purchase aggregating to $1.41 million. The most common qualified purchase on Oahu was for education (35%), followed by housing (25%). On the neighbor islands, 44% of participants used their funds for transportation, while 24% made a deposit for housing.
Bank of Hawaii employees also serve on advisory groups for HI H.O.P.E.S. on the four major islands including groups in Hilo and Kona on Hawaii Island.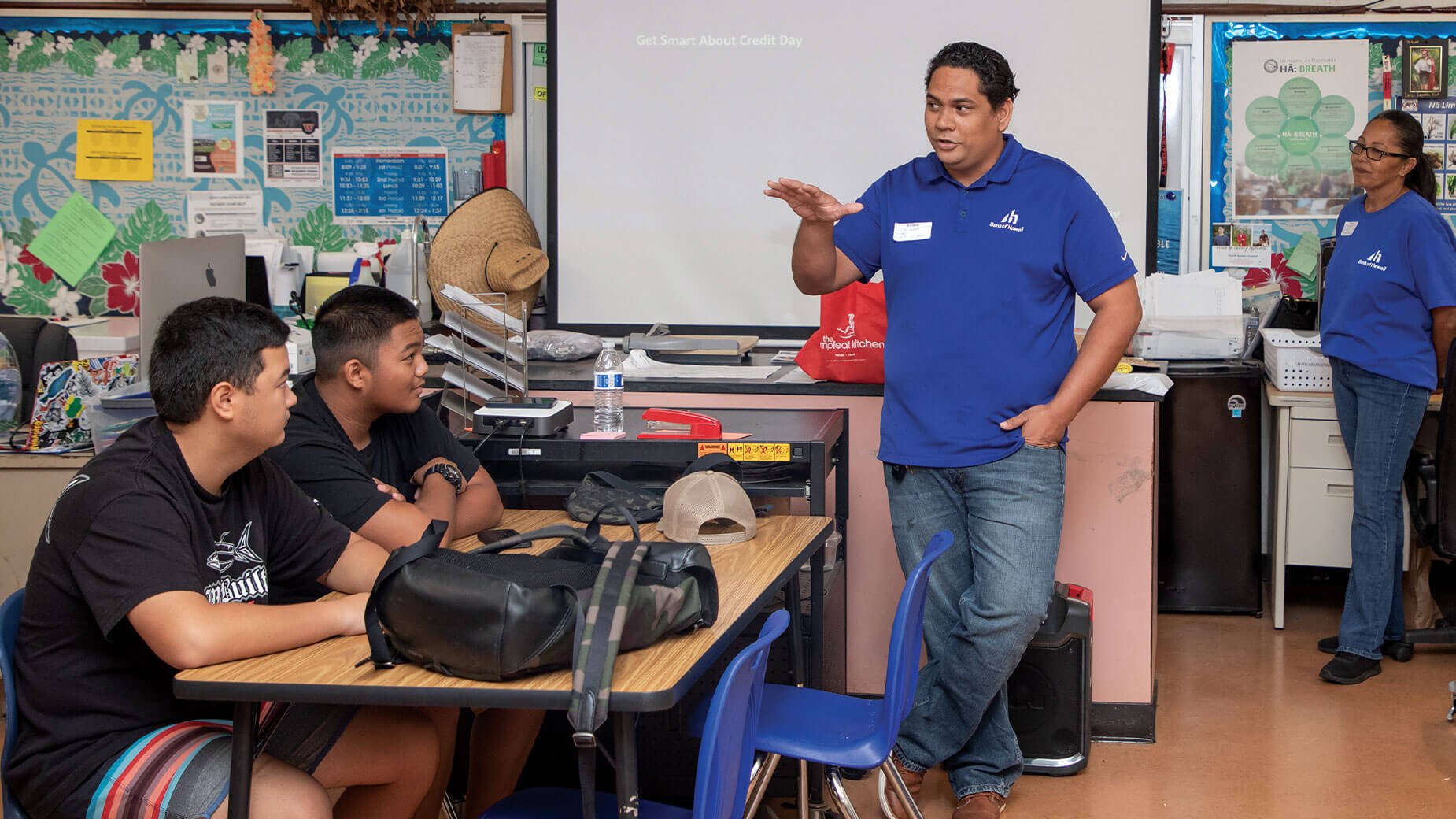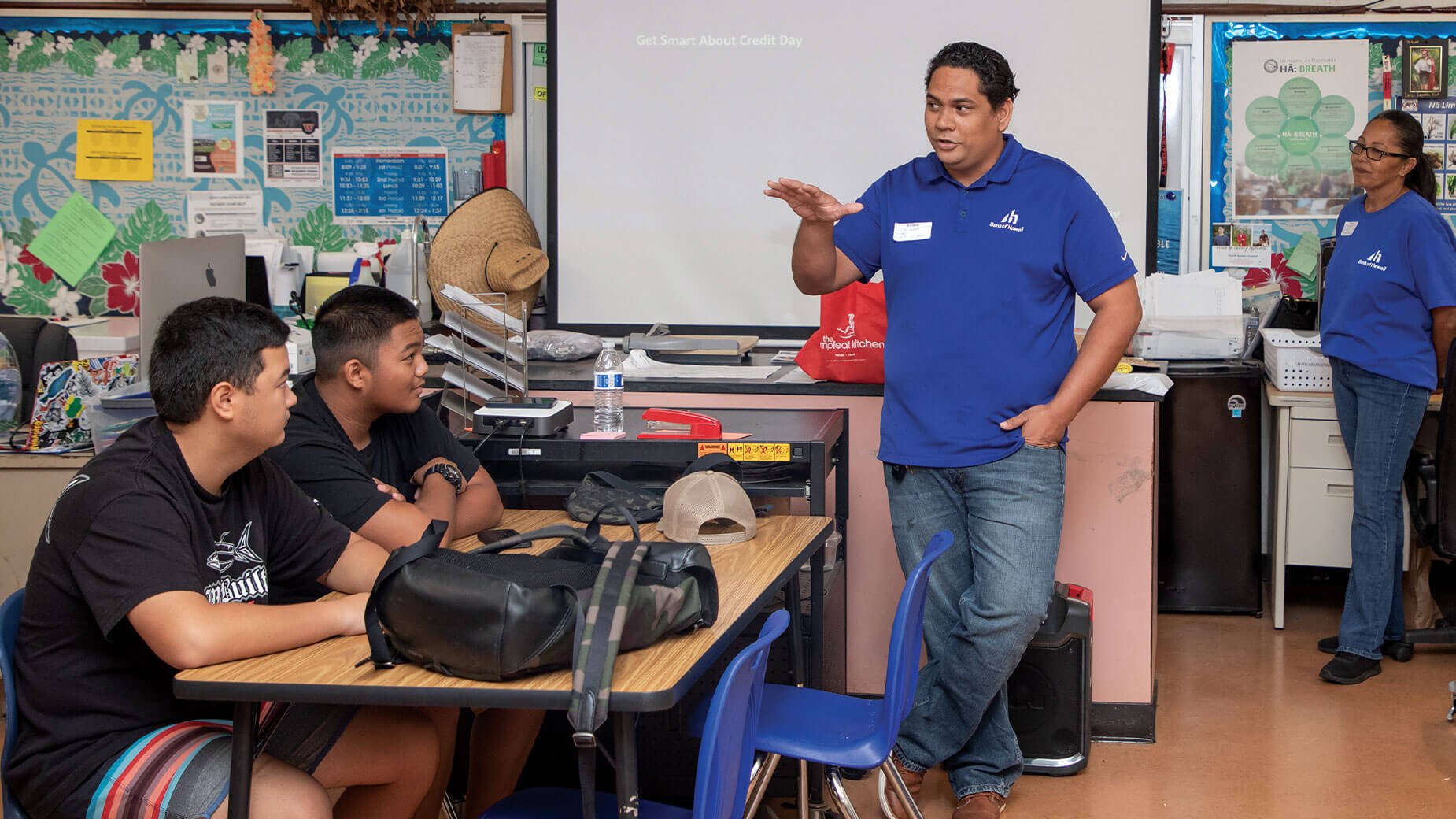 Lono Kealoha and other bank employees taught important financial literacy courses to 11th graders at Waianae High School in November.
You're about to exit BOH.com
Links to other sites are provided as a service to you by Bank of Hawaii. These other sites are neither owned nor maintained by Bank of Hawaii. Bank of Hawaii shall not be responsible for the content and/or accuracy of any information contained in these other sites or for the personal or credit card information you provide to these sites.