Zelle®
Send money in minutes with Zelle®.
It's a fast, safe and easy way to send and receive money with friends and family.
Get started with Zelle®
Zelle® is available to people who have a U.S based checking or savings account. To enroll, open your Bank of Hawaii mobile app and sign in.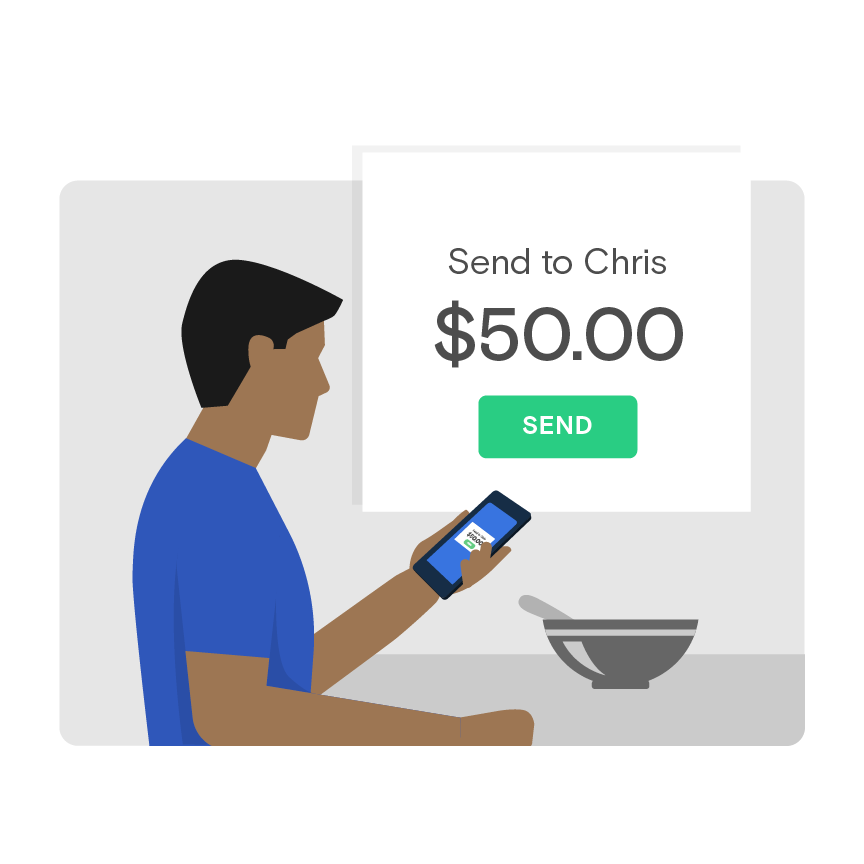 Zelle® Send Limits
As a Bank of Hawaii customer, you can send up to $1,000 per calendar day.
If you are a client of The Private Bank, you can send up to $2,500 per calendar day.3
Frequently Asked Questions
What is Zelle®?
Zelle® is a fast, safe, and easy way to send money directly between almost any bank accounts in the U.S., typically within minutes1. With just an email address or U.S. mobile phone number, you can send money to people you trust, regardless of where they bank.4
Who can use Zelle®?
State of Hawaii, Guam, and Saipan consumer checking accountholders 18 years of age or older can use Zelle® to send funds to a bank account in the U.S. Zelle® is not available to business accountholders or Palau accountholders.
How do I enroll with Zelle®?
To get started, log into Bank of Hawaii's Mobile App and accept the Terms and Conditions. Then tap the "+" button, and select "Zelle®" to get started. Confirm your email address or U.S. mobile phone number to receive a one-time verification code. Once you enter the verification code, you're ready to start sending and receiving money with Zelle®.
Are there limits to the amount of money I can send and receive?
The send limit is $1,000 per calendar day. For clients of The Private Bank, the send limit is $2,500 per calendar day.3 There are no limits to the amount of money you can receive.
When will the money be available for use?
The money sent with Zelle® is typically available to an enrolled person within minutes1. To ensure the payment moves as quick as possible, ask your friends and family to enroll with Zelle® before you send them money. In some cases, the payment could be delayed for your protection—for example—if Zelle® or Bank of Hawaii suspect fraudulent activity is taking place.
I'm unsure about using Zelle® to pay someone I don't know. What should I do?
If you don't know the person, or aren't sure you will get what you paid for (for example, items bought from an online auction or sales site), you should not use Zelle® for these types of transactions. These transactions are potentially high risk (just like sending cash to a person you don't know is high risk). Neither Zelle® nor Bank of Hawaii offer a protection program for any authorized payments made with Zelle®.
Can I cancel a payment?
If the person you sent money to has already enrolled with Zelle®, the money is sent directly to their bank account and cannot be canceled. If your recipient has not yet enrolled with Zelle®, the payment will remain pending, and the money will not move from your account. If the recipient does not enroll within 14 days, the payment will expire, and the transaction will be automatically cancelled.
I'm already using my U.S. mobile number or email address with Zelle® at another financial institution. Can I still use Zelle® with Bank of Hawaii?
You can use Zelle® with Bank of Hawaii, but you will need to transfer your enrollment from your other banking app.
What is the difference between the Bank of Hawaii Zelle® experience and the separate Zelle® app?
Bank of Hawaii partners with Zelle® to allow you to send money to and receive money from friends, family and others you trust using your BOH Mobile Banking app. There is a separate Zelle® app that is owned and operated by Early Warning Services, LLC. If you choose to use the Zelle® app then you will be subject to separate terms and conditions.
How do I cancel my enrollment with Zelle®?
If you're currently enrolled with Zelle® in the BOH Mobile Banking app and would like to cancel your enrollment, please contact our customer service center at 808-643-3888 or toll-free at 1-888-643-3888.

Equal housing Lender. Member FDIC.
©2023 Bank of Hawaii, Inc. All rights reserved.
Bank Routing Number: Hawaii: 121301028 | Guam/Saipan: 121405018 International SWIFT: BOHIUS77