Insights & Stories
Women's History Month Spotlight: Dress for Success with YWCA Oahu
Reading Time: 10 Minutes
March 14th, 2022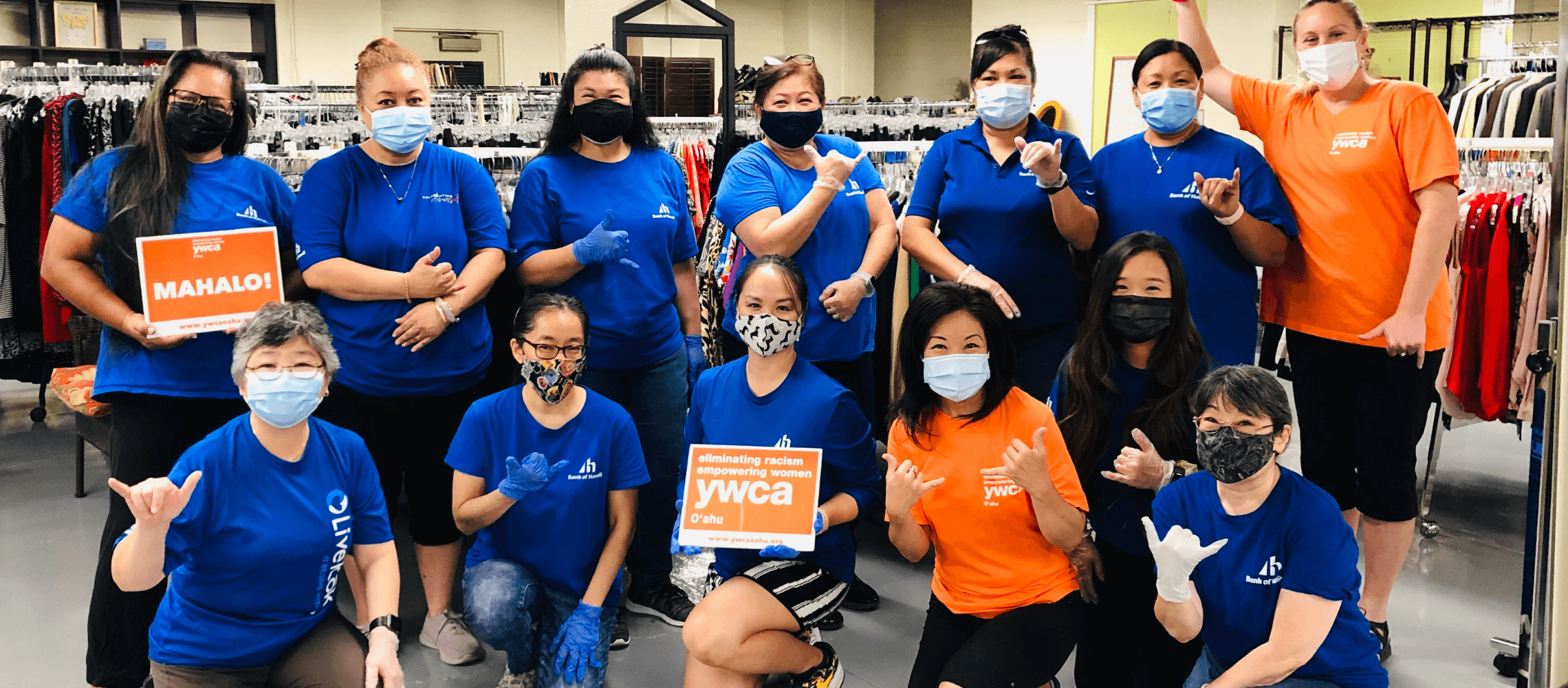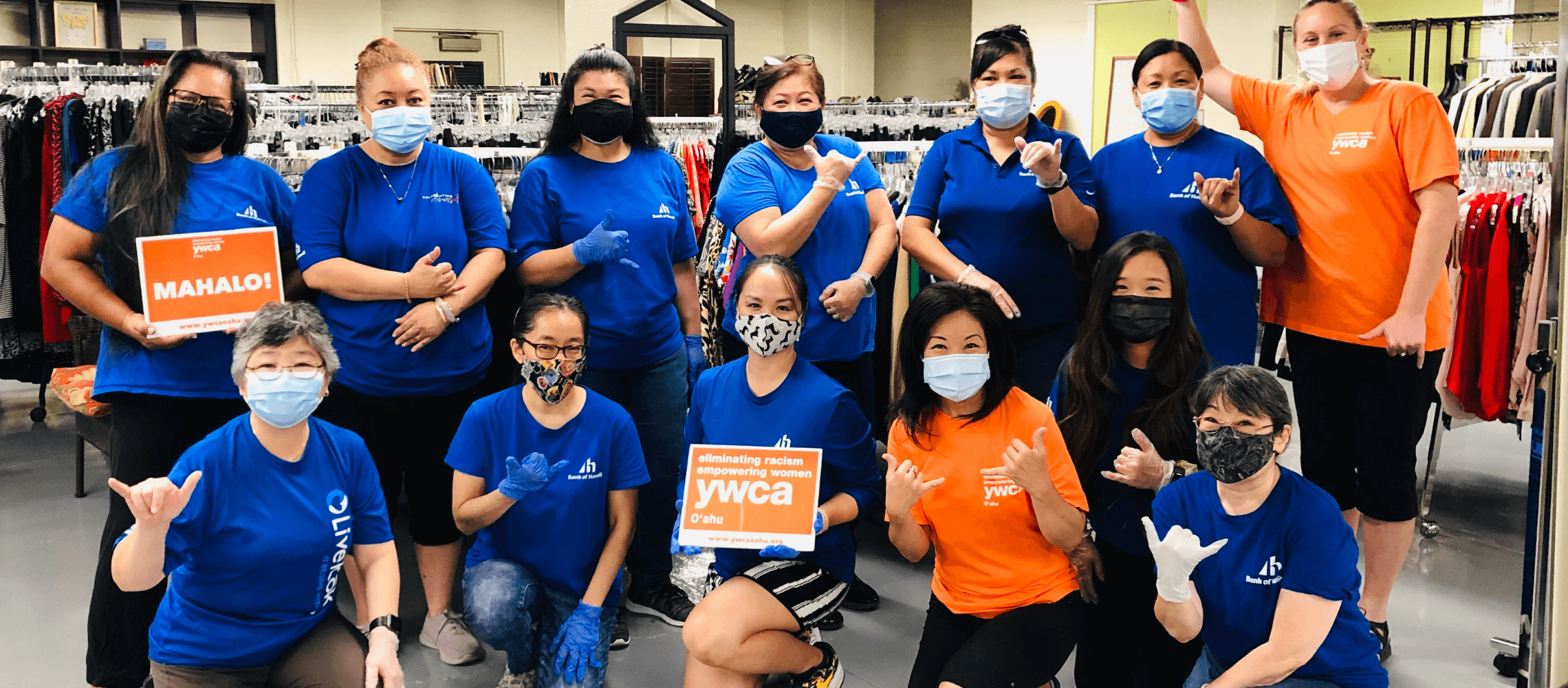 Let's say you're going to a job interview tomorrow.
You would likely be concerned with making a good impression on your potential future employer at the interview. You might also be concerned about how many other people are applying for this job, or whether you have enough experience for the position. There could be any number of things on your mind—although one thing you may not necessarily be worrying about is whether you have suitable clothing for the interview.
However, for many women in Hawaii, having professional attire to secure employment is a critical, and often overlooked, need. When employers are considering candidates for a job, their first impressions are partially affected by what an individual is wearing, which can influence hiring decisions. It's not just about having nice clothes to wear, that fit correctly; it's also about having the confidence that comes with dressing appropriately for a job and feeling secure in oneself and one's abilities. This is where Dress for Success comes in.
"It seems like something very simple: Give someone an outfit they can wear to an interview. But for women who have never seen themselves dressed a certain way, that boost of confidence becomes a tool they can use. The reality is, many of these women will also need this clothing for meetings, court hearings, or any situation where it's in their best interest to present their best selves," says Stephanie Hamano, director of the Honolulu chapter of Dress For Success, a global not-for-profit organization that empowers women to achieve success through economic independence.
Since 1997, Dress for Success has helped more than 1.2 million disadvantaged women in almost 150 cities around the world by providing them with professional attire that helps them look the part at job interviews. The organization also provides career development tools and a strong support network through career coaching, mentorships, networking opportunities, and workshops to ensure that women not only find jobs but excel at them as well. For example, Dress For Success Honolulu offers training sessions where women can learn how to manage their finances, develop their resume, improve their interview skills, negotiate with their bosses, and more.
"Our goal isn't just to get women jobs, it's also to keep them employed. We host monthly events where women can meet others who are also new at their jobs and they can hear from industry experts talking about opportunities in their field," Hamano says. "Employment can ebb and flow. Even if someone's been in a job for a while, maybe they're not happy anymore and they want to move. Do they suddenly want to work in a different industry? Do they want to attend school or a job training program? Here, they're able to talk to someone. Dress for Success helps provide resources that may be difficult for certain women to come by."
The process to enroll in Dress for Success as a client is straightforward: Women can be referred to Dress for Success by nonprofit organizations or government agencies, or they can self-refer. Once they have an interview scheduled, they'll work with a Dress for Success volunteer professional suitor, who will provide clients with a couple of outfits. When they secure employment, clients can receive a few more outfits—usually at least a week's worth of clothing—as well as access to workshops and invitations to upcoming events.
Although the process sounds relatively simple, the program's effects are often transformative. For Alicia Y., a Salt Lake woman who found herself in a domestic violence shelter, the Dress for Success program helped her understand her worth, find a job, and safely leave the shelter. "I was getting into trouble because I was going through too much at home. … The domestic violence shelter referred me to Dress for Success where you get to learn about yourself, what you're capable of doing," she says. "It's about being confident and being able to … find something you are worthy for." For Grace A., the program represented a way for her to break a destructive cycle before it affected her children. "I didn't want them to become angry teenagers or have no guidance so I wanted to change for them," says Grace A. "My fitter, she made me feel special and ready to face the world, ready to get a job. Where do you get that much support and mentorship, the mentorship that I needed growing up? The mentorship that my mom needed?"
In Honolulu, Dress for Success is sponsored by the Oahu chapter of the Young Women's Christian Association (YWCA), which was originally founded in England in 1855 to offer education, housing, and support to single women from rural areas of the country, who were new arrivals in London wanting to join the industrial workforce. Although initially inspired by Christian principles, the YWCA has embraced a vision of "peace, justice, freedom, and dignity for all people" in recent decades; participation in the YWCA is open to everyone regardless of religious affiliation and the organization has become an international movement that serves 25 million worldwide in more than 120 countries around the world. In 1900, Emma Louise Smith Dillingham founded the YWCA Oahu as a place for Honolulu's working women to learn skills that promote community engagement, build friendships, and develop shared values. By 1915, Oahu YWCA boasted a membership of 1,386 women, which included Queen Liliuokalani. Today's YWCA stands for empowering women, eliminating racism, standing up for social justice, helping families, and strengthening communities.
After a century in Hawaii, YWCA Oahu has proven successful in its mission; however, the Dress for Success program has experienced challenges in recent years due to COVID. In March 2020 alone, The Department of Labor estimates that more than 700,000 jobs in the United States were lost as a result of the coronavirus pandemic, with nearly 60% of those held by women. With an estimated 40% of Dress for Success' clients being single mothers and around 64% already living below the poverty line nationwide even before the pandemic, it is now more important than ever for this organization to remain open and accessible.
"At first, we were hopeful that we could reach many more people during [COVID] lockdown because we wouldn't have a limitation on space and women could save time by not having to travel to us," says Hamano. "But a professional suiting is such a personal experience. Trying to send photos back and forth, or holding up items of clothing on a Zoom call and asking what someone thinks isn't the same as being there in person."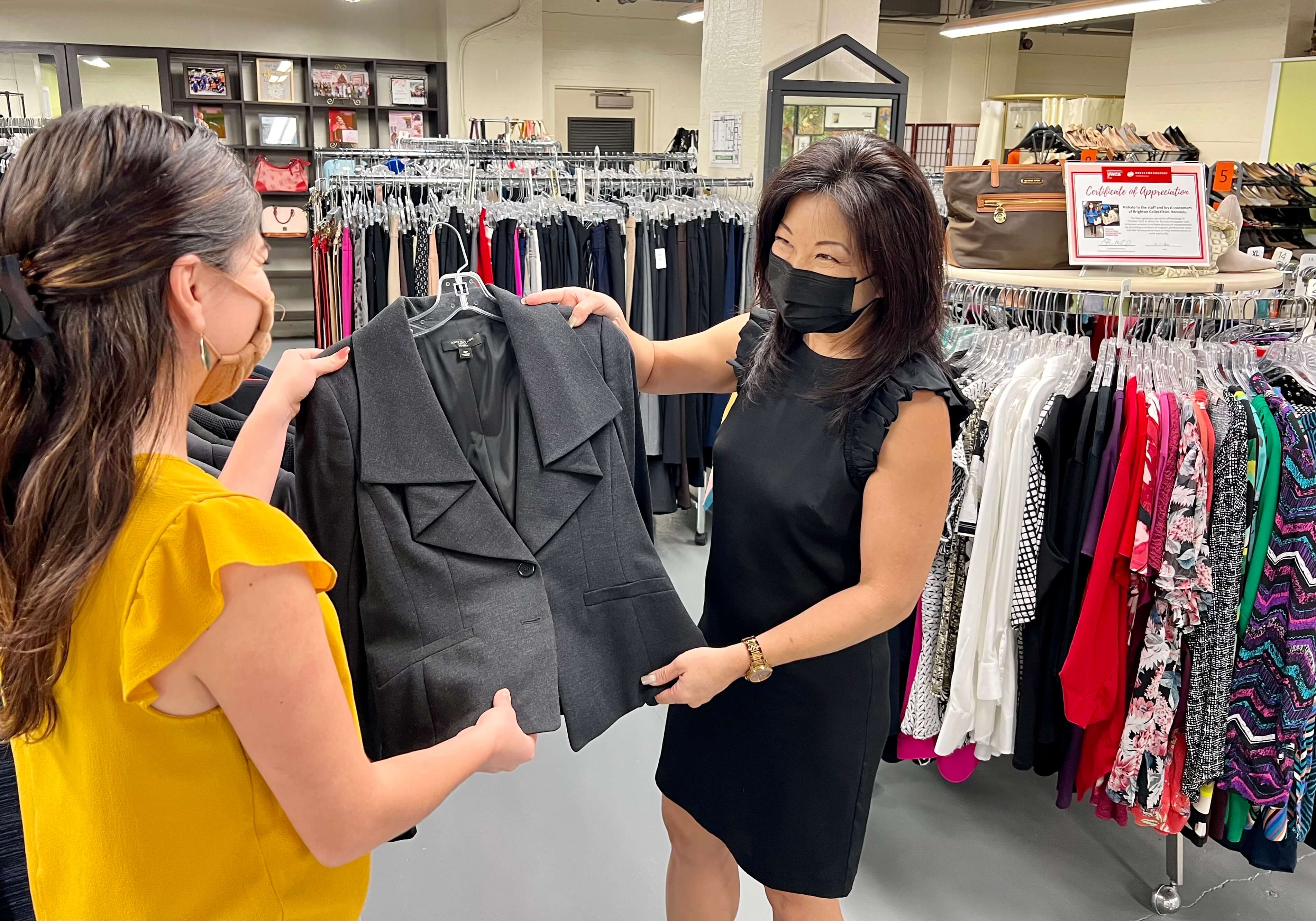 Hamano and her team discovered that virtual technology couldn't perfectly replace a one-to-one connection. Networking events and financial literacy workshops that were previously interactive and engaging had become 3-hour long Zoom calls during which women struggled to pay attention, especially if they also had to watch their children who were at home and not at school due to the pandemic. There were also technical difficulties: Not all of the women in the program had easy access to the Internet or unlimited data plans. "We realized that, at some shelters, two or more women were sharing one cell phone and they were all trying to stay engaged over Zoom. We weren't prepared for that," Hamano says. "There has been a lot of assistance by the state to provide more people in our target population with technology and WiFi. But the divide between those with access to resources and those who do not have the same access became very apparent during this time." Fortunately, as COVID cases decline and restrictions lift, YWCA Oahu has been able to return to hosting in-person fittings and workshops for Dress for Success in 2022.
If you'd like to support the YWCA Oahu's Dress for Success program, there are many ways to get involved. In honor of Women's History Month, Dress for Success hosts Your Hour, Her Power, an International Women's Day campaign that asks individuals to donate one hour of their pay in order to give low-income women access to Dress for Success programs and services. YWCA Oahu's fundraising goal is to reach $5,000 in donations before the end of 2022. Help spread the word about Your Hour, Her Power to your social network throughout the month using these images and messages on social media. If you're a savvy personal shopper, talented job coach, or simply good at sorting clothes, you can also become a volunteer.
Each month, Dress for Success Honolulu also hosts a monthly benefit clothing sale where overstock items, or donated clothing that isn't appropriate as business attire, is offered for sale at very low prices to the public—sometimes as low as $5 per piece. All proceeds go towards funding Dress for Success programs, including workshops and purchasing other business attire. "We are blessed with donations but we don't always receive all the items we need. For example, not everyone has medical scrubs to donate but many of our women are getting jobs in healthcare, so we'll purchase those on our own from Amazon, Ross, or T.J. Maxx," says Hamano. (Click here for a list of high-need items for Dress for Success. You can also make a tax-deductible cash donation in any amount at any time to support Dress for Success on the YWCA Oahu website.)
"Whether Dress for Success is helping suit a woman for a job interview, or referring someone to a professional who can assist with a challenge they're dealing with, or just putting women in front of opportunities that they might not have otherwise, I'm proud to be part of an organization that can support these amazing women," Hamano says. "At the end of the day, it's just about offering a personal level of individual assistance and care."
Photo credit: YWCA Oahu
You're about to exit BOH.com
Links to other sites are provided as a service to you by Bank of Hawaii. These other sites are neither owned nor maintained by Bank of Hawaii. Bank of Hawaii shall not be responsible for the content and/or accuracy of any information contained in these other sites or for the personal or credit card information you provide to these sites.