Insights & Stories
Meet the Hawaiian Humane Society's New Head Vet
Reading time: 5 Minutes
October 19th, 2018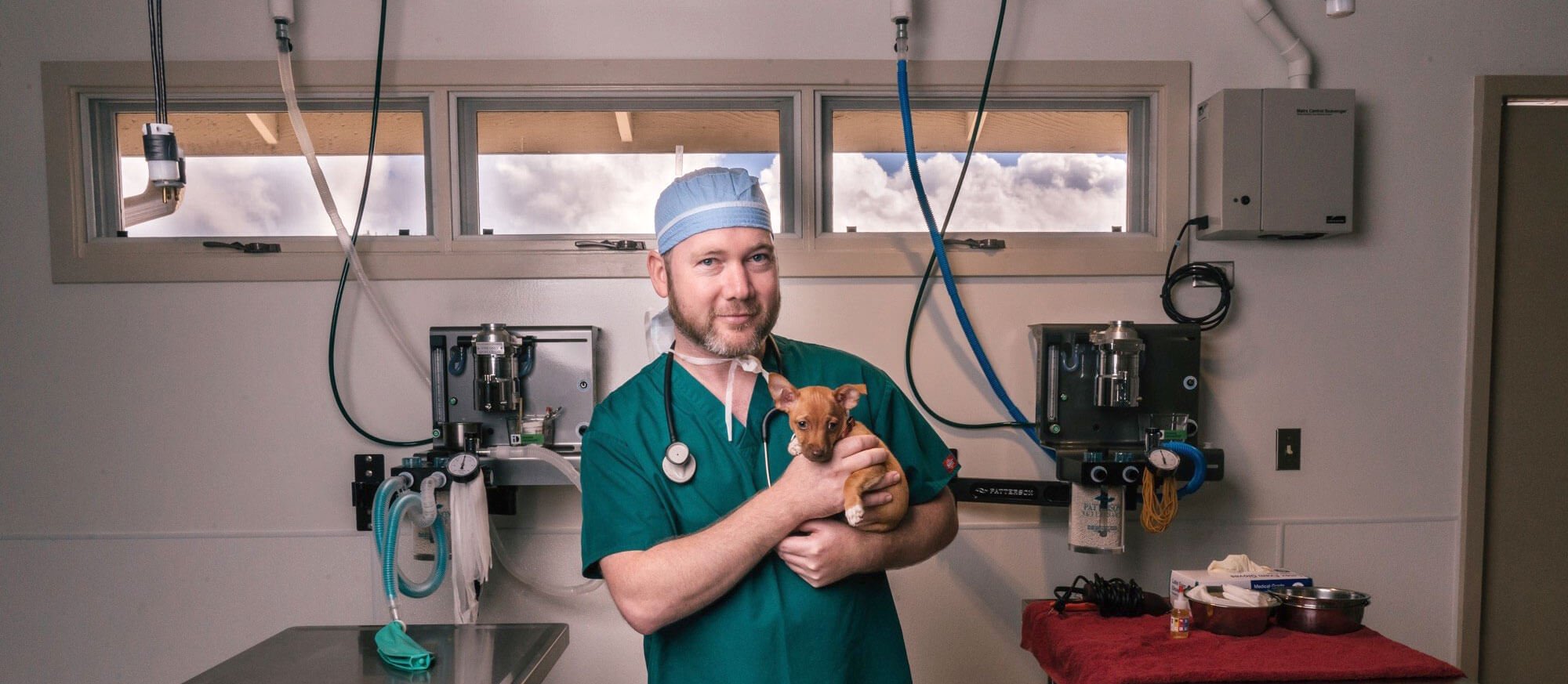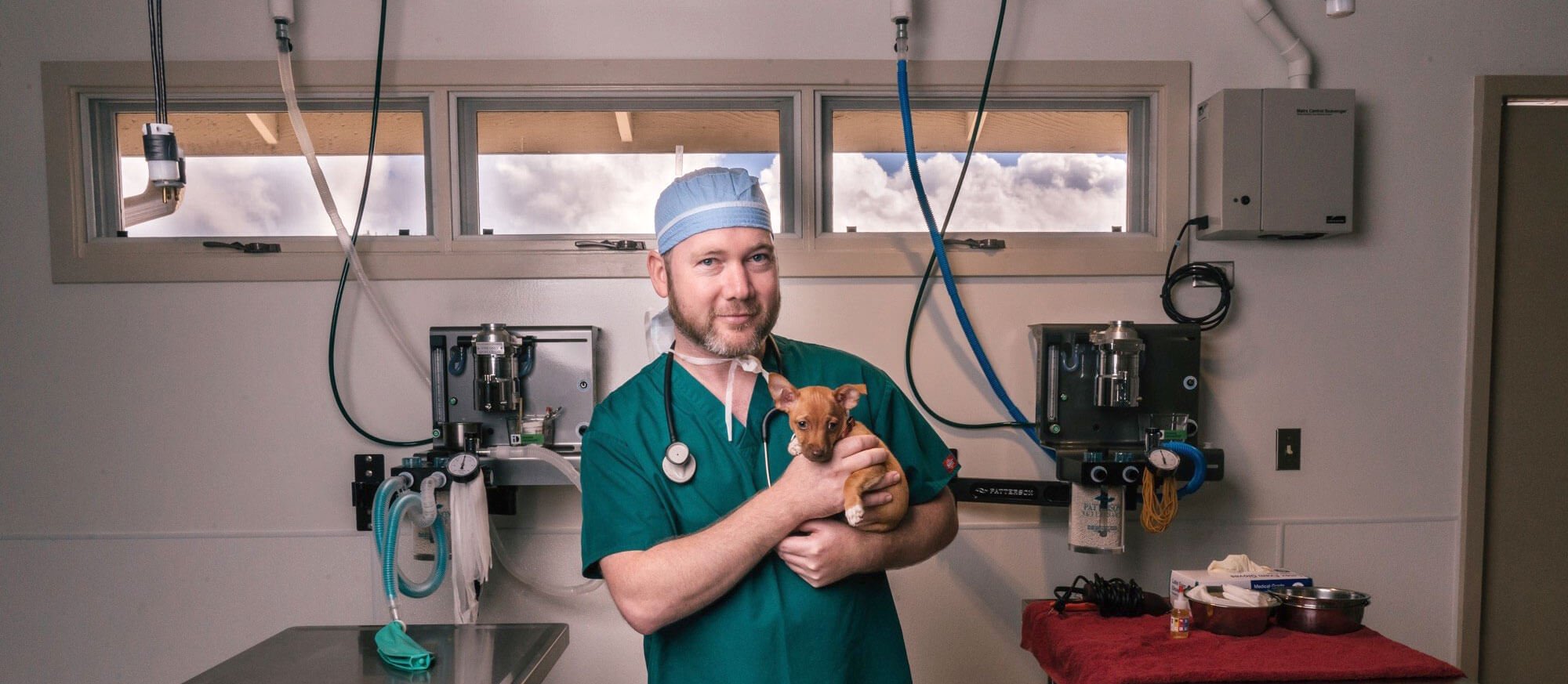 It's safe to say that Dr. Kasey Carter is an animal guy. "When I was a kid, we had so many pets," he says. "We had every breed of dog you could think of, we had two monkeys, we had skunks, you name it. Growing up, our pets were always there for me."
These days, Dr. Carter is returning the favor. As the new chief veterinarian of the Hawaiian Humane Society, he oversees the intake of about 75 animals a day—mostly dogs and cats, but sometimes more exotic creatures, such as hedgehogs or even pythons. Some of these animals are being surrendered by their owners, others have been discovered lost, and some have been rescued from situations of abuse or neglect.
It's Carter's job to keep all these animals healthy while they're in the care of the Hawaiian Humane Society, and to make sure they're ready to be adopted into a new loving home.
"Animals come in through our admissions department, get put into a kennel, and then one of our vet techs will take a look at them," he says. "If there's any kind of issue, they'll have them see a vet. If they're really sick or in bad shape, they'll alert us earlier and we'll see what we can do."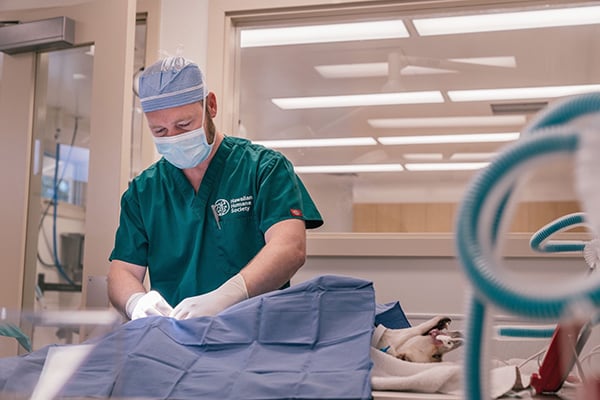 Carter has a full-on surgical suite and is able to perform just about any kind of procedure that's required. The most common are spays and neuters—he handles 20 to 50 of them a day—to keep Hawaii's animal overpopulation problem under control.
He says he tries to fight the perception that the Humane Society euthanizes animals that don't get adopted right away. "We don't euthanize for time or space, only for severe medical or behavioral issues," he says, noting that they've held on to dogs for as long as eight months.
Carter has been at the Hawaiian Humane Society for about four months now—he's originally from Arizona and most recently worked for an animal shelter called the Denver Dumb Friends League. "That's dumb as in 'can't speak,'" he clarifies with a smile, "meaning humans have to speak for those who can't speak for themselves."
But this isn't Carter's first time working with animals in the Islands. It was while he was working at the Dumb Friends League that he first got summoned to Hawaii in 2016. After a Makaha shelter was accused of keeping more than 270 dogs in inhumane conditions, the Hawaiian Humane Society took on all those dogs while an animal cruelty investigation was conducted. "Overnight, all these dogs showed up on our campus, in addition to the normal set of animals that we welcome every day," says Allison Gammel, community relations director for the Hawaiian Humane Society. "We had this huge tent set up out back with kennels and crates, there were kennels stacked up in our conference room. It was intense."
At the time, the Hawaiian Humane Society had only one veterinarian on staff, and so the call went out across the Mainland: "We need help!"
"I flew to Honolulu twice," Carter says. "Once for a week, and then for 10 days, to help out with all of the extra, unexpected veterinarian work."
The experience stuck with him; two years later, he's back at the Hawaiian Humane Society, this time for the long run. There are a few things different about practicing veterinary medicine in the Islands—with no harsh winter, Hawaii doesn't get the annual "kitten season" the Mainland does. "Oh, and no rabies! That's a big one," Dr. Carter says.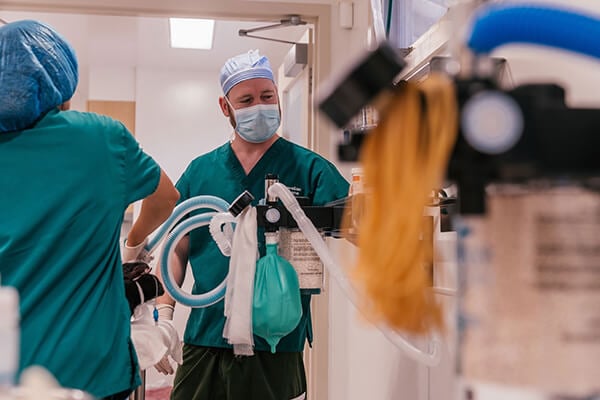 But mostly Dr. Carter says he's just happy to be working with dogs and cats and rabbits and all the other animals who come through the Hawaiian Humane Society's doors, keeping them safe and healthy as possible. And, with roughly 75 of them arriving every day, it's imperative to keep getting the word out to the public about adoption, to make sure that loving homes are found for all of them.
Here are a few tips from Dr. Carter on adopting from the Hawaiian Humane Society:
It's "Love a Dog" Month at the Hawaiian Humane Society. The nonprofit is giving out free pet ID tags to anyone who adopts a dog throughout the end of October.
You can check out cute animals from the comfort of your home: Check out the Hawaiian Humane Society's website to get a preview of all the animals up for adoption. You'll probably find yourself wanting to tour the campus to get a closer look.
Once you find an animal you're interested in, sign-in at the adoptions counter to learn more about your potential new family member. You'll be able to meet them, animal-to-person, to see whether you both click.
The Hawaiian Humane Society recommends spending at least an hour hanging out with any prospective adoptee, to allow enough time to get to know them.
Bring all members of your family, including any current dogs, to meet your potential new pet—it needs to be a good fit for everyone.
Once you've decided on a new furry friend and signed all the papers, the Hawaiian Humane Society offers a retail store so you can head straight home equipped with all the basic pet essentials.
You're about to exit BOH.com
Links to other sites are provided as a service to you by Bank of Hawaii. These other sites are neither owned nor maintained by Bank of Hawaii. Bank of Hawaii shall not be responsible for the content and/or accuracy of any information contained in these other sites or for the personal or credit card information you provide to these sites.