Insights & Stories
Leading Women: Ulalia Woodside Protects Hawaii's Natural Environment through Perspective
Reading time: 5 Minutes
By: Natalie Schack
March 5th, 2020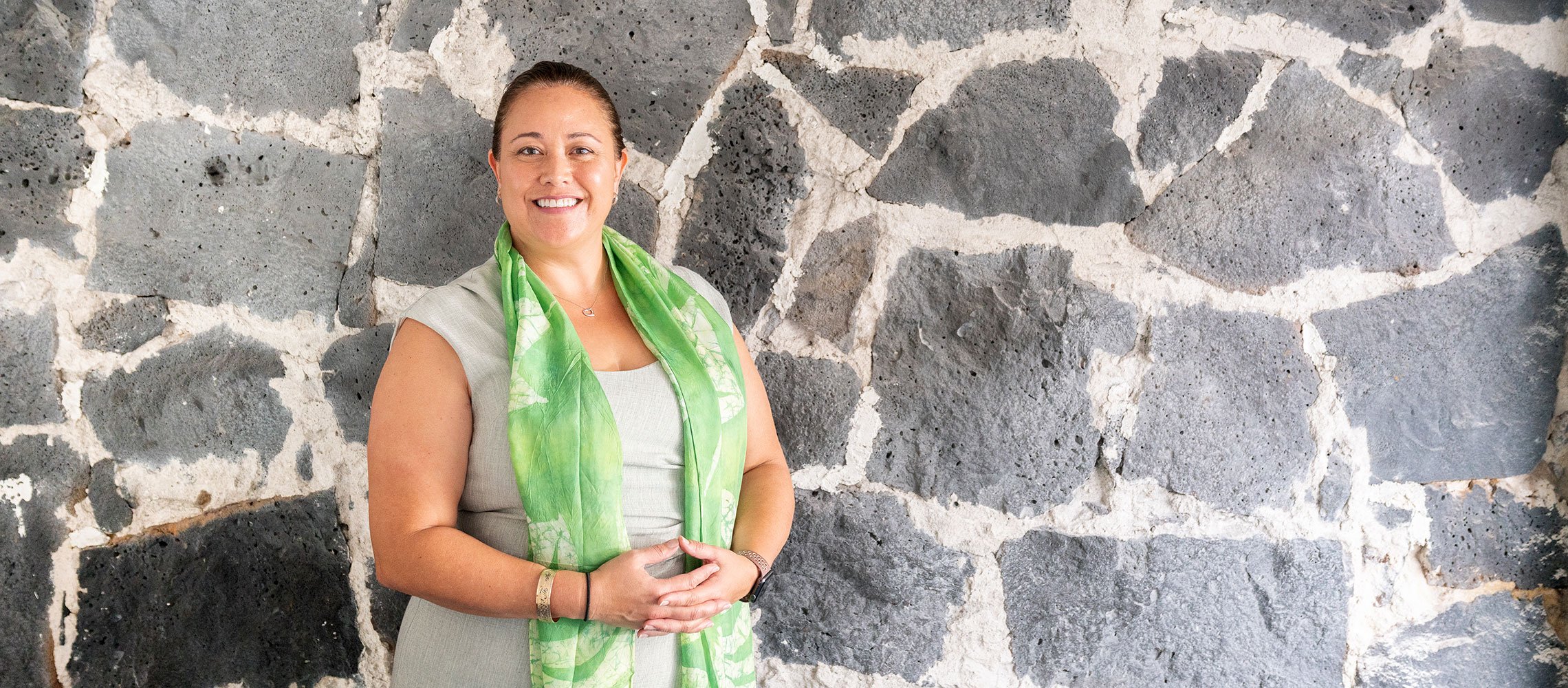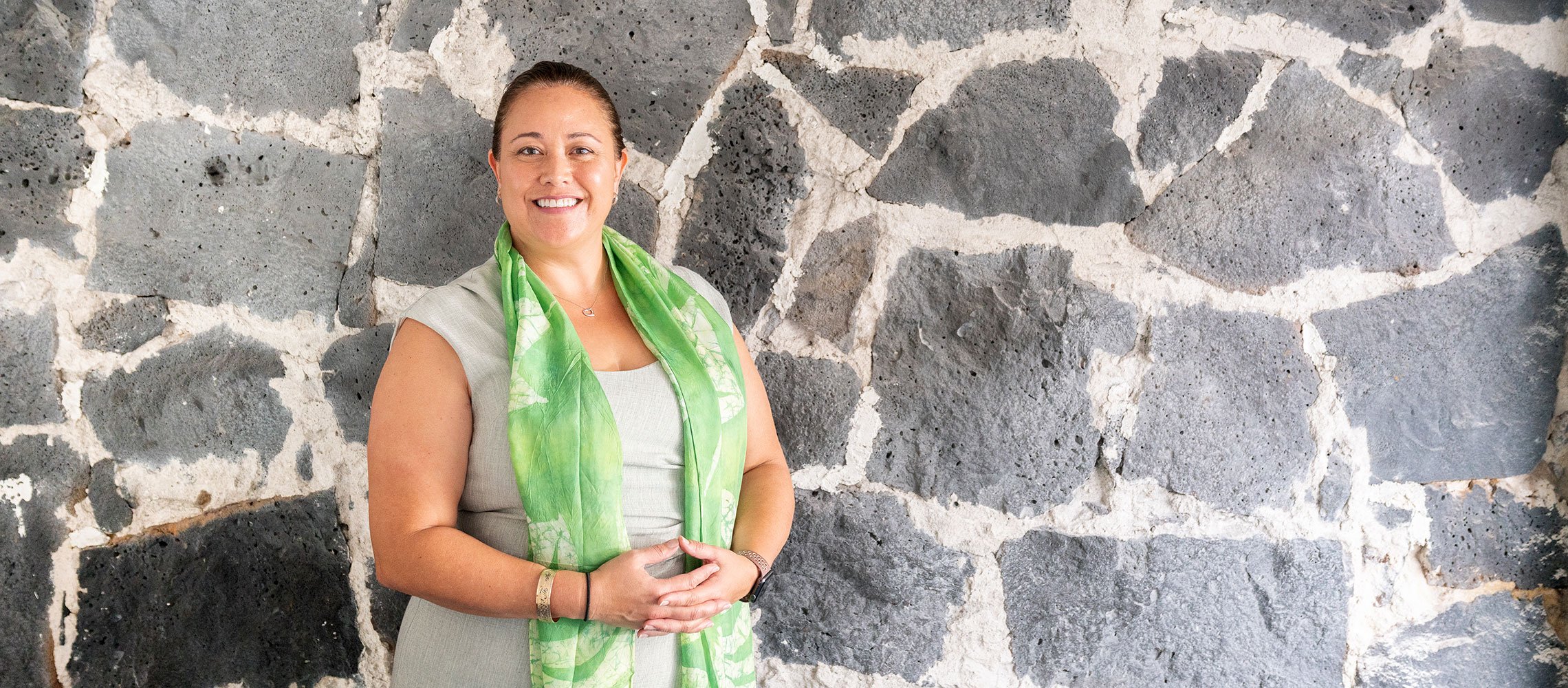 As the executive director of the Nature Conservancy of Hawaii, it's Ulalia Woodside's mission to protect and preserve the plants, animals and natural communities of the Islands, and the lands and waters they need to survive. It's a job she began training for as a child, growing up in Waimanalo, even if she didn't realize it at the time.
Her father, David, was a wildlife biologist and naturalist, and passed along his love for Hawaii's flora and fauna to his daughter, but Ulalia says she also learned much about Hawaii's natural environment from her mother, Leiana, a kumu hula and curator at the Queen Emma Summer Palace.
"As a hula practitioner, every space, to some degree, is a learning space," Ulalia says. Generations of her family have danced hula, carving the shapes of mountain ranges into the air with their arms, emulating ocean waves with their hands. Ulalia's mother taught her to examine the nuances of the landscape around her, so she could recreate those distinctions through dance later. "You want to observe your environment and recognize that all mountains are similar, but different," she explains. "What makes these mountains unique?"
From this practice, Ulalia learned respect for both diversity and singularity, an understanding that has anchored her work in natural and cultural resource management. The key to preserving Hawaii for future generations, she says, rests in the land.
"We drink the water of this place, we breathe the air of this place, we eat the food that's grown in the soil and it becomes a part of who we are. We're shaped by that."
Ulalia's career has allowed her to appreciate this insight first hand. Before coming to the Nature Conservancy in 2016, she worked as a director of natural and cultural resources for Kamehameha Schools for more than a decade, managing a 200,000-acre portfolio of agriculture and conservation lands, and developing programs to reinvigorate preservation efforts. Before that, her journey took her first through the public sector, at the Hawaii state Department of Land and Natural Resources, and then through the private, as a planner assessing the cultural and environmental impact of new development projects.
Each of these experiences gave her an opportunity to do conservation work from a different perspective, and get a better picture of all of the sometimes-competing interests and bottom lines that factor into the overall equation. Recognizing and understanding these perspectives, Ulalia says, is crucial to achieving long-lasting progress.
"I like to look things from a number of different angles," she says. There's a Hawaiian phrase that Ulalia is fond of: to have makawalu, to have eight eyes on something. "In Hawaii, our ability to thrive is dependent on all of us, from families to state government to private sector to the nonprofit sector to the educational sphere. It's dependent on all of us understanding that each of us have a different lens on the potential that's there."
Or the challenges. Existing as a woman in today's world often means making an extra effort to stay true to what makes her, her.
"There is value in the feminine approach to doing things, knowing things, communicating, developing relationships," Ulalia says. "Sometimes in business it can seem like a very male-dominated culture. But bringing to the table the wahine or hina or feminine perspectives helps us all better tackle the challenges and problems in front of us." The challenges in Hawaii today, she says, are myriad. We'll need all voices—women, men, everyone—to overcome them.
And she should know. In her role overseeing the efforts of the Nature Conservancy of Hawaii, Ulalia is tackling some of Hawaii's biggest issues today, whether it's Rapid Ohia Death or the bleaching of the Islands' coral reefs from warming ocean waters. At the top of the organization's priority list: confronting climate change, conserving Hawaii's vulnerable natural resource spaces, and assisting the state with effectively managing critical watershed and nearshore water spaces.
"Our focus at Nature Conservancy of Hawaii has been to pursue natural climate solutions, because we recognize that nature provides the best resistance and best preparedness for climate change," Ulalia says. "Here in Hawaii, good forest management could help sequester up to 60 million tons of carbon, significantly contributing to the state's goal of becoming carbon neutral by 2045."
She says the most cost effective tactic is to protect forests in good condition, and so her first priority has been to protect areas of high conservation value, particularly against key threats such as invasive plant species and ungulates (pigs, goats and deer). Next in her climate-change arsenal: restoration and reforestation in areas where there's a chance to turn the tide.
Ulalia is also pursuing innovative ways to enlist the support of local businesses and government. This includes a partnership with the Sustainability Business Forum to launch a carbon offset pilot project using the Kona Hema Preserve, an 8,000-acre koa and ohia forest on Hawaii Island. It's estimated that within six years the project could create as many as 100,000 carbon emission offset credits for local companies to purchase to offset their own carbon emissions.
The Nature Conservancy takes a multi-faceted approach to the problems at hand, utilizing both conventional science as well as traditional Native Hawaiian knowledge. At the Conservancy's research laboratory on Palmyra Atoll, scientists are using the remote island's untouched landscape as a baseline for understanding human-related impacts on the environment. In the future, they hope to utilize this data in order to help unlock viable solutions to the global climate crisis.
Back on Oahu, traditional ahupuaa are being restored using indigenous agriculture techniques. For example, the Nature Conservancy has been working mauka of the Heeia fishpond on the east side of Oahu, restoring the estuary with Kakoo Oiwi. Removing invasive mangrove and restoring traditional taro loi helps to filter sediment and contaminants from stream water flowing into the ocean, which in turns keeps the living coral reefs healthy and more resilient.
The obstacles in front of Ulalia are formidable. Sometimes, when she starts to feel discouraged, she thinks of her father, who, when she was a child, worked to save the nene goose from near-extinction. She watched him explore different solutions that might increase their population, and bring them back from what at the time seemed like a hopeless brink.
In 2019, the federal government downlisted the nene from an endangered species to a threatened species. It's a huge milestone for a bird that has become a symbol of Hawaii, and will hopefully continue to inspire hope that dedicated people doing good work in the Islands can make a difference.
Now it's Ulalia's turn, and she can't help but look forward to what's in store in the years to come. "Each generation finds a way to bring forward those things it feels are relevant and wants to pass on," she explains. "If you go back to the old chants of Waikiki, they talk about the smell of the delicious seaweeds that we have here. And we haven't had seaweed in Waikiki for a really long time. Will we ever be able to create that level of abundance again?" The best solution, she says, is to teach new generations about what came before, in the hopes that they will find a better way forward.
You're about to exit BOH.com
Links to other sites are provided as a service to you by Bank of Hawaii. These other sites are neither owned nor maintained by Bank of Hawaii. Bank of Hawaii shall not be responsible for the content and/or accuracy of any information contained in these other sites or for the personal or credit card information you provide to these sites.