Insights & Stories
Leading Women: Goodwill Hawaii's Katy Chen Tackles the Challenges of COVID-19
Reading time: 5 Minutes
July 9th, 2020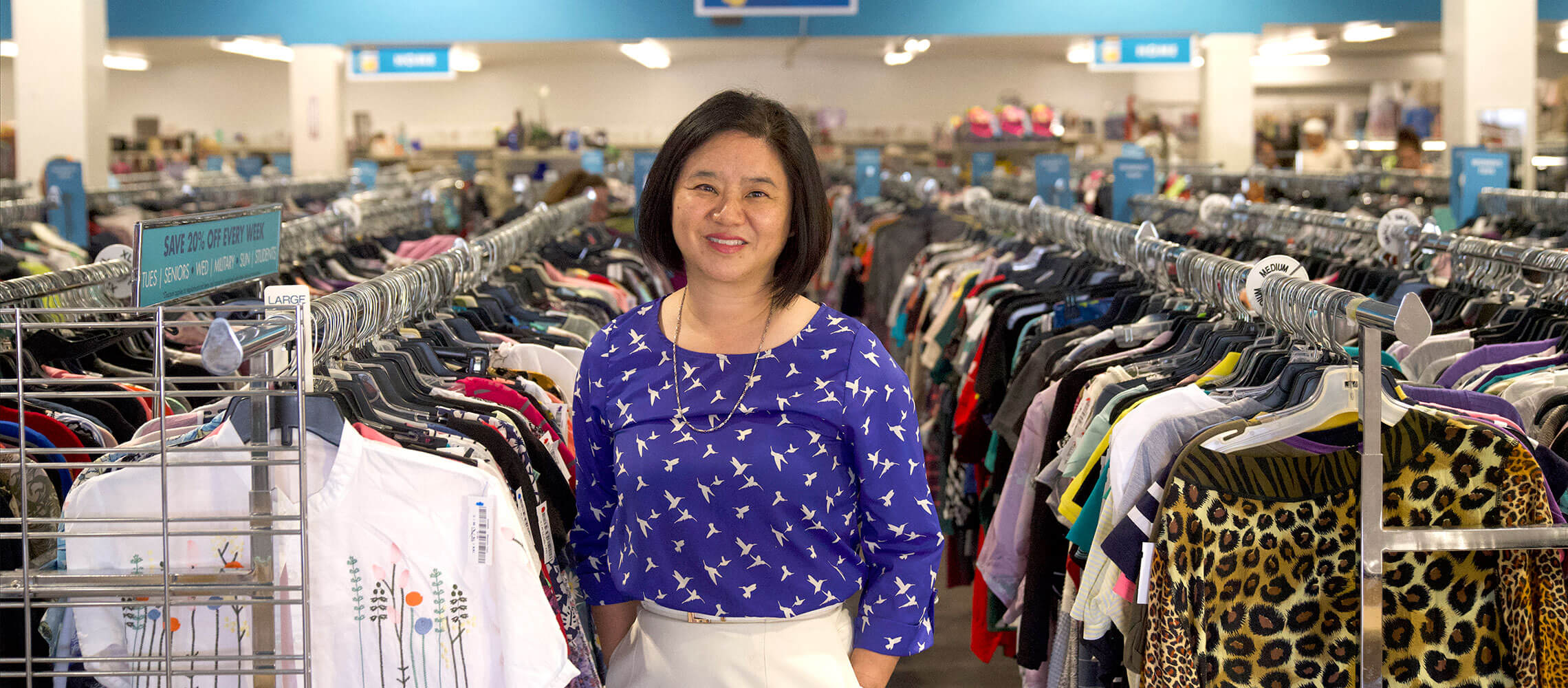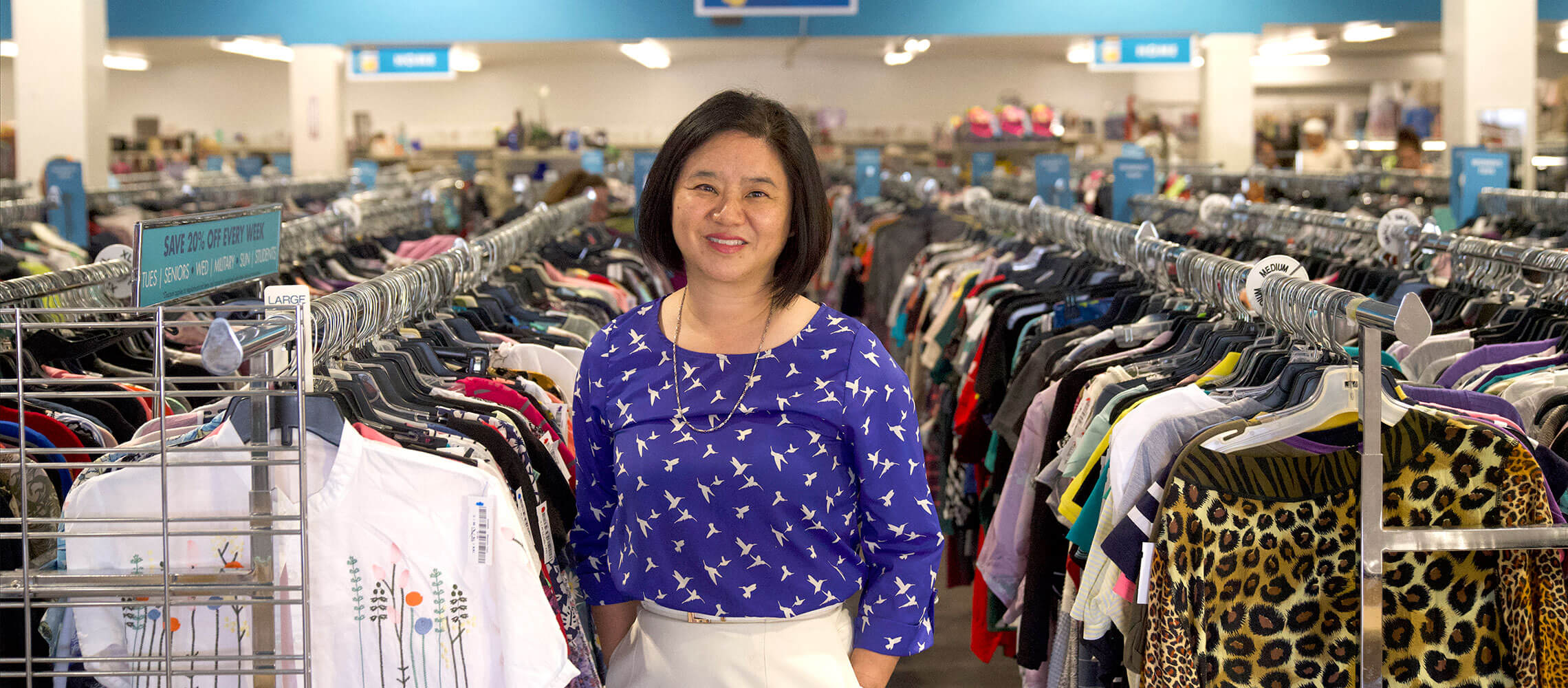 As the new president and chief executive officer of Goodwill Hawaii, Katy Chen took the helm of the nonprofit just as a global pandemic arrived in Hawaii. Less than ideal timing, some might say, but Chen has taken the the challenge of COVID-19 as an opportunity to expand and strengthen Goodwill Hawaii's ability to reach out to Island communities struggling because of shutdowns and wide-spread job loss.
She's drawing on an extensive resume of experience that includes time as a successful corporate attorney, a chief executive in London, an executive director for two large Hawaii nonprofit organizations and, most recently, chief operating officer at Goodwill Hawaii, where she oversaw nearly $16 million in annual federal, state and county funds for employment, training and education programs.
As she takes the helm at Goodwill Hawaii, Chen says she is prepared to draw on all the tools at her disposal to face the daunting task ahead of her.
Pandemic Pressure, Shifting Priorities
While the number of reported COVID-19 cases have been fairly low in Hawaii compared to other states, there's another more sobering side effect of the pandemic Chen is worried about: unemployment. As of mid-2020, about 22.6 percent of the Islands' population is unemployed, thanks in part to the emergency lockdown orders that took effect in March 2020. When the tourism industry shut down due to the 14-day quarantine rule for arriving visitors, jobs declined by 121,800 in just one month.
One of Goodwill Hawaii's main missions is to provide career training, education and job placement for more than 10,000 at-risk and challenged Hawaii residents every year. When the pandemic hit, demand for these services tripled nearly overnight.
While Goodwill Hawaii was forced to shut down its donation centers and retail stores, it kept these employment services going—with a few important tweaks. Goodwill Hawaii immediately added more services, to not only help people find jobs, but assist with unemployment benefit applications, healthcare benefits and finding resources for food and childcare. "We're committed for the next year to continue to offer those services on top of our regular counseling, job placement and job training," says Chen.
Before the pandemic struck, one of Chen's first goals as new president and CEO was to help Hawaii's underemployed. Goodwill Hawaii had been a vital contributor to the Aloha United Way's ALICE Report, which sheds a light on the many people in Hawaii who are struggling to make ends meet.
ALICE is an acronym for Asset Limited, Income Constrained, Employed, meaning individuals and families who have jobs but with incomes that fall short of covering basic necessities, leaving them with no safety net for emergencies.
Now, Chen's priorities have expanded. It's not only about helping people find a new job, she says, but about making them hire-able by providing new skill training and even looking for alternative career paths. "People out there are looking to change careers, do something else that can help them get a job in the future," says Chen.
Last year, for example, Goodwill Hawaii partnered with Google to offer an IT certification program that would allow its graduate to qualify for an IT support specialist position even without a traditional degree. Goodwill Hawaii committed to help Google recruit people to take the free course, which takes five to six months to complete. Last year, about 30 people in Hawaii showed interest. This year, more than 400 people responded.
"It makes sense that response was so high," Chen says. "People are in lockdown, the tourism industry has been hit so hard and they need a different job. We went back to Google and got more enrollment space to meet the demand. We're excited about this partnership—this is the type of work we want to do more of."
Today, Goodwill Hawaii retail stores and donation centers have reopened with social distancing procedures set into place. When the doors reopened, it was apparent that there was one silver lining from the pandemic: a big increase in donations.
"People took the time during lockdown to clean out their homes!" says Chen with a laugh. She says she's thankful that Goodwill's affordable thrift stores can serve the community, especially as the economy struggles and people become more budget conscious when shopping for clothing and housewares.
And for those who don't yet feel comfortable heading back into stores, Chen says that Goodwill Hawaii has expanded its online presence with an auction shop accessible right from home.
Finding Inspiration in Helping Others
Chen understands the importance of being flexible with career paths when needed, and the fulfillment that comes with finding the right one. When her parents first moved from Taiwan to Seattle, her mother took work as a seamstress in Chinatown, but realized after a week that the pay was not going to be enough to help support the family.
Though she spoke very little English, Chen's mother began attending North Seattle Community College, graduated with a drafting degree and landed a job with Boeing. Later, she returned to school to earn an electrical engineering degree and worked for the City until she retired at age 60.
"My mother has worked hard my entire life," Chen says. "It's remarkable to think about the challenges of coming to a completely foreign country, leaving family and friends behind, knowing no English and yet still creating opportunities to help support your family."
Chen's own aspirations began with the solid base provided by her parents, and were further sparked in high school when she and her classmates put on a mock trial for a social studies class. "It was a personal injury case about a car accident. I wrote and delivered the closing argument for the plaintiff," remembers Chen. After class, several lawyers who were volunteering to help run the class told her she showed promise and could very well make a career out of law. A dream was born.
Chen decided to attend the University of Washington and earned both a bachelor's degree in political science and a law degree. A summer internship brought her to Hawaii, and she went on to practice corporate law for three years for the Honolulu firm Dwyer Imanaka Schraff Kudo Meyer & Fujimoto. When her husband was offered a job in London, Chen followed and, since she wasn't able to practice law overseas, she worked as a chief executive of the Chinese Information and Advice Centre (CIAC), a legal aid and social welfare organization for disadvantaged Chinese in the United Kingdom.
"It was my first experience with social work, involving immigration cases and domestic violence, and it was a big learning curve for me," says Chen. "I went from working in a gorgeous conference room paneled with koa wood to a room in which we had to strip the carpet because we didn't have the money to replace it," remembers Chen.
The conditions may have been challenging, but seeing first-hand how her efforts improved the lives of CIAC's clients led Chen to realize her real passion: helping people. Four years and a baby later, Chen and her husband returned to Hawaii and she continued her career in the nonprofit sector, working for Hawaii Literacy and PATCH Hawaii before finding her way to Goodwill Hawaii in 2014.
The Road Ahead
Chen says she recognizes the uncertainty of the future landscape in the Islands as the COVID-19 situation evolves. The conversation over when and how to reopen tourism continues, and she's keeping a close eye on what's happening here and on the Mainland with rising cases and in some states, the prospect of additional stay-at-home orders and business restrictions. Despite the many unknowns, Chen is optimistic about Hawaii's eventual recovery, and glad to be in a position as Goodwill Hawaii's leader to help it happen.
"We understand it's going to take a long time to recover and we don't know what's going to happen," Chen says. "But we will continue to seek out partnerships and provide people with additional training and resources to increase their odds of getting a job and ensure job security. We're going to do whatever we can to help the community navigate through this pandemic."
Goodwill Goes Glam Goes Virtual
Mark your calendars for Tuesday, July 21, as Goodwill Hawaii re-imagines its always popular Goodwill Goes GLAM! fundraising event as a special home edition fashion show and auction, sponsored by Bank of Hawaii Foundation. Tune in at 6:30 p.m. HST to KGMB-TV or Hawaii News Now to see exciting custom fashion ensembles assembled from thrifted finds by esteemed local designers Anne Namba and Kini Zamora. Learn more about Goodwill Goes GLAM! and how you can help, by visiting higoodwill.org.
You're about to exit BOH.com
Links to other sites are provided as a service to you by Bank of Hawaii. These other sites are neither owned nor maintained by Bank of Hawaii. Bank of Hawaii shall not be responsible for the content and/or accuracy of any information contained in these other sites or for the personal or credit card information you provide to these sites.