Insights & Stories
Leading Women: Dean Camille Nelson on Advocating for Fairness and Opportunity
Reading time: 7 Minutes
March 27th, 2021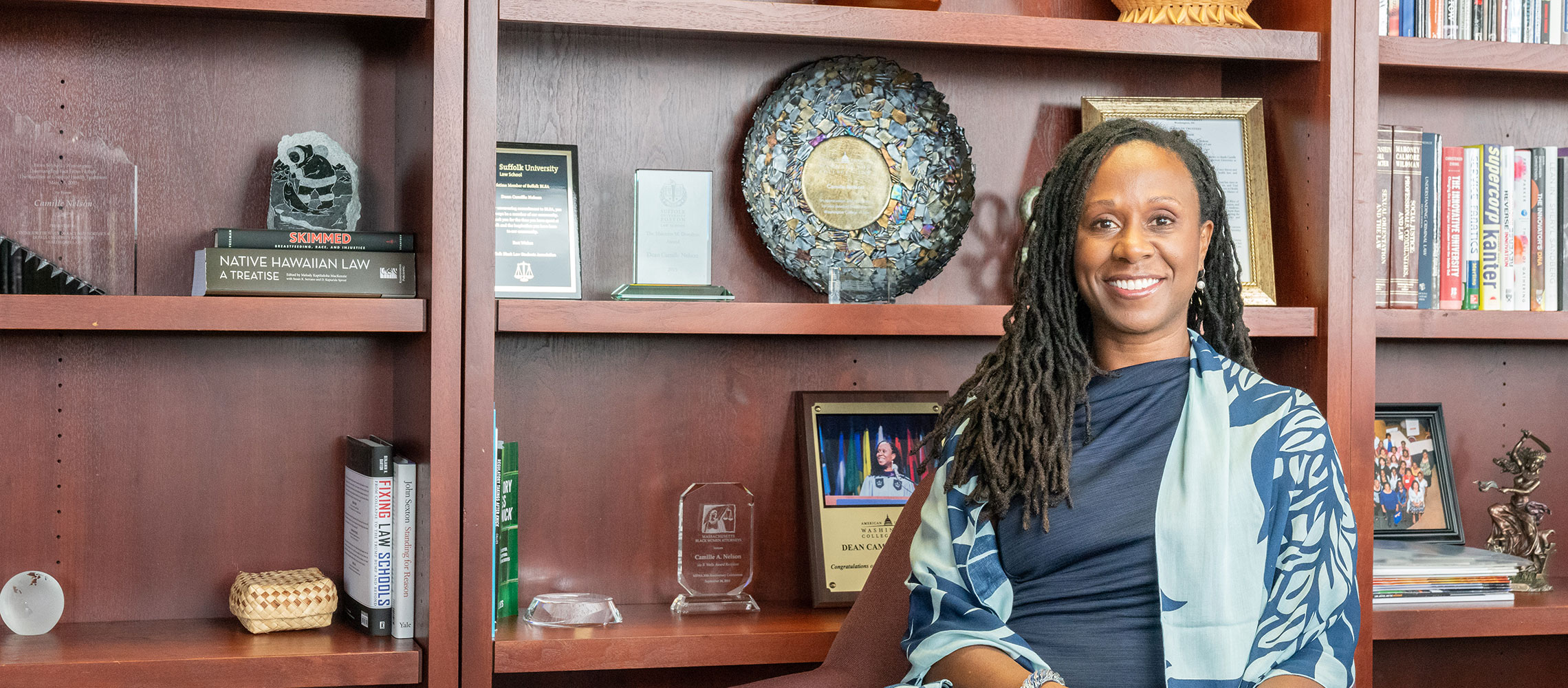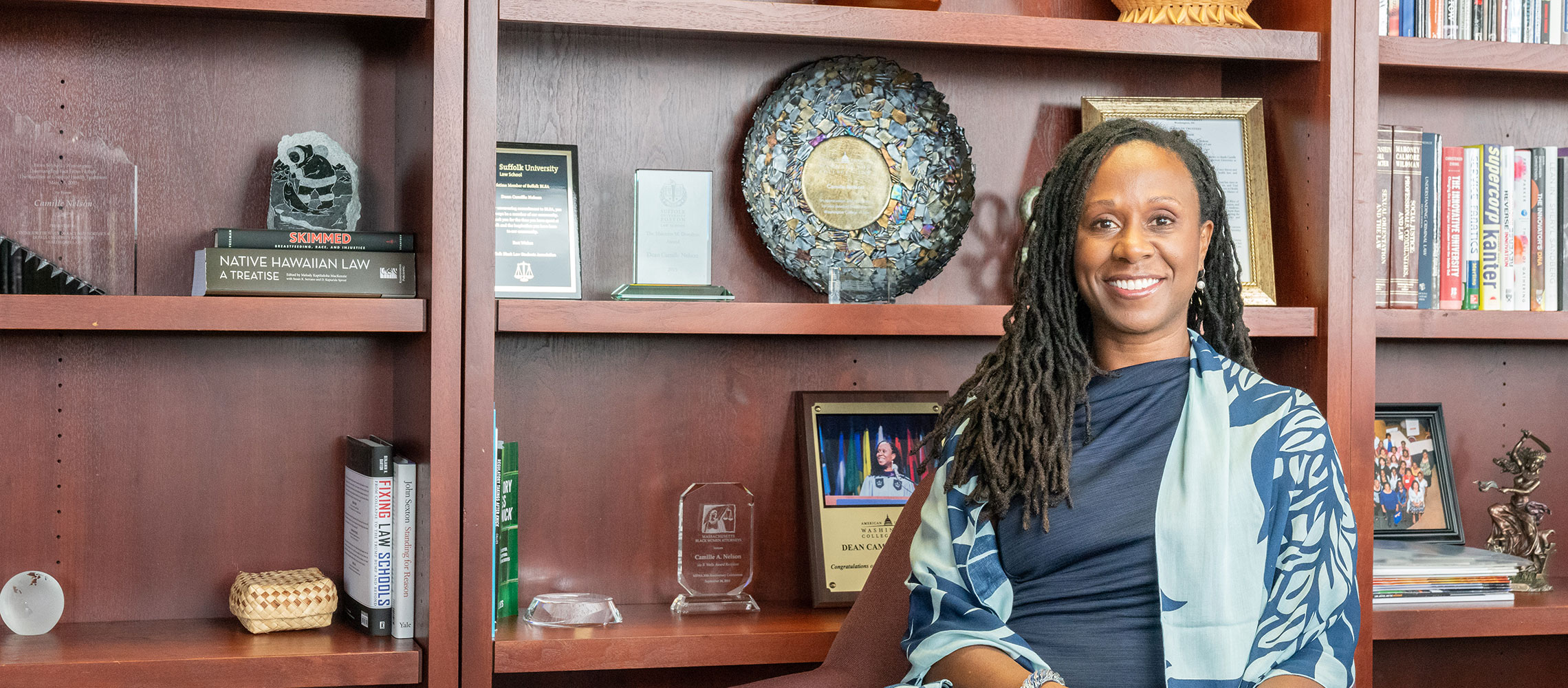 Over the course of her nearly 30-year legal career, Dean Camille Nelson has accomplished many firsts:
She was the first Black woman to clerk at the Supreme Court of Canada. The first woman and person of color to lead Suffolk University's law school as dean and professor. The first Black person to serve as Dean at American University Washington College of Law. The first American law school dean to visit Havana and facilitate educational discussions since the Cuban Revolution. And, since last April, Nelson is the first female dean of the William S. Richardson School of Law at the University of Hawaii at Manoa.
These firsts have all been part of a career path that has surprised even Nelson, given that her mother and father were neither attorneys nor judges, but a secretary and a teacher, respectively.
"My parents both worked at a big psychiatric hospital in Canada. In retrospect, I think it greatly impacted my concern for mental vulnerability and peoples' general well-being. And as one of the few, if not the only, woman and person of color in my classes and seeing different situations growing up in the suburbs, I became concerned about fairness and how people are treated differently," says Nelson, who was born in Jamaica, but raised in Toronto. "As a Black woman, I started to think: What do I need to do to have people realize I have something to say and, just perhaps, respect what I have to say?"
Listening and Growing
As Nelson was growing up, one of her biggest influences that set her on her current path was her father. She recalls that he would regularly point out to his daughters instances of social injustice that he saw in the world around them, and explain the underlying issues that led to these situations. For example, why someone might be unfairly punished in the legal system, even if they didn't do anything wrong, or why some people face obstacles working in professional spheres, such as media, sports, and entertainment; or even the lack of diversity in her father's own academic profession.
At the time, Nelson and her two sisters thought their father was just talking. "But he was also always teaching. We had this running narration explaining to us the ways in which things weren't always fair, and that our jobs as people of caring and concern was to try to make the world a better place," Nelson says.
Her father's passion for justice played a big part in leading Nelson toward a career in law. Although she encourages people to work towards fairness in any career wherever they may be, "blooming where they're planted," Nelson's pursuit of her career would lead her to new opportunities in a whole range of different places. She earned her Master's degree in Law at Columbia University in New York, taught law at Saint Louis University in Missouri, and was appointed dean and professor of law at Suffolk University in Massachusetts and the American University Washington College of Law in D.C.
Each new spot had its own challenges—and opportunities for learning. "It can be scary because you're in a new place, you don't know anybody, and you're racking up credit card debt because moving is expensive. You're essentially stepping out on faith," Nelson says. "But then you'll be embraced by amazing people and you become anchored again. Those you meet along the way may often be in a position, maybe years later, to open doors for you, or you for them, in the future or create pathways for further opportunities."
Learning in Hawaii
One such opportunity led Nelson to Hawaii, where she spent her first sabbatical teaching criminal procedure and legal writing at UH Manoa in the mid-2000s. For a few summers after that, she returned to teach as part of the university's Ulu Lehua Scholars Program, an extracurricular learning community within the Richardson Law School. After being appointed as dean, Nelson moved to Hawaii over the Fourth of July weekend in 2020.
She recognizes that, while the recent protests for #BlackLivesMatter and racial justice throughout the United States and around the world have not occurred in exactly the same way and at the same scale in Hawaii, it doesn't mean that many of the same social, racial and economic dynamics aren't also resonating in the Islands.
"As someone who has lived here only seven months, I can't comment with certainty about specific issues in Hawaii. But I would caution us not to think that we don't have some of the same challenges here that we've seen play out elsewhere," says Nelson. "I don't think there's any place on Earth that is immune from racism, sexism, homophobia, classism or elitism. It would be folly to say that one person's experience is everybody's experience. We have to be really careful in saying phrases like, 'That doesn't happen here,' because anyone who is experiencing racism, sexism, exclusion based on sexual orientation or class, or houselessness, would say it does happen here."
Championing Diversity and Representation
As the new dean of the Richardson School of Law, Nelson has been able to continue her pursuit of what has become a lifelong mission: Improving legal structures, from the classroom to the courtroom, to become more diverse and more inclusive of those, including women, people of color and LGBTQ people, who have been traditionally underrepresented in legal practice in the United States.
"I think it's really important for us to think about where we are not visible, and empowered," she says. "And to allow ourselves the possibility to imagine ourselves in those spaces. Who is currently in key roles? How did they get into those roles? What did they do, and what do I need to do, to amplify my voice?"
Nelson encourages her students to consider how they may apply their skills to all areas of the law. She wants to see more lawyers of color and more female and nonbinary people practicing in every legal field and fighting for justice, from intellectual property law to health law to constitutional law.
"Growing up, people would encourage me to go into poverty law," Nelson says. "I think women and people of color who work in law are often encouraged to go into these areas, or criminal law and family law, which are really crucially important. But then you look around and you wonder why there's so little diversity in other areas. We need to work for diversity and inclusion in every area of practice."
An Education Amid a Pandemic
Nelson's pursuit of diversity and representation is an important cause. Unfortunately, it's a mission made more challenging by another first for her: helping lead a university during a global pandemic. Nelson's first fall semester as dean began right around the time Gov. David Ige's second statewide stay-at-home order went into effect. Classes and programming continued to innovate and continued the shift to being online, with most people working and studying remotely.
"My main priority has been working with the university to make sure people are safe and well, which is physical but also emotional and mental as well. People are suffering economically and financially; their eldercare and childcare responsibilities may have changed. That all tethers to your ability to be psychologically, emotionally, and, ultimately, physically well," Nelson says.
"This hasn't been a lost year, but a year of crisis management and making sure that we are creating systems that allow us to come out of this stronger, which means building the parallel tech infrastructure that allows us to keep connected in the same way brick and mortar used to," says Nelson.
She views the pandemic as an opportunity for the school to take a breath and figure out what comes next. "I think there are people who now expect to have the ability to study and work from home," Nelson says. "They're questioning whether the way we used to do things is the way we should be doing things, moving forward. Our goal is to support the next generation of legal leaders, so we're regrouping and repositioning to adjust for what it means for us to do that better."
"For anyone who's achieved anything, you'll hear 'no' more than you hear 'yes.' People may think things come easy but that isn't the reality," Nelson says. "I've failed more than I've succeeded. But I want people to understand that failure is part of the iterative process of whatever success looks like for you. So don't be deterred."
You're about to exit BOH.com
Links to other sites are provided as a service to you by Bank of Hawaii. These other sites are neither owned nor maintained by Bank of Hawaii. Bank of Hawaii shall not be responsible for the content and/or accuracy of any information contained in these other sites or for the personal or credit card information you provide to these sites.