Insights & Stories
Hawaii Designer Anne Namba Celebrates 30 Years of Island Fashion
Reading time: 6 Minutes
By Rasa Fournier
July 8th, 2019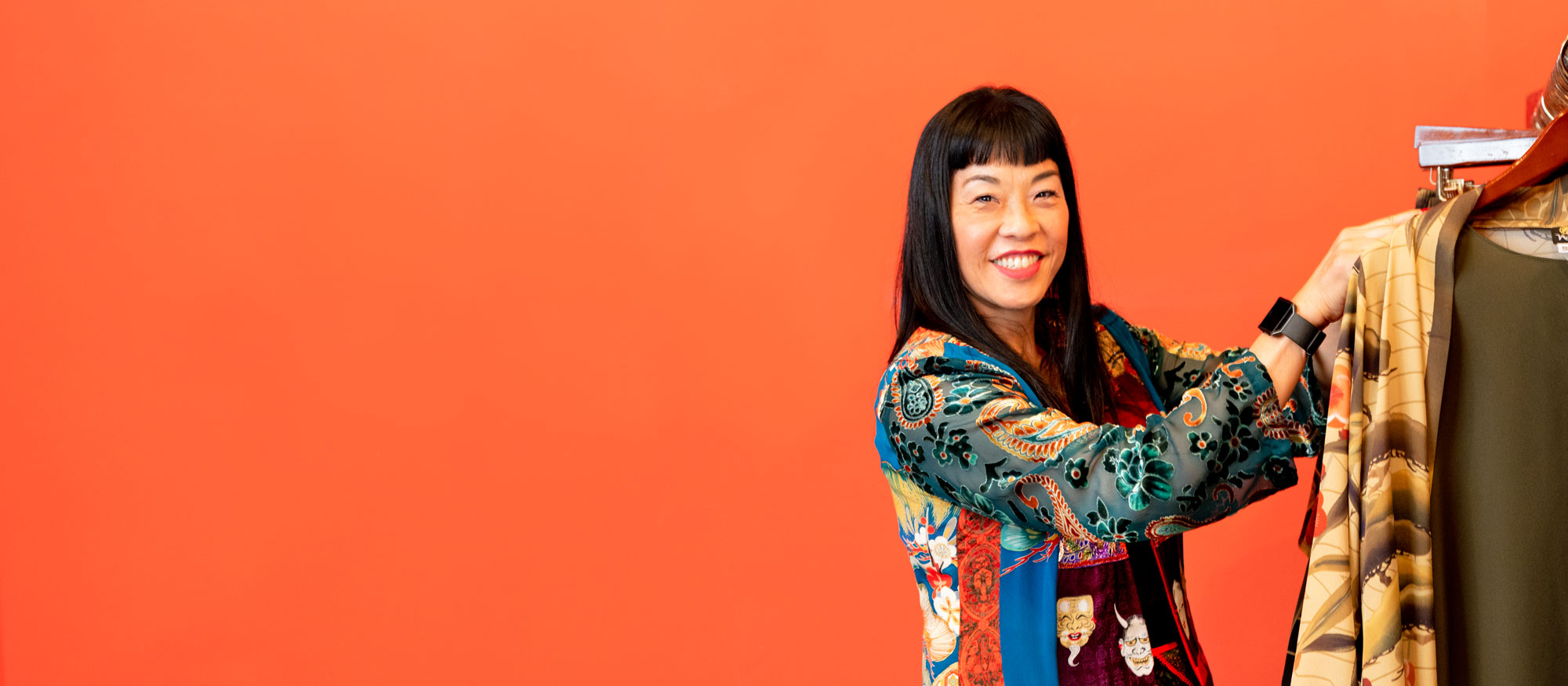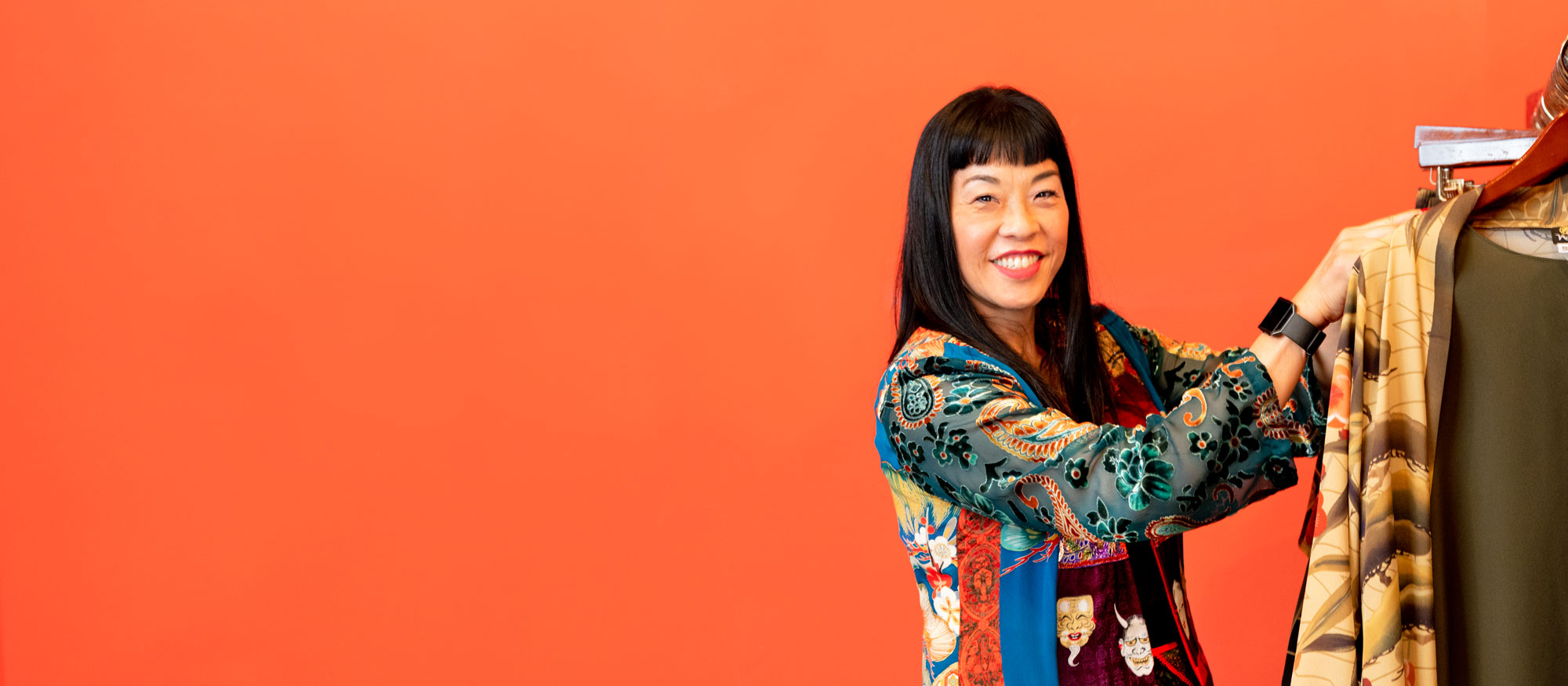 When it comes to Hawaii fashion icons, few are as accomplished as Anne Namba. Over the course of her career, she's created a clothing brand internationally renowned for its signature silks and Japanese-inspired patterns and prints. Her label, Anne Namba Designs, has been carried by department stores including Neiman Marcus and Nordstrom, and she has dressed the likes of Elizabeth Taylor, Hillary Clinton and Mikhail Baryshnikov, not to mention celebrities with Hawaii ties like Kristi Yamaguchi, Pat Morita and Herb Alpert. And, this year, Anne Namba Designs celebrates 30 strong years in business—no small feat for a Hawaii-based clothing company.
Her accomplishments sprouted from a humble desire when she was still in elementary school: Just to have some new clothes to herself. Growing up with an older sister, Namba says her wardrobe seemed destined to a life of hand-me-downs. "No one in my family sewed," she says. "I wanted my own clothes and the only way I was going to get them was to make them myself."
The budding fashionista pulled out her grandma's old treadle sewing machine, found some fabric in the house and, voila! In no time, she had stitched together an outfit that did her mother proud.
Mom entered her gifted daughter in sewing school, and it turns out her schoolmates were also pretty impressed with her work. Namba started spending her weekends and her allowance in dry goods stores, shopping fabrics and patterns. She began envisioning styles beyond the confines of the store-bought patterns and started altering them. Soon, she was selling chic, home-sewn hippie dresses to her friends—it was the '70s, after all.
Still, looking back, Namba says that, despite her obsession with sewing, her career in fashion came close to never getting off the ground. While attending the University of Hawaii, she was artsy, but didn't have the confidence to try to be a fashion designer. "Who was I to say I was a designer? It's like saying I want to be a movie star or a model."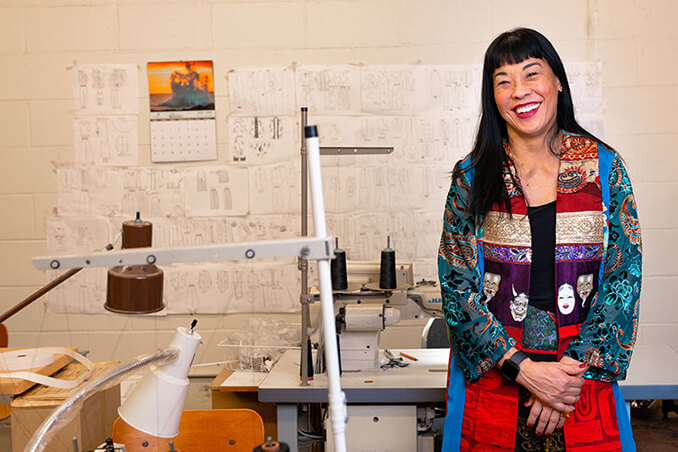 Instead, she was taking basic college classes, trying to figure out her niche. One semester, Namba was off-island at enrollment time, so her sister showed up to register Namba in classes. Seeing a fashion class, she thought it might suit Namba perfectly, and signed her up.
Namba might not have chosen the course herself, but once she showed up to class, she knew almost immediately that she'd found her calling.
With her creative fires lit, Namba excelled in her fashion classes, and it wasn't long before she applied for and landed a spot at the prestigious Fashion Institute of Technology (FIT) in New York. How would this Island girl fare in the nation's mecca of trendiness?
"I went up there a little insecure. Everybody was really fashionable, and I didn't even own a pair of boots or a coat. I wasn't fashionably fabulous, and I was very shy."
But Namba is also very competitive, and she had a penchant for the technical aspects of clothing design. The other students even began approaching her for help. Her self confidence grew, readying her to face the challenges ahead.
Her first job as a designer in New York found Namba presenting her first-ever line of blouses to her bosses—a roomful of industry executives. They responded by pointing their fingers down their mouths in distaste.
"Any other person might have cried, but I was secure," Namba says. "I believed in my product. I'm standing there going, 'What are you talking about? This is good.' Basically, they wanted me to sell it to them." And that's exactly what Namba did.
She's been forging ahead ever since. She graduated cum laude from FIT, and ended up spending five years in New York, working as a designer for a variety of clothing manufacturers before heading to L.A. for two years to do more design work. But Hawaii called, as it does for so many Island-raised. Namba returned home in 1985 and started working out of her parent's home in Niu Valley, ramping up to starting her own clothing company.
In 1989, she founded Anne Namba Designs. Islandwear was on her mind, but, with established manufacturers like Reyn Spooner and Tori Richard already succeeding in that market, she decided to try her hand at something altogether different—one-of-a-kind pieces using kimono silks.
Over the next 30 years, the brand evolved. First, Namba began adding contemporary touches to vintage kimonos, dressing them up with pleating and leather. Next, she leaped onto the wholesale market with her own prints. More recently, she gauged a need in Hawaii for everyday, casual wear, and her washable collection was born.
Namba isn't one to become complacent. She travels several times a year for pop-up shows in trendy spots like Portland, San Francisco, Boston, and also recently visited India and Thailand for creative inspiration. Coming back from that trip, she spiced up her Kakaako retail shop with scarves, necklaces and evening wear made from saris that were all instant sell-outs. Morocco is next on her list.
Throughout these endeavors, Namba's family has played an integral part in making her business the successful enterprise that it is. She has two grown children, a son who works in sales for high tech companies and a daughter in law school who models occasionally for Anne Namba Designs. Namba's husband, David Cassidy, is the company's business manager, and her nephew Kamea Hadar of Pow! Wow! fame has been known to help with print designs, when he's not too busy with his own projects.
Speaking of making time for oneself, Namba is all about maintaining a healthy work-life balance and has long been an avid hiker, kayaker and triathlete. However, these days she can most often be found indulging in her latest passion, CrossFit. The exercise program's intensity suits her time constraints and competitive streak, offering increasing levels of competitive workouts for her to tackle.
Namba also revels in artistic pursuits, including the time she created 120 elaborate costumes for Europe's wildly popular Savonlinna Opera Festival's production of Madama Butterfly in Finland. Most recently, she has signed on to help Goodwill Hawaii celebrate its 60th anniversary by designing the clothing for the upcoming Goodwill Goes GLAM! fashion show.
Titled Legacy, the July 18, 2019 GLAM! Gala is a nod to the milestone anniversaries of two powerhouse companies, Anne Namba Designs and Goodwill Hawaii.
"I decided on the Legacy theme after looking at what other designers did in the past, and wanting to do something different."
The fashion show traditionally shows off clothing donated to Goodwill that's been altered or re-contextualized in a compelling way. To create something unique, she reached out to her list of longstanding clients with a call for any Anne Namba pieces they no longer wear … and the garments came flowing in. Namba has been working for months to pull items from Goodwill shops around Oahu to mix and match with her rack of vintage Anne Nambas, and she's gathering everything into three distinct looks: The first is casual, fun, funky, grunge. The second is career and business wear. The third is evening and glamour wear.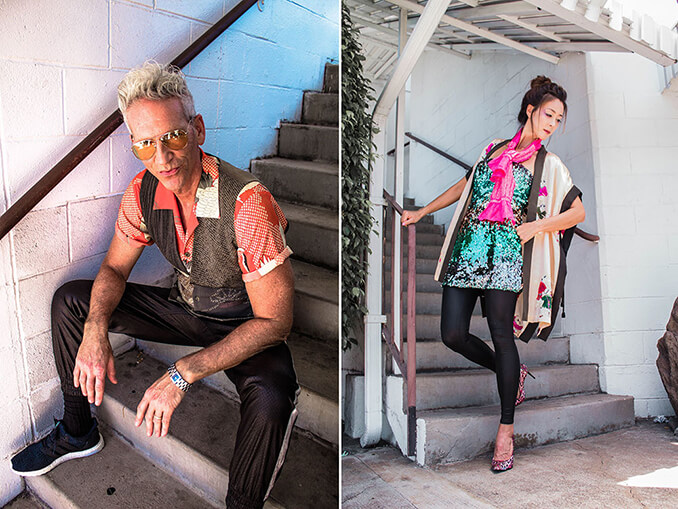 "You can pull together some really savvy looks at Goodwill," Namba says, adding that "shopping thrifty is about having an eye for quality."
It's that distinctive eye that's given Namba her staying power, and it's a key talent that prospective fashion designers need to get ahead in the industry.
"You've got to keep changing and keep track of what's happening. For instance, many of my customers are more fit than when I first started. They want to show off their hard work, so I started creating silhouettes that are more fitted. Hawaii people are very current. They travel and they're knowledgeable, so the new silhouette has been a good success, and I've given people the ease of washable pieces."
Being ever fresh and current, and finding ways to surprise and delight her clients—no wonder Namba's been able to make such an indelible mark on both Hawaii's fashion scene and in the wardrobes of faithful fans across the nation.
Buy tickets for this year's Goodwill Goes Glam! fundraiser at https://www.higoodwill.org/glam, and learn more about Anne Namba Designs at www.annenamba.com.
---
Rasa Fournier is an award-winning Hawaii writer with 20 years of journalistic experience, specializing in travel, culture, Hawaii, Asia, hiking, extreme adventure, arts and celebrity profiles.
The mention of any individuals or businesses is not an indication of affiliation or endorsement by Bank of Hawaii. The individuals and owners of any other trademarks, logos, brands or other designations of origin shown, named or mentioned herein did not sponsor, endorse or preview this article.
You're about to exit BOH.com
Links to other sites are provided as a service to you by Bank of Hawaii. These other sites are neither owned nor maintained by Bank of Hawaii. Bank of Hawaii shall not be responsible for the content and/or accuracy of any information contained in these other sites or for the personal or credit card information you provide to these sites.