Insights & Stories
Pow! Wow! and the Man Who Started it All
Reading time: 7 Minutes
March 29th, 2018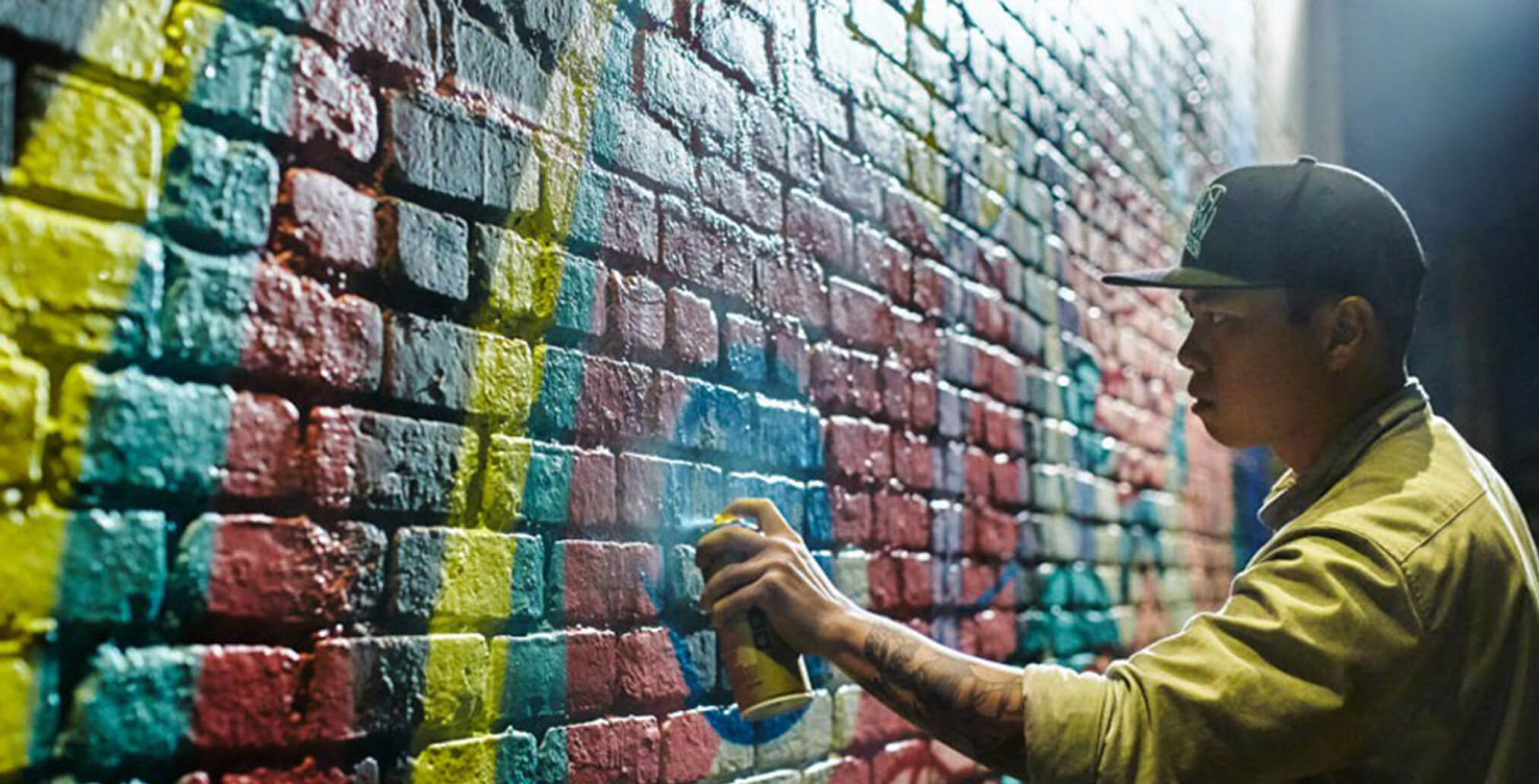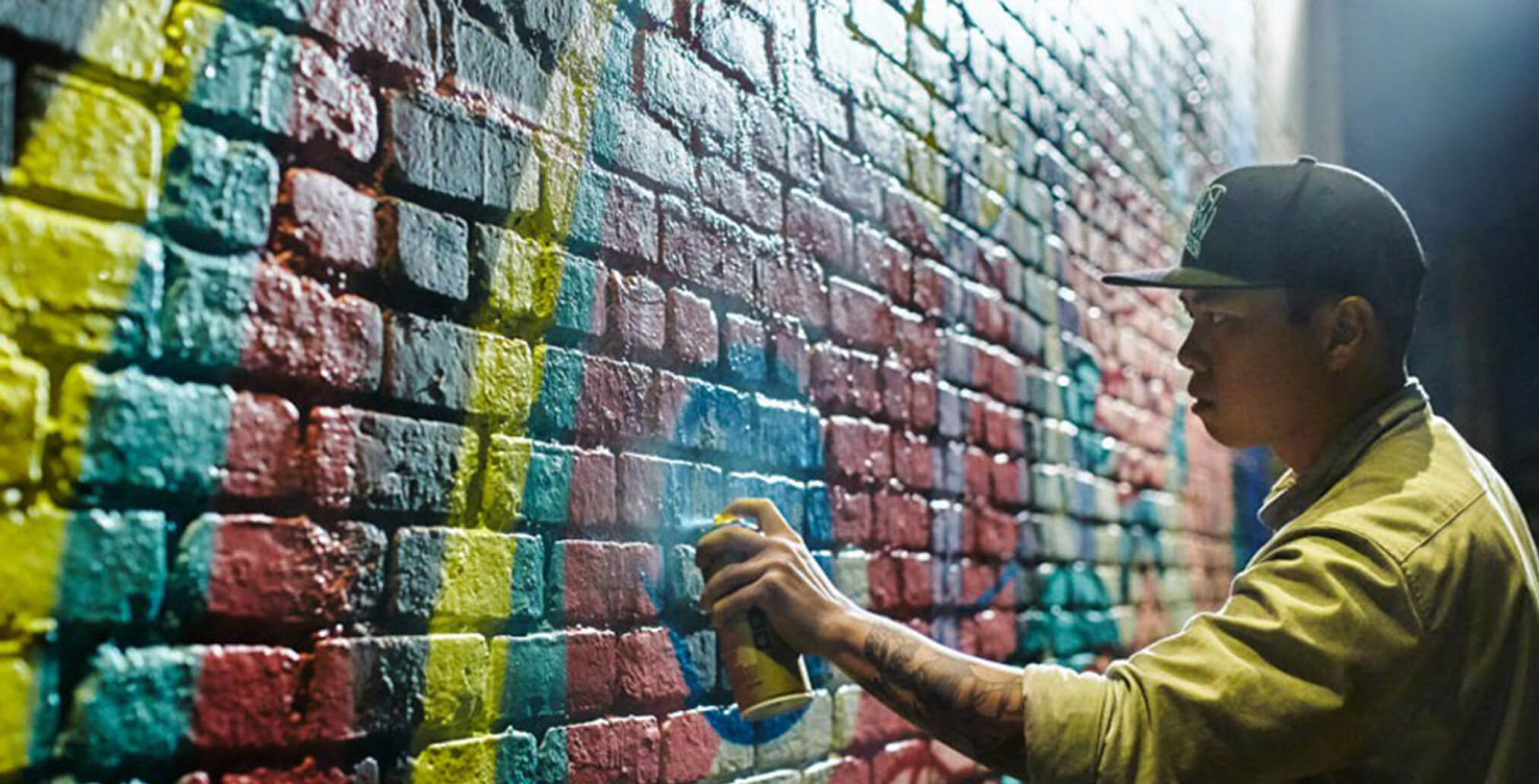 Standing on the roof of a pickup truck, a woman in cutoff denim shorts with a can of spray paint in hand gazes up at a wall two stories high, contemplating her next move. As she works the can back and forth, an image is beginning to reveal itself. Behind her, a group in paint-streaked clothes is engaged in animated conversation, admiring the work in progress from several yards away. The bottom of the wall is lined with buckets, paint rollers, cans, brushes, boxes and water bottles, and a sense of contained excitement hovers in the air.
That's the scene at the corner of Coral and Pohukaina Streets, fronting Mother Waldron Playground in Kakaako. Similar scenes are playing out at just about every street corner for blocks. Over the next couple of days, the area will burst to life with color strewn walls, an energetic buzz of delighted onlookers, and evenings given over to revelry as Kakaako settles into the annual celebration known as Pow! Wow!
The festival got its start as a grassroots arts movement that has helped transform Kakaako from a drab stretch of warehouses into the brightly muraled district it is today, abounding with cute cafes and coffee shops.

Behind every groundbreaking movement is an entrepreneur with a vision. The force behind Pow! Wow! is Kalani High School grad Jasper Wong, a neatly buttoned down young man, with a wave of gelled hair and tattoos. His journey that would culminate in founding Pow! Wow! began when the self-taught artist left his Aina Haina hometown to enroll in California College of the Arts in San Francisco.
"In art school, you learn conceptual thinking and technical skills but they don't teach you the business side of art," says Wong. "Where do you take this skill set and develop something beyond drawing on paper or canvas?"
Well, Hong Kong is where he decided to take his skills. He wanted to step up his art production and felt Hong Kong would be the perfect place to do so given the city's manufacturing and cosmopolitan prowess. Fluent in Cantonese and armed with an extensive portfolio, he made a pilgrimage to the city's art galleries, but none of them showed interest in his work.
"I kept getting rejected," he says. "Their sentiment was I was the wrong type of Chinese."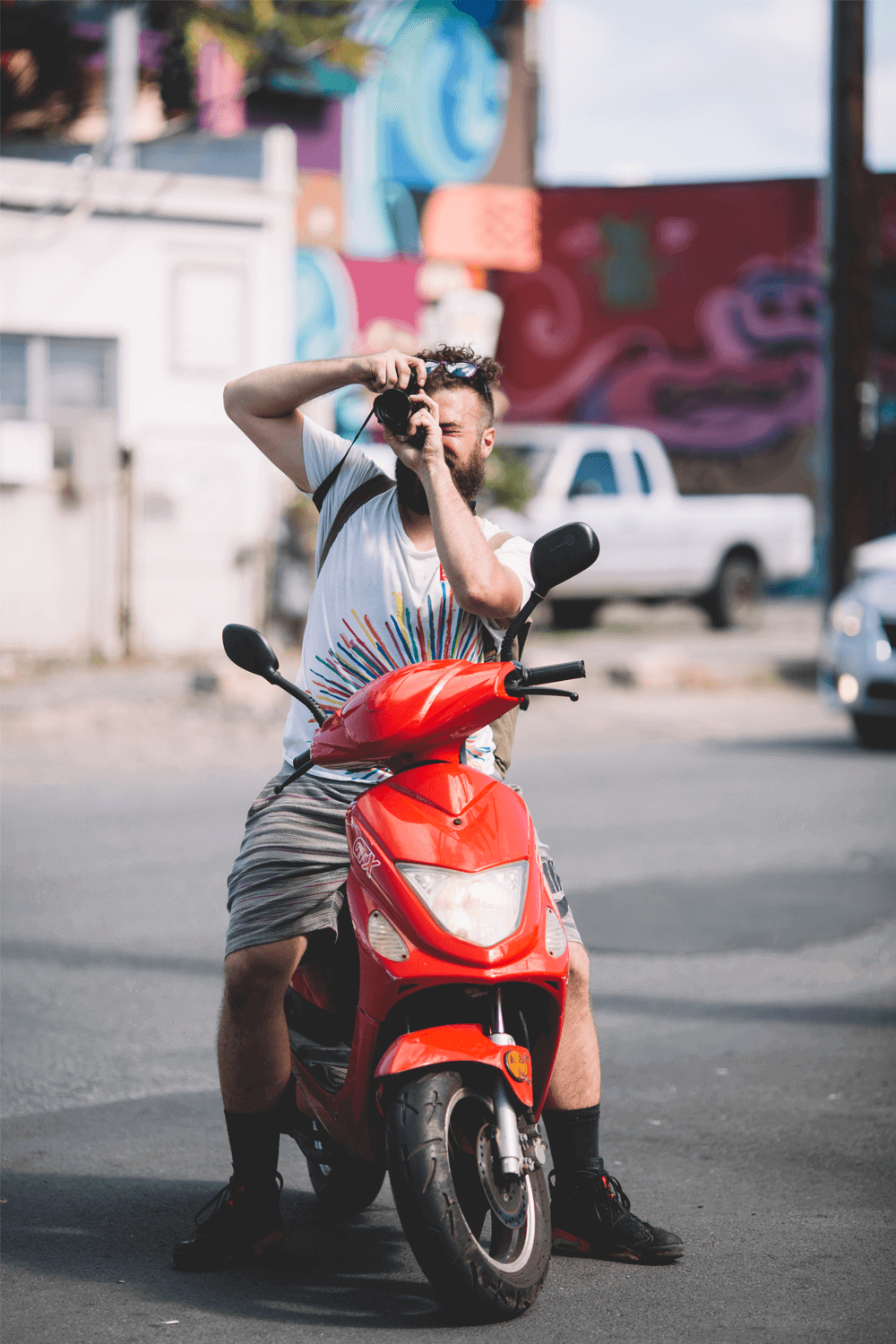 These galleries decided works produced by Chinese-national artists would be worth more than those of a Chinese-American. Sometimes, there's no greater way to get creative juices flowing than to have a door closed in your face.
"As a reaction to that experience, I decided to start my own gallery," Wong recounts.
In 2010, along with a core group of fellow artists, he renovated an abandoned restaurant, and put up canvases. His goal was, first, to showcase the process of creating art, and second, to have fun doing it, rather than producing work solely for profit. The public was invited to come watch the collective group of artists demonstrate their individual creation routines. This gathering of artists, freely displaying their live talent, became the very first Pow! Wow!
Shortly thereafter, Wong moved Pow! Wow! home to Hawaii where its beginnings in 2011 consisted of a small art show and the designing of a single mural on the former Fresh Café building on Queen Street—an already hip eatery and artist's hub that hosted poetry readings, craft markets and more.
The mural concept continued into 2012, attracting a trickle of curious onlookers who meandered through Kakaako to catch a glimpse of twentysomethings on scaffoldings, quietly working their large-scale magic. Faded warehouse walls and drab alleyways were being splashed with an electric explosion of 20-foot high graphic and geometric designs in vibrant color. A perpetually animated 2-D party was suspended in surreal contrast above empty streets. Almost overnight, a sleepy urban corner of Oahu had turned trendy.What the public sees nowadays as a flourishing locally-based arts scene with global branches, has sprung from Wong's pure perseverance, and that of his local and regional teams. And they've faced serious obstacles along the way.
"There were a few people who really believed in the (initial Pow! Wow!) project, who really believe that art has a positive effect on a neighborhood and that it would better Kakaako," Wong explains. "(But) the majority felt it would do the opposite—that having us painting in the neighborhood would lead to the destruction of Kakaako."
Citing the "broken window theory," Wong explains the public's concern that allowing street painting would lead to the depreciation of Kakaako. The theory posits that leaving one broken window in a building gradually leads to a spiral of neighborhood deterioration, rife with graffiti, homelessness, drug deals and crime. And, furthermore, though murals are an accepted art form, naysayers believed that because muralists use spray paint, they fall into the category of taggers and subsequently carry a "vandal" stigma. Over time, Wong and his team calmed the community's concerns and have come to be not only accepted, but heartily lauded as part of Kakaako's DNA.
Today, school groups and tourists crowd Kakaako for a bustling week or more each February, to watch superstar muralists from around the world blanketing the walls with the year's fresh works. A lineup of associated gatherings has sprung up around Pow! Wow! The schedule of activities has included concerts, lectures, and everything from a block party and night market to art and print exhibits, break dance battles and sports events. The excitement has burst its Honolulu boundaries, spreading around the globe.

Meanwhile, the artists who Pow! Wow! Hawaii hosts are by invite only, with the benefit of building bridges between internationally renowned names and the veteran and emerging local constituents.
"It's a way to promote the Hawaii community and to expose people locally to what's going on in other parts of the world," Wong notes.
Hosting these artists means flying them in from their various home cities and giving them lodging. Funding the festival each year is a task unto itself, but the community has been lending a hand, Wong points out:
"We've been lucky about getting more businesses involved in supporting us. Hawaiian Airlines has come on board to provide flights for artists. Bank of Hawaii gives us funds, as does OluKai. The Modern Honolulu gives us hotel rooms to house artists, Montana Cans gives us spray paint and City Mill gives us house paint and other supplies."
The fact that fans plan their travel to coincide with the festival, has not been lost on Hawaii Tourism Authority, which has also begun partnering with the festival. Kakaako has become a tourist attraction unto itself, even outside the festival events, thanks in large part to Pow! Wow!'s initiative. Visitors with cameras and phones in hand can be seen any day of the year admiring the storied walls.
"The murals have created a lot of foot traffic," says Wong. "We've brought people to Kakaako who otherwise wouldn't have reason to go. It's been nice to support the community in that way, and to have the community supporting us as well."
Pow! Wow! 2018 happens Feb. 8-18 throughout Kakaako. For more information click here.

---
The views, opinions and/or positions expressed by the interviewee in this article are his or hers alone and do not necessarily reflect the views, opinions and/or positions of Bank of Hawaii.
You're about to exit BOH.com
Links to other sites are provided as a service to you by Bank of Hawaii. These other sites are neither owned nor maintained by Bank of Hawaii. Bank of Hawaii shall not be responsible for the content and/or accuracy of any information contained in these other sites or for the personal or credit card information you provide to these sites.