Insights & Stories
Get to Know Momi Akimseu: Momi's Favorite Recipe
Reading time: 5 minutes
February 11th, 2023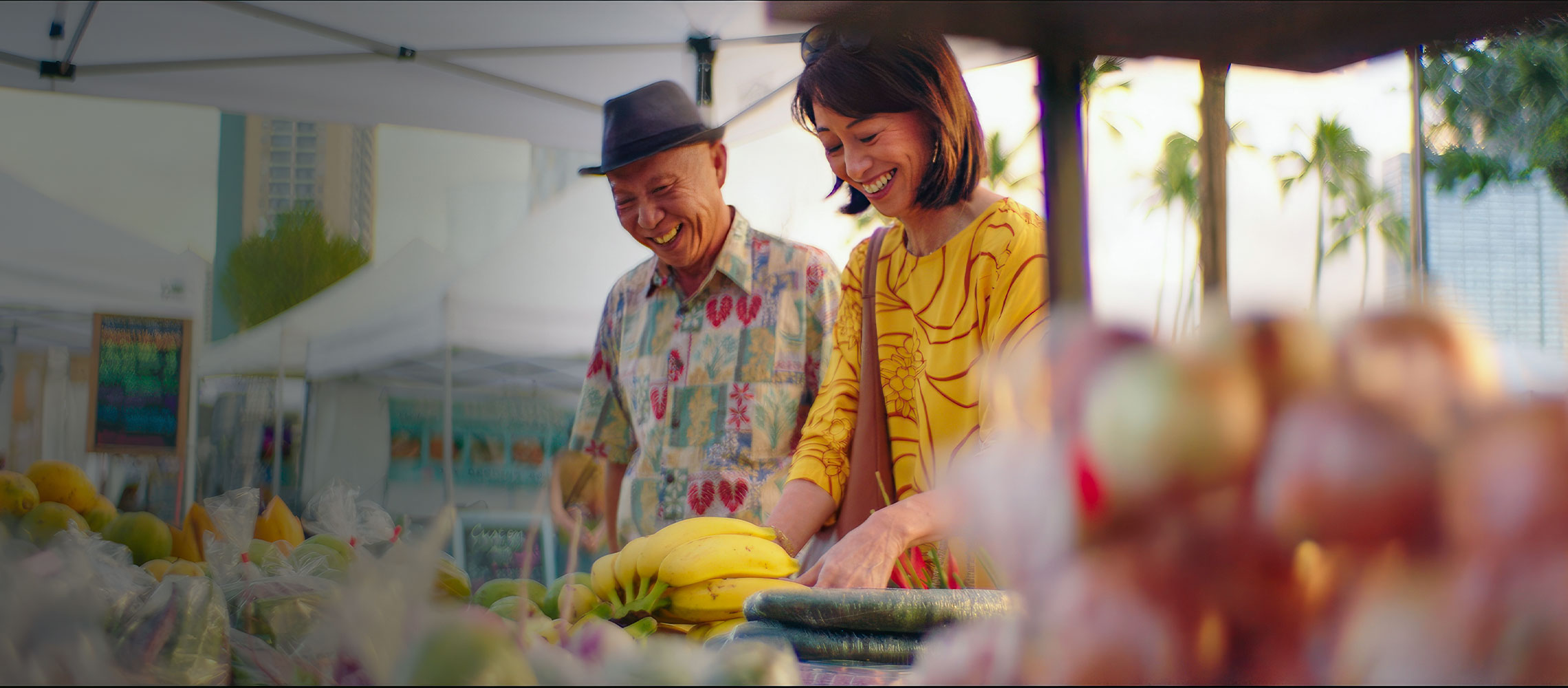 "It's important for me to buy local, because we need to kokua our local community." – Momi Akimseu
If you visit the shops in Chinatown, or farmers markets on the weekends, you might have run into Momi Akimseu, Senior Vice President, Director of Community & Employee Engagement at Bank of Hawaii and President of Bank of Hawaii Foundation. Her warm spirit, welcoming attitude, and openness to meet new people shines from the moment you start talking with her.
Born and raised on Oahu, Momi's childhood was focused on her roots in Hawaii—from spending time at her grandma's lei shop in Chinatown, to the local markets her parents shopped at for dinner, supporting and being a part of our community was instilled in her from a young age. It's no wonder her passion today is giving back—and supporting local businesses, artisans, and non-profits. Whether in her work at Bank of Hawaii or in her personal time, Momi is focused on doing her part to build and support a sustainable, healthy Hawaii.
Recently, Momi sat down with us to talk about how she lives her happy—and one thing that immediately came to mind is cooking for her family. Food is a natural way to bring people together. Enjoying a meal, which brings us all together at the same time—in today's busy world, with so many distractions—is just so important to her, she said. "Being able to have that time, it just means so much to me."
Momi was recently gifted a copy of Cook Real Hawaii: A Cookbook, authored by James Beard Award semifinalist, Top Chef alumni, and owner of Tin Roof Maui, Sheldon Simeon – with Garrett Snyder. Momi fell in love with the saimin recipe and has been cooking it as her go-to comfort food ever since—especially when she can pick up the ingredients from local farmers and shops, which infuses the recipe with even more love and care.
"Food is such a love language, because it's such a great way for me to connect." – Momi Akimseu
She shared the recipe with us, below, but recommended buying the cookbook for the other incredible recipes—and how beautiful the cookbook is itself.
Saimin
Saimin Broth
8 cups chicken broth
1 pound pork spareribs
2 strips dried kombu (about 4 grams), optional
1 cup dried shrimp
6 dried shiitake mushrooms
6 cloves garlic, crushed and peeled
1 leek, including dark green tops, sliced
1 medium carrot, sliced
1-inch piece fresh ginger, sliced and crushed
To finish:
Salt
1 pound fresh saimin, ramen, or chow mein noodles (or "faux-min" noodles; see page 292)
4 tablespoon shoyu (soy sauce)
4 teaspoons instant dashi powder (such as HonDashi)
½ teaspoon ground white pepper
¼ cup thinly sliced scallions
4 ounces kamaboko (fish cake), sliced
½ pound Easy Char Siu (page 286), sliced Soft-boiled eggs, peeled and halved
In a large pot (see Note), combine the chicken broth, spareribs, kombu (if using), dried shrimp, shiitakes, garlic, leek, carrot, and ginger and bring to a boil. Reduce the heat to a simmer and cook for 2 hours. Skim off any foam that rises to the top. Strain the broth, reserving the spareribs for another use if desired, and keep warm in the pot over low heat.
To finish: Bring a large pot of salted water to a boil. Loosen the noodles and add to the boiling water. When the water returns to a boil, the noodles should be nearly done (2 to 3 minutes; or follow the package instructions). Check the noodles by taste or touch. They should be tender but springy. Drain.
Place 1 tablespoon shoyu, 1 teaspoon dashi powder, and a pinch of white pepper in the bottom of each of four soup bowls. Add about 1 ½ cups of hot broth to each bowl. Place a serving of noodles in each bowl and stir with chopsticks or tongs. Garnish with scallions, kamaboko, char siu, and egg just before serving.
Note: You can speed up the broth in a pressure cooker or Instant Pot. Add the ingredients to the cooker and cook at low pressure for 45 minutes. Allow the pressure to release naturally. Strain as directed and return the broth to the pot.
To buy your own copy, visit Tin roof Maui's website—where you can even order a signed copy, to be shipped or picked up locally if you're nearby. Even better? The proceeds from the cookbook are donated to a Maui non-profit—whose mission is to feed our community.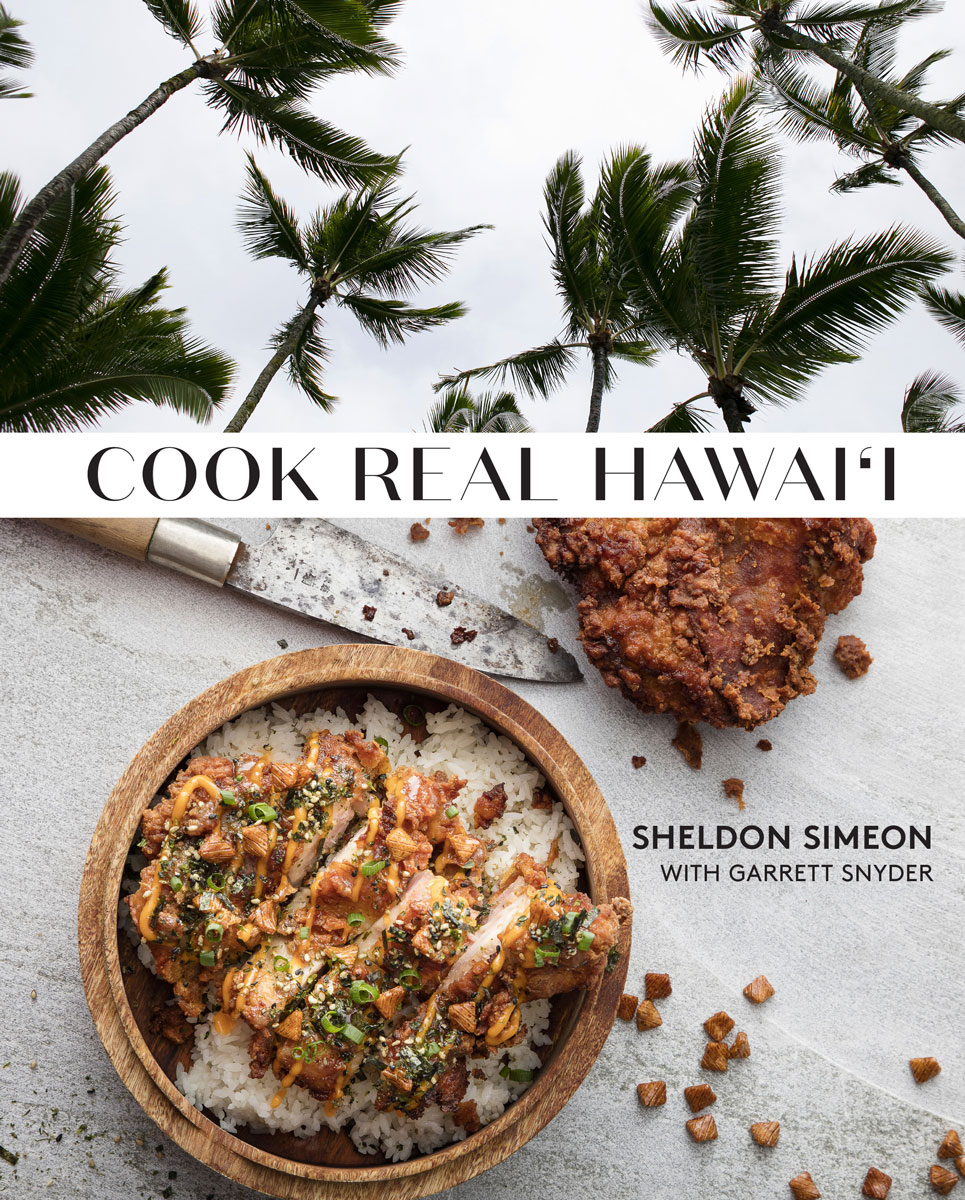 ---
The individuals and owners of these trademarks, and any other trademarks, service marks, logos, brands, businesses or other designations of origin shown, named or mentioned herein provided consent to this article but did not sponsor, endorse, preview, or approve the article itself.
Reprinted with permission from Cook Real Hawai'i by Sheldon Simeon and Garrett Snyder, copyright © 2021. Published by Clarkson Potter/Publishers, an imprint of Penguin Random House.
Photography copyright: Kevin J. Miyazaki © 2021
You're about to exit BOH.com
Links to other sites are provided as a service to you by Bank of Hawaii. These other sites are neither owned nor maintained by Bank of Hawaii. Bank of Hawaii shall not be responsible for the content and/or accuracy of any information contained in these other sites or for the personal or credit card information you provide to these sites.