Insights & Stories
Clean Energy Savings: Opportunities to Save More
Reading time: 5 minutes
June 2nd, 2023
In the face of increasing global energy demands and the need to care for our environment for generations to come, Hawaii is taking a leading role in promoting clean energy solutions. In order to encourage the use of renewable energy sources such as solar power, the state offers various tax credits and incentives for local residents. In this article, we explore the different types of tax credits and incentives available federally and in Hawaii.
The Inflation Reduction Act of 2022 is the most significant piece of climate legislation in U.S. history. Over the coming decade, nearly $400 billion will be deployed to help reduce carbon emissions, create thousands of jobs for Americans, and lower energy costs for families.
Whether you're looking for support to purchase electric vehicles, tax credits for installing electric-saving appliances, or just trying to save on your utility bills each month, here are some of the ways ;the Inflation Reduction Act can work for you.
Households that make energy efficient improvements — such as adding insulation and installing efficient windows and doors — can use tax credits to help save money. In 2023, tax credits can cover up to 30% of improvements and include up to a $3,200 tax credit.
Hawaii Clean Energy
The State of Hawaii is committed to achieving 100% clean energy by 2045, through the Hawaii Clean Energy Initiative. To accomplish this, several tax credits and rebates are available to assist residents who are making energy-efficient investments in their home. For example, there are instant rebates of $500 towards the installation of a heat pump water heater, $1,250 towards a solar water heater, and $200 for homeowners who already have a solar system installed, among other energy rebates. Low- to moderate-income local residents may also apply for the Federal Weatherization Assistance program, which involves the free installation of low-flow shower heads, LED lighting, efficient power strips, and more.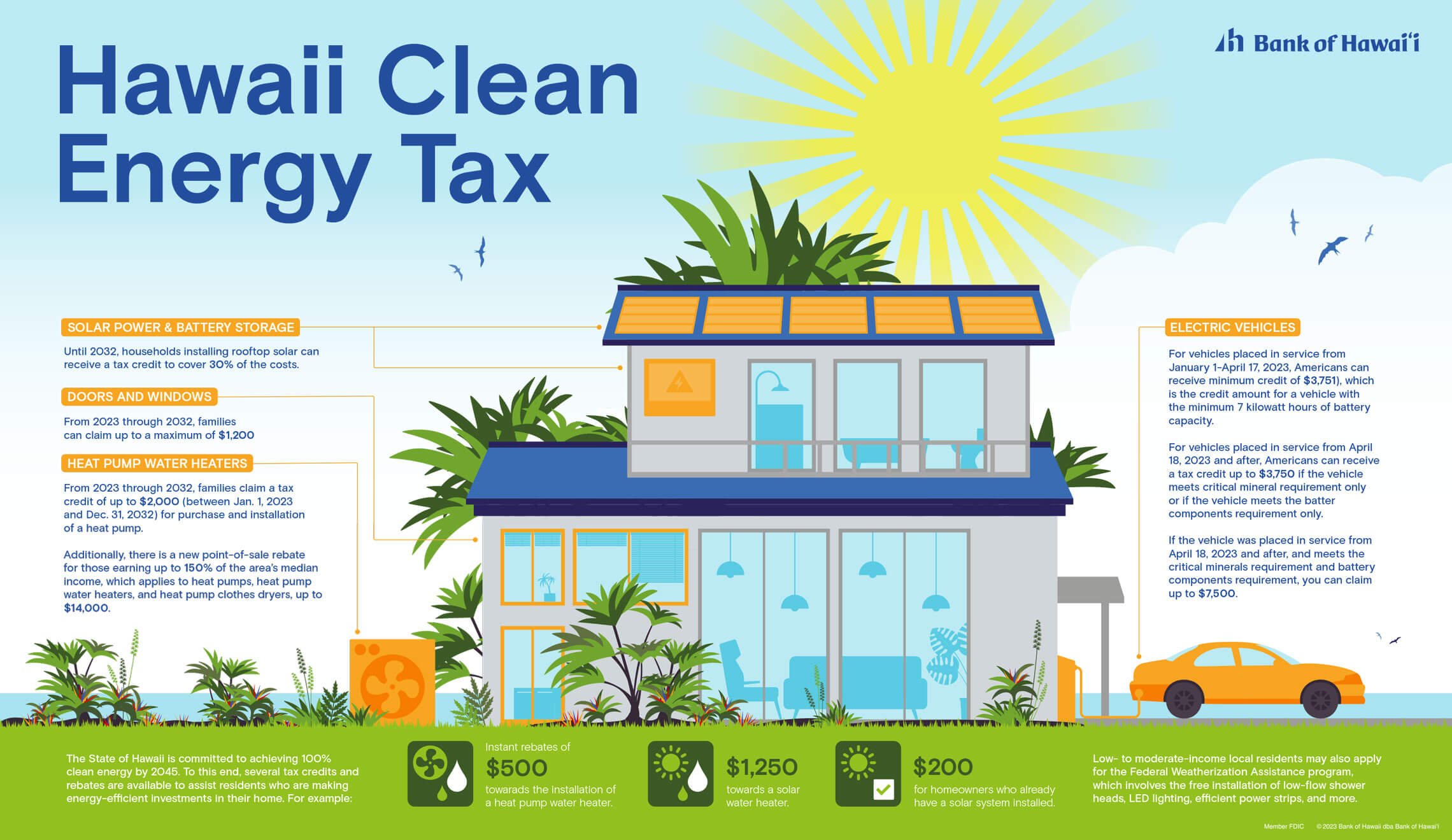 You're about to exit BOH.com
Links to other sites are provided as a service to you by Bank of Hawaii. These other sites are neither owned nor maintained by Bank of Hawaii. Bank of Hawaii shall not be responsible for the content and/or accuracy of any information contained in these other sites or for the personal or credit card information you provide to these sites.