Year in Review
Creating a Lasting Legacy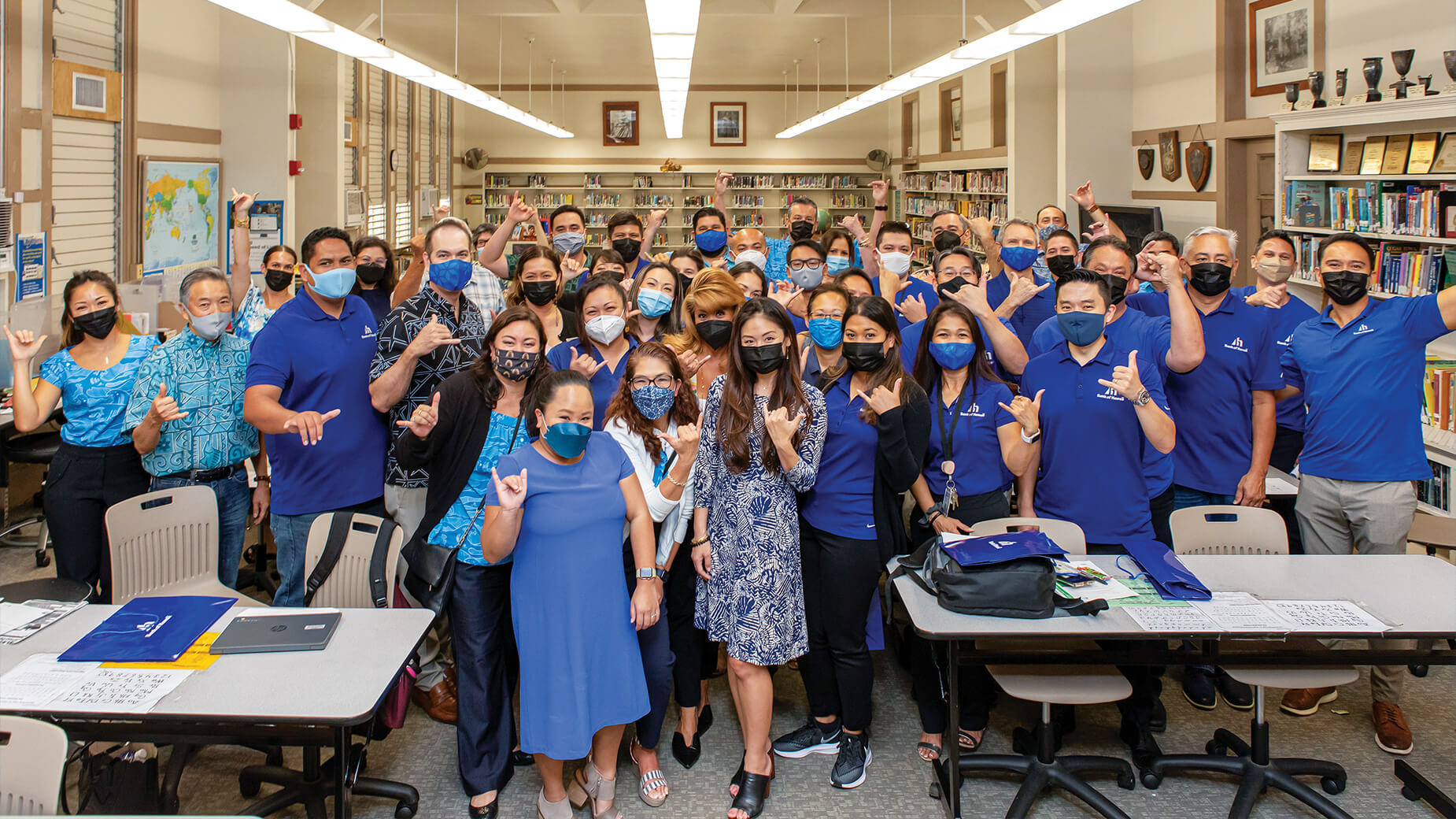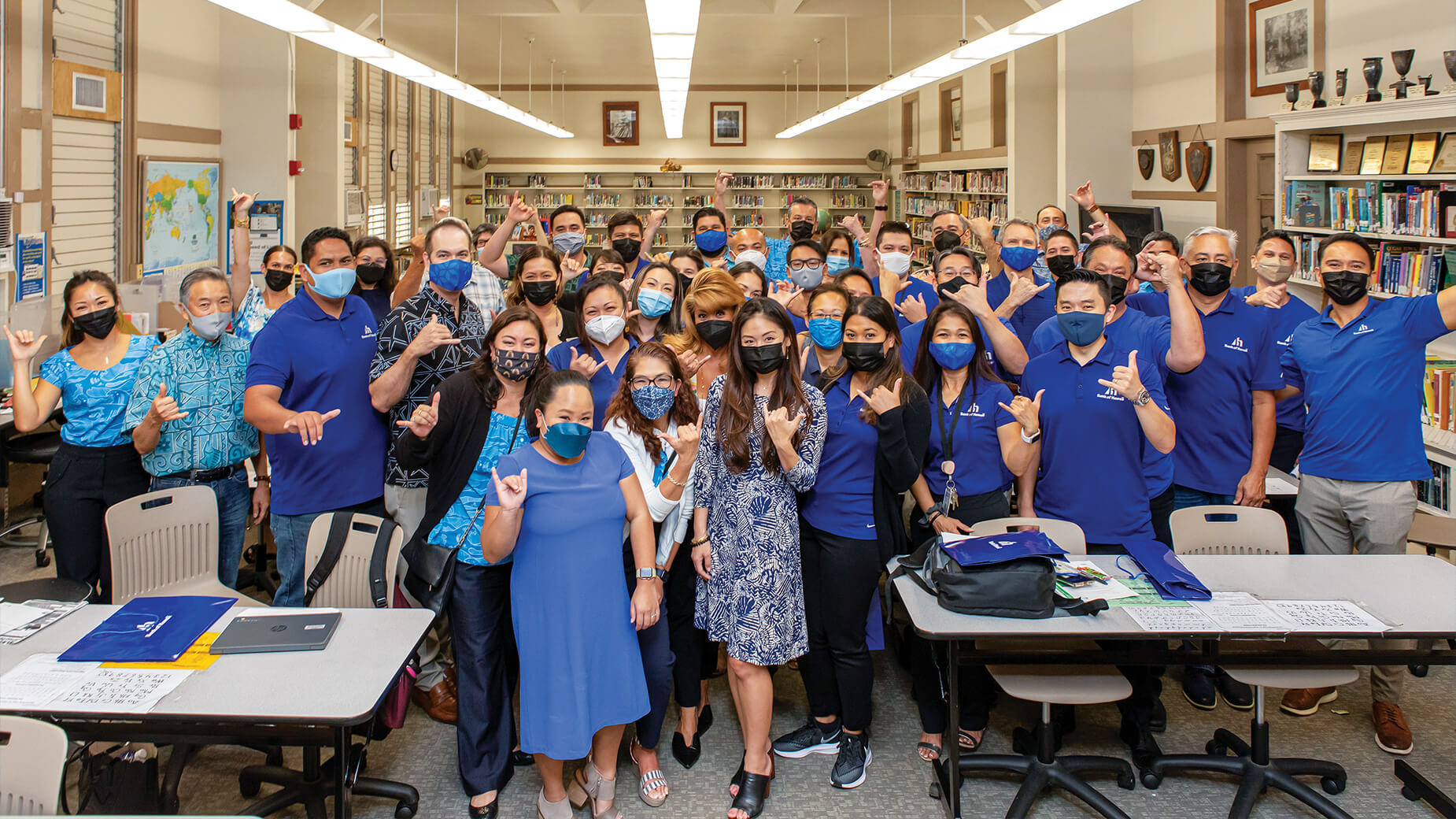 Employees came together at Ruth Keelikolani Middle School for the first in-person SmartMoney Lesson Day since before the pandemic.
Building Trust
Building lasting relationships is the foundation for serving our clients. In this increasingly digital banking environment, we know that our customers need more than the latest technology. Being available to interact with them in ways that go beyond answering their immediate financial needs is essential to providing the best possible services. Our goal remains to ensure that each interaction—whether in person, on the phone, at an ATM, or online—provides the best service and most reliable products when, where and how our customers want them.
We are evaluating all of our customer interactions from their points of view. This year we collected more than 16,000 customer surveys from all our service delivery channels (branches, website, Customer Service Center, online and mobile) and are assessing the feedback we received to make informed decisions about new products and their delivery. Based on this feedback, we are also streamlining many of our processes, including collaboration between departments at the bank.
We are honored to have received the following recognition in our 125th anniversary year:
Newsweek magazine ranked Bank of Hawaii No. 3 in the banking category of its inaugural "America's Most Trusted Companies" list. Bank of Hawaii is the only Hawaii business to be recognized.
The readers of Honolulu Star-Advertiser, Hawaii Tribune-Herald, West Hawaii Today, and The Garden Island all selected Bank of Hawaii as "Hawaii's Best Bank."
Junior Achievement USA recognized Bank of Hawaii with the Bronze U.S. President's Volunteer Service Award for the 2021–2022 school year.
Developing New CX Leaders
Developing Customer Experience (CX) leaders who will explore new ways to champion customer-centricity across the company now and in the future is one of Bank of Hawaii's strategic goals and focus.
In early 2022, our Customer Experience team began offering special training and presentations to empower employees to act as customer advocates in their respective departments. CX Advocate training included hands-on introductions to design thinking, a human-centered problem solving approach that can help teams to better understand customer experiences, challenge assumptions and create innovative solutions. This CX Advocate pilot was so successful that it is being expanded to all departments across the bank in 2023.
CX certification courses were also made available to key leaders at the bank, and CX training curriculum was integrated into our existing Pathways to Professional Excellence (PPE) and Leadership Development Program (LDP). To further enhance the focus on a customer-first mindset—including with employees who do not interact directly with customers—eLearning modules were introduced to hone skills.
We are seeing a positive response to this renewed focus on customer experience, and we look forward to finding new and innovative solutions to better serve our customers.
Every Call Matters
Our Customer Service Center has always played a key role in facilitating exceptional service for our customers. Not only does it quickly provide safe and secure personalized services, but also helps resolve any issues that may occur, giving peace of mind to customers.
The team connects with customers via several virtual channels including phone, chat and video. This year we saw a significant decrease in wait times, down 50% from 2021 to 2022, resulting in an average wait of 5 minutes for 2022. We look forward to piloting a new position, the Virtual Relationship Banker, to work seamlessly within our branches to take customer appointments through virtual channels, ensuring customers can be served in the way that is most convenient for them.
Digital Innovation and Growth
As customers trend toward digital options for banking, such as our mobile banking app or website, we are investing in making these tools simpler, safer and more convenient. Over the past two years, active monthly users of digital banking have grown by 12%.
Our website was updated to streamline its appearance and functionality, allowing us to expand our offerings while also ensuring a positive customer experience.
Pre-Approved Loans via Simplifi
In 2022, SimpliFi, Bank of Hawaii's convenient online account opening and application experience, allowed customers to redeem pre-approved loans. This online loan redemption feature allows customers to use our intuitive interface to electronically sign documents and immediately receive loan proceeds in their deposit account. This step forward in customer convenience proved very popular, resulting in an immediate jump in consumer lending online.
Growing Use of Zelle
Bank of Hawaii added the Zelle payments network to its app for Hawai'i customers in 2019 and launched the feature for Guam and Saipan in 2021, allowing users to send money directly from their bank account to someone else's. The convenience of fee-free, quick and secure transactions led to exponential adoption of Zelle since we first introduced it, and in 2022 year-overyear growth was 45%.
Bank by Appointment
Bank by Appointment was launched at the start of the pandemic to make the best use of in-branch interactions and provide customers an option for personalized services at a specific time and location. The online system enables customers to book an in-person or telephone appointment for a wide range of specialized banking services, helps eliminate wait times, and allows bank personnel to provide the best services, products and customer experience.
This feature has been tremendously popular and more than doubled in use since last year, increasing to over 60,000 appointments in 2022 compared to 25,000 in 2021.
Branch of Tomorrow Network Expands
Our branches provide important opportunities for face-to-face connections with our customers. Bank of Hawaii's Branch of Tomorrow network grew in 2022 with the opening of two new branches on Hawaii Island.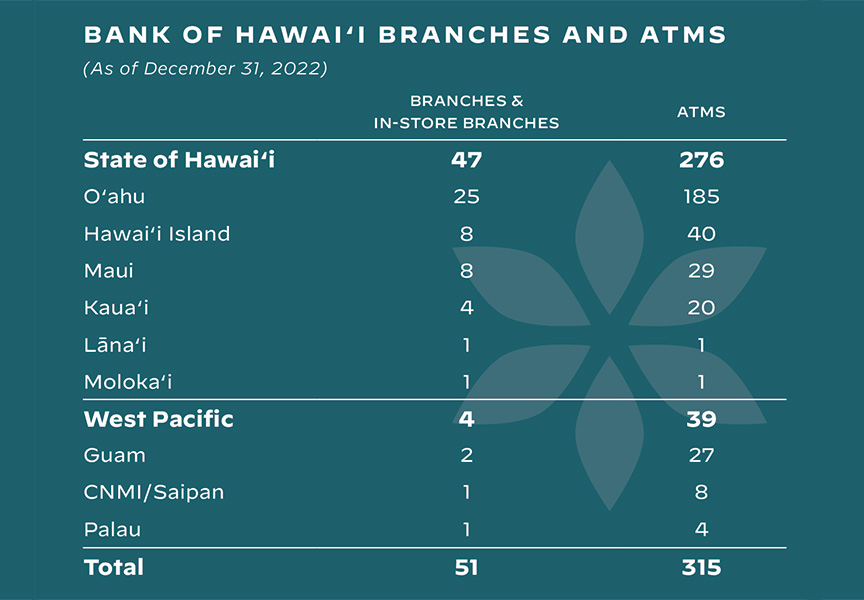 The first new location was Waimea Branch, which opened on Aug. 8, and the second was Hilo Branch, which opened on Sept. 26. Both branches have long histories in their respective locations, with our Hilo Branch in the community for more than 100 years, and our Waimea Branch in that community for more than 60 years.
Both new branches feature the latest Branch of Tomorrow improvements, such as a Pili Room for private consultations; a BankLanai® with enhanced ATM features and 24/7 access; and biometric safe deposit boxes. Each is also artistically designed to feature signature art pieces that reflect their community.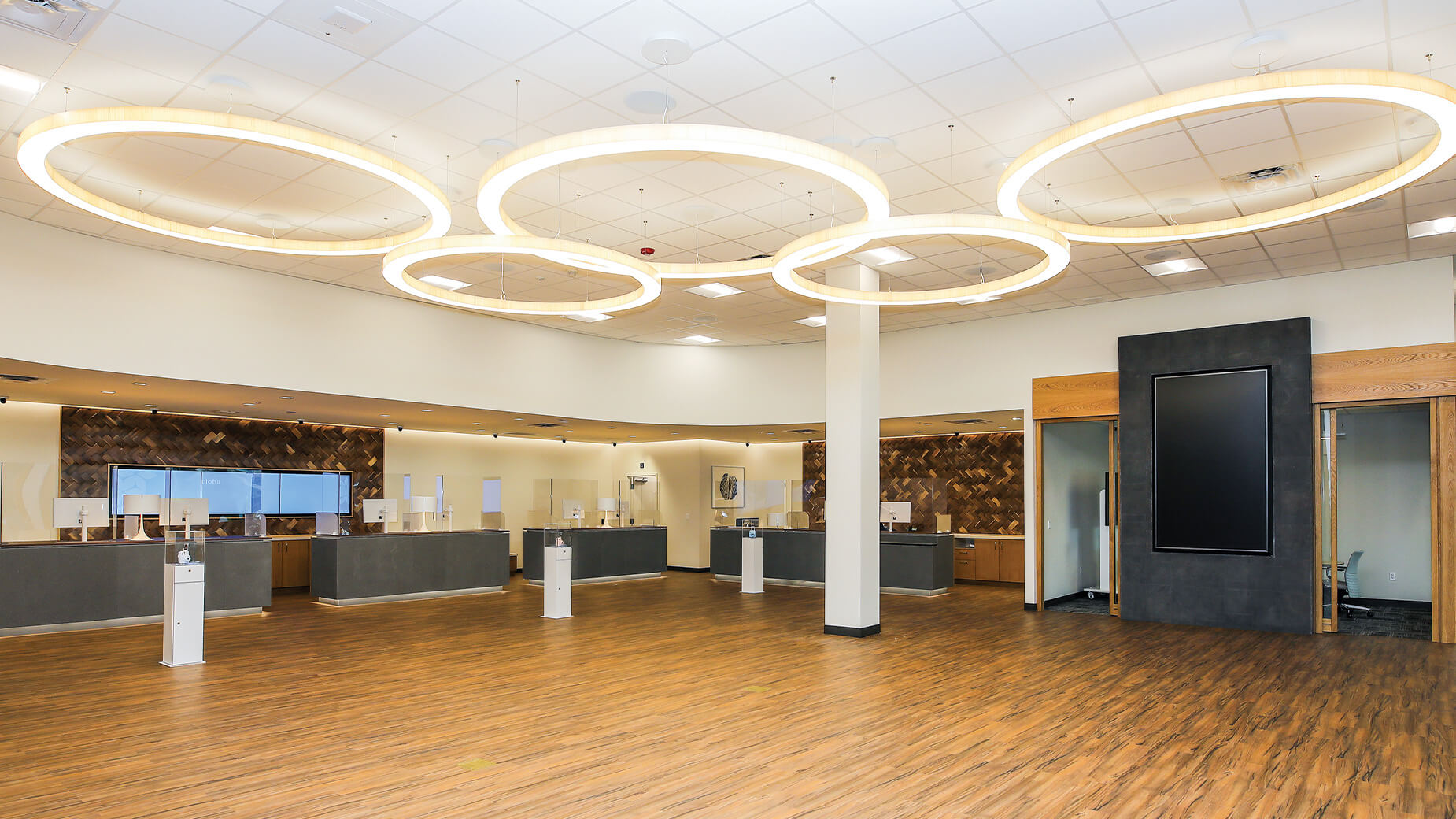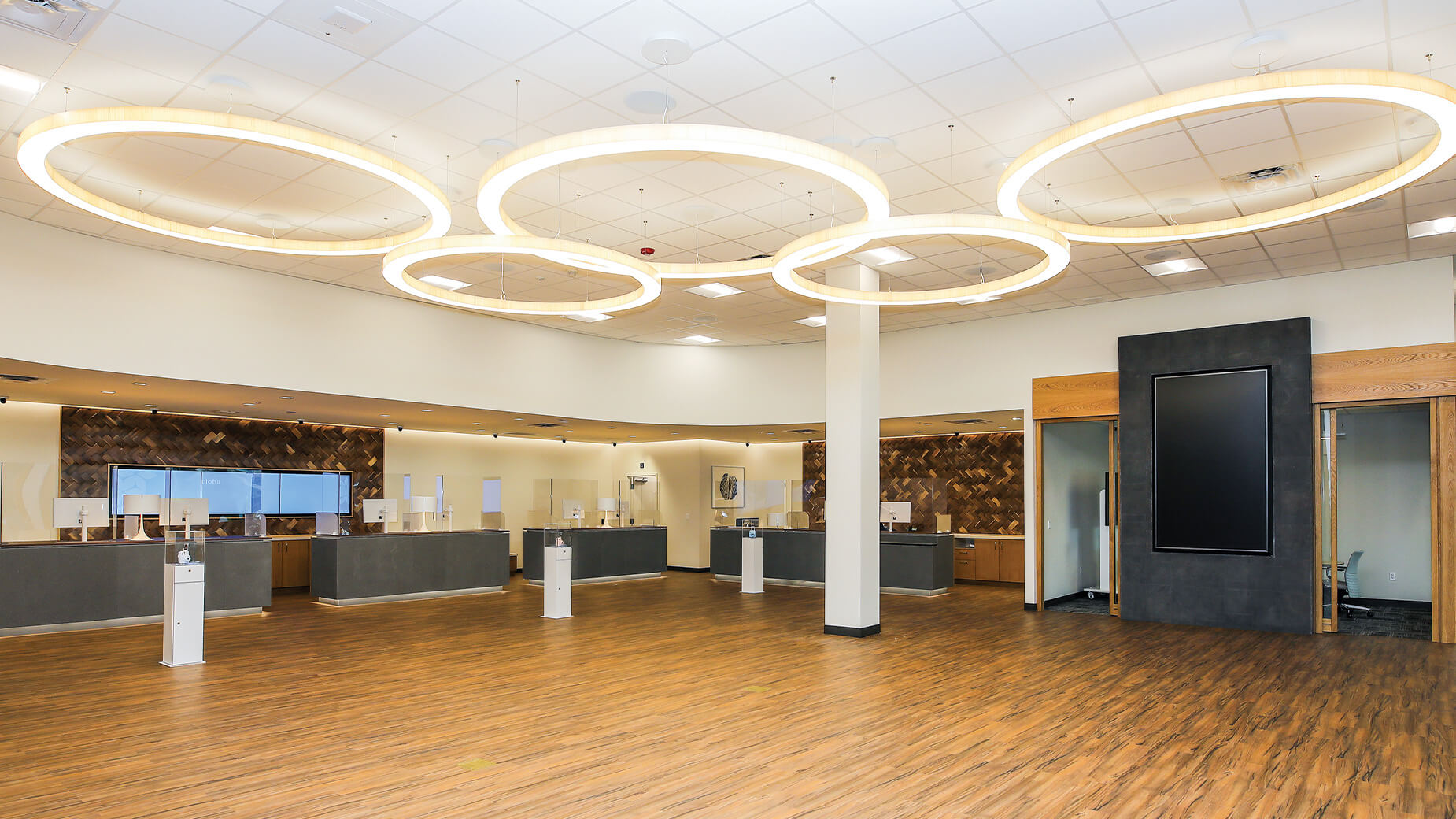 Our new Hilo Branch features the latest Branch of Tomorrow technology and a wide, open floorplan.
Providing Support After COVID
Specialized Loan Assistance
Our bank ohana teams worked tirelessly during the height of the pandemic to respond to the financial needs of customers. We created an emergency loan program for residential mortgages, home equity credit lines, auto loans and installment loans in addition to offering loan deferrals to our commercial clients.
Our Consumer Collections, Guam Collections, Mortgage Collections and Recoveries teams, along with teammates from other business units, assisted customers with forbearances and extensions while providing protection from negative credit bureau reporting. More than 16,500 customers benefitted from these special loan extensions over the past two years of the pandemic. In March of 2022, all of the consumer loans had been removed from these special programs because they were no longer needed.
In-Person Safety
As the risk from the pandemic decreased, Hawaii's "Safe Travels" restrictions and the statewide indoor mask mandate ended on March 25, 2022. Bank of Hawaii relaxed its guidelines for mask wearing in accordance with the state's guidelines, but retained some of the precautions as options for the safety of vulnerable employees and customers.
Hawaii Housing Solutions
Homeownership is a major milestone. However, there is a severe shortage of affordable homes in Hawai'i. We have long partnered with developers to create solutions to the housing shortage, and also work with homebuyers (including first-time homebuyers) to help them become homeowners. Since 2007 when we introduced the HUD 184A Native Hawaiian Housing Loan Guarantee Program, we continue to be the only Hawaii-based lender providing Department of Hawaiian Home Lands (DHHL) loans.
Hawaii Leader in Mortgage and Home Equity Lending
We are honored that so many of Hawaii's people choose us to help guide them through homeownership, home improvement and refinancing. According to data provided by Title Guaranty Hawaii, this positions Bank of Hawai'i once again, as the No. 1 residential real estate lender in Hawaii in 2022.
For over a decade, we have been:
#1 in number of mortgage and refinance loans made in the state of Hawaii, and
#1 in total dollars by a local bank for residential loans.
In 2022 we increased home equity credit lines to $400,000 without the need for appraisal, allowing homeowners to more easily access their equity for whatever their lives might require. This program helped customers save up to $1,000 in thirdparty appraisal costs to originate a $400,000 home equity credit loan.
Bank of Hawaii has helped thousands of families follow their dreams of building wealth by making the process of obtaining a mortgage or refinancing as easy and accessible as possible through our SimpliFi by Bank of Hawaii online features, combined with the expertise of our residential loan officers.
Investing in Afforable Housing
With limited land mass and the need to import building materials, the cost of housing in Hawaii for renters as well as homebuyers remains one of the highest in the nation. This has caused some local workers to postpone or abandon dreams of homeownership—or even leave their island home.
Bank of Hawaii continues to focus on housing solutions to meet a variety of community needs by providing construction funding and lending to developers for affordable housing options. In 2022, Bank of Hawaii supported the acquisition or start of construction of 560 affordable housing units (206 on Oahu, 214 on Maui, 92 on Hawaii Island and 48 on Kauai), and over 1,300 units are in the pipeline.
We are committed to investing in new opportunities to create more homes across the state, including recent development projects on three different islands.
Bank of Hawaii worked with nonprofit developer Ikaika Ohana and Urban Housing Communities (UHC) to support the Kaiaulu o Kukuia project in Lahaina, Maui. The 200-apartment project, made up of 25 two-story eight-plex buildings, will include 100 two-bedroom, 75 three-bedroom and 25 four-bedroom units of affordable workforce housing for families in Maui County earning 60% or less of the median income. Located on state land leased purposefully for the creation of affordable housing, this community is designed to be sustainable and energy efficient with cost savings for residents. Groundbreaking was held in July 2022.
Bank of Hawaii assisted nonprofit developer EAH Housing with a 92-unit affordable senior community residence in Hilo for veterans, surviving spouses and other income-qualified seniors. Construction started in November 2022 for the Hale Na Koa O Hanakahi development on Hawaii Island, designed for people 62 years or older, serving households earning 30% to 80% of the area median income. The project is the residential component of a master planned, full service complex that will also later include a veterans' center and a communitybased outpatient clinic.
We are also a committed equity investor in Low-Income Housing Tax Credit (LIHTC) projects across the state as well as in the Commonwealth of the Northern Mariana Islands/Saipan. For example, in 2022, Bank of Hawaii invested more than $20 million in LIHTC to support the development of Ikaika Ohana's Kaiaulu o Kukuia affordable housing development in Lahaina, Maui.
Helping Local Businesses Grow
Bank of Hawaii has always provided steadfast support to Hawaii's small businesses and entrepreneurs at the heart of our communities. To fuel long-term growth and success for Hawaii's businesses, we invested in local economic growth and diversification opportunities by partnering with Mana Up.
Mana Up is an accelerator and venture fund for Hawai'i-based entrepreneurs, with a mission to help them grow their markets globally through retail and e-commerce channels. They help Hawaii companies become global companies, bringing to the world what makes Hawaii special while increasing economic opportunity and jobs.
Additionally, Mana Up and Bank of Hawaii have co-created an executive mentorship and training program to help propel local entrepreneurs to their next level. This annual initiative matches 10 Mana Up companies with executive mentors from Bank of Hawaii based on specialized areas of growth. This program provides leadership and business maturation advice to entrepreneurs, while offering the executive mentors the opportunity to extend their expertise to benefit the community at large.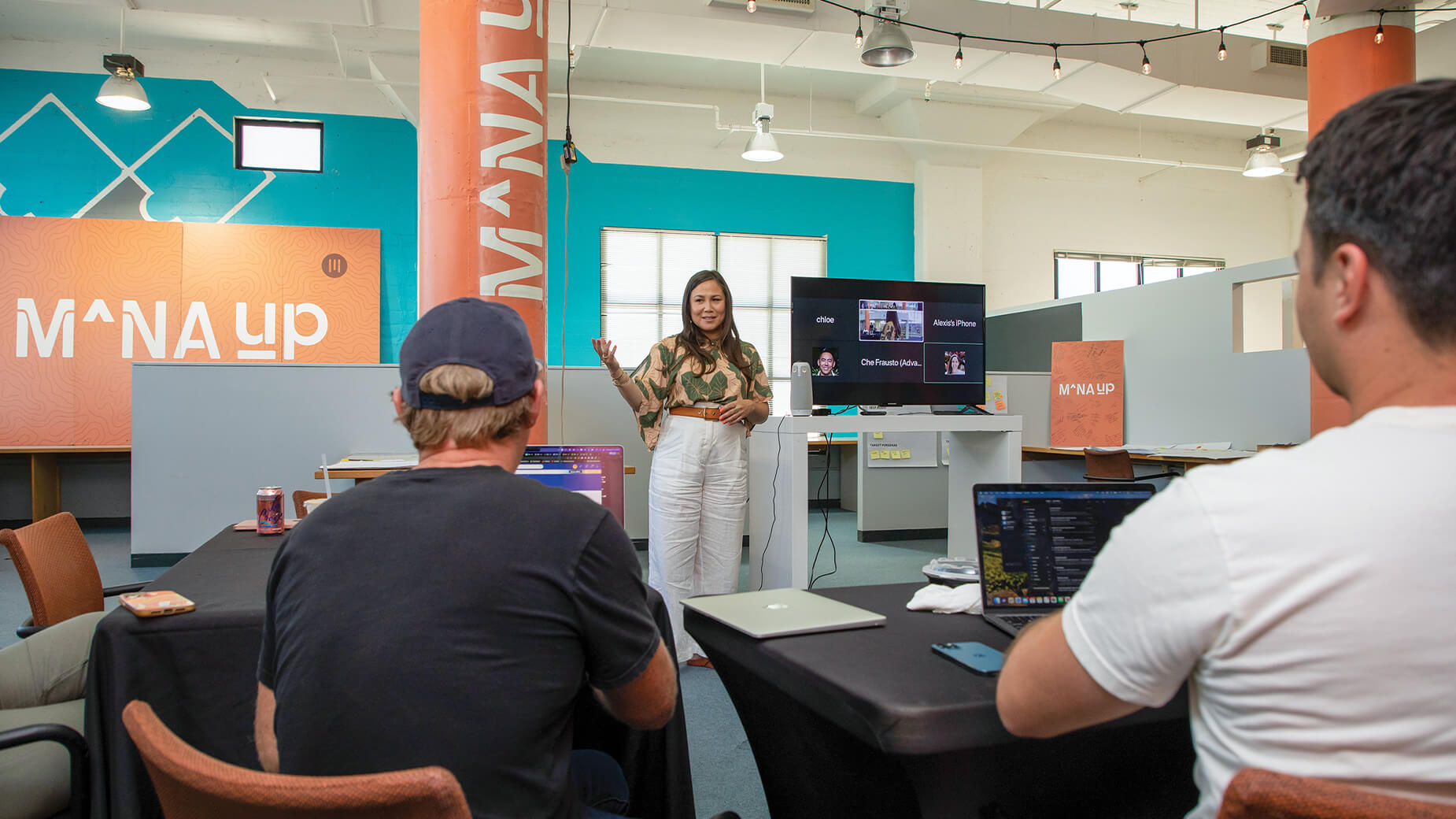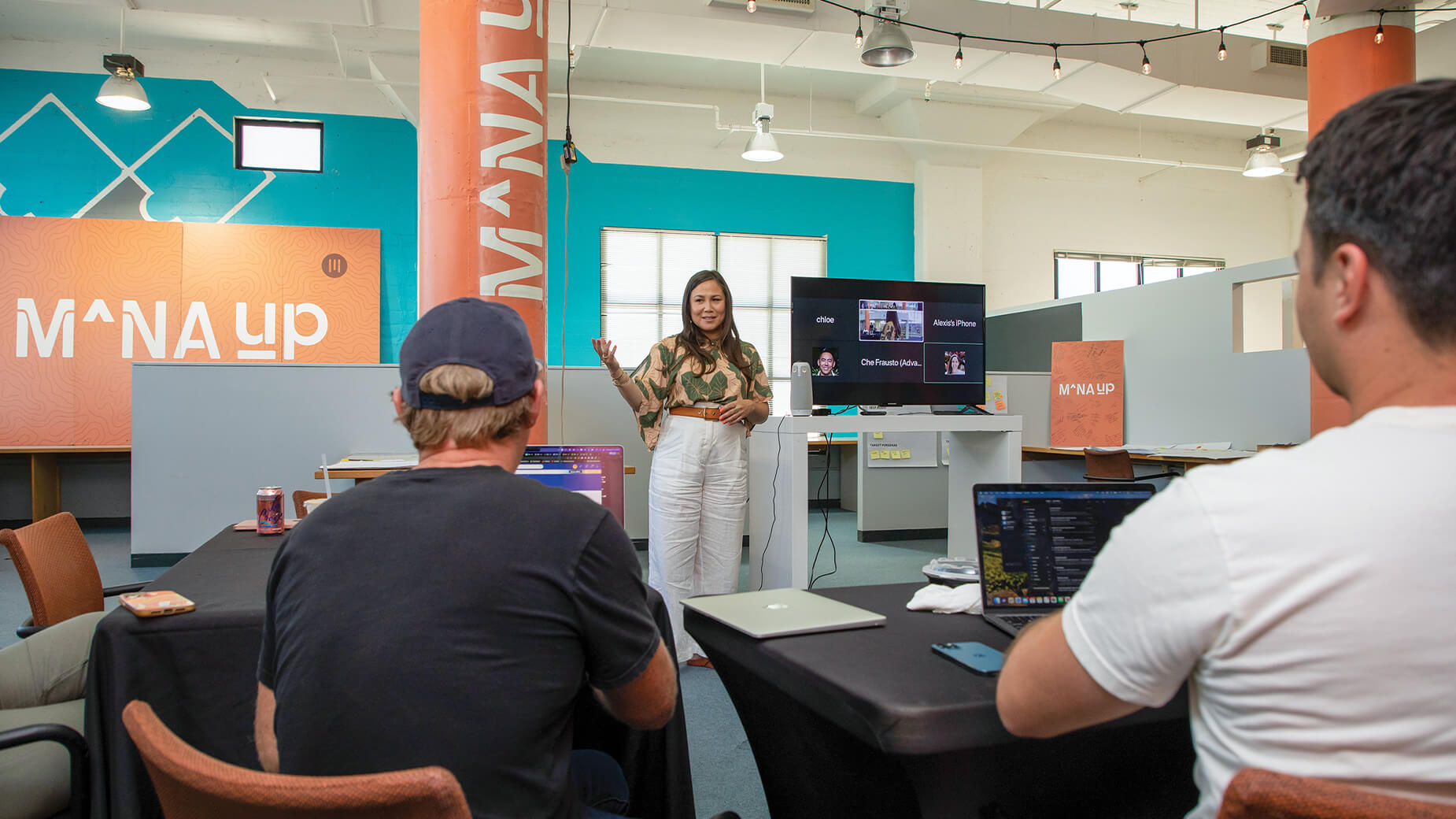 Mana Up co-founder, Meli James, aims to support local businesses as they grow and expand their reach worldwide.
Investment and Insurance Services in Changing Times
Bankoh Investment Services, Inc. (BISI), our securities broker dealer subsidiary, provides clients with a comprehensive and competitive suite of investment and insurance solutions with a personal touch.
During the pandemic and beyond, trusted BISI advisors have focused on providing enhanced education and personal support for clients concerned with retirement, healthcare costs, rising inflation and market volatility and declines. Their personal involvement with their clients allows them to offer helpful advice on how to manage their finances during postpandemic changes.
You're about to exit BOH.com
Links to other sites are provided as a service to you by Bank of Hawaii. These other sites are neither owned nor maintained by Bank of Hawaii. Bank of Hawaii shall not be responsible for the content and/or accuracy of any information contained in these other sites or for the personal or credit card information you provide to these sites.