Our Employees
Empowered and Moving Forward
For nearly 125 years, Bank of Hawaii's greatest strength has been its employees who work together to build meaningful relationships with customers and deliver exceptional service. Our employees are the heart of our business, and we continue to support and empower them with new opportunities for professional and personal growth. We are committed to helping them thrive, achieve successful careers and attain fulfillment.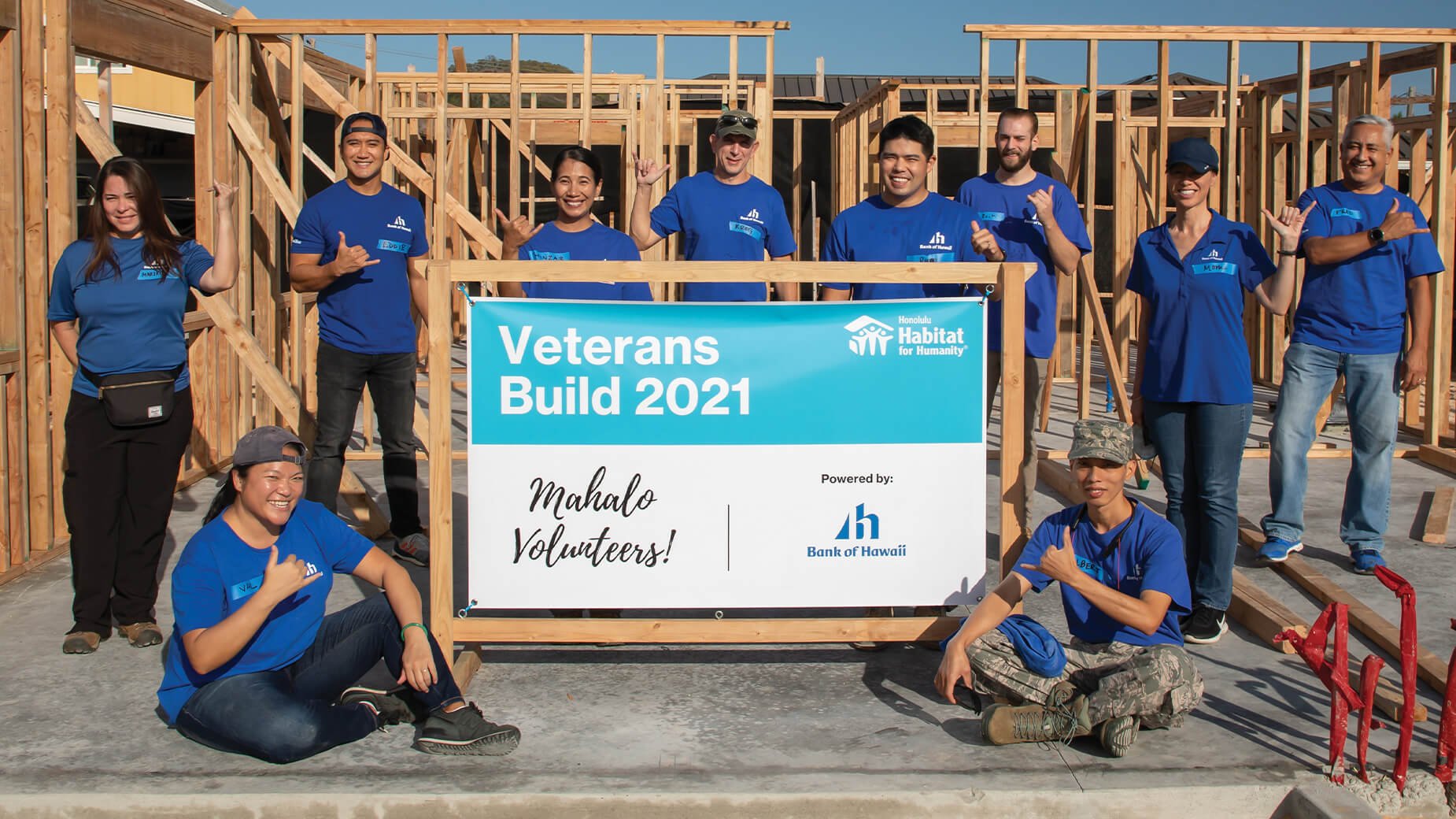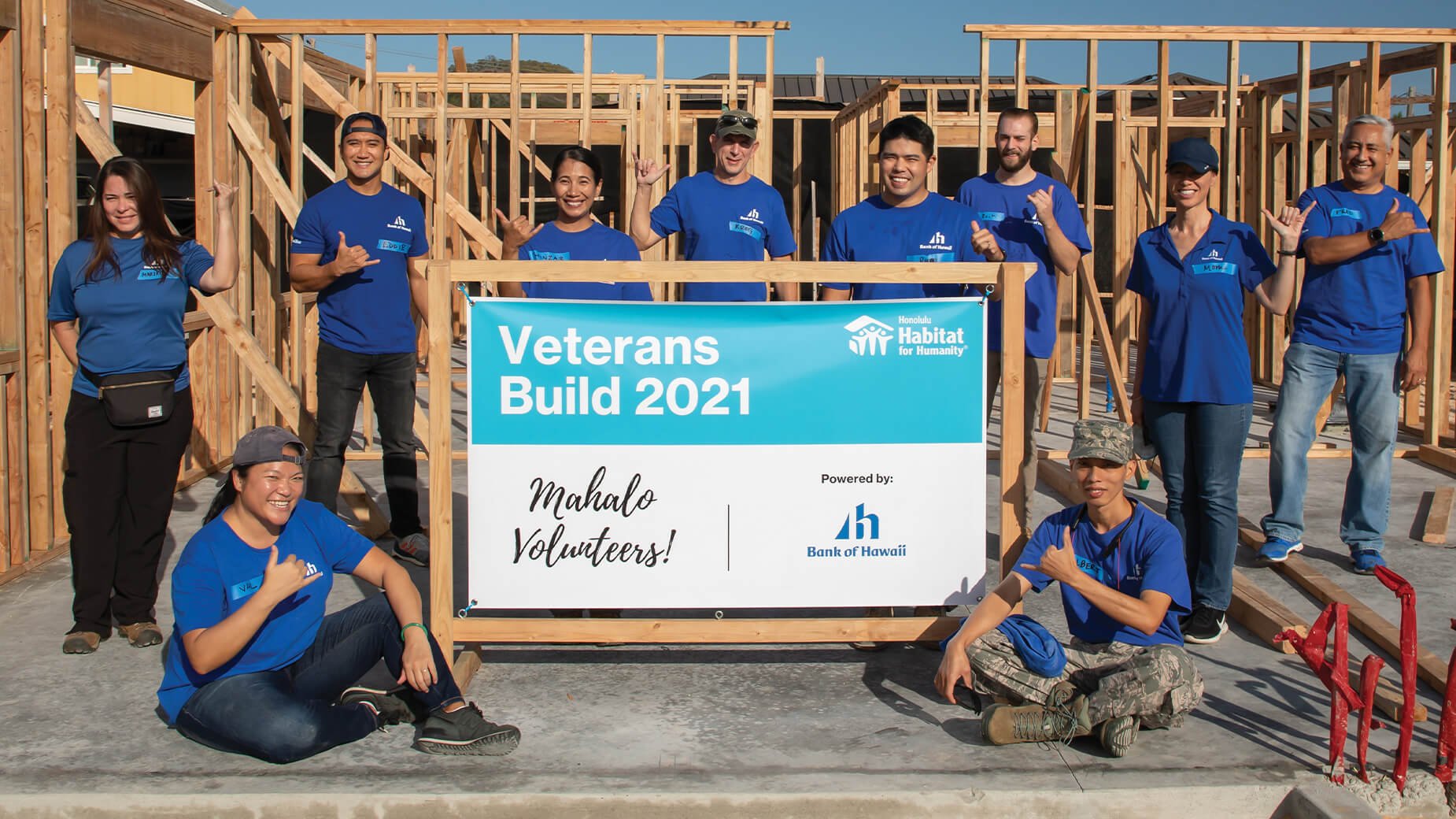 Our Military Employee Resource Group volunteers worked together throughout the year, including with Honolulu Habitat for Humanity to help build a home for a military veteran.
Ongoing and Flexible Care for Employees During COVID-19
The health, safety and well-being of our employees continues to be our No. 1 priority. At the height of the pandemic, approximately 70% of our employees were working remotely, with nearly half of our employees continuing to work from home at the end of 2021. As our community began experiencing periods of low infection rates and the hope that came with the availability of vaccines, we were formulating plans to determine how best to transition employees back into our various locations. In addition to renovations to our facilities and the establishment of mask and social-distancing requirements, medical professionals were made available to answer employees' questions and we requested feedback to understand and address employee concerns.
In July 2021, the surge in infection rates from the Delta variant halted those plans and influenced our decision to require vaccinations as the best way to protect employees, customers and our communities. The few unvaccinated employees are tested weekly for COVID-19.
At the close of 2021, our plans for more employees to return to on-site work were put on hold again as case counts rose due to the highly transmissible Omicron variant. Our leadership continues to monitor the situation to bring our teams back safely when the time is right.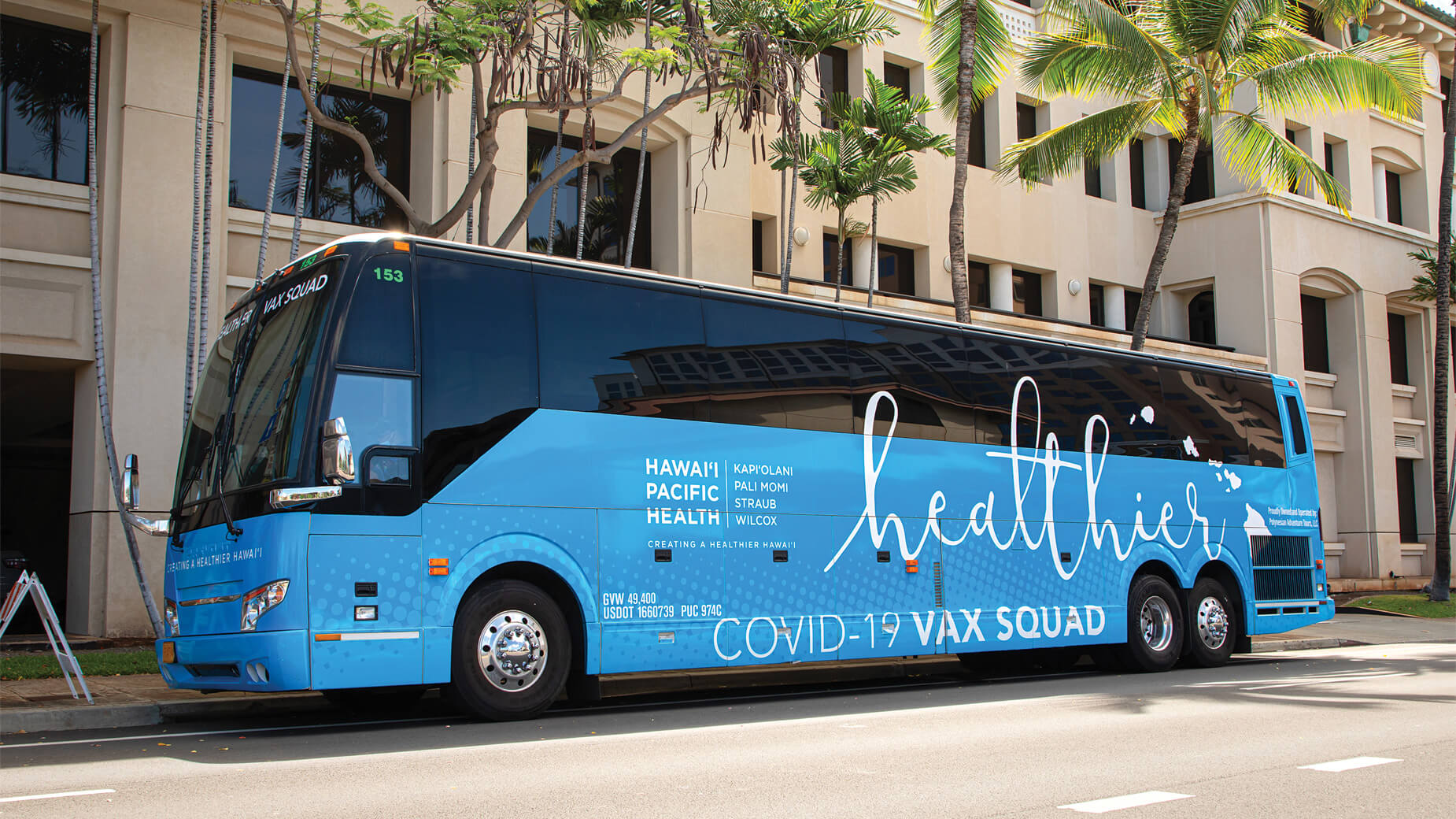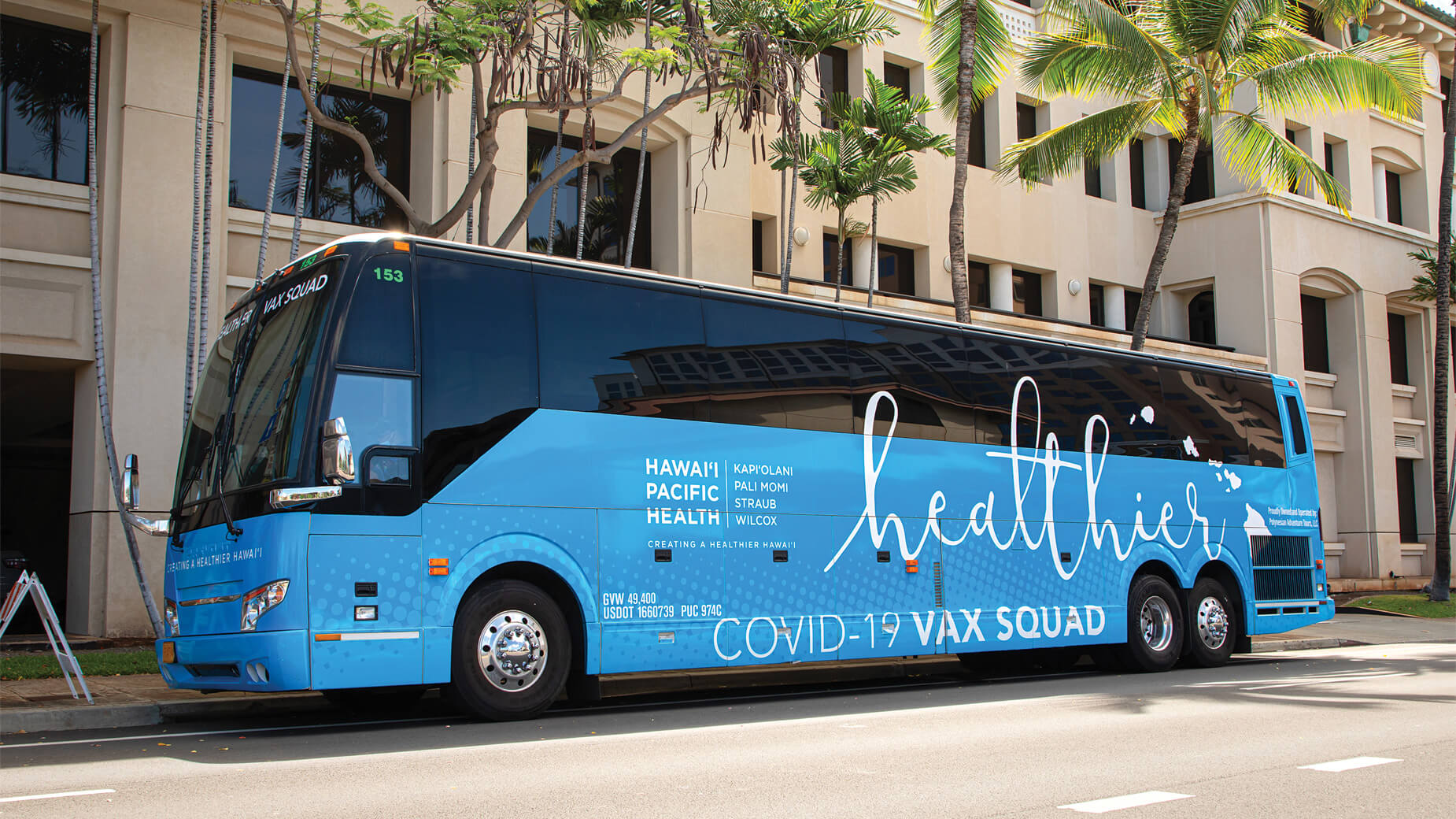 BOH held a vaccination event for West Oahu employees at Hale O Kapolei, to provide a convenient way to receive the COVID-19 vaccine.
Listening to Employee Input
Our employee survey tool launched in 2020 to obtain anonymous feedback and to proactively respond to concerns. We surveyed employees in April and October 2021. Participation was high and the valuable information gathered helped develop new programs. As a result, career development sessions such as "Navigating Your Future" and "Career Agility" were offered.
The Art of CX Training
Improving our customers' experiences (CX) with the bank and their relationships with us continues to be a major initiative. While collecting and measuring feedback from customers, we also invested in multimedia CX training again in 2021. The first phase of training was rolled out in 2020, and phase two was introduced in September 2021. These new learning modules focus on BOH's mission, vision and values, which are translated into customer-centric behaviors that have been identified through our research. To add a deeper commitment toward a CX culture, all employees are asked to accomplish a performance goal specific to the way CX can be improved in their unique job. This goal-oriented approach applies to all employees—both customerfacing and those who serve internal BOH employee customers.
Continued Focus on Diversity, Equity and Inclusion
Bank of Hawaii values the contributions of all its employees and has always promoted a workplace culture that is inclusive, respectful and welcoming of diverse backgrounds and experiences. An important component to welcoming diversity is through our Employee Resource Groups (ERG): RainBOH, Women Inspired, and Military, with additional ERGs planned for 2022.
Supporting Educational Journeys
2021 marks the fifth anniversary since the Bank of Hawaii College Assistance Program (CAP) was launched in 2016. The program provides a path for employees to obtain a college education—free tuition makes this dream a reality in partnership with Chaminade University of Honolulu and the University of Hawaii Community Colleges.
Cynthia Esparza and boyfriend Derek Taylor celebrated her graduation in May 2019, when she earned her associate's degree through CAP. In September 2021, she earned her bachelor's degree in management from Chaminade University of Honolulu.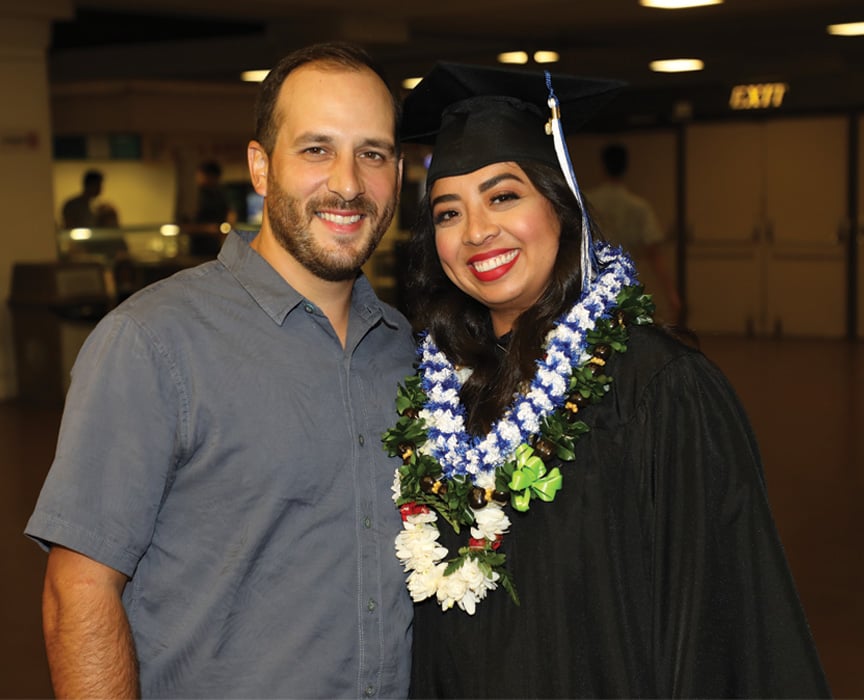 Nourishing Our Ohana
Our Bankoh Meals-To-Go program, which launched in May 2020, took the idea of sharing meals to a new level by offering employees free family-style meals once a week. With our Café Blue cafeterias temporarily closed, we utilized those facilities to provide meals for 98 weeks, officially ending in June 2021. Employees not in need were encouraged to "share it forward," by donating their meals to family members, kupuna or those experiencing food insecurity. Any food not utilized was donated to Aloha Harvest. Our Café Blue cafeterias at the downtown Tower and Hale O Kapolei later reopened, serving contactless food-to-go, which employees can order online through their laptop or mobile device.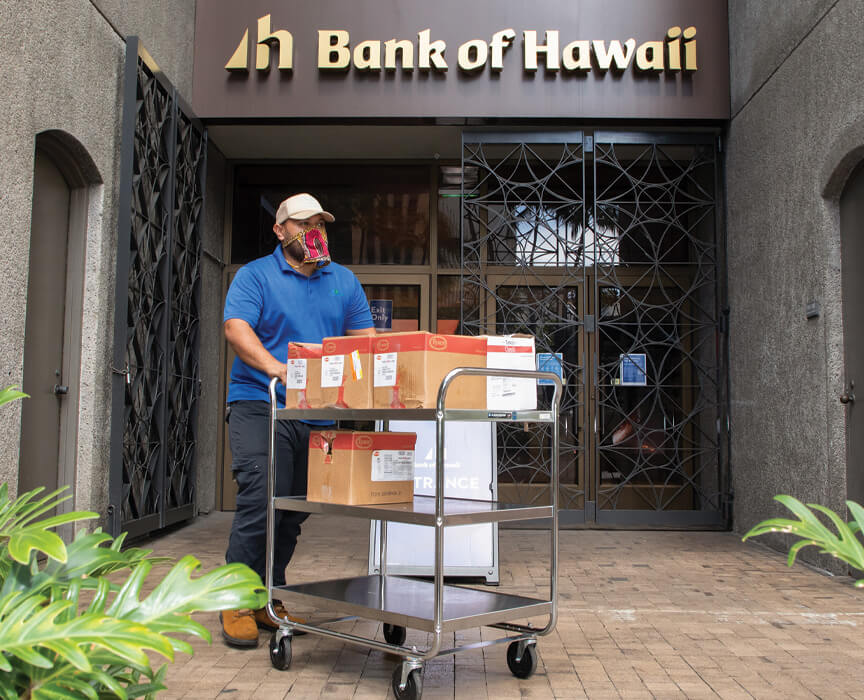 Improving Connections; Empowering People
To help maintain Hawaii's special culture of 'ohana and working together toward common goals, renewed attention was paid to engaging teammates during the pandemic, especially those working remotely. Based on employee feedbackfrom surveys, special online sessions were created in 2021 to connect with employees and encourage collaboration.
Exec Connect launched in April, giving employees opportunities to interact with members of the Executive Committee. Employees hear about high-level strategies and share their own concerns and observations. Exec Connect was a hit, and proved especially valuable at welcoming new employees, allowing them to familiarize themselves with key executives and other employees.
Recruit Connect launched in July to help teammates identify job opportunities within the organization and find out more about them. In some cases, sessions led to referred candidates joining the bank, and to current employees finding a new career path.
Manager Excellence Forums launched in January as a platform to connect managers and enable them to learn from and support one another when facing management issues, and to discuss practical solutions. Manager engagement has been key to navigating the pandemic environment, and these forums help managers stay connected and improve their management skills while moving forward with their teams. Forum topics are suggested by the participants, who meet every other month, and have included increasing employee morale, resilience, managing hybrid teams, self-care and employee retention.
You're about to exit BOH.com
Links to other sites are provided as a service to you by Bank of Hawaii. These other sites are neither owned nor maintained by Bank of Hawaii. Bank of Hawaii shall not be responsible for the content and/or accuracy of any information contained in these other sites or for the personal or credit card information you provide to these sites.