Our Community
Giving Back and Moving Forward Together
Hawaii always pulls together to help in times of need, and Bank of Hawaii and Bank of Hawaii Foundation are there to provide year-round philanthropy through sponsorships, volunteerism and grants. In 2021, Bank of Hawaii, its Foundation and employees contributed nearly $2.2 million to the community. Along with the generous support of our employee volunteers, who know how to make a difference while safely social distancing, we partner with a variety of local nonprofits to address a spectrum of needs and assist those hit hardest during the pandemic. As the pandemic continues to pose new challenges, we are resilient and continue to be inspired by those who are working to move forward together.
Employees Giving Back
Live Kokua Giving Campaign
2021 marked a return to our annual employee giving campaign, which raised $559,575. Because many employees are still working remotely, the campaign was transformed into an online fundraising effort. Partnering with Aloha United Way, we shared stories and information about the more than 300 nonprofits that AUW serves. Themed #BankohStrongForOurCommunity, over 90% of our employees donated to 257 organizations making a difference for some of the most vulnerable in our communities during the pandemic.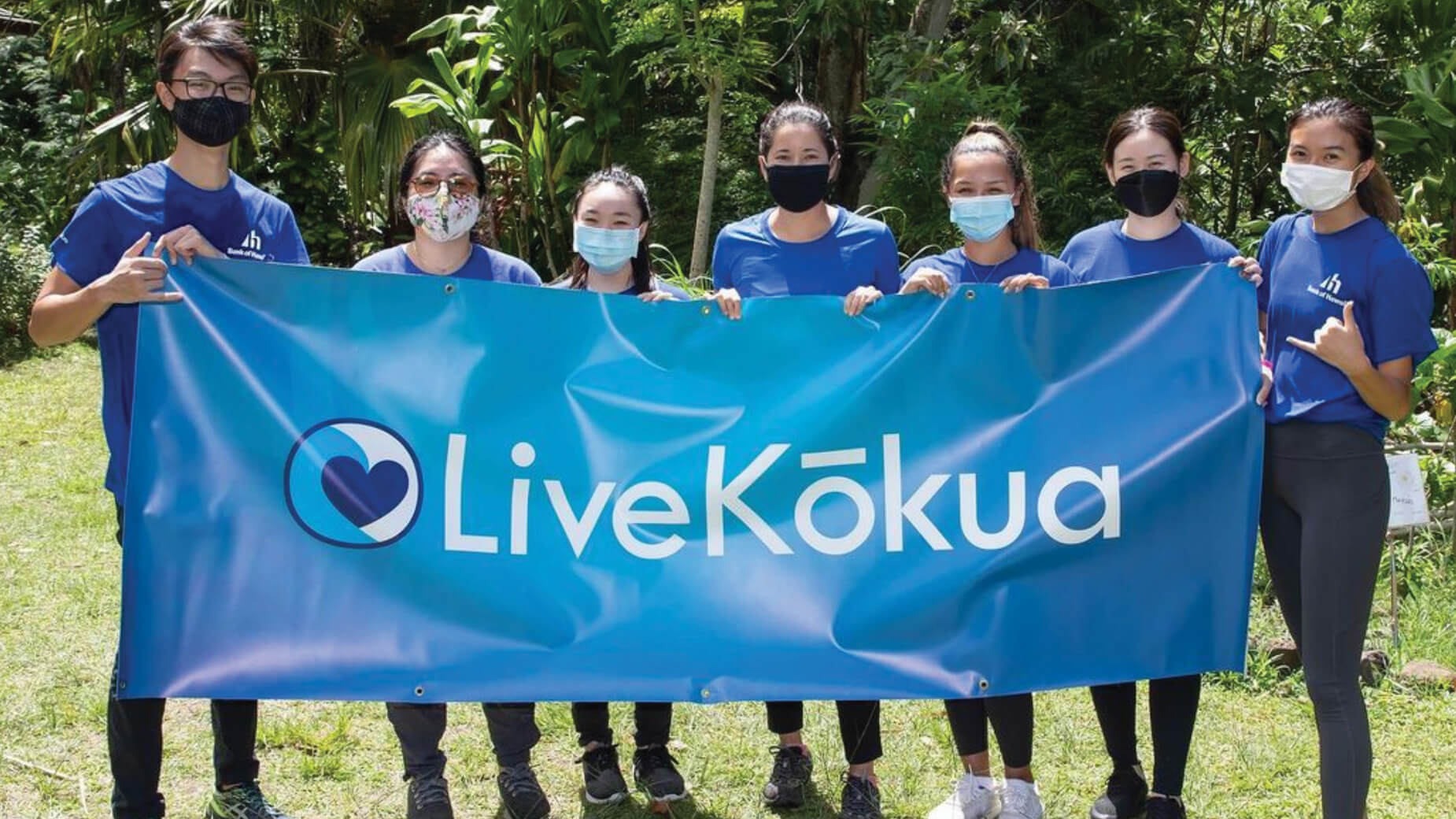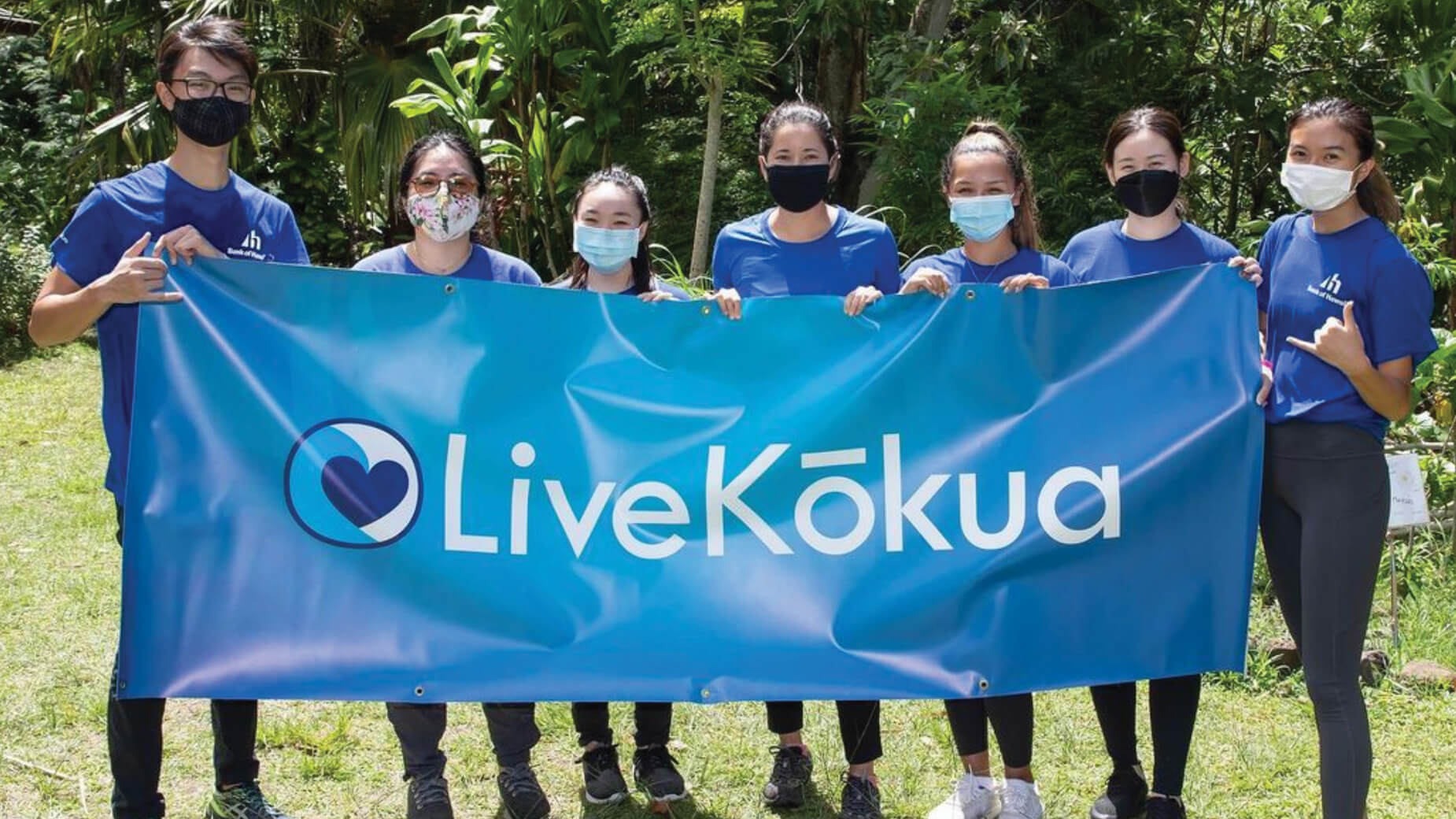 BOH interns and volunteers help spruce up the facilities at Hawai'i Nature Center. From left: Marcus Mau, Kayla Hoang, Jenna Muraoka, EVP of Internal Audit and Hawai'i Nature Center board member Lacey Nakaguma, Georgia Ryan, Melanie Yang and Tessa Nishida.
Bankoh Blue Crew Volunteers
After gaining confidence on how to interact safely with others during the pandemic by wearing masks and social distancing, our employees resumed volunteering within the community during 2021. Here are some of the highlights.
Summer interns worked together to improve landscaping at Hawai'i Nature Center on Oahu.
BOH volunteers participated at a variety of vaccination centers/sites, including:

Kokua Kalihi Valley Comprehensive Family Services on Oahu.
Southern Regional Clinic, the Talofofo Gym and Ypao Beach on Guam.

Volunteers from the BOH Military Employee Resource Group worked with Honolulu Habitat for Humanity to build a home for a military veteran and his family.
At Hawaii Foodbank, volunteers packed over 5,000 bags of food as part of their Food 4 Keiki School Pantry Program.
Volunteers went out to Maunalua Bay and helped remove 500 pounds of invasive limu with Malama Maunalua.
Community Giving at a Glance
The following are some of the gifts from Bank of Hawaii Foundation in 2021, and the impact they made.
Hawai'i Community Lending
$10,000 supported their outreach efforts to low- and moderate-income Hawaii Island residents to inform them about a federal grant available to provide more than $21 million in rent relief and assistance with utilities. Many of the applicants live at 80% below the average median income for the area.
Kokua Kalihi Valley (KKV) Comprehensive Family Services
$4,000 grant, which was used to provide lunch for the volunteers, KKV staff, Hawaii Army National Guard and Honolulu Fire Department working at the vaccination site at the former Bank of Hawaii Kalihi Branch. Additionally, Bank of Hawaii provided in-kind support valued at over $30,000 with the use of its Kalihi Branch to administer 1,359 vaccinations to vulnerable members of the community from March 27 to June 26.
Mental Health America of Hawai'i
$20,000 donation made more online resources available and accessible across social media and beyond as part of its mission to promote mental wellness.
Maui Health Foundation
$50,000 donation over two years to its Patient Resource Assistance Fund, which provides financial support for non-acute medical care to lower-income patients in need, so that they may be discharged in a safe and healthy way.
Palama Settlement
$25,000 donation supported its newly established Digital Arts Academy, the only formal digital arts program in the Kalihi-Palama neighborhood. The program is part of a Center of Innovation, created to train youth in digital graphic skills that can translate into job readiness. During the pandemic, the program also assisted students with online education challenges by making computers more accessible to those without adequate technology at home.
Project Vision Hawaii
$30,000 donation helped the nonprofit operate its mobile clinics, which provide hot showers and health resources (including eye exams for children) to those who have a low income or are experiencing homelessness. In 2021, Project Vision Hawaii pivoted to also administer COVID-19 testing and vaccines to various communities.
The Pantry by Feeding Hawaii Together
$50,000 grant over two years beginning in 2021 helped purchase food and provide staff to support the only "e-commerce" food pantry in America. The Pantry serves an average of 13,000 individuals each month.
YWCA's Dress for Success
$25,000 donation helped empower women, including those transitioning out of prison or shelters, or who are new or returning to the workforce, to achieve economic independence. The program provides networking support, training, and professional attire to gain skills, confidence and jobs.
2021 Virtual Honolulu Pride Parade Sponsorship
As part of our commitment to supporting diversity, equity and inclusion in the community as well as in the workplace, Bank of Hawaii renewed its sponsorship of the Honolulu Pride Parade and Festival with a four-year commitment of a $15,000 donation each year through 2024. The donation supports not only the festival and parade, but also helps to fund other program initiatives of the Hawai'i LGBT Legacy Foundation.
In previous years, our employees have turned out in big numbers to show their support by walking in the parade. This year featured a virtual "Tiny Floats Parade" televised on KHON2, and BOH's tiny float is pictured here.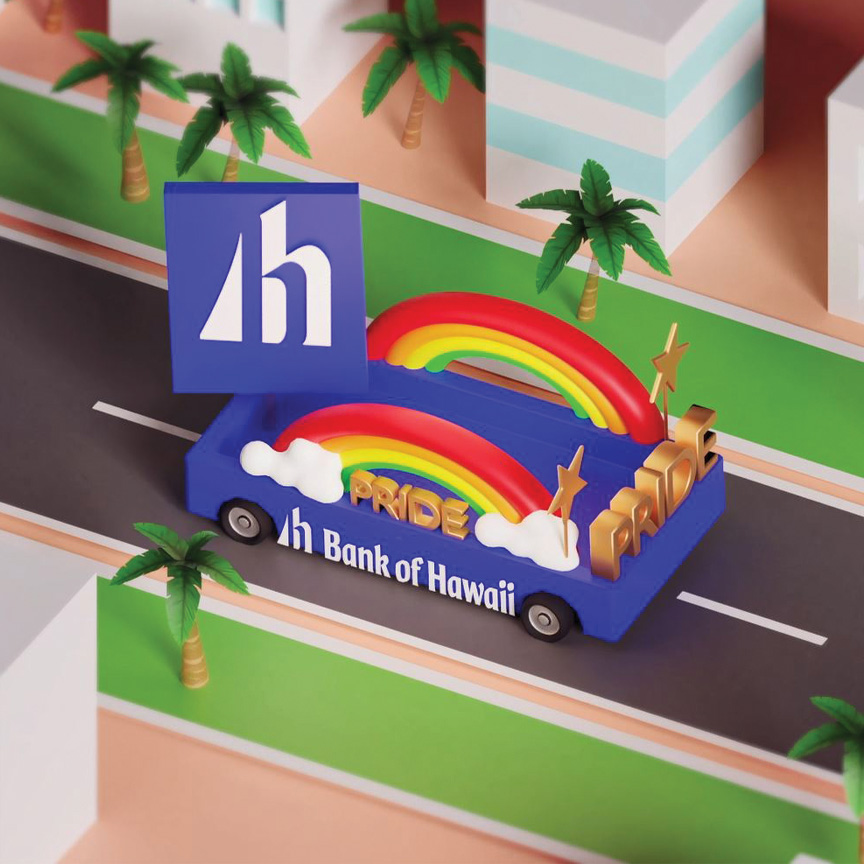 2021 Financial Education / Community Reinvestment Act (CRA)
The focus of our services under CRA was to partner with other organizations to improve financial literacy, create affordable housing and well-paying jobs, support small businesses, address homelessness and improve healthcare.
Providing a Helping Hand to Families Seeking Housing
Susannah Wesley Community Center (SWCC), a social service agency in Kalihi, asked Bank of Hawaii to provide volunteers to assist families applying to enter a Section 8 Housing waitlist. For the first time, the application process was entirely online. Thirty-two BOH volunteers helped 300 families complete the application. SWCC is the only organization offering one-to-one support.
Junior Achievement, Guam and Hawaii
BOH volunteers have been fostering young entrepreneurs and improving financial literacy through decades of partnership with Junior Achievement. In 2021, 18 BOH volunteers in Guam served as advisors, from product development through the sales process. Guam Economic Development Authority (GEDA) was so supportive, it funded a space for Junior Achievement in Chamoru Village to feature and sell products designed by the students. Together with our Hawaii bankers who taught Junior Achievement coursework virtually at 19 Title 1 schools, nearly 150 employees made financial education possible.
Saipan Small Business Grants
2021 marked the 10th year of the I Kinometi Para I Kumunidåt I Islå-t, which are Small Business and Revitalization and Development grants from Bank of Hawaii. Five grants up to $5,000 each are awarded every year to support and help new and existing small businesses thrive and give back to the community. This year, more than 80 applications were received and one of the five recipients did just that. With help from the grant monies, Benjamin Babauta, owner of Tylers Gelatte Stone, added an additional employee and organized a 'Small Business Sunday' event in September at Sugar King Park that gave another 13 small businesses a venue to display their products.
Benjamin Babauta, owner of Tylers Gelatte Stone in Saipan, received a $5,000 small business grant in 2021, which he used to expand his business and give back to the community.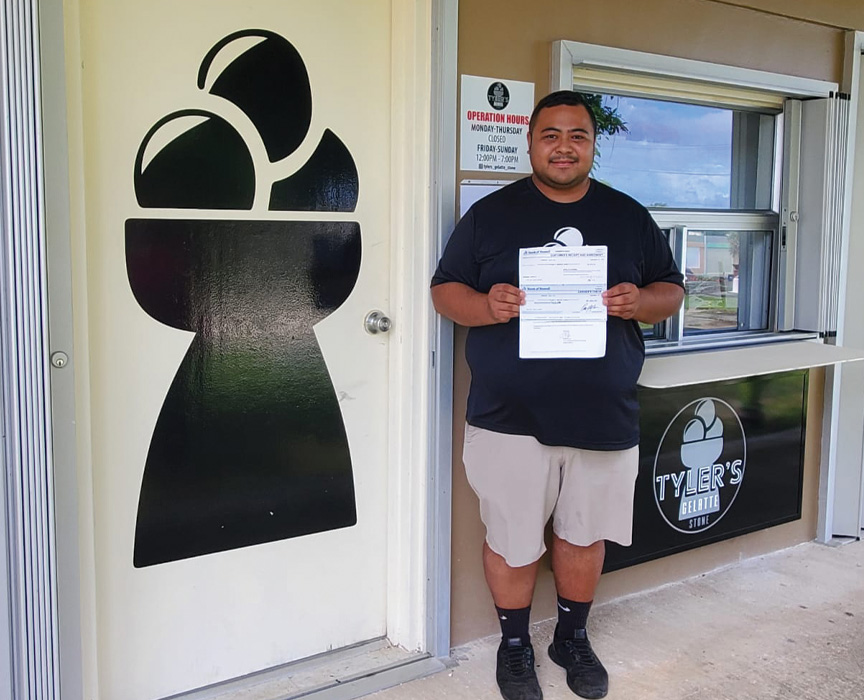 You're about to exit BOH.com
Links to other sites are provided as a service to you by Bank of Hawaii. These other sites are neither owned nor maintained by Bank of Hawaii. Bank of Hawaii shall not be responsible for the content and/or accuracy of any information contained in these other sites or for the personal or credit card information you provide to these sites.