Year in Review
Rising to Meet Evolving Challenges
2020 brought extraordinary challenges and change.
Through it all we used our skills, expertise and resources to care for one another while looking ahead to create a better tomorrow for our community. During the pandemic and beyond, one thing remains constant—Bank of Hawaii's staunch support for our customers, our colleagues, our shareholders and our community.
As we discover new pathways for recovery and success, we are honored to have received the following recognitions in 2020:
Moody's Investors Service:

affirmed our Aa2 "Bank Deposit Long-Term Rating," placing BOH among the top 6 financial institutions in the U.S., and the highest in Hawaii; and
rated BOH with an A1 "Baseline Credit Assessment," placing us among the top 2 institutions in the U.S.



The readers of Honolulu Star-Advertiser, Hawaii Tribune-Herald, Honolulu magazine, and Hawaii Home + Remodeling magazine all selected BOH as Hawaii's "Best Bank."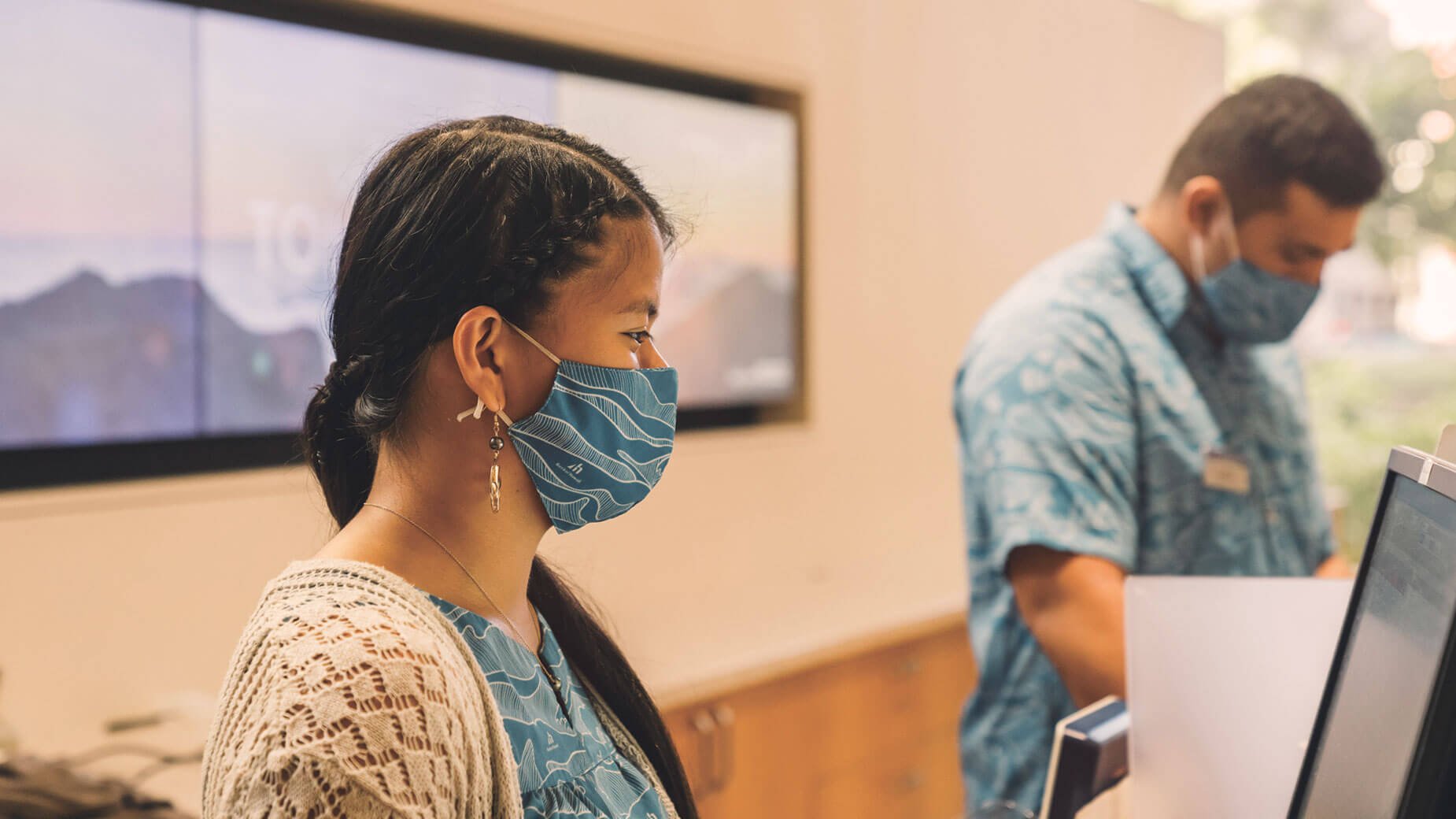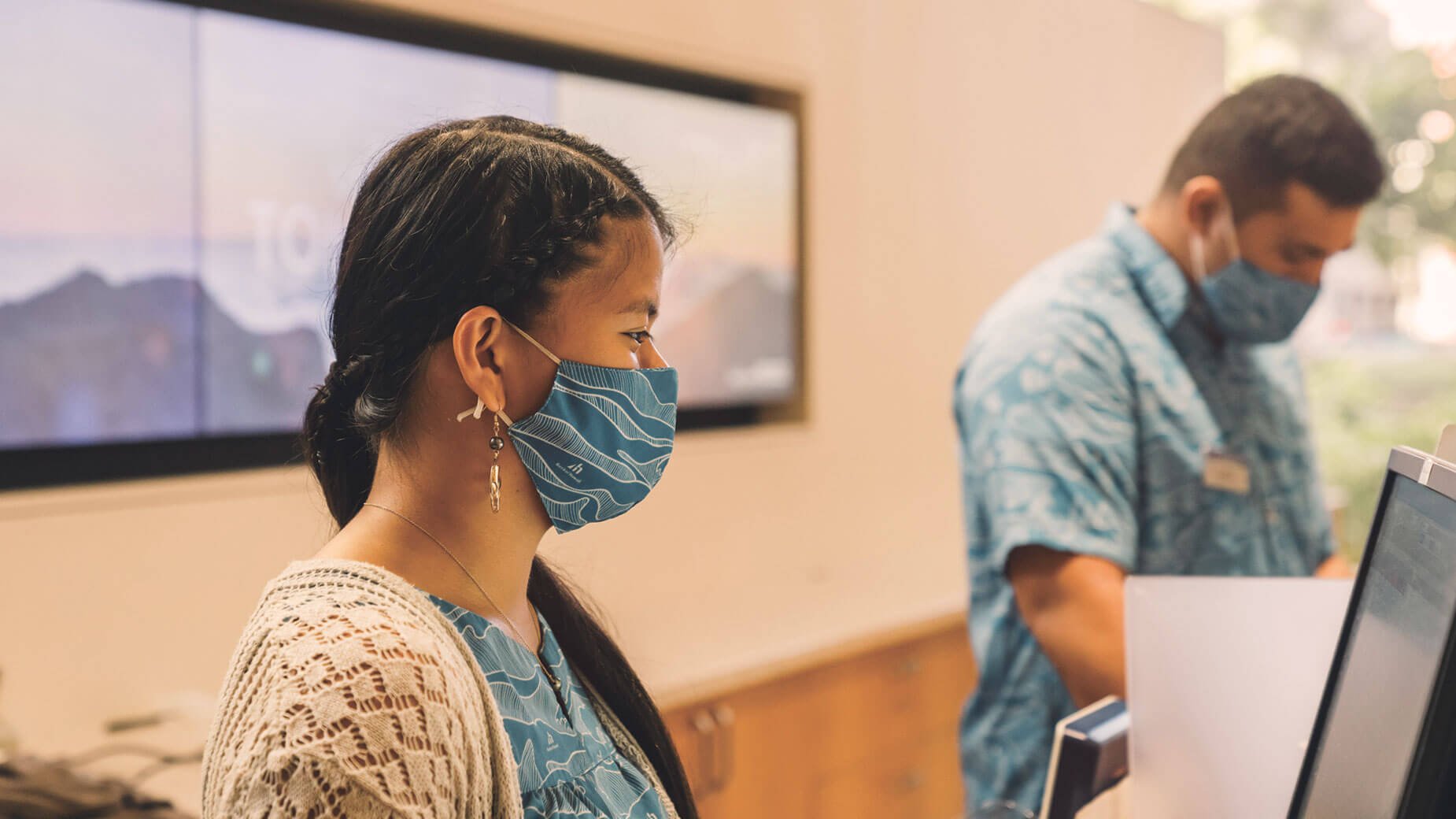 Our Response to COVID-19
Because people are at the heart of our business, the health and safety of our employees, customers, business partners, and the community are our first priority. Since the beginning of the pandemic, we've taken stringent actions based on scientific guidelines while also following evolving government regulations. Our mobile migration to laptops and tablets prior to the pandemic helped us to swiftly transition office employees to a remote work environment, allowing us to seamlessly provide the highest level of service possible to our customers.
More details about the measures we took are highlighted throughout this annual report. Here are some of the many actions we implemented during the pandemic.
Protective Measures in Branches and Facilities
When stay-at-home orders for the state of Hawaii were put into place in March, Bank of Hawaii temporarily closed select branches. As a business providing essential financial services, we implemented new procedures to maintain the health of our employees and customers. All employees are required to pass a daily wellness questionnaire and temperature check before entering the workplace, practice and enforce social distancing, and queue customers six feet apart. While employees have been wearing face masks since early in the pandemic, all customers entering a BOH branch or facility have been required to do so since July 6.
In addition, to minimize risk for the most vulnerable individuals, we designated the first hour of all branch operations as kūpuna hour, exclusively for people 65+ and at-risk individuals and their caregivers.
The ventilation in all of our facilities was upgraded, and air filtration servicing was increased. Our branches have been equipped with plexiglass shields at teller stations, sanitation supplies, social distancing signage and floor markers. To help reduce spreading the virus, all on-site employees follow cleaning procedures at the start and end of each day, in addition to our daily scheduled janitorial sanitizing.
Increased Customer Response
During the pandemic, we responded to record call volumes and online inquiries. To meet this greater demand, we retrained employees from our temporarily closed branches, as well as added staff to our social media team to manage these new responsibilities.
SBA's Payroll Protection Program (PPP)
Expediting PPP loans was an important part of our response to help local business owners. We created a dedicated PPP team of more than 400 employees from every major area of the bank. They worked around the clock to process applications at the peak of the program, and then continued to work on loan forgiveness. By the end of June, we processed more than 4,500 PPP loans totaling over $560 million.
Emergency Relief and Financial Assistance
To help lessen the financial impact of COVID-19, we put a number of programs in place to help affected individual and business customers. These included waiving ATM surcharge fees and early withdrawal penalty fees on CDs, and deferring loan payments far beyond the requirements of the CARES Act. We offered six months of forbearance and loan extensions rather than the typical 90 days offered in our marketplace. We also utilized technology to enable customers to complete necessary documentation online rather than in person. We also reached out proactively to inform people that help was available to clients with loans of all sizes, from large commercial clients to consumers with small installment loans.
An online small-dollar loan program was also set up for people who needed emergency funding. These were loans of up to $3,000, with no payments required for the first four months, a low fixed interest rate, and a loan term of 40 months. We assisted 1,500 consumers to secure these emergency loans during the program period from April 22 to June 30.
Now into 2021, we continue to work with our customers to modify loan terms and help them reestablish their ability to pay loans of all types, including mortgages, auto and home equity.
Ongoing, Long-Range Initiatives
We are always looking forward and initiating improvements in our products and services in order to meet the shifting preferences and expectations of customers and the broader community. Many of these improvements take years of preparation before we can implement them. Here are a few of the 2020 projects whose implementation was planned prior to the pandemic.
Improving Customer Experience
To better understand and meet our customers' ever-changing expectations, we have implemented a new framework for collecting timely customer feedback and insights across our channels—in-person interactions, online and mobile experiences, and through market surveys.
The investment in firsthand feedback from our customers is vital to our success. In 2020, more than 20,000 surveys were collected which informed business decisions and helped us deliver on our promises to our customers.
The CX (Customer Experience) initiative utilizes these insights to inform and create new or improved customer experiences. CX is a continuous, disciplined approach to reduce customer friction points, and helps us focus on making their interactions easier, more effective and emotionally positive. For example, as a result of reviewing survey results and other data, we refined how we engage with our customers in the branch lobbies and enhanced training for a smoother and more consistent account opening process.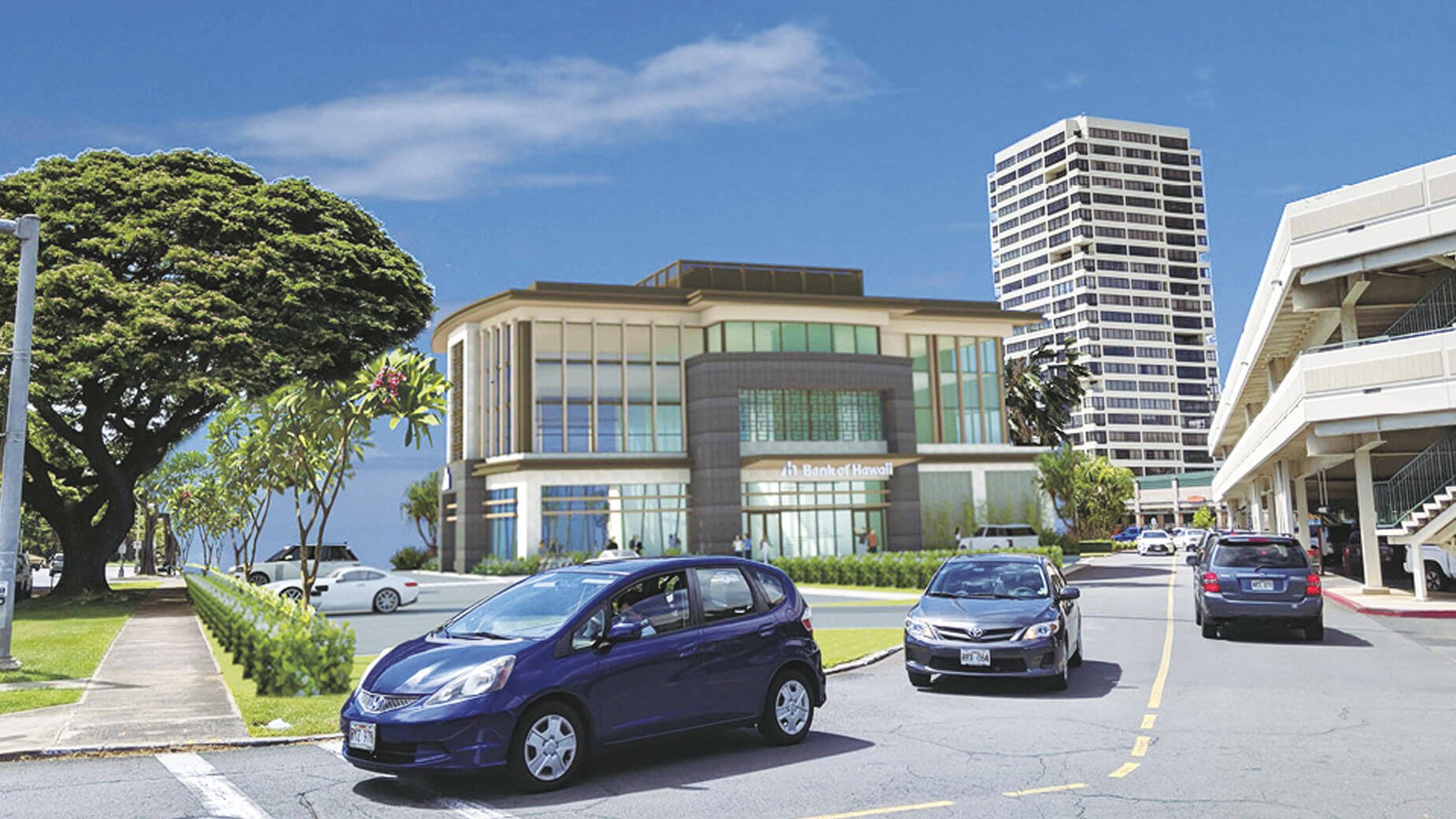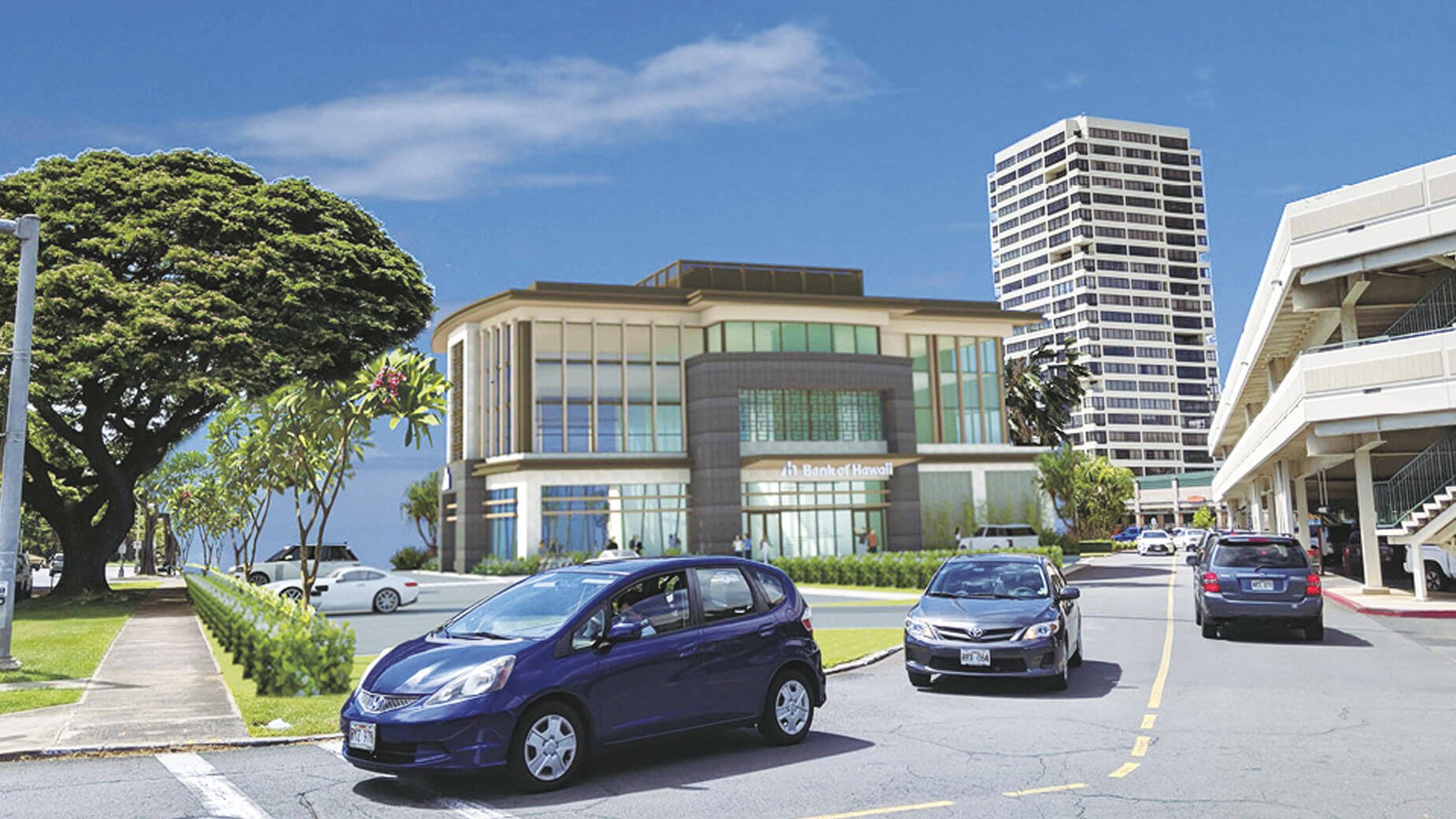 The new Waialae-Kahala Branch will open in spring 2021.
Investment in Our "Branch of Tomorrow" Network
Currently, 49 of our branches are open across our markets in Hawaii and the West Pacific. Although some of our branches remained temporarily closed in 2020, and many of our office employees are working from home, the transformation of our workspaces continues. Prior to the pandemic, we celebrated the opening of our new Iwilei Branch on Oahu in early March. The 4,700-square-foot space is the ninth modernized "Branch of Tomorrow." New features include improved energy efficiencies, upgraded technology (including free Wi-Fi and easy-deposit ATMs with Cardless Cash), and other service enhancements in addition to the health protection measures put in place.
Construction continues at our four newest "Branches of Tomorrow." Our new Waialae-Kahala, Mililani and Safeway Kona branches will welcome customers in the first half of 2021, and our new Hilo Branch on Hawaii Island will break ground later in the year. Further, planning continues for our West Pacific regional headquarters and branch in Tamuning, Guam.
Digital Solutions for Consumers
Our significant investment in digital enhancements has not only been essential during the pandemic, but an added convenience for our customers as we look toward the future. Bank of Hawaii continues to provide more digital banking tools than any other local bank.
SimpliFi by Bank of Hawaii added a home equity application process in 2020 to our digital experience. It includes options to upload supporting documents, check the status of an application, or connect with a loan officer. First launched in late 2018, SimpliFi by Bank of Hawaii offers a secure and convenient way for customers to apply for everything from loans to account openings across all online and mobile platforms, where we have seen a 300% increase in deposit accounts during this past year.
As part of our ongoing digital transformation, in July we launched online account opening capabilities for customers in Guam, Saipan and Palau. Customers in our West Pacific markets can now open checking, savings and time deposit accounts, as well as premium Bankohana accounts, through our website.
This year, we added the personal touch of a live chat feature to our mobile app, connecting customers with a banker who can assist them with questions and service requests, as well as the ability to convert the conversation to a video session, when necessary, for additional security such as verifying identity.
Debit Cards
Our newest solution in the mobile app allows customers to link their debit cards to a mobile wallet on their phone for contactless transactions, such as Apple Pay and PayPal. An added plus is when a debit card is lost, stolen, or needs to be replaced, a customer no longer needs to wait for a new card in the mail to continue their spending.
We are also converting our debit cards to contactless cards in early 2021. In addition to being more reliable and secure, tap-to-pay transactions are quicker and easier to use because customers can avoid touching a payment terminal.
Customers can link their debit and credit cards to their digital wallet in our mobile app for contactless transactions.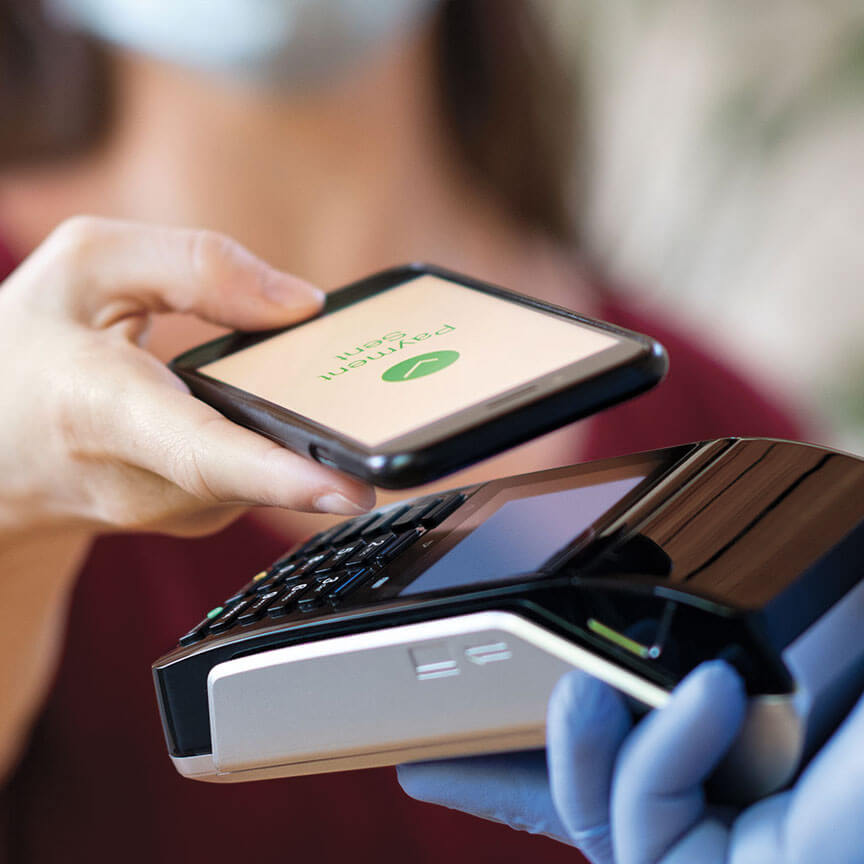 Specialized Services
We are proud to be a leader in providing a full array of flexible, customized tools and services. Whether it's wealth management or mortgage services for a client's family, or commercial banking guidance for their business, we provide the comprehensive knowledge and the right solutions to bring real value while helping them achieve their long-term goals.

Mortgage, Consumer and Dealer Indirect Lending
With our living spaces doubling as work—and even school—spaces, home became more important than ever for many people during the pandemic.
For the eighth consecutive year, BOH was the No. 1 residential lender in Hawaii. This was our largest mortgage production year ever, and we continued to be the top home equity lender in the state. We are proud that our expertise in local processing and underwriting combined with our convenience and flexible service ensure that our customers receive the best loan options to fit their needs.
SimpliFi by Bank of Hawaii has made it more convenient than ever to assist customers in buying or building their dream home, or using the equity in their current home for remodeling projects or to help cover other expenses.
We are also proud to continue our services as the only Hawaii-based lender providing loans for Department of Hawaiian Home Land lessees. We know how to streamline the loan process thanks to our mortgage team's depth of understanding of the complexities involved.
Similar to other industries impacted by COVID-19, we have seen a slowdown in vehicle sales, resulting in lower loan volume. However, Bank of Hawaii remains the No. 1 auto lender in the West Pacific and the No. 2 lender in the state of Hawaii. Our combined auto loan and leasing portfolios totaled $801 million at the end of the year. Despite COVID-19 related challenges, we continue to strengthen our local dealer relationships.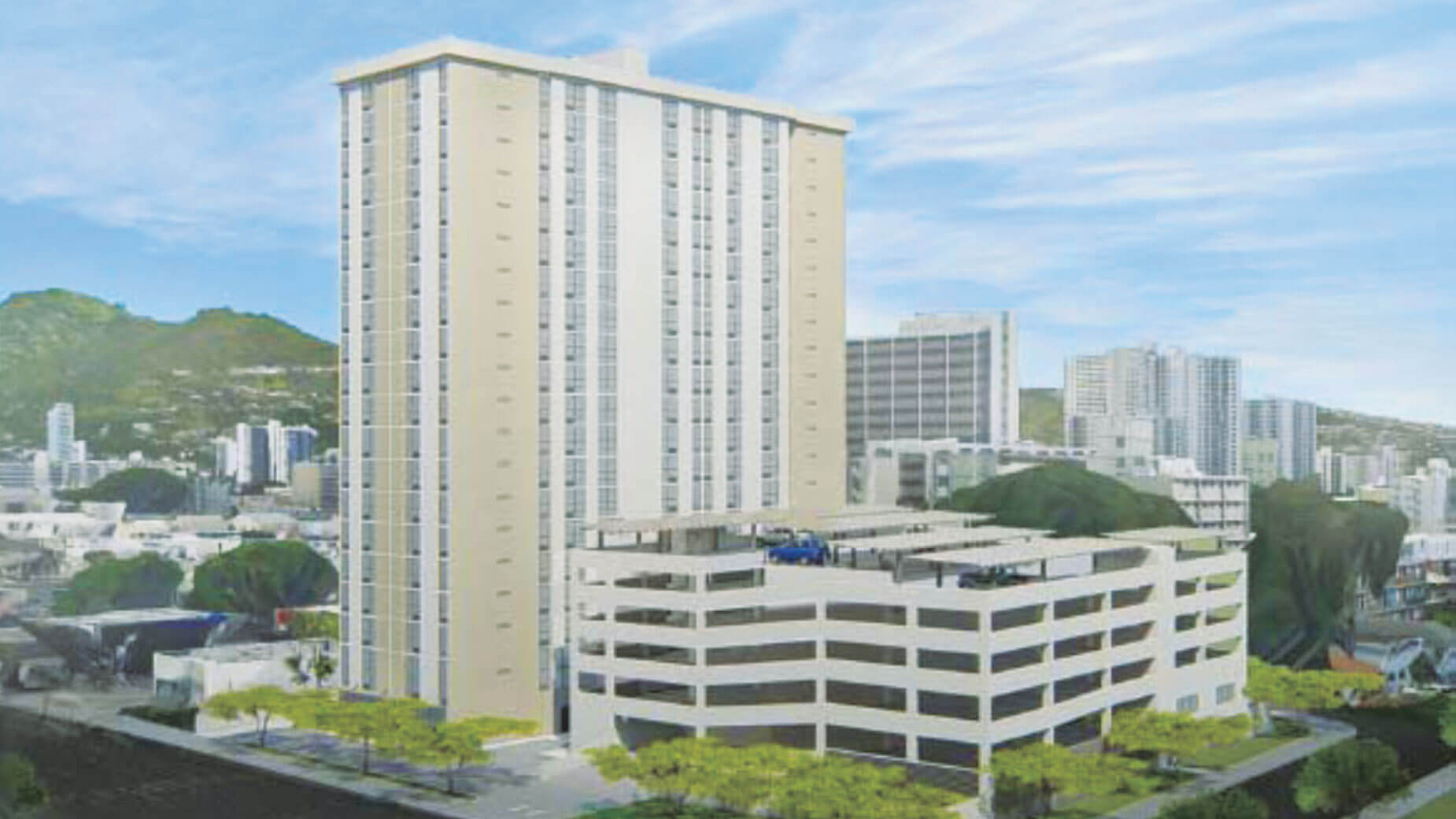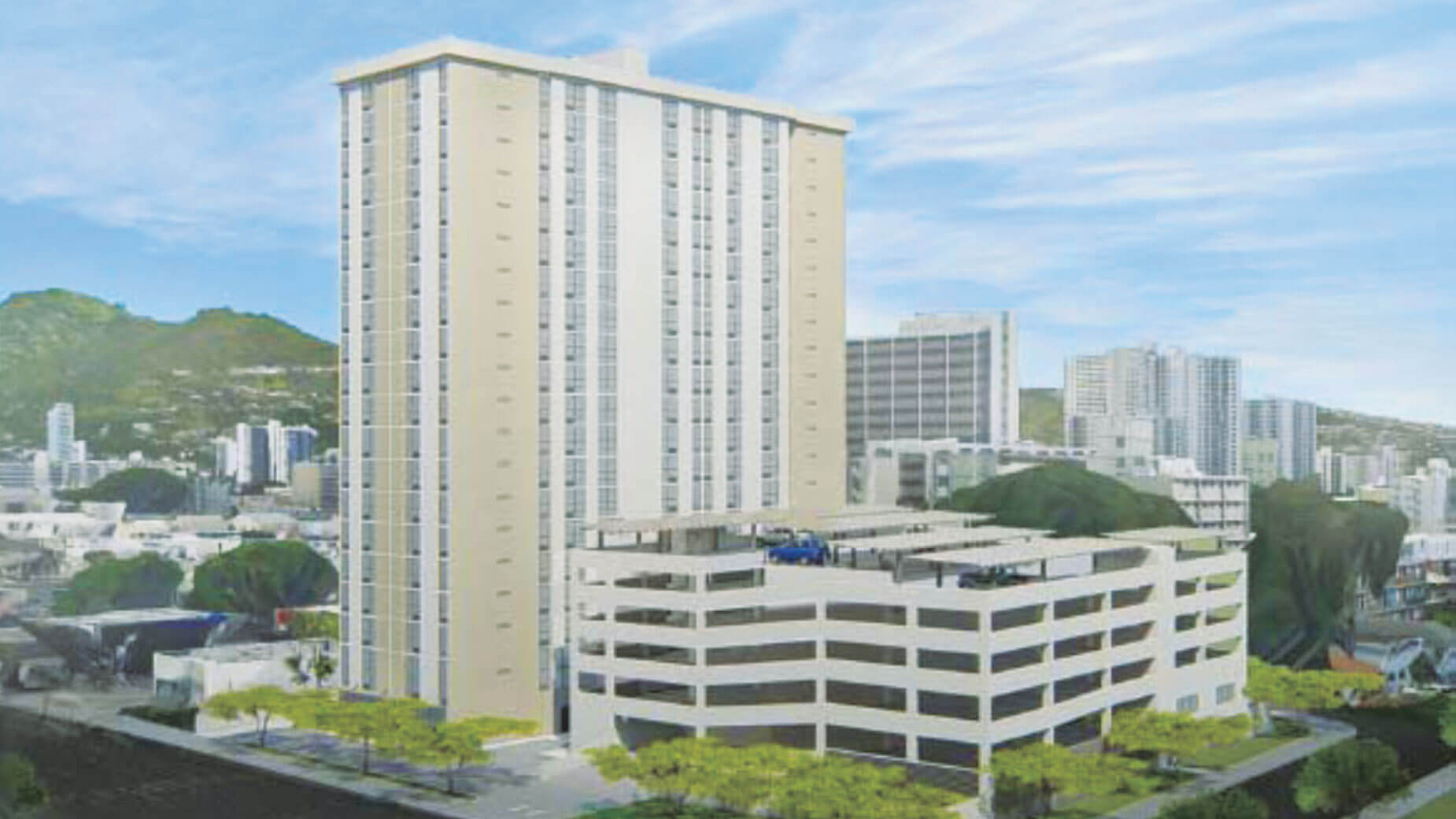 Hale Kalele will include 200 low-income rental housing units. Photo courtesy of Kobayashi Group
Commercial Real Estate Lending and Affordable Housing
With more people being laid off from jobs and suffering other hardships, the availability of affordable and workforce housing will play a larger role in the overall impacts of the coronavirus pandemic. Honolulu remains one of the most expensive cities in the U.S., and across Hawaii there is a shortage of affordable rental homes.
Bank of Hawaii has always been committed to finding solutions to the affordable housing shortage, and works closely with private developers and state housing agencies to meet housing needs of lower-income households. In 2020, more than 450 affordable housing units started or completed construction thanks in part to Bank of Hawaii, and over 860 more are in the pipeline.
One such project was the recent renovation of the Queen Emma Apartments, an adaptive reuse of an abandoned office building, which was converted to affordable housing. Bank of Hawaii supported the construction of the project, located in downtown Honolulu, by the Āhē Group, which was completed in 2020. By the end of the year, all 71 units were occupied.
Hale Kalele is a new construction development in urban Honolulu sponsored by the Kobayashi Group and leased from the state. Construction started in October 2020 and is targeted for completion in 2022. The first two floors of the high-rise tower will be operated as a juvenile facility by the State Judiciary. The other floors will include 200 low-income rental housing units for families with incomes between 30% and 60% of the area's median income.
Bank of Hawaii is leading the funding of the construction loan for Hale Kalele and providing the permanent loan to support the project's operations. The bank has also committed to equity investment as an investor through low-income housing tax credits.
The Private Bank
The services of our Private Bank team have been in high demand to help anticipate the complex needs of our high-value clients during the pandemic. Bank of Hawaii's investment in state-of-the-art technology helped our financial advisors quickly pivot to provide more one-on-one, priority services through digital channels versus in person. We have utilized similar digital enhancements and collaborative software to upgrade our team approach with colleagues throughout the bank so we may continue to provide immediate, integrated strategies and services through every stage of our clients' lives. Whether it's investment or insurance guidance; customized lending; financial, estate and tax planning; charitable giving or trust services, we have trusted advisors focused on our customers' needs.
Early in 2020, we opened a representative office in Marunouchi, Tokyo, as part of our International Client Banking services. The office was established to strengthen our important business collaboration with SMBC Trust Bank, and to network on behalf of Bank of Hawaii with other banks, CPAs, tax advisors and other financial professionals located in Japan.
Trust, Estate and Financial Planning
The Private Bank team members get to better know our clients and their goals so they can help them develop personalized strategies to navigate changes in the market and throughout their lives. With many of our clients from the Baby Boom generation now transitioning toward retirement, investment and estate planning services are a large part of our focus to help manage their assets into the future and effectively pass them on to the next generation.
Investment and Insurance Services
Bank of Hawaii continues to be the premiere provider of fiduciary and investment services in Hawaii and the Pacific. We are the largest manager of municipal bonds in the state of Hawaii, and serve as investment advisor to three tax-free bond funds. Our trusted team of certified financial planners and certified financial analysts manages over $7 billion in assets through a wide array of advisory and broker services.
An important aspect of our holistic approach to providing well-balanced financial planning services includes protecting our clients' wealth in addition to growing it. In 2020, Bankoh Investment Services Inc. added a new dedicated insurance specialist to the team. This specialist provides clients with access to a comprehensive and competitive suite of life, disability, and hybrid long-term care insurance solutions.
Commercial & Business Banking
Bank of Hawaii has innovative solutions and new technology to help businesses of all sizes grow and succeed, and responsive bankers who can guide them along the way.
Using their specialized experience, our commercial and corporate bankers create competitive and versatile solutions for customers from many different industries. They work closely with other experts across the bank to help provide tailored strategies and recommendations for a broad range of needs including real estate and construction loans, liquidity management, and equipment financing. We have established a reputation as the financial partner of choice in several areas including commercial real estate and captive insurance.
In 2020, we continued to be the largest commercial mortgage lender in the state of Hawaii. Our team finds customized financial solutions for owners, developers and investors with multi-family, retail, industrial, office and mixed-use properties.
Our bankers also understand the importance of small and family-owned businesses in Hawaii's economy as well as the unique challenges small-business owners and entrepreneurs face. In addition to helping our business customers take advantage of the PPP loan and other financial assistance, in 2020 Bank of Hawaii offered a free Health Check app it developed as a preliminary screening tool so that employees do not come to work sick. Bank of Hawaii made the app available to support local businesses in their reopening efforts after work-at-home orders were lifted.
Digital Banking Solutions for Businesses
In 2020, we developed and improved our online platforms and upgraded processing hardware, which provides our business clients with payment delivery, receivables processing, enhanced security and critical reporting. In doing this, we also support our customers as they best serve their companies, vendors and client base.
Lockbox Services, the fundamental solution for receivables processing, underwent an expansive upgrade to introduce new software and hardware to support the best in payment processing, full imaging of receivables, and expanded reports delivery.
We completed a robust upgrade of Bankoh Business Connections, our online business banking platform. This extensive effort delivered key improvements to domestic and international wire transfers, information reporting and essential administrative utilities. As an added benefit of this upgrade, Bank of Hawaii was able to present our business clients with ease-of-access through soft-token, digital technology.
You're about to exit BOH.com
Links to other sites are provided as a service to you by Bank of Hawaii. These other sites are neither owned nor maintained by Bank of Hawaii. Bank of Hawaii shall not be responsible for the content and/or accuracy of any information contained in these other sites or for the personal or credit card information you provide to these sites.