Our Employees
Helping Employees Navigate an Unprecedented Year
Bank of Hawaii's people and culture are special. Committed to delivering exceptional service as one 'ohana, our hardworking and dedicated employees are the heart of our business, and prioritizing their health and well-being has been paramount during 2020. We know that supporting the physical, financial and emotional well-being of our employees enables them to be the best they can be at work and at home.
Supporting Our Employees During COVID-19
The unique challenges of the pandemic have led us to improve our employee communications and implement new ways of supporting them. In addition to activating health protection practices in our branches and facilities, including sanitizing procedures and personal protective equipment, we also provided tools and resources so that a majority of them could work remotely. Prior to government stay-at-home orders put in place on Oahu, Bank of Hawaii executed its own remote-work policies utilizing laptops and tablets. Sixty percent of our employees were working at home, continuing to provide the highest level of service to our customers. We also selected COVID Coaches in our People Services department, so that employees had allies outside of their immediate department to contact with questions about COVID-related policies, and determine the best actions for their individual situations.
With more people working from home, the pandemic changed the way we connect as teams. We provided timely communications through multiple channels on the evolving requirements and conditions of the pandemic. In August, we launched a newly transformed internal website called myPS by People Services, which provides access to employee services and benefits, including new ways to access training videos and sessions.
During the pandemic, we used an employee sentiment survey, which was especially useful in acquiring sentiment and feedback about working from home, to help identify areas of improvement and address concerns proactively. Through the survey, employees were able to respond anonymously to questions about job satisfaction, team dynamics, career development and more, and are able to access individual dashboards to view personal responses and submit feedback outside of survey cycles.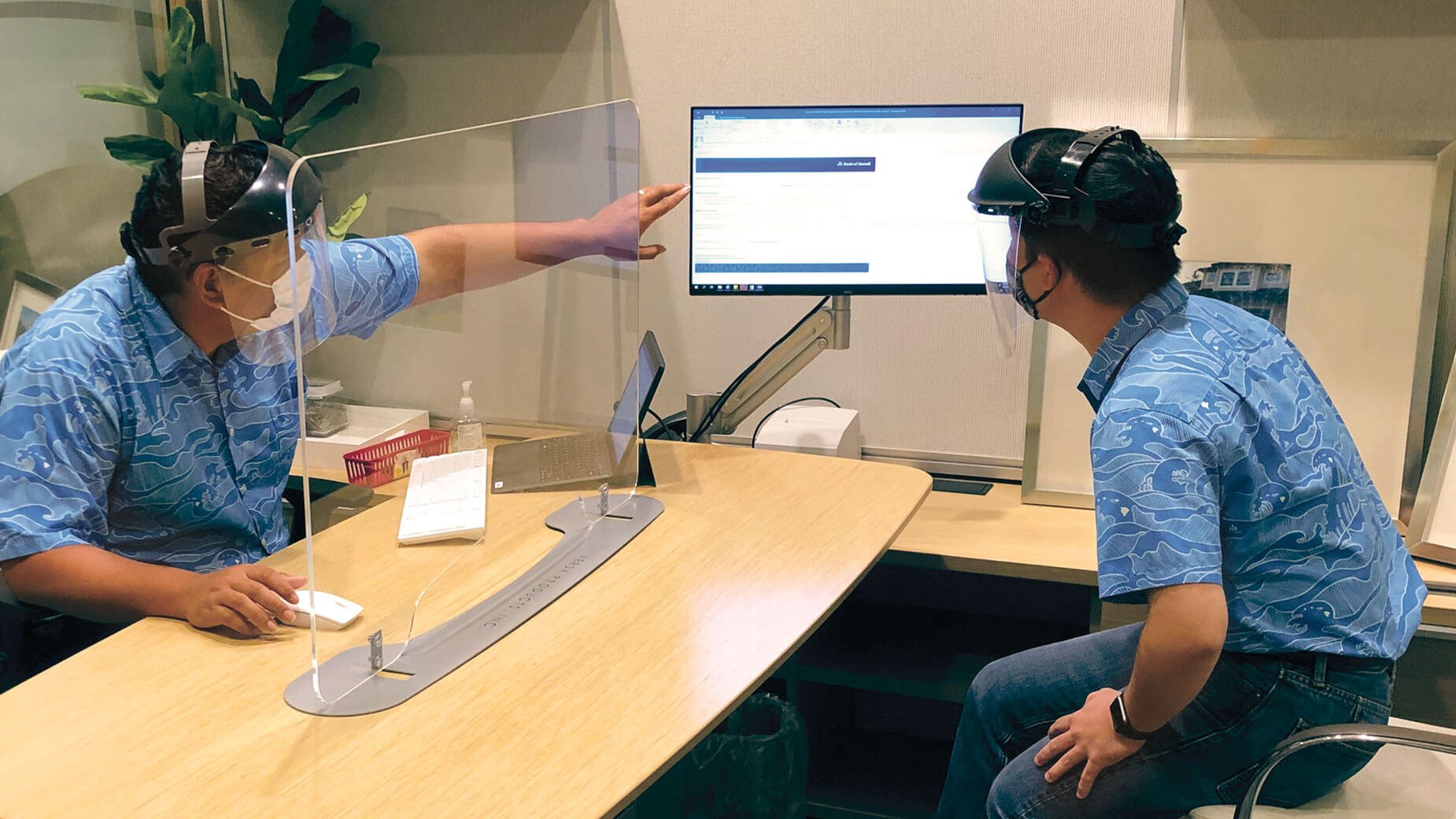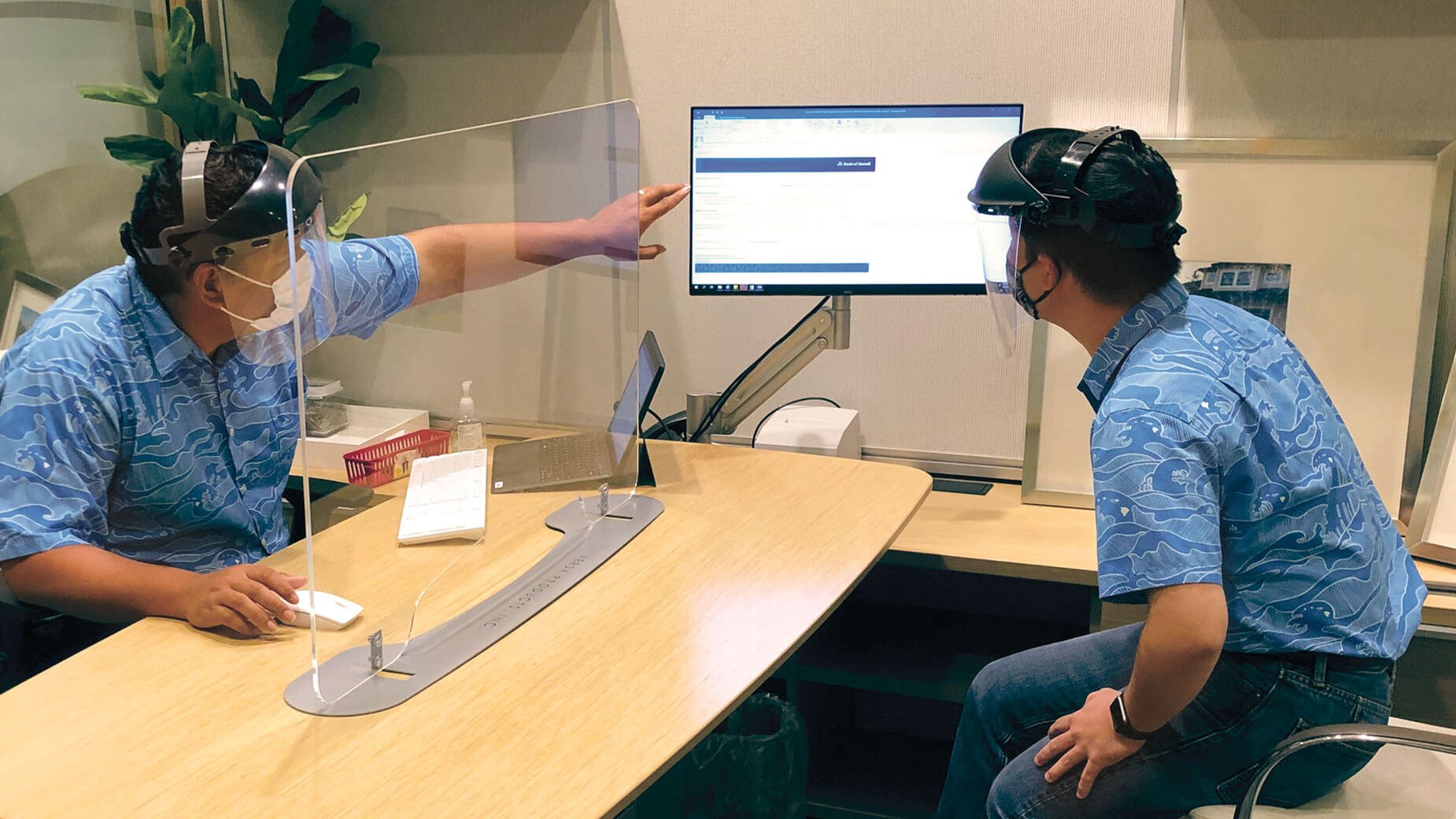 The safety of our employees and customers is our top priority. All of our branches have been outfitted with protective measures, including plexiglass dividers, as shown here at Main Branch.
Bankoh Meals-To-Go
Beginning in May, Bank of Hawaii began offering its employees family-style meals once a week, free of charge. The pre-packaged meals are prepared by two Café Blue kitchen facilities on Oahu, and serve four people. Neighbor Island and Western Pacific meals were prepared by local restaurants. Employees not in need were encouraged to "share it forward," by donating their meals to extended family members, neighbors, kūpuna or friends experiencing food insecurity. Any meals not utilized by employees were donated to Aloha Harvest. By the end of the year, nearly 200,000 meals had been distributed, and 4,906 pounds of food were donated to Aloha Harvest. In December, it was announced this program would continue through June 2021.
Rabuka Albert of Elite Catering packages Bankoh Meals-To-Go containers with weekly meals.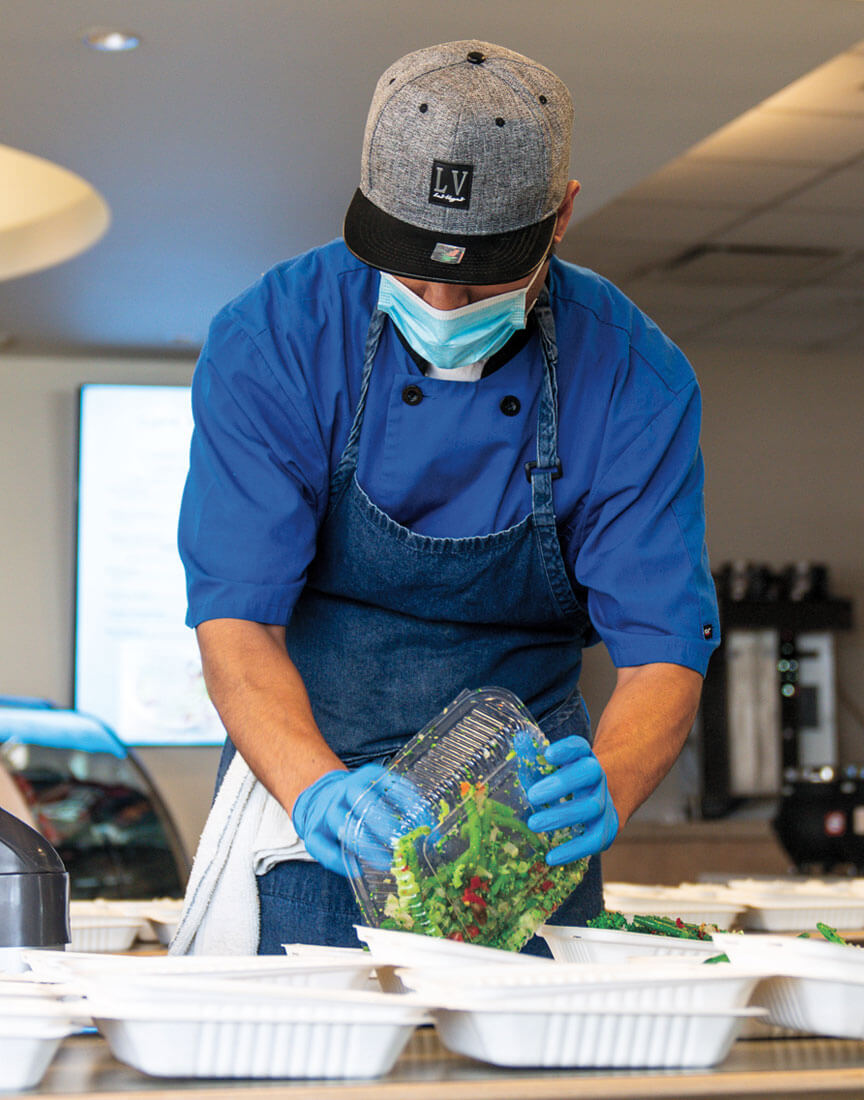 Utilizing Training Effectively
Development and skills training continue to be essential in guiding our employees toward more flexibility and ensuring their safety in the workplace. We used our online training capabilities to prepare employees from temporarily closed branches for new roles, such as processing PPP applications and responding to customer calls, which needed a larger-than-normal workforce response.
We've also introduced an enterprise-wide digital-learning curriculum for our new Customer Experience (CX) initiative, giving employees actionable skills to deliver exceptional experiences for internal and external customers. The self-paced learning uses various modalities including video, group discussions and activities, creating a collaborative and engaging experience for our employees. We are working toward building a customized CX training curriculum for the next phase of our training curriculum.

Continued Focus on Diversity and Inclusion
Bank of Hawaii has always promoted a workplace culture that is respectful and welcoming of all experiences in our team members. In addition to continuing its longtime support for the LGBTQ+community, the bank added focus on the unique needs, perspectives and potential of women and members of the military to its Employee Resource Groups in 2020. Although the pandemic limited some of the planned activities during the year, Senior Executive Vice President Jill Higa was honored by the YWCA O'ahu in its annual recognition of exceptional local women for their professional achievements and community service. In addition, in honor of Veterans Day in November, the Military Employee Resource Group delivered a special lunch to veterans at the Barber's Point location on Oahu of U.S. VETS, an organization dedicated to ending veteran homelessness.
Employee Financial Wellness Benefits
Working at Bank of Hawaii offers employees diverse banking privileges as part of its package of competitive benefits and services. Three new financial benefits went into effect in January 2020; here is an update.
Student Loan Assistance Program
Employees receive $100 per month (up to a maximum of $10,000), toward their student loan repayment.
EASE by Bank of Hawaii Grow Account
The bank helps employees save toward their rainy day goals by providing a one-time $50 bonus once they save $500, and an additional one-time bonus of $100 once $1,000 is saved. At the end of 2020, 528 employees had signed up, and the August bonus payment was over $60,000. More than 75% of participants saved $1,000 by the end of July, earning the $150 bonus.
Mortgage Discount
In 2020, the bank expanded the discount to include 15- year mortgages, in addition to 30-year mortgages. Employees are eligible for a 1% reduction in the Employee Note Rate for new mortgage loans when purchasing or refinancing a home to be used as their primary residence. On average, BOH employees are saving $400 per month on their mortgages. The new SimpliFi website makes it easy for BOH employees to apply for the discount online.
Virtual Summer Intern Program
When COVID-19 suspended most local internship programs, Bank of Hawaii decided to convert its in-person training, designed to attract and develop emerging talent, into a virtual program. We converted the program to one that would continue to provide meaningful work and developmental experience, including educational classes, speakers, community service, networking opportunities and mentoring. At the end of the eight-week program in July, we held a drive-through graduation ceremony for the 29 interns who completed the program.
Caitlyn Arce, who interned with The Private Bank and attends Claremont McKenna College, proudly showed off her certificate for completing BOH's internship program during the drive-through graduation ceremony on July 31, 2020.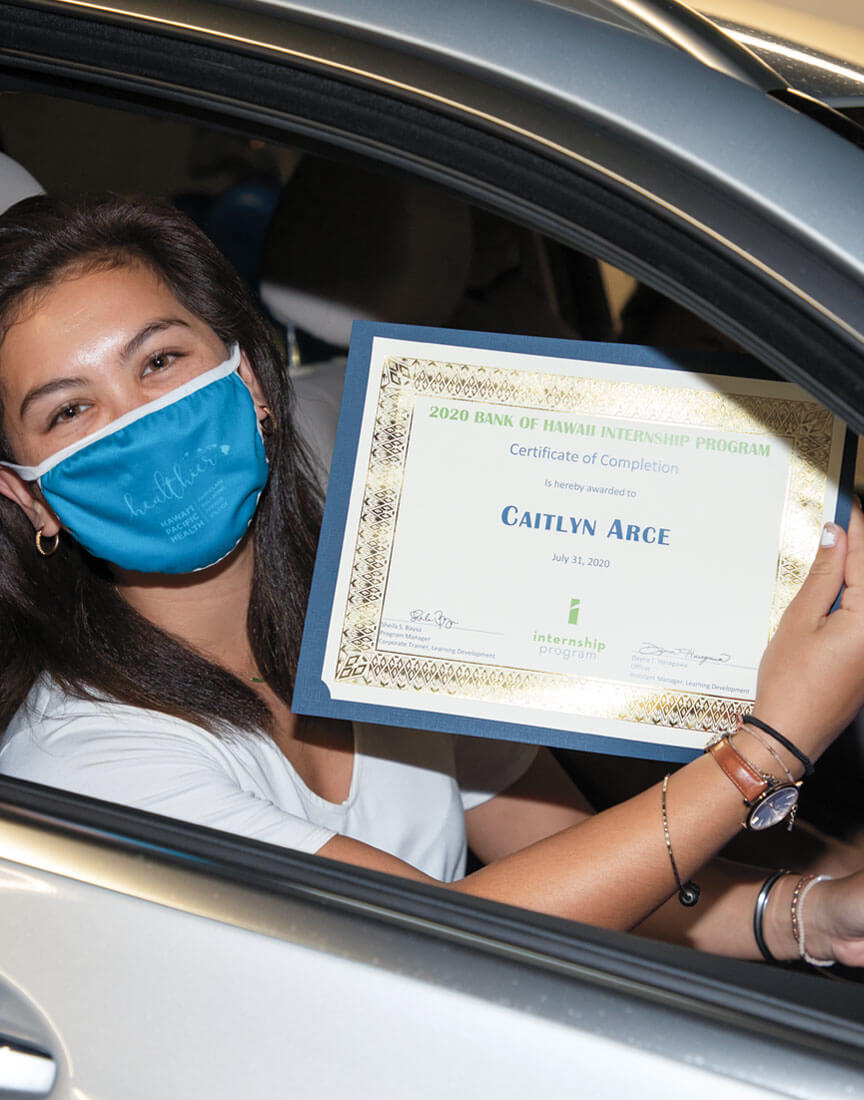 You're about to exit BOH.com
Links to other sites are provided as a service to you by Bank of Hawaii. These other sites are neither owned nor maintained by Bank of Hawaii. Bank of Hawaii shall not be responsible for the content and/or accuracy of any information contained in these other sites or for the personal or credit card information you provide to these sites.