Our Community
Supporting Our Community's
Well-Being and Recovery
The novel coronavirus affects us all—our coworkers and families, our customers and business partners, and the larger community. Not only a public health challenge, the pandemic has also brought significant economic challenges affecting residents and families across our state.
Through philanthropy, support for Hawaii's small businesses, commissioned research, innovative corporate sponsorships, and socially distanced volunteerism, Bank of Hawaii and Bank of Hawaii Foundation stepped up to kōkua our community in crisis. Bank of Hawaii, its employees, and Bank of Hawaii Foundation contributed more than $5.2 million to community and philanthropic causes in 2020.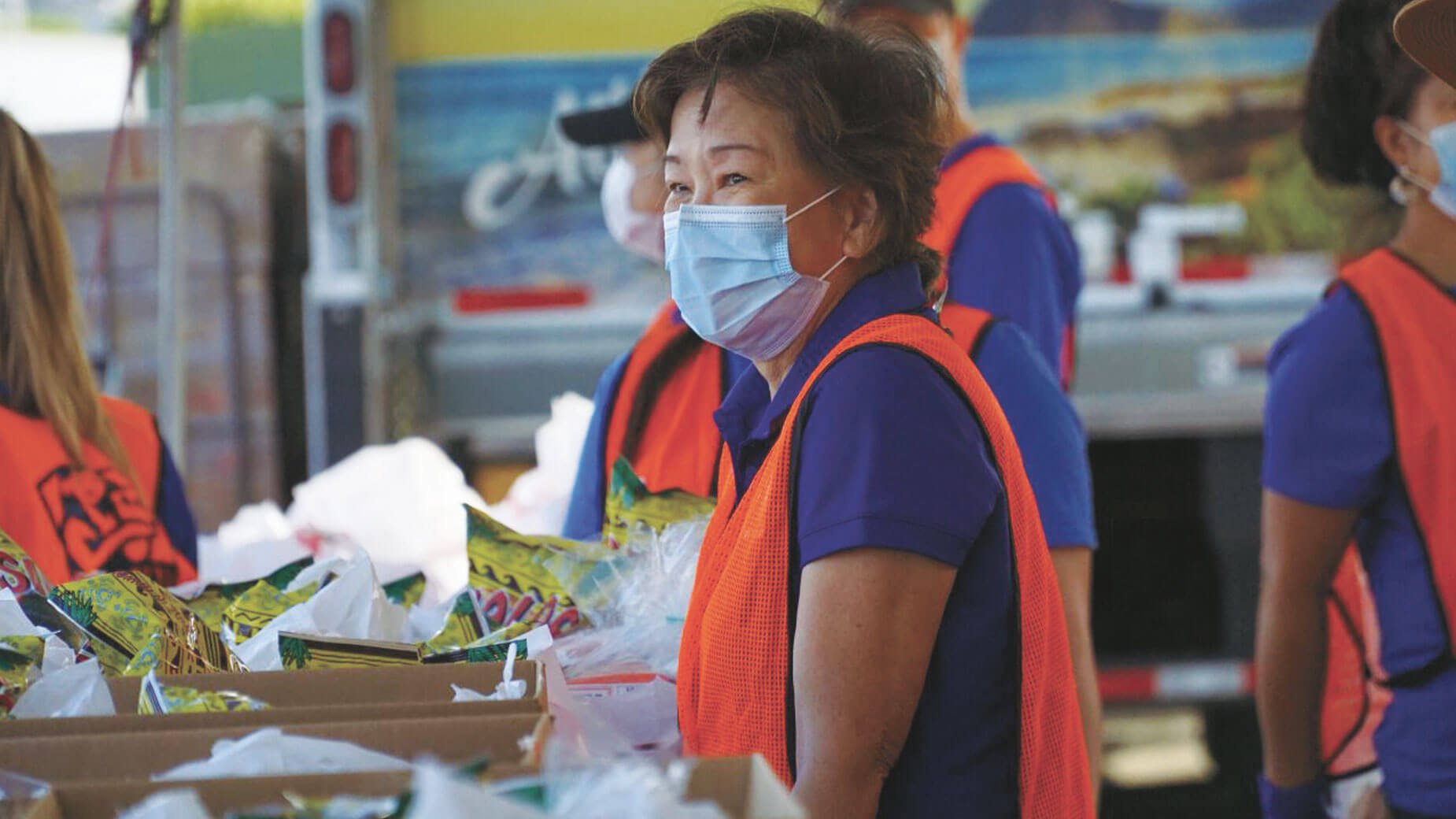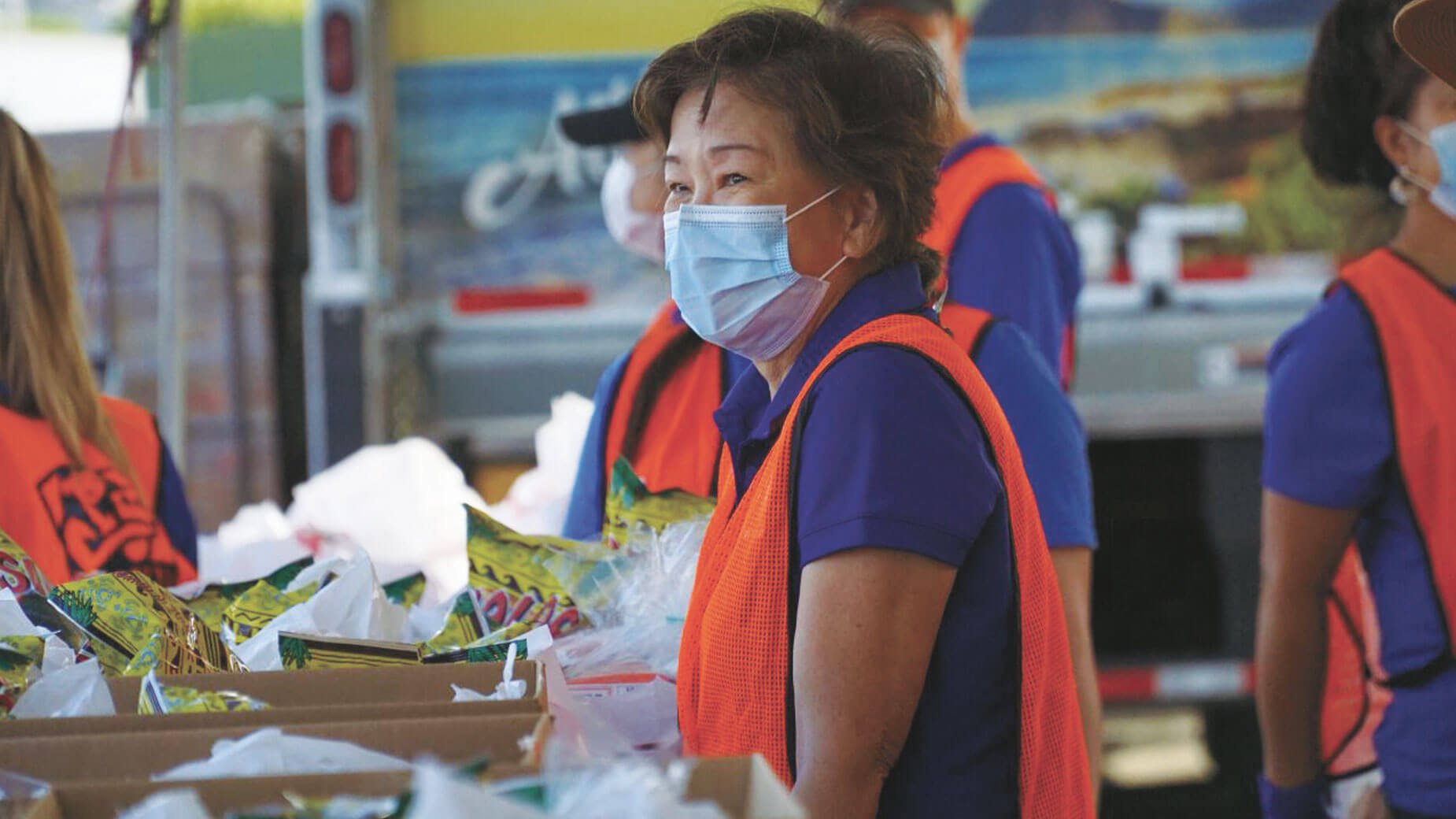 Bank of Hawaii employees volunteered to support the community through various events in 2020, including Edna Co, who helped Hawaii Foodbank distribute food to those in need.
Addressing Impacts of COVID-19 in Hawaii
Bank of Hawaii Foundation donated nearly $3.4 million to help address the growing social and economic impacts of COVID-19 in Hawaii, of which $3 million went to the Hawai'i Community Foundation's Hawai'i Resilience Fund. The majority of funding met needs related to community health and safety, food and nutrition, and is intended to spark economic revitalization and recovery.
Bank of Hawaii employees, including Bill Shiroma, volunteered with Hawaii Foodbank to help distribute food. Bank of Hawaii donated $1 million to food banks across the state.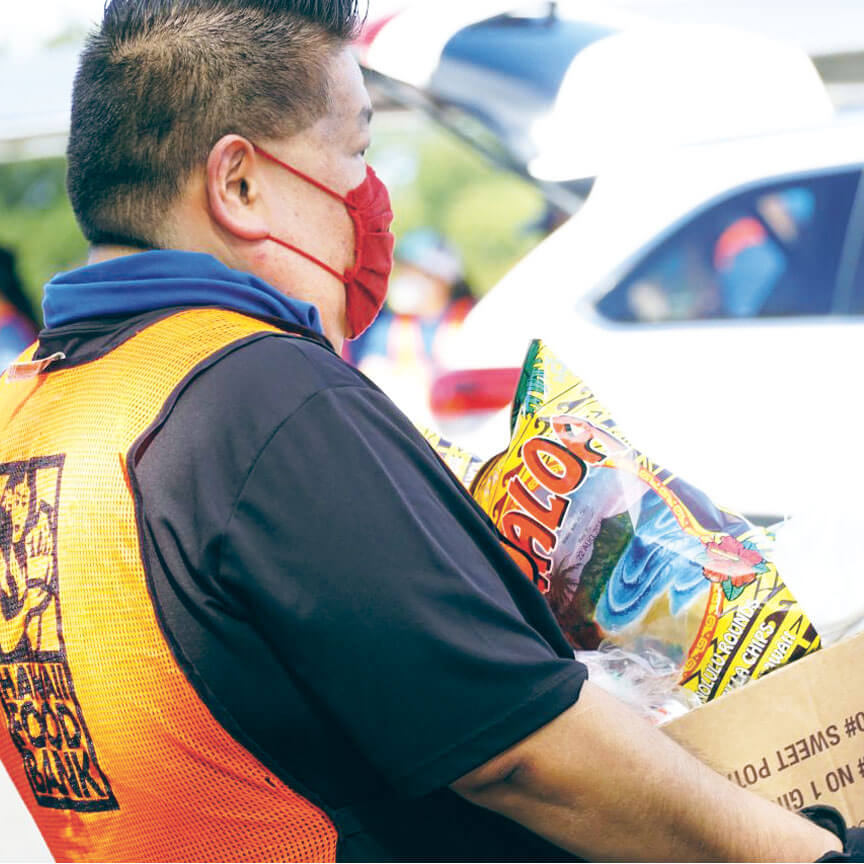 Additional COVID-19 Support
Bank of Hawaii Foundation is honored to be able to support many of those making a difference on the frontlines. Bank of Hawaii Foundation made the following donations to ensure those working on the frontlines are equipped with the personal protective equipment and funding they need to serve the community.
Hawai'i Pacific Health, The Queen's Health Systems, Kuakini Medical Center, and other healthcare facilities across Hawaii and the West Pacific received personal protective equipment, including more than 1,200 face shields and N95 face masks.


Healthcare Association of Hawaii received a $100,000 donation to help the organization protect its healthcare workers and the patients they serve.


Food banks and distribution services in Guam and Saipan received
$100,000 to provide emergency food boxes for families, as well as meals-to-go for frontline nursing staff.


The Institute for Human Services received $20,000 to support its shelter-in-place services. In addition, BOH co-hosted a one-day drive called "Bags of Hope," which generated over $5,000 in monetary donations and collected hundreds of pounds of essential supplies.


YMCA of Honolulu received $10,000 to help sustain day care programs for children of essential workers.


Hawaii Foodbank received over $14,000 from Bank of Hawaii employees for its virtual 2020 Hawaii Bankers Association Food Drive.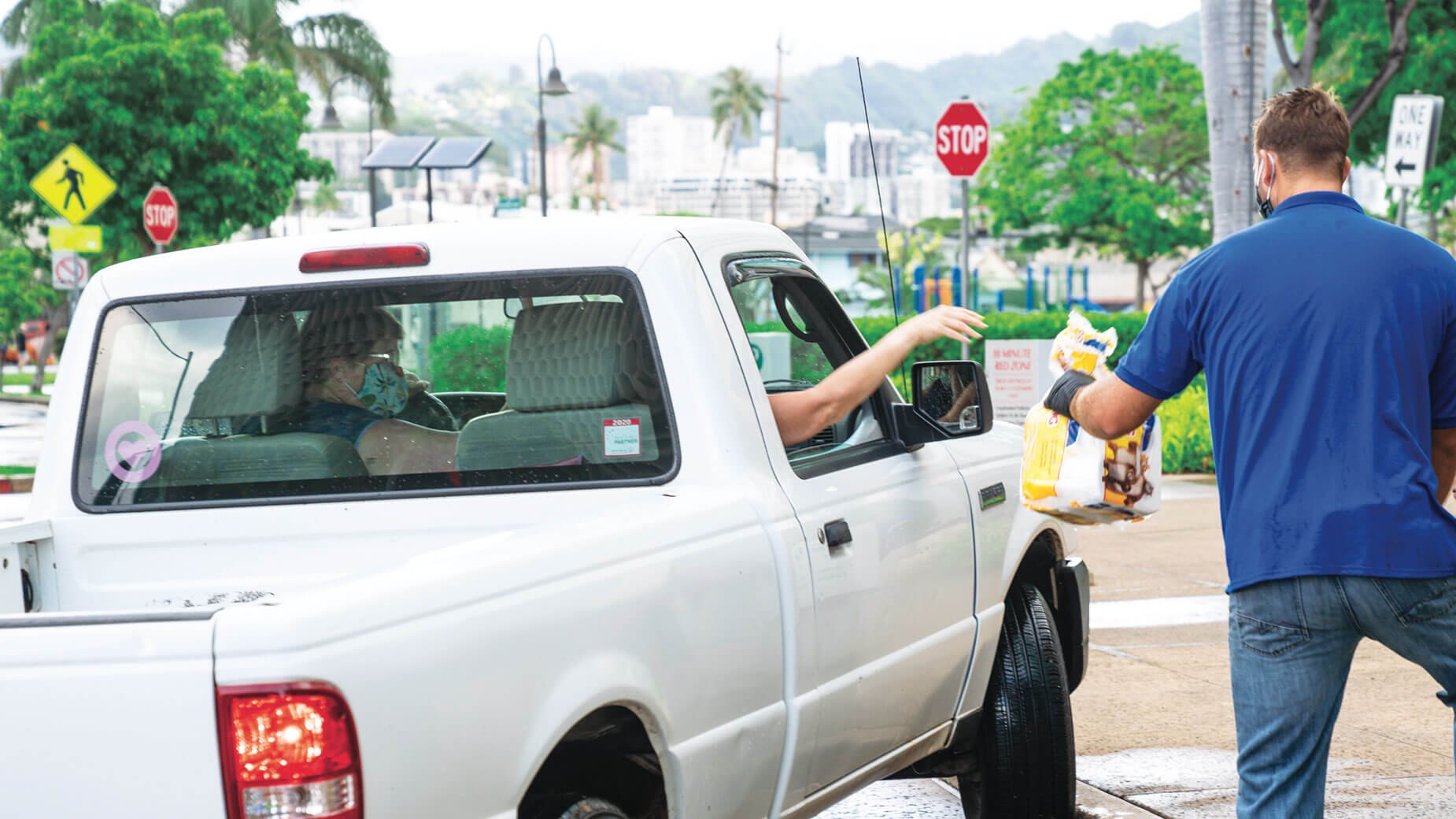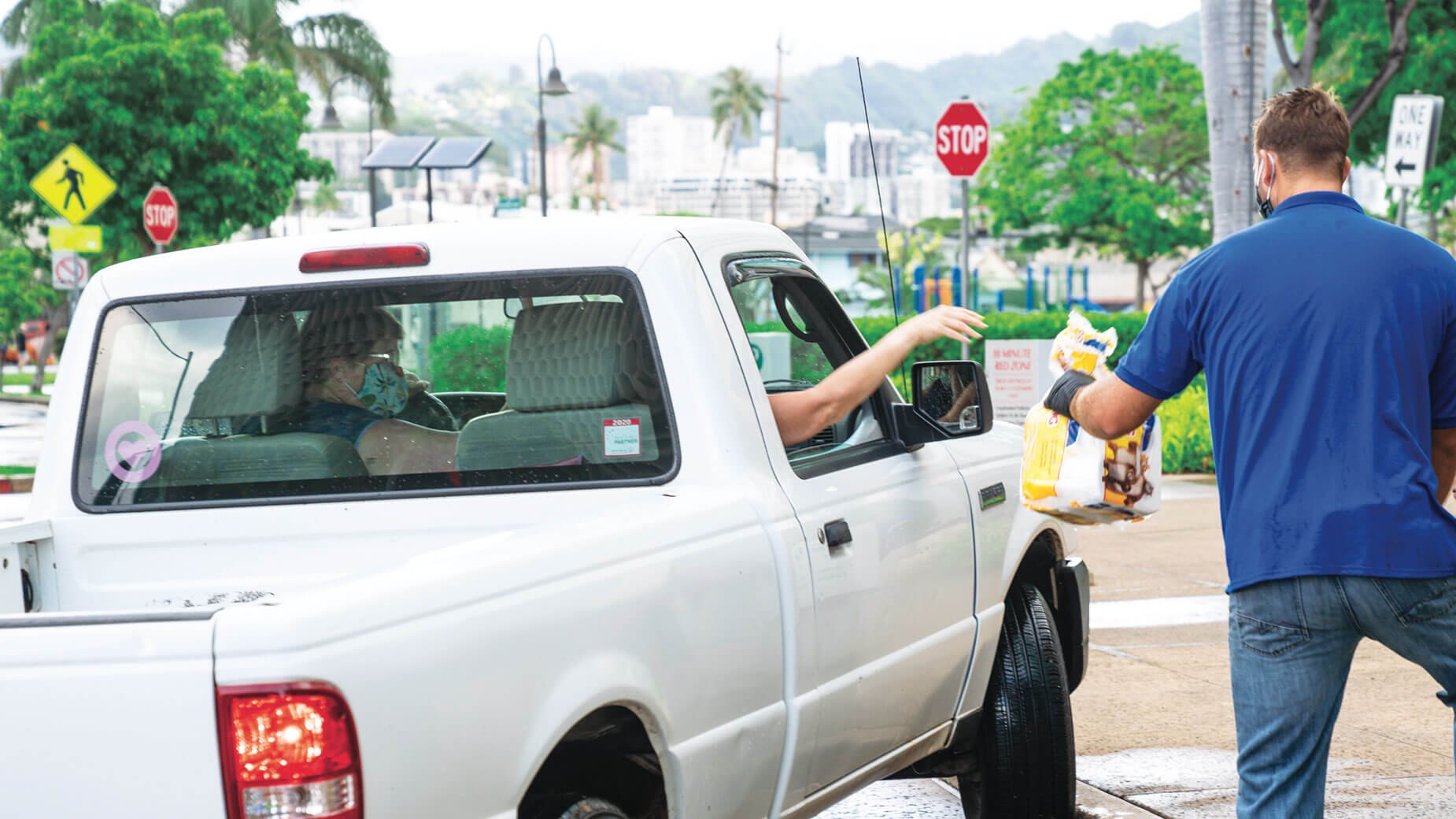 Bank of Hawaii co-hosted a one-day drive to collect sanitizing equipment and donations from the public to support The Institute for Human Services. Bank of Hawaii Foundation donated $20,000 to IHS to support its shelter-in-place services.
COVID-19 IN HAWAII:
Facts and Insights, Volumes 1 & 2
To better understand the current effects of the pandemic on families and individuals, Bank of Hawaii Foundation commissioned Anthology Research to conduct a baseline and follow-up survey of residents. The sobering findings highlight the deepening economic hardships and anxiety Hawaii residents are facing:
Hawaii households have been significantly impacted financially.
As of December 2020,

56% struggled to pay rent, mortgage or utility bills, compared with 48% in May.
63% had lost a job or experienced reduced work hours or pay, compared to 55% in May.
53% had experienced a decline in household income since the start of the pandemic, up from 45% in May.



Fear of COVID-19 among residents is substantial.

82% felt that COVID-19 poses a real danger to themselves and their families, compared to 71% in May.
More than twice as many residents 43%, up from 18% in May, personally knew of someone who had tested positive for COVID-19.
Volume 2 can be viewed at www.boh.com/facts-figures.
Innovative Partnerships with Nonprofits
Goodwill Goes GLAM! Bank of Hawaii Foundation continued its support of Goodwill Hawaii's major annual fundraiser, which transformed into a successful virtual event. Viewers purchased Goodwill Hawaii merchandise online, local fashion designers were spotlighted and information about resources available to help residents with job skills training and employment opportunities were broadcast to a large audience.
The Hawaii Book and Music Festival was converted to a virtual event and was launched in partnership with the University of Hawai'i. Postponed until October, the event featured an informative and timely speaker series, including 45 panel discussions that focused on many facets related to an innovative and sustainable future for Hawaii. Bank of Hawaii has been a sponsor since 2006.
Supporting Hawaii's Small Businesses
Pop-up Mākeke! Bank of Hawaii Blue Crew volunteers were happy to jump in during the holiday season to help over 400 of Hawaii's small businesses who participated in Pop-Up Mākeke!, an online marketplace created by the Council for Native Hawaiian Advancement. In the spirit of laulima, many hands working together, our Bankoh Blue Crew helped organize and pack merchandise to contribute to the over 20,000 orders of locally-made products which were delivered all over the world.
Bank of Hawaii Blue Crew volunteers, including Kristin Yama, helped support small businesses participating in Pop-Up Mākeke! by organizing and packing merchandise to complete orders.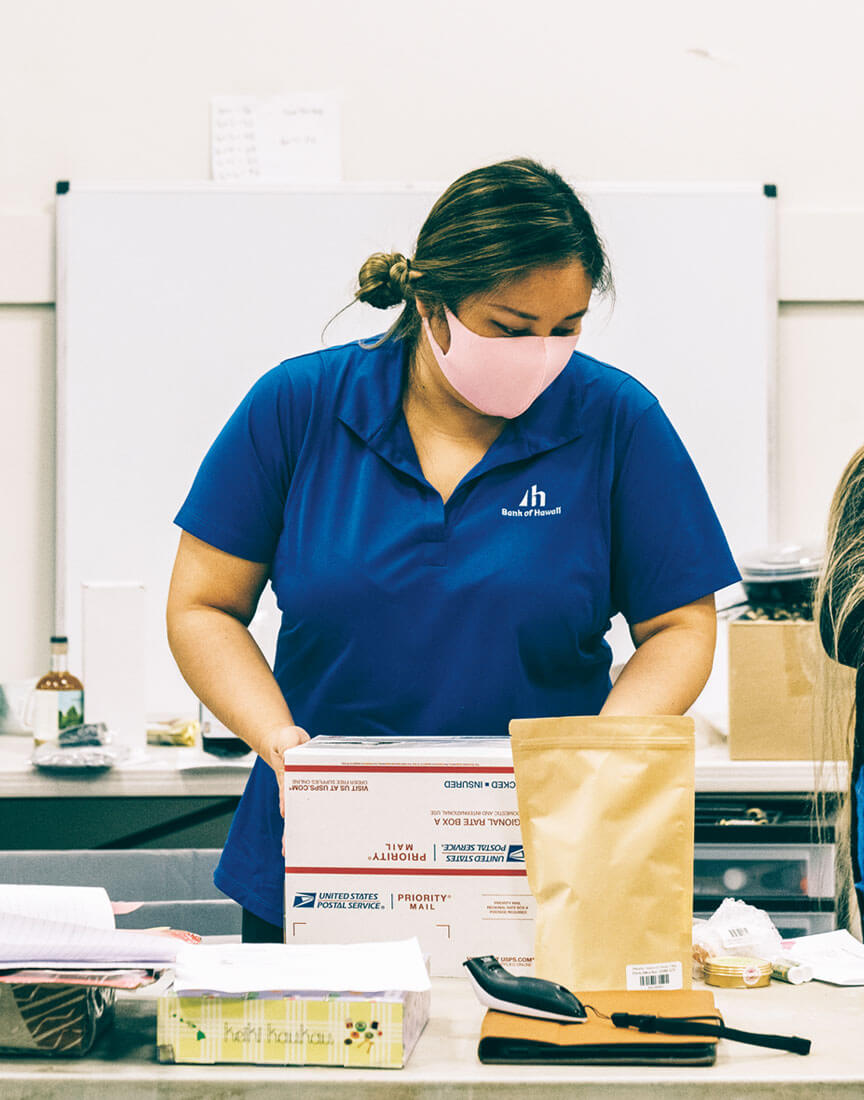 Hawai'i Resilience Fund at the Hawai'i Community Foundation
The following are some of the special allocations made from our $3 million donation:
Food: $1 million to local food banks across the state. The funding, which generated a $1 million match from the City and County of Honolulu, resulted in millions of pounds of food distributed; 300,000+ individuals and families being fed; and service providers, such as food distributors, farmers and support staff, being able to work and help provide for community needs.


Health: $1 million to support health and safety initiatives, including $200,000 to Kōkua Kalihi Valley Comprehensive Family Services to provide health services to Kalihi area residents and $200,000 to Queen's Medical Center for the expansion of its infectious disease program.


Economic Recovery: $1 million to launch Hawai'i Community Foundation's social impact fund, which will help individuals, businesses and nonprofits access capital and technical support.
Over $5 Million to Support Student-Athletes and University of Hawai'i Athletics
To address some of the unique financial challenges faced by the UH Athletics Department, Bank of Hawaii is providing $5 million in sponsorship funding over the next 10 years to help with budget challenges. As part of the agreement, UH has extended rights to Bank of Hawaii to rename the arena "SimpliFi Arena at Stan Sheriff Center." This name retains the legacy of former UH Athletic Director Bruce "Stan" Sheriff while acknowledging BOH as an advocate of UH sports.
Bank of Hawaii Foundation also established a $100,000 endowment scholarship fund in the name of Stan Sheriff to provide scholarship support to student-athletes from Hawaii, beginning with the 2021-2022 school year.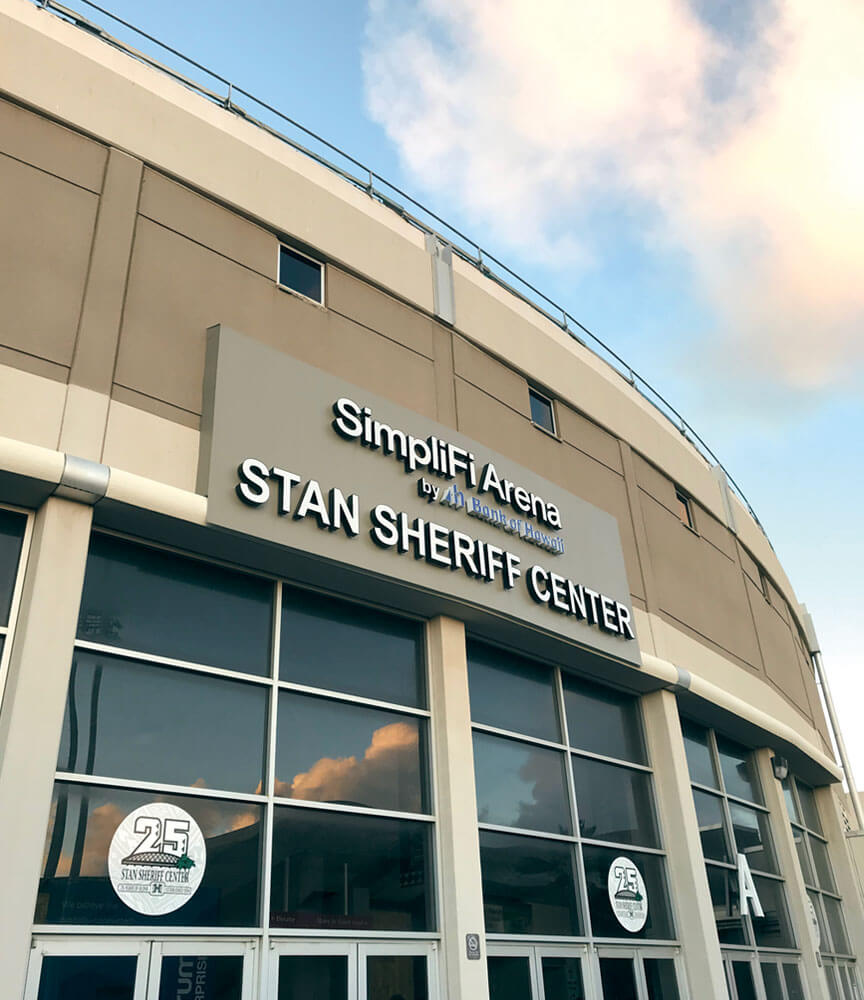 You're about to exit BOH.com
Links to other sites are provided as a service to you by Bank of Hawaii. These other sites are neither owned nor maintained by Bank of Hawaii. Bank of Hawaii shall not be responsible for the content and/or accuracy of any information contained in these other sites or for the personal or credit card information you provide to these sites.