Year In Review
With You, For You
At Bank of Hawaii, we have a clear understanding of our purpose. As a trusted partner in the success of all our stakeholders—shareholders, customers, employees and community—we rely on the timeless guidance of our vision and values to serve all of them. Constantly evaluating our performance, we take a proactive approach to adapting our service to meet our customers' changing needs, and to providing the best workplace we can for our employees, while also bringing consistent value to our shareholders and to our community.
Offering Digital Conveniences and Exceptional Personal Connections
We know that our success depends on our ability to build strong relationships with our customers in ways that will serve them over generations. We've made significant investments in keeping our services convenient— whether in person in our branches, within our mobile banking app, online, or by phone or ATM—it's a privilege to provide our customers with the options that work best for them.
Kahala Mall Kiosk
At right: BOH's Kahala Mall Kiosk is the first of its kind and opened in October 2019 to conveniently serve the Kahala community.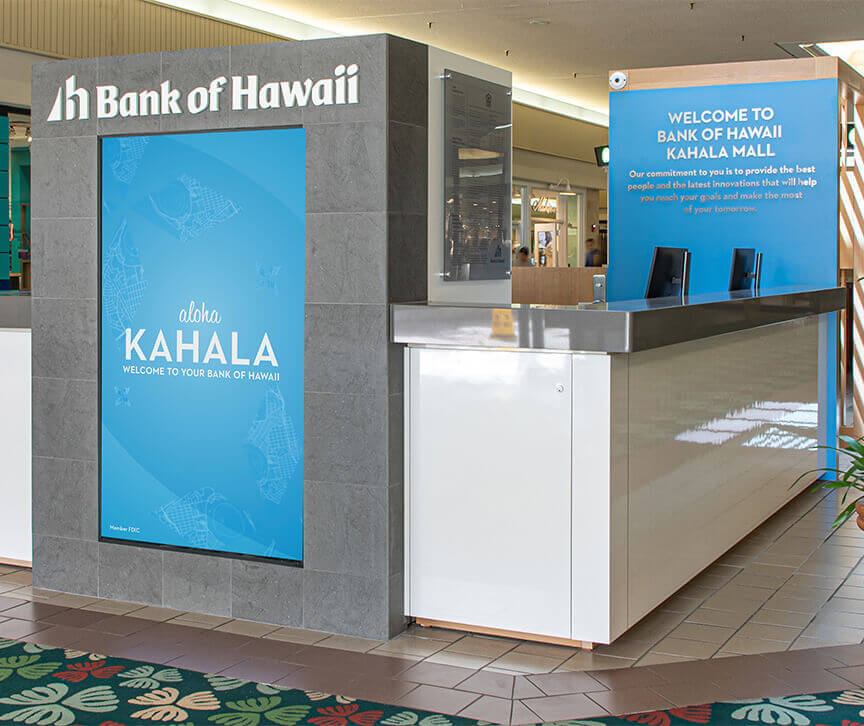 Branch Banking
Our Branch of Tomorrow network is growing. In July 2019, we celebrated the opening of our first in-store "Branch of Tomorrow" at the new Safeway store in Kahului, Maui. On Oahu, our new Iwilei Branch on Dillingham Boulevard is scheduled to open in early 2020. In October, we opened a four-teller Kahala Mall Kiosk, located between Longs Drugs and Macy's, with extended hours seven days a week, while our new Waialae-Kahala Branch is being renovated; completion is slated for the end of 2020.
On Hawaii Island, construction has started on our new Hilo Branch, and by mid-2020, groundbreaking will kick off construction for our new West Pacific Regional headquarters and branch in Tamuning, Guam.
Our Branch of Tomorrow modernizations include energy-efficient features and provide upgraded technology, easy-deposit ATMs (with Cardless Cash) and Wi-Fi.
In August, six and-a-half years after announcing our plans to leave American Samoa, we closed our remaining operations in the territory. To help with the transition, we donated our fixed assets, including our Tafuna Branch building and BOH residence, to the American Samoa government for the purpose of starting its own bank. Territorial Bank of American Samoa opened its doors in 2016.
Modernizing Our Corporate Headquarters
The transformation of our locations also extends to our downtown Honolulu corporate headquarters, which is scheduled to be complete by the end of the first quarter of 2020. One of the most dramatic changes is to the top most 22nd floor, which has been completely renovated. Appropriately named Ka Nu'u Ho'oulu I Ka Ho'olōkahi Mau, "the summit of growth and inspiration, aligned in enduring unity," the space features sweeping views from the mountains to Honolulu Harbor, state-of-the-art technology, numerous collaborative work areas, and a welcoming space for official celebrations and gatherings.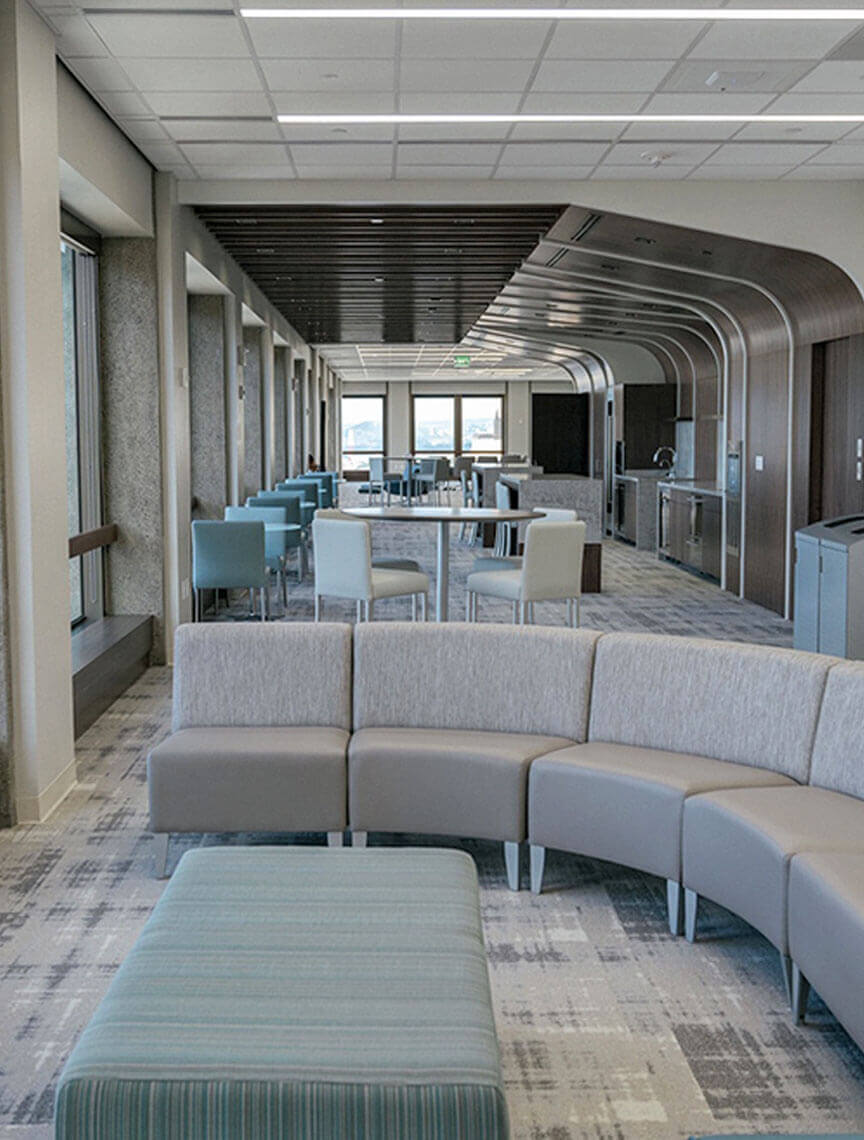 Digital Banking Solutions for Consumer
We continue to invest in ways to provide digital banking options for our customers. In September, we embedded Zelle directly into our BOH mobile app, allowing customers to safely send and receive money within minutes to almost anyone they know with a bank account in the U.S. Transactions via Zelle can be easily sent using an email address or a U.S. mobile phone number.
In April, we launched Debit Card Controls to allow customers the flexibility to temporarily turn their debit cards on or off, control their cards by location, merchant and transaction types, and set spending limits and customizable alerts. These controls are designed to give our customers more security for their accounts and help prevent fraud.
A New BOH.com
We've also been proactive in improving ways for our customers to bank online. In November, we introduced a completely redesigned BOH.com. The new, mobile-friendly website works seamlessly on a smartphone, tablet or desktop, making it easier for customers to access the information they need on any device.
The redesigned site has been streamlined to be more intuitive. Some of the new features include an enhanced Branch & ATM map, a side-by-side comparison tool, and a product finder, which provides customers personalized recommendations after answering a few short questions. Additionally, we added two new functions to our e-Bankoh online banking. Customers can now open a CD online and open a Bankohana account online.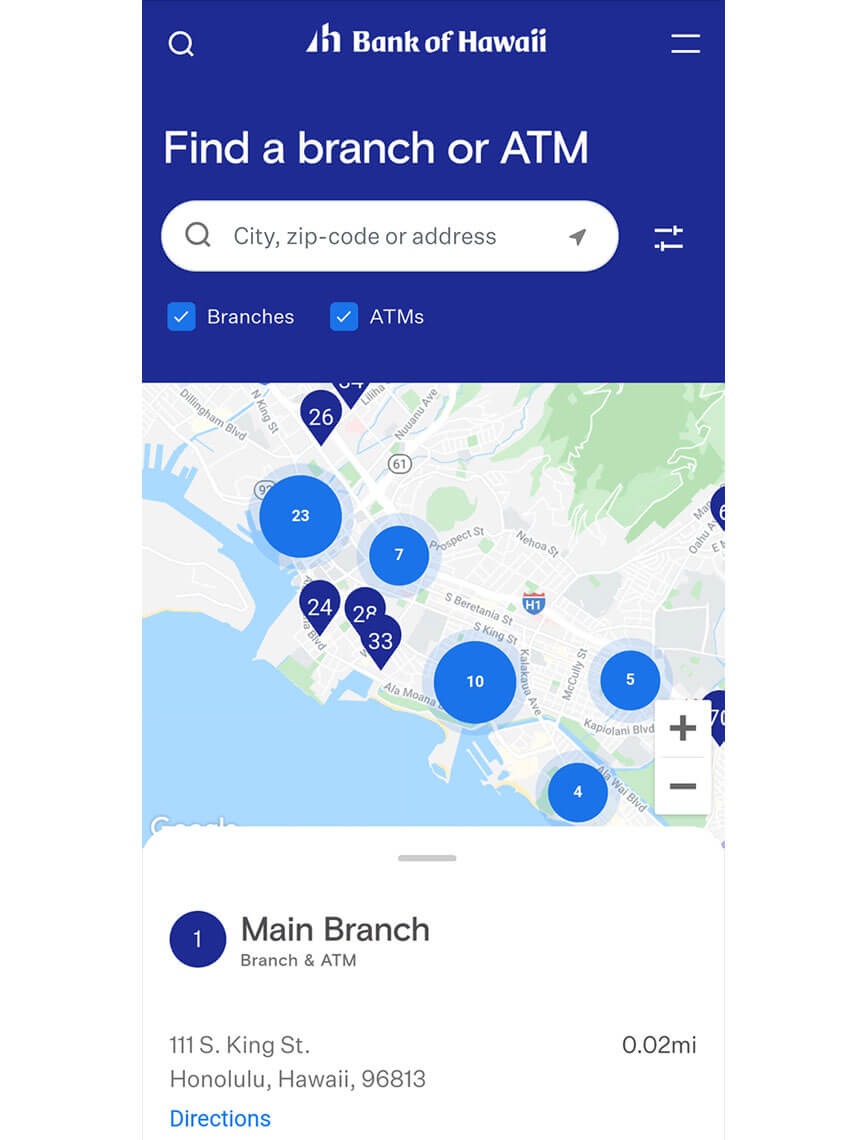 Credit Cards
In 2019, MyBankoh credit card holders were switched to MasterCard from Visa and American Express, as Barclays took ownership of the accounts. The three cards that were converted were the Bank of Hawaii American Express Card with MyBankoh Rewards, the Bank of Hawaii Visa Signature credit card with MyBankoh Rewards, and the Bank of Hawaii Elite American Express Card with MyBankoh Rewards. The change did not affect our debit cards or our Hawaiian Airlines Bank of Hawaii World Elite MasterCard.
Call Center Upgrades
Phase 1 of cloud-based technology upgrades were made to our Call Center in 2019 to provide greater flexibility, convenience and security in communicating with customers. The enhancements route calls more efficiently and provide callers with faster access to basic topics, such as password resets and balance inquiries. Call Center agents now respond to chat inquiries via select pages on BOH.com through a new live web chat feature. Additional security to Call Center communications was implemented via one-time passcodes, which callers may receive via text or email, so that our agents can authenticate them as rightful account holders. Phase 2 of the upgrades will continue to be implemented in 2020.
Mortgage, Consumer and Dealer Indirect Lending
We understand that for many people, buying or building a home is the fulfillment of a dream, and one of the biggest financial decisions they may make. The process of applying for a mortgage became much more convenient for buyers or those homeowners looking to refinance an existing mortgage through our fully integrated online application, SimpliFi Mortgage by Bank of Hawaii. The online application gives customers the best of both worlds—personal connection to our local loan officers and the ability to use technology to apply, seamlessly upload documents, e-sign, review disclosures and more online.
We continue to take a leadership role in streamlining VA home loans and loans for Department of Hawaiian Home Lands (DHHL) lessees due to our depth of understanding of the complexities involved. We remain the only Hawaii-based lender providing DHHL loans.
Bank of Hawaii continues to be an overall leader both in home equity and residential lending. We were honored to again be named the No. 1 residential lender in Hawaii and Guam, both for the number of residential loans recorded and total dollars loaned in 2019. Local processing, underwriting and servicing of home equity, construction and mortgage loans ensure that our customers get the products and flexibility of service that best fit their needs.
We have expanded our auto lending in the West Pacific, and continue to be No. 1 in that marketplace. We continue to be the No. 2 auto lender in the state of Hawaii, and our combined auto loan and leasing portfolios grew to $825.2 million, as of November 2019. Our flexible, efficient auto loan servicing, which is handled locally, helped us to grow our dealer partnerships in 2019.
Commercial Real Estate Lending
When it comes to housing prices, Honolulu is one of the most expensive cities in the U.S. There is a limited supply of affordable housing due to high land and construction costs. Bank of Hawaii has always been committed to affordable housing solutions, and our support for Aloha United Way's ALICE (Asset Limited Income Constrained, Employed) Report is helping us to sharpen our focus to find more ways to work with developers in an effort to help create more affordable and workforce housing across Hawaii and the Western Pacific.
In 2019, the Honolulu City Council passed Bill 7, a five-year pilot program to attract developers by allowing small lot developments to be built on lots of 20,000 sq. ft. or less, with higher density and smaller setbacks than were previously permitted. We partnered with a developer to fund the first project under Bill 7, Puuhue Apartments, in Honolulu, which is a planned four-story building that will bring 25 affordable rentals to market.
Queen Emma Tower, once a neglected building in the heart of Honolulu, will be fully renovated by Āhē Group and create 71 affordable rental units. In addition to Queen Emma Tower, the bank helped finance 22 units of affordable housing for Maui seniors at Hale Mahaolu Ewalu II, developed by Hale Mahaolu. The bank also financed 35 units of affordable family housing rentals on Kauai at Waimea Huakai, which are currently under construction by Āhē Group.
More than 300 affordable housing units started or completed construction in 2019, thanks in part to Bank of Hawaii, and almost 450 more are in the pipeline. Bank of Hawaii plans to continue developing other partnerships to finance the affordable and workplace housing needs in our community.
The Private Bank
The Private Bank at Bank of Hawaii takes a holistic approach to providing personalized wealth management services through every stage of life. In addition to basic banking, The Private Bank offers a comprehensive array of services, including customized lending; investments; insurance; financial, estate and tax planning; charitable giving; and trust services.
The Private Bank team is a trusted ally in anticipating and meeting the complex and unique needs of high-value clients. We have taken a leadership role in utilizing new technology to make these specialized services as convenient as possible, and we take a team approach to developing integrated strategies to deliver exceptional results over time.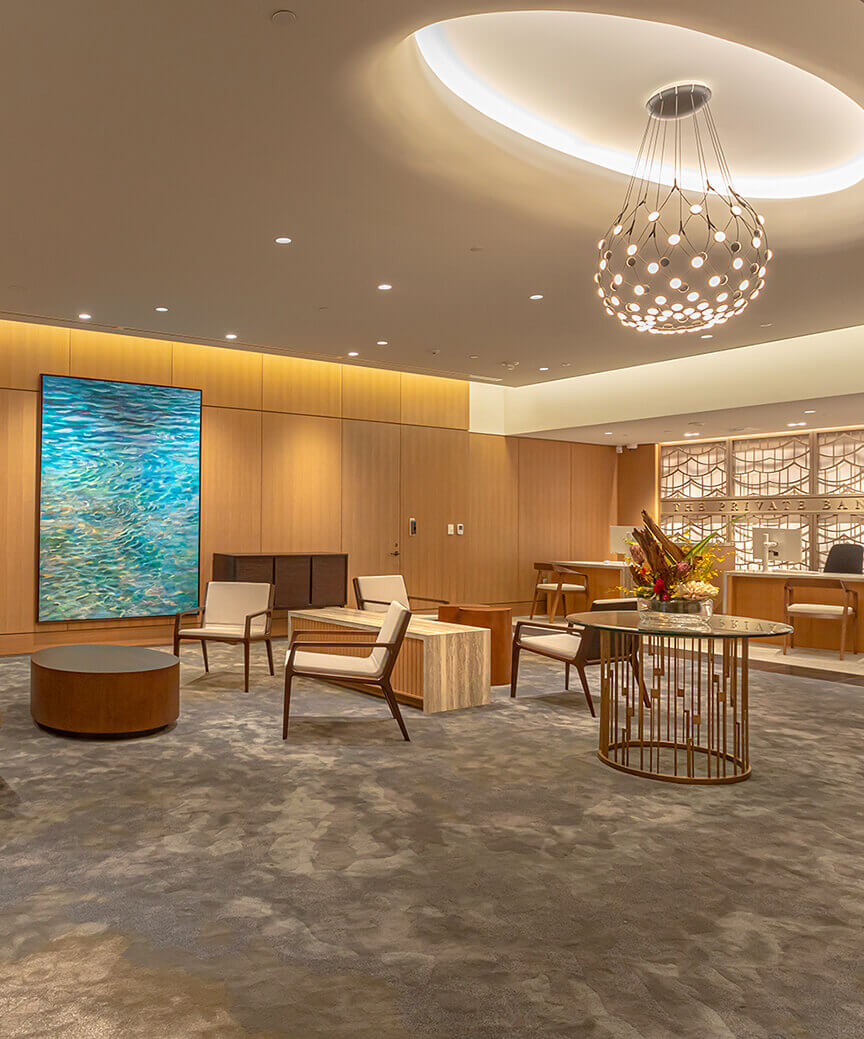 In October, we completed renovations of the third floor of our downtown Honolulu bank building. The entire floor is designed for serving customers of The Private Bank and Trust Services Group, and includes upgraded technology and multiple meeting rooms.
As part of our International Client Banking Division, we are working toward opening a representative office in Tokyo. Our new representative will act as a liaison to network among banks, CPAs, tax advisors and other financial professionals on behalf of Bank of Hawaii.
Investment and Insurance Services
Bank of Hawaii continues to be the premiere provider of fiduciary and investment services in Hawaii and the Pacific. We remain the biggest municipal bond manager in the state of Hawaii, and manage three tax-free bonds. Our trusted team of certified financial planners (CFP) and certified financial analysts (CFA) manages almost $7 billion in assets through a wide array of advisory and brokerage services.
In 2019, we introduced our investment and insurance services in Guam, helping customers to navigate through these important aspects of their financial journey. We continue to enhance our investment and insurance capabilities with the goal of providing our clients access to comprehensive wealth management solutions to address their accumulation, protection and wealth transfer needs.
Trust, Estate and Financial Planning
The Private Bank team members create a personalized plan to help each client meet his or her immediate and long-term financial goals, offering guidance in analyzing assets and tax implications, and investment opportunities to optimize returns.
One of our specialties is creating multi-generational wealth strategies. Our dedicated relationship managers guide clients through succession planning, and business transitions or sales to help create a lasting legacy that reflects the values and priorities of one generation while engaging younger generations to carry on successfully.
One of our wealth management services includes setting up and administering nonprofit foundations and charitable trusts. Responsible for approximately 120 grant-making foundations, our Charitable Foundation Services team has been helping individuals and corporations devise the best, most effective ways to direct and manage their giving through private charitable trusts and foundations. Many of these nonprofits distribute grants, and our Charitable Foundation Services team is responsible for overseeing grant requests, review and distributions.
As the largest administrator of irrevocable trusts in the state with more than $3 billion in assets under management, Bank of Hawaii has the depth of expertise necessary to handle every aspect of our clients' trust accounts.
Banking for Business
As the marketplace changes and develops at an increasingly rapid pace, Bank of Hawaii is positioned to assist customers meet the unique challenges of doing business in Hawaii. By providing leading-edge banking technology and sound financial advice for every size and type of business—entrepreneurs, nonprofits, family-owned businesses and global corporations, local healthcare practitioners and international businesses. Whether it's helping a medical practice upgrade equipment, finding the best merchant services, or helping a customer apply for a Small Business Administration (SBA) loan or finance energy sustainability measures, Bank of Hawaii has innovative solutions to help small businesses grow and succeed.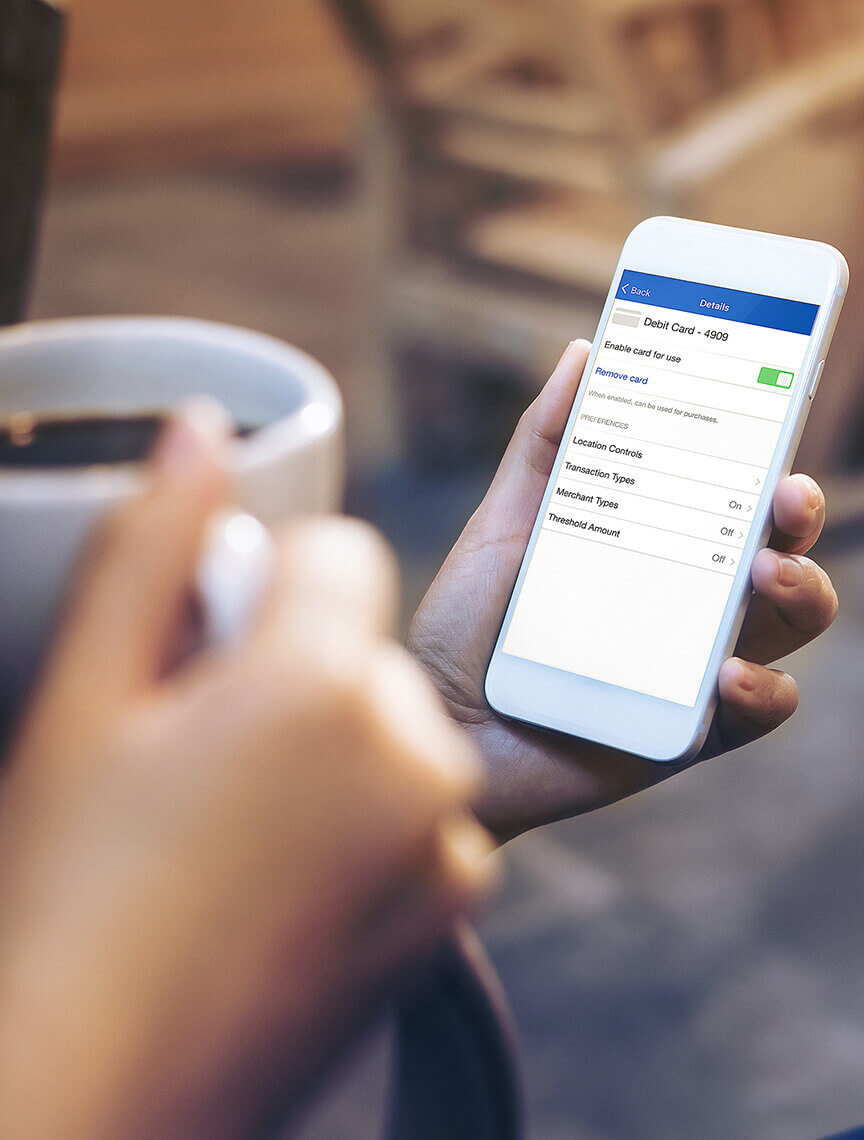 Digital Banking Solutions for Business
In 2019, we began an upgrade to our digital resources for our business clients. We invested more than $1.5 million in our platforms to prepare them for continued enhancements and emerging technologies. This investment in upgrades for online Business Banking, ACH platform, Lockbox Services, Wire Monitoring and Processing and Client Access will continue into 2020. These advancements underscore our commitment to enhanced security and delivery of complex processing or reporting needs. We pride ourselves on ensuring robust finance management functions that help our business customers improve efficiencies and deliver better service to their own customers.
As digital payment options for businesses continue to rapidly evolve, we continue to scope and construct solutions to meet the needs of our customers. We launched new Merchant Service solutions that work for large and small businesses by partnering with Clover and OptBlue. The Clover point-of-sale system not only accepts swipe-card, chip-card, and contactless payments, including Apple Pay, but it also issues refunds, manages tips, applies discounts, performs closeout reporting and more. The OptBlue program allows business customers to accept American Express card payments at a more competitive rate, and offers consolidated billing and reporting via Bank of Hawaii.
We also developed new software to make it easier for our business customers to stay compliant with the evolving technical and operational payment card industry (PCI) standards they need to follow to ensure that cardholders' credit card data remains protected.
Commercial/Corporate Banking
Our commercial and corporate bankers take the time to understand our customers' businesses—from their operations to their long-term goals. Their deep understanding of the Hawaii marketplace combined with our comprehensive products and services allow them to come up with competitive and versatile solutions for our clients. The team is highly experienced in working with many different industries and works closely with other financial services experts across the bank to help provide tailored strategies and recommendations for a broad range of needs, including real estate and construction loans, liquidity management and equipment financing.
In 2019, we continued to be the largest commercial mortgage lender in the state of Hawaii. Our team finds customized financial solutions for owners, developers and investors with multi-family, retail, industrial, office and mixed-use properties.
Captive Insurance
Bank of Hawaii's solid captive insurance industry service and leadership continue to grow this business segment. With over 95 diverse captive clients, our Captive Insurance Services team continues to support the Hawaii domicile as we have done since the industry's inception in 1986. Bank of Hawaii currently oversees more than $1.5 billion in investment assets and deposits for Hawaii-based captive insurance businesses.
Many local, national and international businesses turn to Bank of Hawaii for advice and tailored services to meet their captive's banking and investment needs and objectives. We help in evaluating current risk and financing structures, as well as in developing portfolio solutions to build reserve assets. As reserve funds grow over time through premiums paid and healthy claims experiences, clients can allow for increased insurance coverage options and improved cash flow and insurance expense management.
While many large corporations have long been utilizing captives, we see good future growth potential for developing businesses and established middle market companies from a range of industries. In particular, we are seeing increased interest from Japanese companies that have been aware of the captive industry for a number of years, but were more gradual in deploying captive strategies.
2019 Annual Report
Purpose, Progress, Possibilities. Working together with you.
You're about to exit BOH.com
Links to other sites are provided as a service to you by Bank of Hawaii. These other sites are neither owned nor maintained by Bank of Hawaii. Bank of Hawaii shall not be responsible for the content and/or accuracy of any information contained in these other sites or for the personal or credit card information you provide to these sites.