Our Employees
Always Moving Forward
At Bank of Hawaii, much of our focus on innovation and growth centers on our people. That's because we have always recognized that investing in their success is the key to the continuing success of our business, our customers and our community. As banking becomes more digitized to meet customers' changing expectations, our employees need the broad range of specialized skills to adapt and thrive while delivering the exceptional service our customers deserve.
Each of our employees brings diverse experience and a unique learning style to our workplace, and we want to retain them while also helping them find opportunities across the bank to grow in their careers.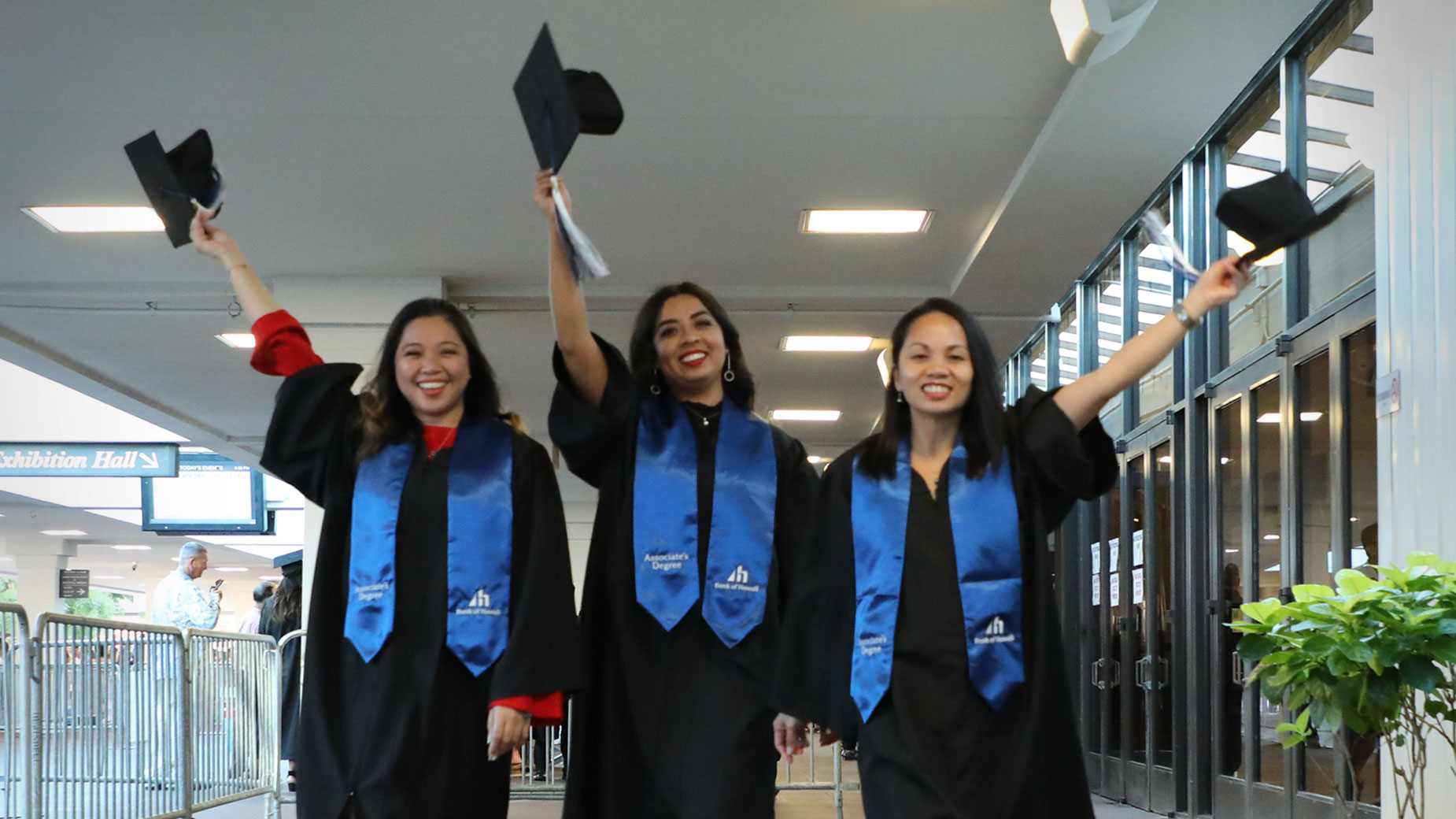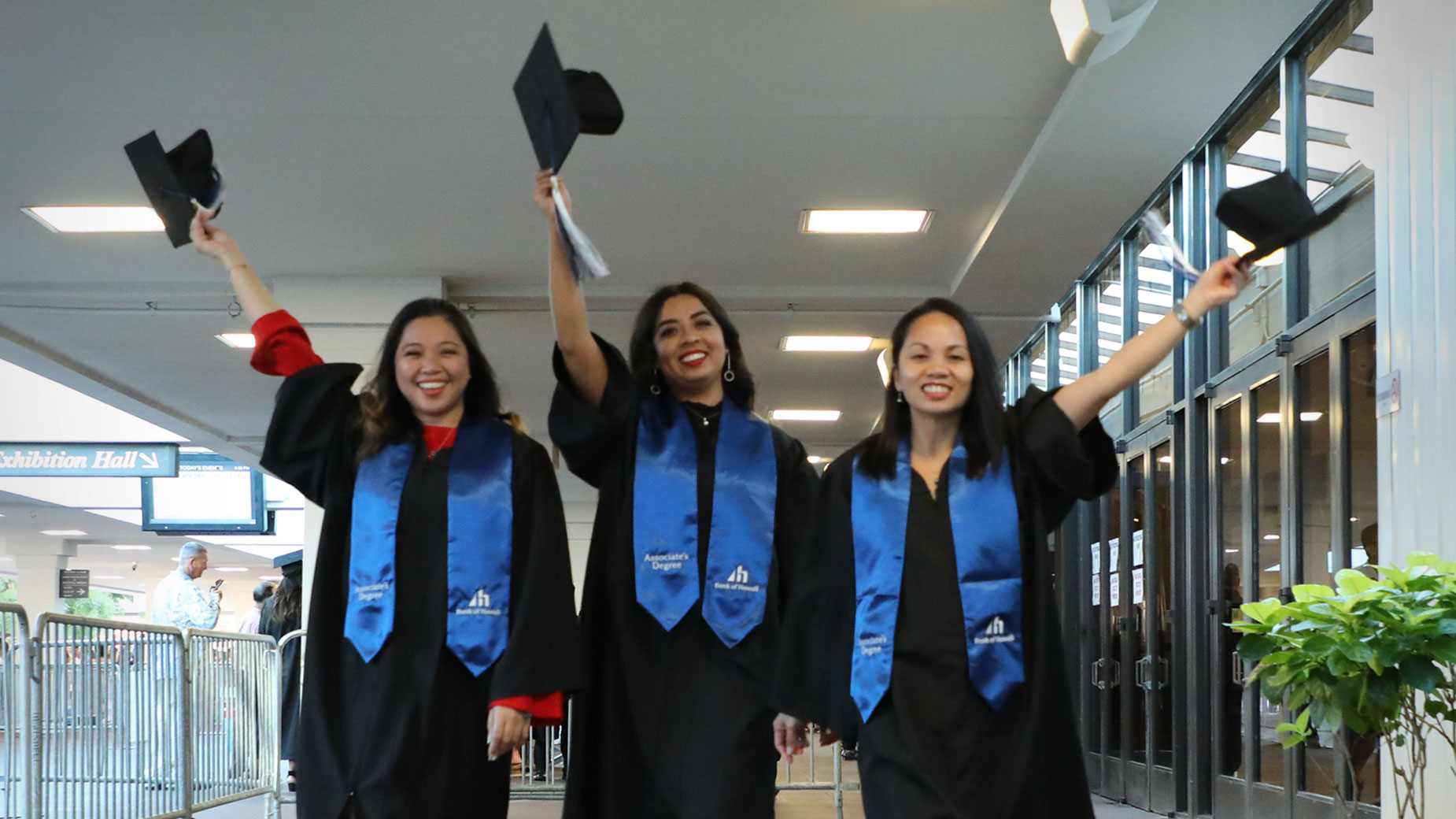 Juliemay Peralta, Cynthia Esparza and Arliza Borja Losano take a victory lap around the Neal S. Blaisdell Arena in honor of earning their associates degrees from Chaminade University in May 2019.
Professional Development
One of the bank's biggest continuing investments is in the personal and professional development of our employees to give them more opportunities to learn and grow toward leadership positions, or to equip them to explore potential new career paths via our leadership, skills and management training. In 2019, more than 32,000 hours of training was provided by Bank of Hawaii.
In 2019, we enhanced our Tuition Assistance Program (TAP) by offering new discounts for undergraduate and graduate-level courses at Hawaii Pacific University, whether online or in person, as well as graduate-level courses at Chaminade University of Honolulu. TAP brings new choices to our employees in ways to obtain specialized knowledge in their professional field through single courses, or by pursuing an associate's degree, a bachelor's degree, or an advanced degree.
A new enhancement to Bank of Hawaii's College Assistance Program (CAP) was introduced in 2019 to include a new partner. Employees can now pursue an associate of arts degree with online courses through the University of Hawaii's Community Colleges (UHCC). The UHCC degree is an accelerated program that allows participants to earn an associate's degree in approximately 2.5 years. The UHCC program joins the CAP degree program offered in partnership with Chaminade University of Honolulu. Started in August 2016 to provide employees without a bachelor's degree a way to make a college education a reality, 55 BOH employees were enrolled in CAP for the fall 2019 term.
Pathways to Professional Excellence
BOH's 2019 Pathways to Professional Excellence cohort kicked off their six-month learning journey in July.
From left: Front row: Emily Araki, Kristin Yama, Tiffany Mitani and Arleen Torrijos.
Second row: George Cochard, Taj'a Wong, Ester Sisson, Jessica Pacpaco, Cilla Arelliano and Charmaine Depaynos-Mayo.
Third row: Darren Bullock, Lena Zheng, Matt Shishido, Kasi Young and Carol-Lynn Lester.
Fourth row: Jose Lopez, Megan Nguyen and Serena Thomas. Back row: Jeff Dailly, Hayley Musashi, Manatu Tokelau, Kevin Sun and Demi Willis.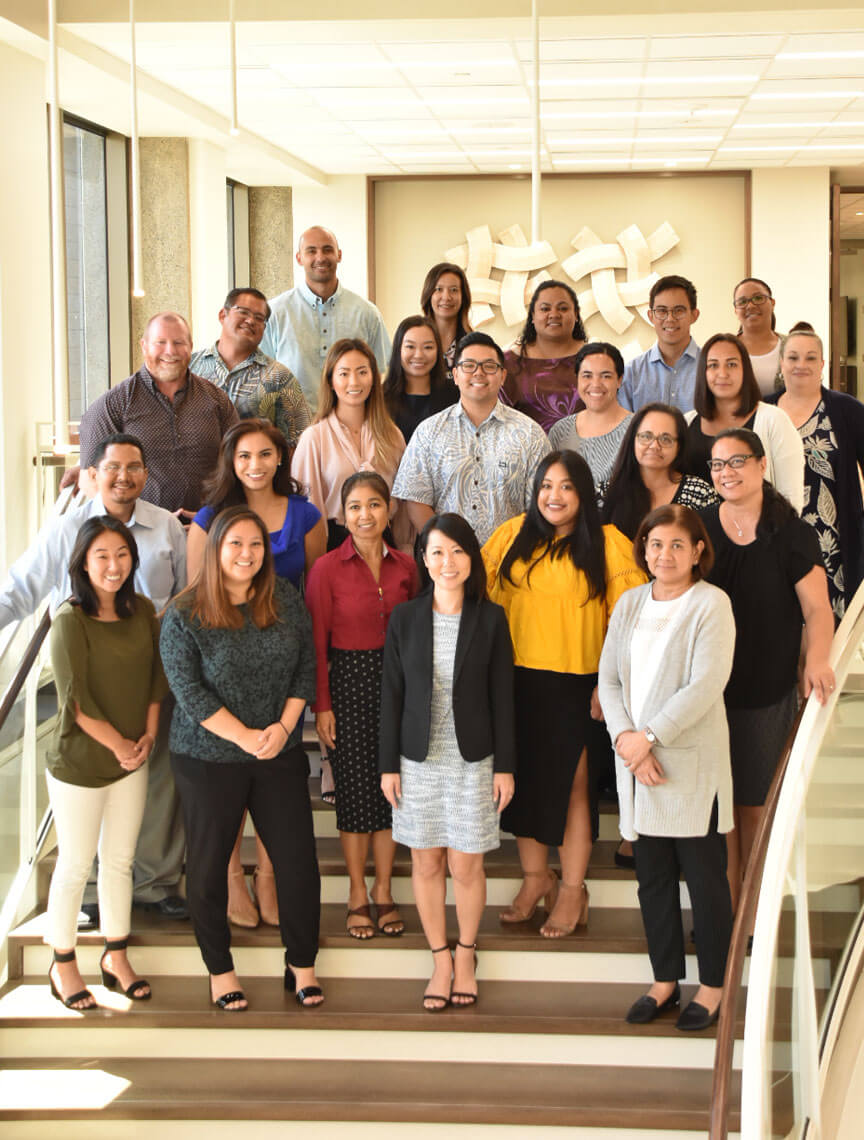 Diversity and Inclusion
The bank has always promoted a culture of diversity and inclusion, and we continued to promote inclusiveness in the workplace through our Fostering Workplace Excellence training series. Two new training modules were added to the curriculum in 2019: Bystander Intervention Training (the choice to intervene as a positive influence in potentially harmful situations to help prevent harassment) and Unconscious Bias training (the unconscious feelings, attitudes and beliefs that we all have about people and/or situations).
Bank of Hawaii was also named a company honoree for Pacific Business News' Business of Pride Awards. As a longtime supporter of the LGBTQ community, Bank of Hawaii has sponsored many events and programs, including the Honolulu Rainbow Film Festival and the 2019 Honolulu Pride Parade & Festival. Bank of Hawaii's Diversity and Inclusion program includes workplace culture and environment; learning and development; and attracting and retaining diverse talent and community engagement by offering connection, support, information and networking and leadership opportunities.
New Financial Benefits
As part of our commitment to making Bank of Hawaii a great place to work, we offer employees a diverse range of competitive benefits and services to meet their different needs and evolving lifestyle changes. In an effort to help them save more and strengthen their financial foundation, three new financial wellness benefits launched in January 2020.
Student Loan Assistance Program: Employees will receive $100 per month (up to a maximum of $10,000), toward employees' student loans;


EASE by Bank of Hawaii Grow Account: The bank will help employees save toward their rainy day funds by providing a one-time $50 bonus once employees save $500, and an additional one-time bonus of $100 once $1,000 is saved.


Mortgage Discount: Employees are eligible for up to a 1% reduction in the Employee Note Rate for new mortgage loans when either purchasing or refinancing a home to be used as their primary residence.
By The Numbers (2019)


Summer Intern Program
This eight-week program is designed to attract and develop emerging talent.

29 total college interns
2,553 hours of training
Bank Associate Program
This six-month program is aimed at developing recent college graduates for banking careers.

11 total bank associates
1,877 hours of training
Pathways to Professional Excellence Program
This six-month program is aimed at employees identified with leadership potential.

23 total participants
3,468 hours of training
2019 Annual Report
Purpose, Progress, Possibilities. Working together with you.
You're about to exit BOH.com
Links to other sites are provided as a service to you by Bank of Hawaii. These other sites are neither owned nor maintained by Bank of Hawaii. Bank of Hawaii shall not be responsible for the content and/or accuracy of any information contained in these other sites or for the personal or credit card information you provide to these sites.