Our Employees
Empowering employees for a better future
Bank of Hawaii continues to take a leading role in keeping up with today's rapidly changing environment. This commitment goes beyond investing in emerging technology and modern branches. It involves investing in our people, and in a work culture that's in tune with how people live and work today and into the future. That's because Bank of Hawaii has always recognized that investing in the success of our people is the key to the future success of our business, our customers and our community.
We're proud that, once again, Bank of Hawaii was voted as one of Hawaii's "Best Places to Work" in 2018. A more relaxed dress code, birthdays off, college scholarships for children and grandchildren, family-friendly celebrations, free gym classes and free access to its three Oahu fitness centers are some of the reasons that the bank earned top recognition as the healthiest and most family-friendly among large companies.
Bank of Hawaii recognizes that a diverse and inclusive workforce fosters an environment where everyone can thrive and feel valued and respected. That's why we have always supported the unique talents and diverse backgrounds of our team members. In 2018, Bank of Hawaii continued to promote inclusiveness in the workplace with several programs, including a new bankwide training series called Fostering Workplace Excellence. The training addressed the topics of Diversity and Inclusion, Harassment Free Workplace, and Ethics and Ethical Sales, and aligned to Bank of Hawaii's core values of excellence, integrity, respect, innovation, commitment and teamwork.
Bank of Hawaii believes in the power of education to transform lives. One of the bank's biggest ongoing investments is in the personal and professional development of its people. With today's lightning-paced changes in financial services, the bank's leadership, skills and management training offer employees not only the opportunity to stay up to date on evolving trends, but also enable them to be more effective when working with clients and with each other. In 2018, more than 40,000 hours of training were provided by Bank of Hawaii.
Bank of Hawaii is committed to helping people develop their talent and potential beyond their job descriptions, and for future generations. Since 2014, more than 151 children and grandchildren of employees have received college scholarships totaling $533,000 from the Bank of Hawaii Foundation, including 28 in 2018.
Bank of Hawaii's College Assistance Program (CAP) was introduced in August 2016 to provide employees without a bachelor's degree a way to start on their own path to a college education. In partnership with Chaminade University of Honolulu, the degree offers employees the opportunity to choose from select majors outside of their current job description. In October 2018, 37 employees were enrolled for the fall term. We continue to support the financial needs of CAP participants, and in 2018, launched three new enhancements: 100 percent reimbursement upfront, versus 50 percent paid at the beginning of the term; increased reimbursement to cover up to eight courses plus textbook expenses versus six at the start of the program, and a brand-new perk of one paid day off to focus on finals.
As the banking industry evolves, Bank of Hawaii continues to invest in the immediate and long-term success and wellbeing of its people. Professional and personal growth opportunities through education and training are just one part of being on the leading edge of Bank of Hawaii's workforce of tomorrow.
By the Numbers (since 2010)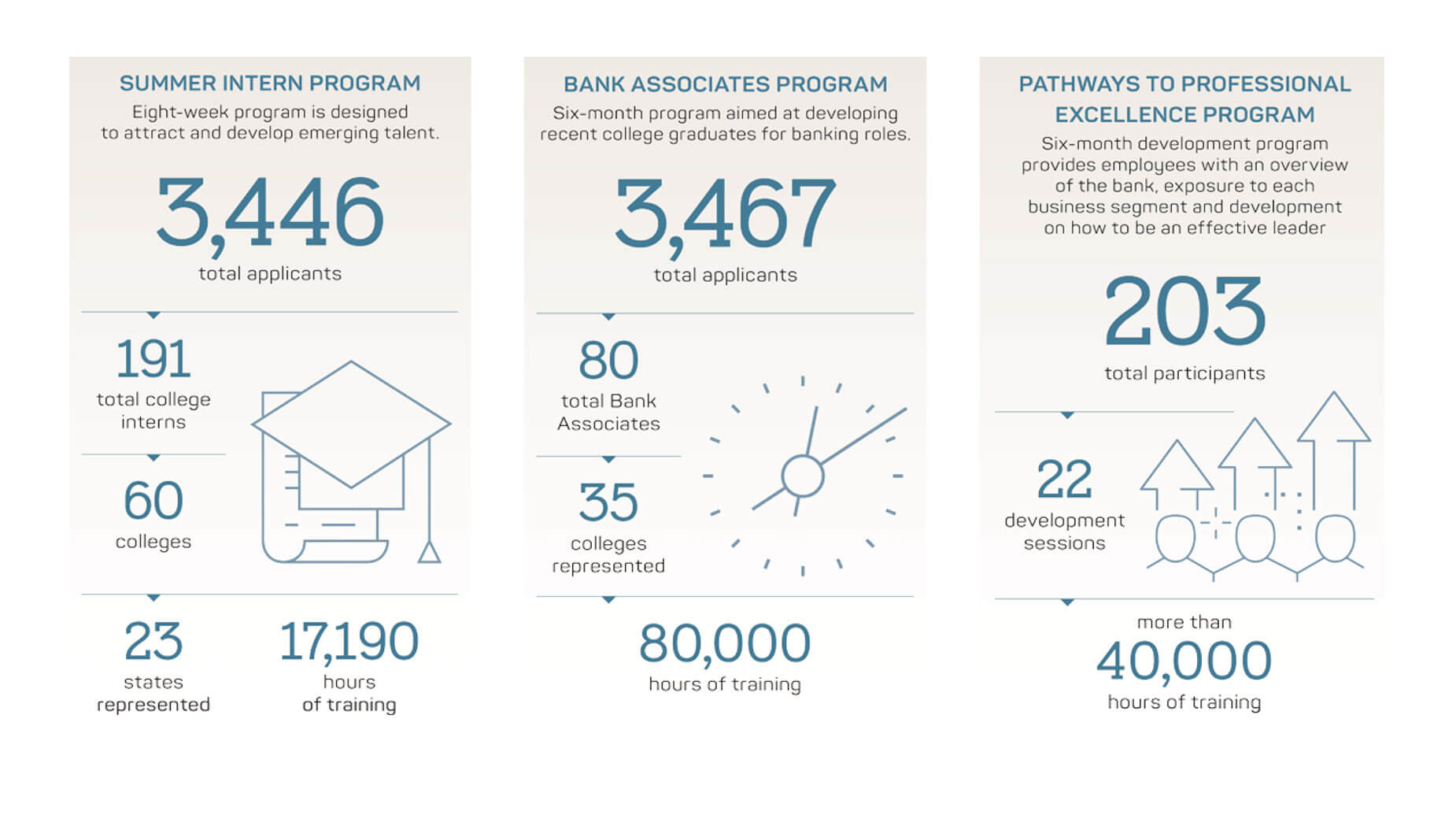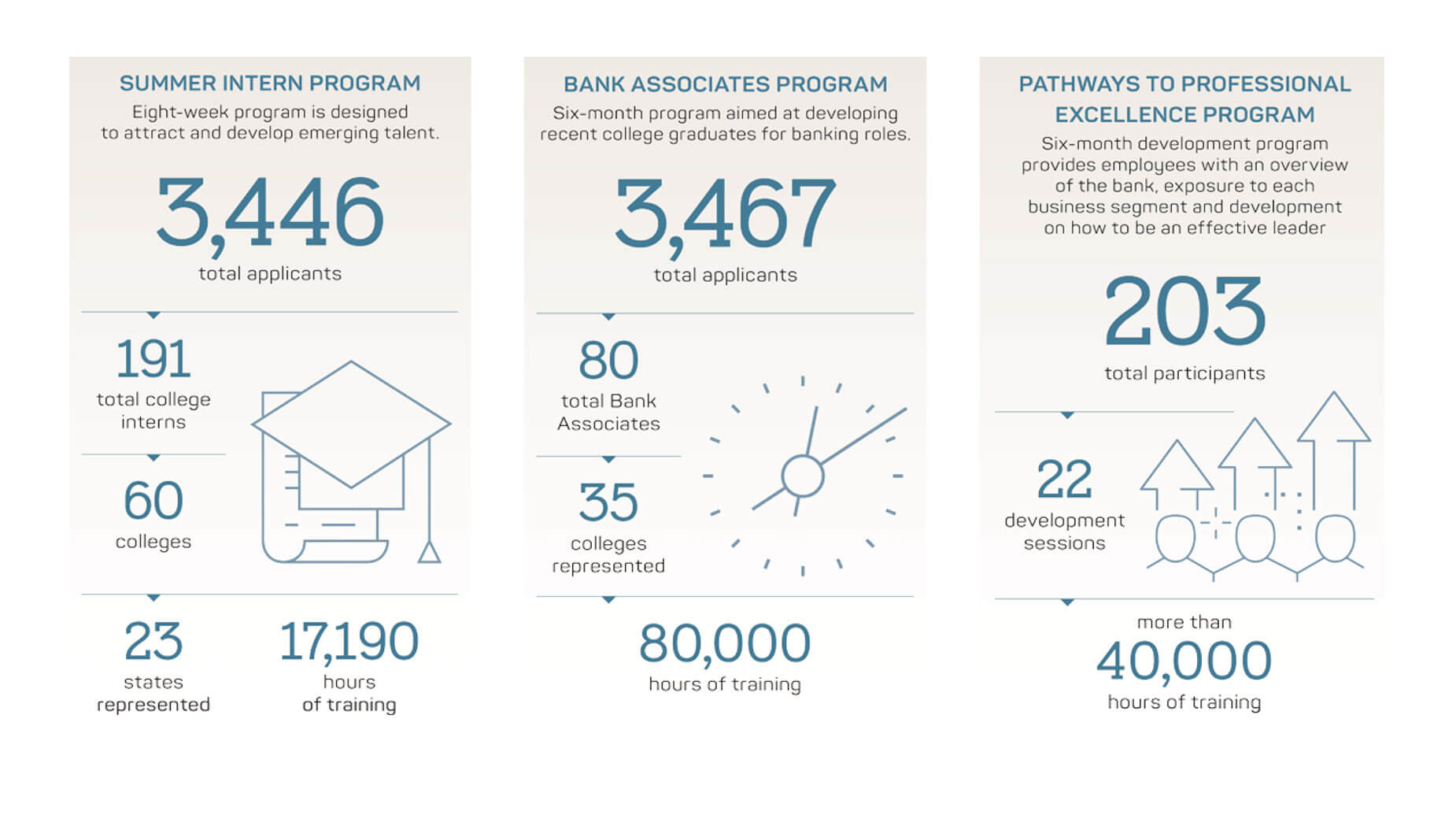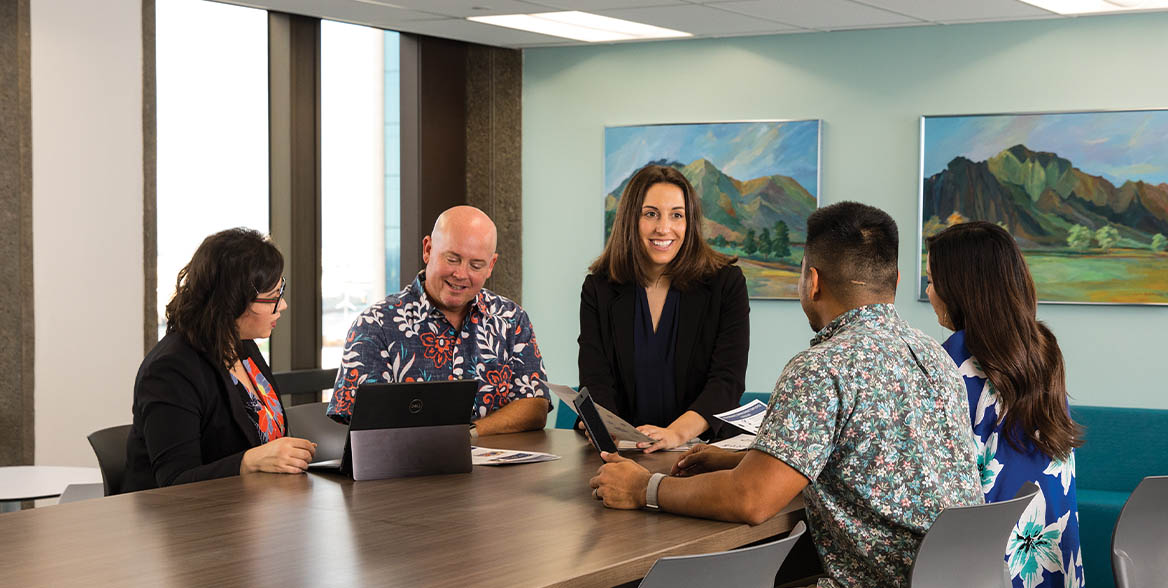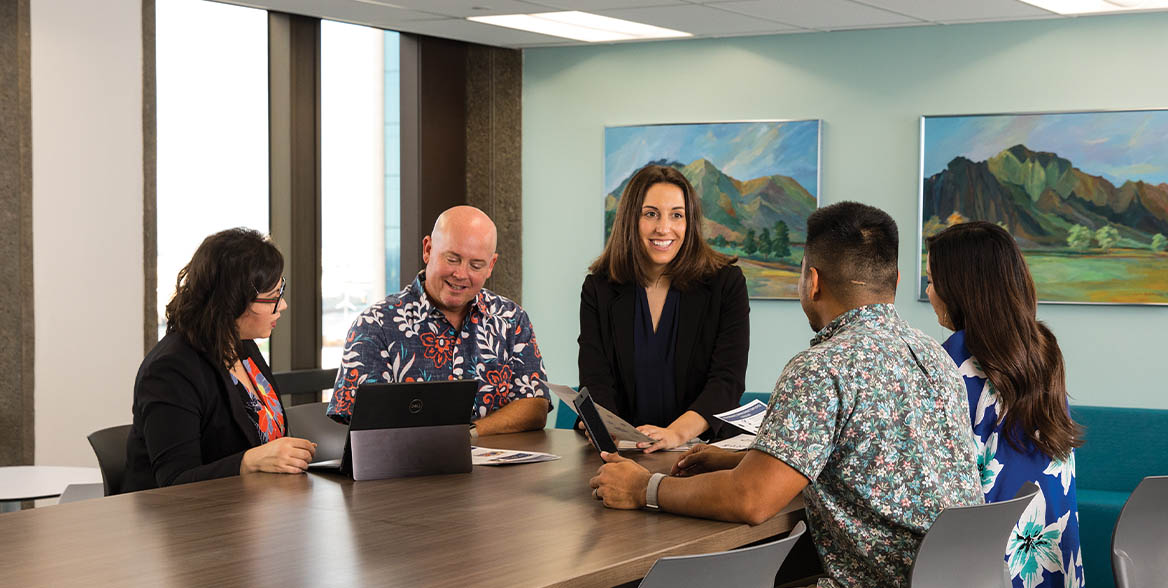 A modern workforce needs a modern workplace. Bank of Hawaii is renovating its downtown Honolulu headquarters, where renovations of all 21 floors will feature open floor plans, collaborative spaces, charging stations, corporate WiFi and laptops and tablets to promote easy collaboration and mobility. Above, corporate trainer Karen Block (center) of People Services leads an informational session to (clockwise) Hayley Musashi, Chris Acacio, Kristen Konishi and Chris Bland on the bank's refreshed Performance Management Process, called Let's Talk Story, in which employees and managers have open discussions about goals, career aspirations and development opportunities.
You're about to exit BOH.com
Links to other sites are provided as a service to you by Bank of Hawaii. These other sites are neither owned nor maintained by Bank of Hawaii. Bank of Hawaii shall not be responsible for the content and/or accuracy of any information contained in these other sites or for the personal or credit card information you provide to these sites.