e-Bankoh® Bill PaySM makes paying your bills easy and convenient. All you need to do is add your payees (individuals or businesses); then you can make a payment from your computer or your mobile device anytime, anywhere!
Consumer
Enroll in Bill Pay for Consumers
For personal banking customers and sole proprietors operating under a Social Security number, log in to e-Bankoh and go to the Bill Pay tab to select an account and enroll online.
Business
Enroll in Bill Pay for Business
For business entities and sole proprietors operating under a Taxpayer Identification Number (TIN), follow the instructions to download, print, sign and mail your enrollment form.
Don't Bother Writing Checks – Use bill pay to send payments to your baby sitter, gardener or contractor with one click.
Make Payments on the Go – Download our mobile app* to schedule, view or cancel payments. Available now for iPhone®, iPad® or AndroidTM devices.
Pay Monthly Bills Faster – Schedule automatic payments for your monthly bills.
Don't Forget a Payment – Sign up for e-Bills and get your bills sent directly to e-Bankoh. Payments can be automatically sent when your bill is due.
Save on Postage – Use bill pay to send a check to your friends and family, anywhere in the U.S. or the U.S. territories.
Avoid Late Fees – Payments are backed by our Payment Guarantee. All late payment fees or penalties on properly scheduled** payments not received by the payment due date will be reimbursed up to $50.
Use Multiple Checking Accounts – You can pay your bills from one or more of your Bank of Hawaii checking accounts.
Easily Add Payees – Add payees or change your payee information at anytime by signing on to your online banking account.
Secure Transactions – Our private, closed-end system encrypts transactions to protect against data interception.
Alerts – Receive email notifications when your payments are sent, when you add or change a payee or when your payments are not sent due to non-sufficient funds (NSF).
e-Bills and Auto Pay – Send your bills directly to your e-Bankoh account so you can see all your bills and make all your payments in one place. Avoid the mess of mail. When you use e-Bills, you can set each bill to be paid automatically.
*Mobile Banking Service requires enrollment in e-Bankoh Online Banking. An internet-enabled device is required to access e-Bankoh Mobile Banking or www.boh.com. Standard data usage fees apply. Please contact your carrier for details. Text messaging fees from your wireless carrier may also apply. Your mobile device must be registered through the Mobile Banking Service enrollment process.
iPhone® and iPad® are a registered trademarks of Apple® Inc., registered in the U.S. and other countries. App Store is a service mark of Apple Inc.
Android TM is a trademark of Google, Inc.
**Payment must be scheduled at least five business days (10 business days for payments to U.S. territories) in advance of due date and not including grace periods.
Requirements and Other Restrictions:
Enrollment in e-Bankoh is required. Allow 7 days for your Bill PaySM enrollment to be processed. Enroll by signing on to your e-Bankoh Online Banking account and clicking on the "Bill Pay" tab, then follow the online instructions.
Allow at least five business days for payments to be received by payees in the U.S. and 10 business days for payments to U.S. territories.
Enroll in e-Bankoh
Don't have an e-Bankoh account yet? Sign up now and start banking at home today.
Make a payment without logging in
If you don't have a Bank of Hawaii checking account, you can safely make payments online. With one-time payments, there's no log in or password and you can pay from any checking or savings account from any bank in the US.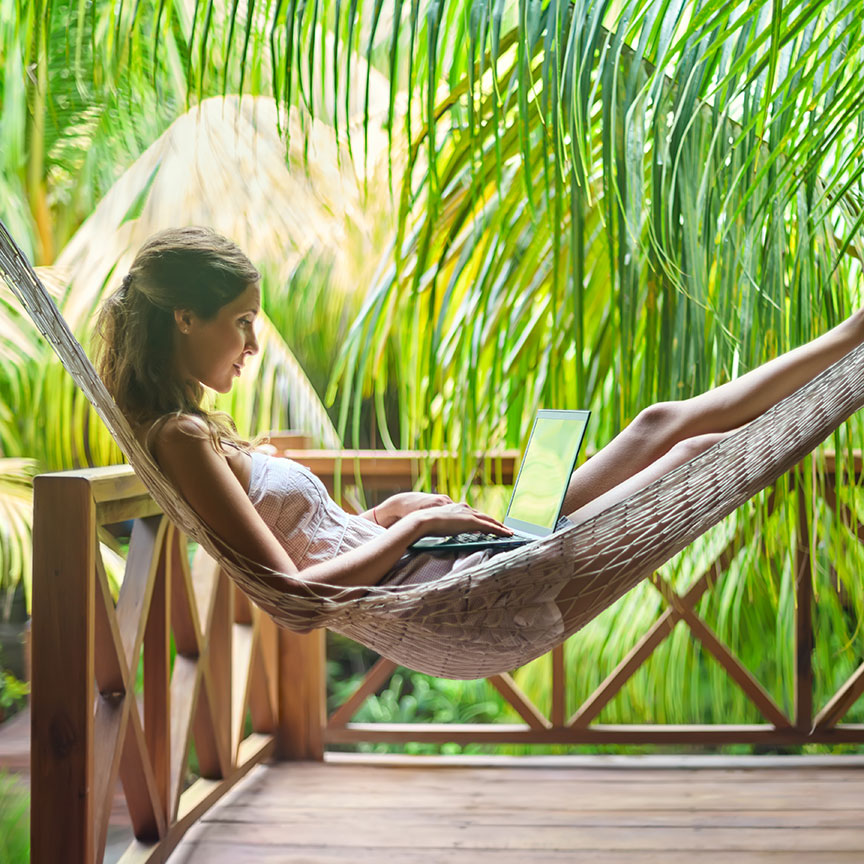 You're about to exit BOH.com
Links to other sites are provided as a service to you by Bank of Hawaii. These other sites are neither owned nor maintained by Bank of Hawaii. Bank of Hawaii shall not be responsible for the content and/or accuracy of any information contained in these other sites or for the personal or credit card information you provide to these sites.