Set it and forget it
Whether it's your first paycheck or a monthly government check, direct deposit is the easiest and fastest way to get paid. You won't need to worry about losing a paper check and you'll get same day access to your funds without stepping foot in a branch.
It's fast
Access your funds on the same day they're deposited
It's safe
You'll never need to worry about checks being misplaced
It's easy
Your funds will automatically be deposited each payday
Setting up your direct deposit is as easy as 1, 2, 3
How to set up direct deposit for your paycheck:
Fill out the form
Check with your employer's payroll department for a copy of their direct deposit sign up form or download the Bank of Hawaii Direct Deposit Form.
Turn it in to your employer
Your employer may also require a voided check with the form. Simply write "VOID" across a blank check and attach it to your form.
Monitor Your Account
Keep an eye out for your first deposit. This may take several weeks to go into effect. Once you see your first deposit, you're all set!
How to set up direct deposit for government benefits such as social security:
Enroll online at https://godirect.gov/gpw/ or call the Social Security Administration tollfree at 1-800-333-1795.
Monitor your account for your first deposit.
Frequently Asked Questions
How quickly will my direct deposit go into effect?
This can take up to one to two pay cycles and will vary by employer.
What if my employer needs a voided check but my EASE account doesn't include check writing?
Download the EASE by Bank of Hawaii direct deposit form here.
How do I find my routing and account number?
Account Number:
You may find your account number on your checks, your account statement, or by calling 808-643-3888 in Hawaii, 1-877-553-2424 in Guam and Saipan, or 1-680-488-3338 in Palau
Bank of Hawaii routing numbers:
State of Hawaii Branches: 121301028
Guam & Saipan Branches 121405018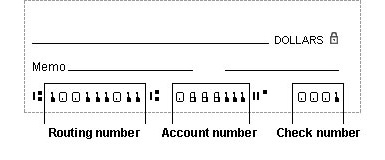 You're about to exit BOH.com
Links to other sites are provided as a service to you by Bank of Hawaii. These other sites are neither owned nor maintained by Bank of Hawaii. Bank of Hawaii shall not be responsible for the content and/or accuracy of any information contained in these other sites or for the personal or credit card information you provide to these sites.