The community is hurting in the wake of COVID-19. There is no question that the pandemic has brought with it financially devastating impacts to families and individual residents across Hawaii.
Given the significant economic hardships experienced by many residents of our state over the past three months, Bank of Hawaii Foundation commissioned Anthology Research to conduct the most comprehensive study thus far taking a deeper look at the real impacts of the pandemic on residents to gain a clear understanding of their feelings, fears and financial hardships related to the virus.
COVID-19 in Hawaii
Facts and Insights
This COVID-19 in Hawaii – Facts and Insights report offers key research findings of our study, with one key takeaway being that Hawaii residents remain very concerned about contracting the virus and cite personal health and the health of members of their households as their top priority.
Concerns about out-of-state visitors bringing the virus to Hawaii is also evident amongst the majority of survey respondents. At the same time, the state's top economists agree that a revival of our overall economy will not be possible without Hawaii's No. 1 industry – tourism – being able to welcome back trans-Pacific travelers to the Hawaiian Islands.
Given this reality, a balanced approach utilizing health facts about the virus, combined with a clear and responsible reopening plan for the state, is critical.
We must all do our part to ensure our residents and communities remain safe while we work together to get Hawaii back on track toward prosperity.


Research Methodology:
A statewide online and telephone survey of full-time Hawaii residents was conducted from May 14 - 22, 2020. A total of 1,096 completed surveys were collected, using a stratified sampling approach by county. The resulting overall margin of error is +/- 3.02% at the 95% level of confidence.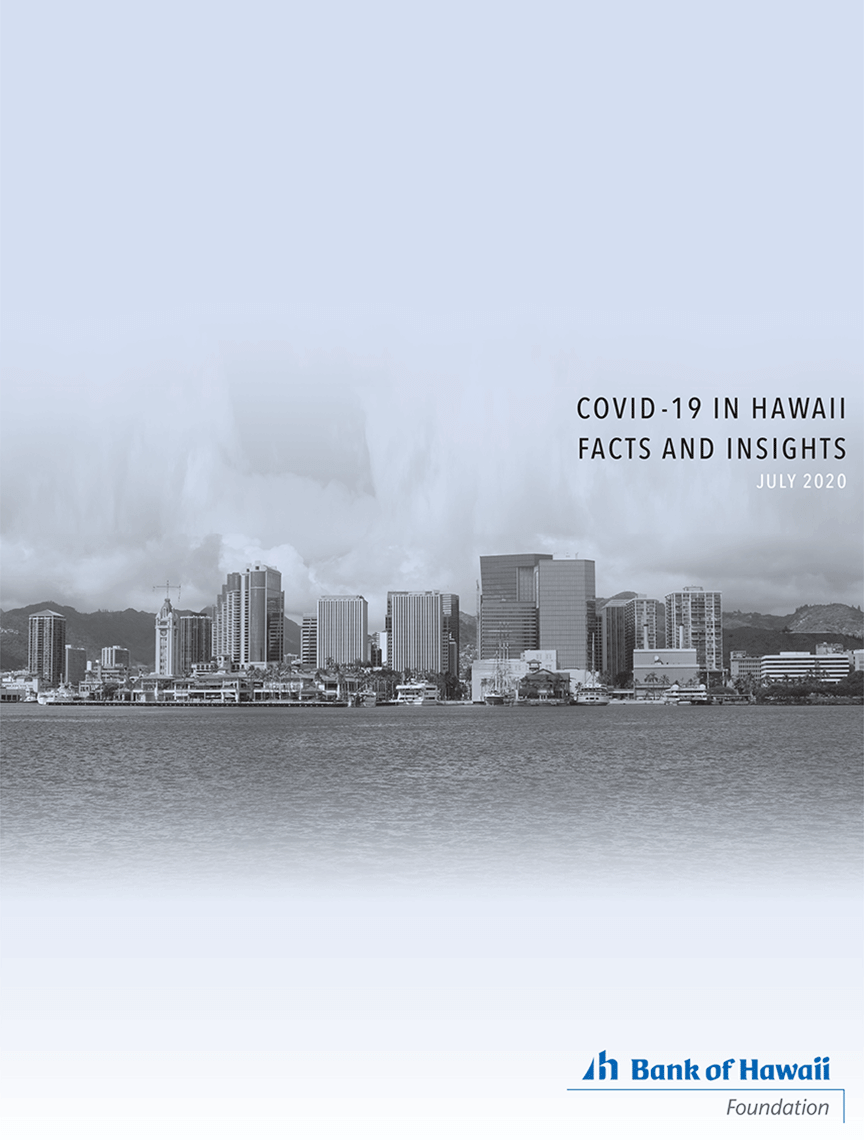 worry about contracting COVID-19
have gone to a local food drive or received help from a food bank
are surviving on savings to augment any declines in income
How we are helping
During the COVID-19 crisis, resilience is something our islands need more than ever. The resilience to lift each other up and, despite great challenges, keep from getting down. The resilience to stay strong and dig deep. That's why Bank of Hawaii Foundation is proud to be a major sponsor of the Hawai'i Resilience Fund, which provides essential health, food and economic assistance to people in our community who have been hardest hit by the COVID-19 crisis.
Areas supported through the Hawaii Resilience Fund:
expanding regional test sites and screenings,
supporting self-quarantine measures, such as home visits,
distribution of food supplies to populations disproportionately impacted by the outbreak.
In addition, our participation in the Paycheck Protection Program resulted in processing over 4,500 applications totaling more than $562 million dollars in approved funding to support local businesses. For consumers, our loan deferment and forbearance programs provided families with financial options to ease their financial burden.
e-Bankoh
Need help? Call 1-888-643-3888
Your privacy
We use cookies to improve your experience on our site, show you personalized content, and analyze our traffic. By continuing to use this site, you agree to our use of cookies as described in our Online Privacy Policy.
You're about to exit BOH.com
Links to other sites are provided as a service to you by Bank of Hawaii. These other sites are neither owned nor maintained by Bank of Hawaii. Bank of Hawaii shall not be responsible for the content and/or accuracy of any information contained in these other sites or for the personal or credit card information you provide to these sites.