Featured Entrepreneur
Big Island Coffee Roasters
Kelleigh Stewart & Brandon von Damitz, Co-founders
Puna, Hawaii Island
Big Island Coffee Roasters is an award-winning Hawaii coffee farm, mill and roaster with premium coffee products from Puna, Kona, Kau, Hamakua, Maui and Oahu. In 2010, an unexpected opportunity arose for the cofounders Kelleigh Stewart and Brandon von Damitz to purchase a small coffee farm in a neglected region of Hawaii. As they integrated themselves into the community of farmers and sampled coffees from around the islands, they were surprised by the variety and regions that are largely overshadowed–they wanted to change that.
Over the next two years, the team taught itself to farm, process and roast coffee. They tested and tasted the differences between coffee processes, cultivars, regions and roast profiles. When they found the methods and profiles that produced good results, they collaborated with neighboring farmers to do the same and began sourcing their coffees as well.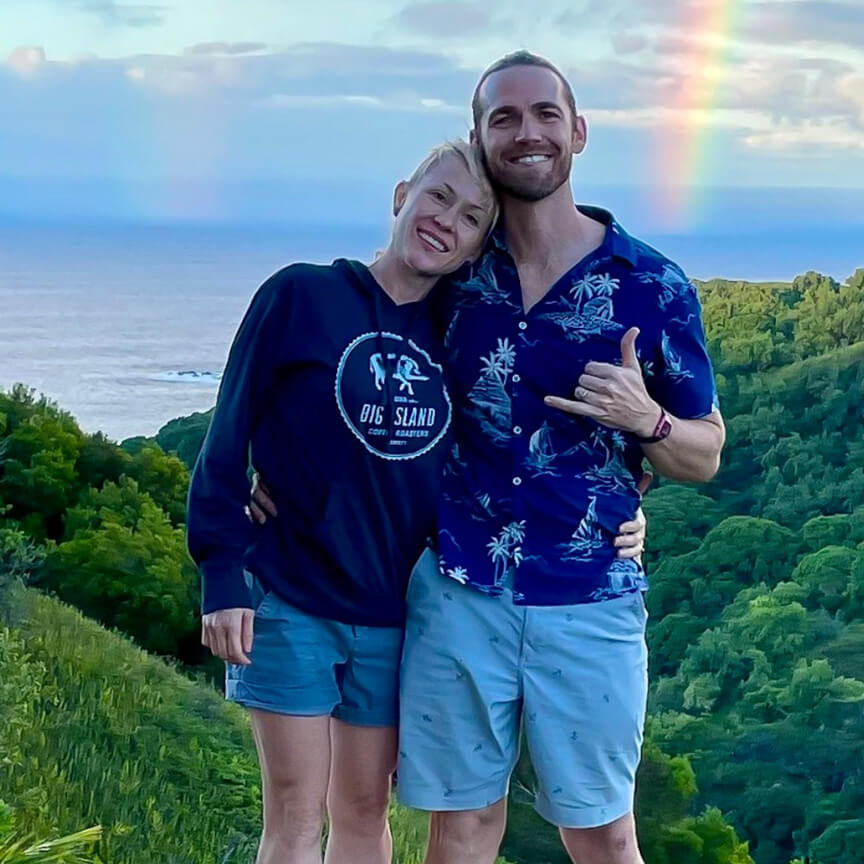 A love for wild and beautiful places brought the dynamic duo to the Big Island. Respect for the terrain and appreciation for the local farmers has kept them there. And their loyal customers have made it possible for small farms like theirs to continue doing what they love to do: growing and roasting Hawaii's great coffees.
They have been recognized for their award-winning Espresso Bites bars made from 100% Hawaiian coffees and 0% chocolate on Good Morning America and even received a Good Food Award!
Since then, Big Island Coffee Roasters has been dedicated to developing and showcasing Hawaii's coffee quality and diversity. They recently introduced their new line of single-serve "instant" Hawaiian & Kona coffees! Even better, these are fully compostable, nitro-sealed and travel-ready.
In their mission to highlight Hawaii's coffee, Big Island Coffee Roasters is working with the Hawaii Coffee Association to work on coffee origin testing.
Origin testing:
BICR is working with the Hawaii Coffee Association to chemically identify the unique "fingerprints" of coffees grown in different regions of Hawaii. Once the database has been compiled, Hawaii coffee industry stakeholders will be able to verify whether a product has been sourced authentically through forensic testing.
The testing is effective at any point in the supply chain - green, roasted, whole bean, ground, etc. - and across different harvest seasons because it analyzes properties inherent to the environment that are passed onto the product.
It's not DNA testing. While DNA testing provides genetic and hereditary information, it doesn't provide environmental or lifecycle information. Through trace element and isotope chemistry, Oritain's testing can create a scatter plot map showing where the coffee came from, even if it's a blend of several nearby regions. For example, a coffee that claims to be 100% Kona might show that it's actually a mix of Kona, Kau, and Kauai coffee.
You're about to exit BOH.com
Links to other sites are provided as a service to you by Bank of Hawaii. These other sites are neither owned nor maintained by Bank of Hawaii. Bank of Hawaii shall not be responsible for the content and/or accuracy of any information contained in these other sites or for the personal or credit card information you provide to these sites.