Our team of professionals will help you develop a loan structure best suited to maximizing your investment in these types of properties.
Short and long term financing options for loans secured by multi-family and apartment buildings of 5 or more units
Solutions for purchase, refinance, or taking cash-out of your property for repairs and renovations, other real estate investments, buy out of partners, or settling estate tax liabilities
Streamlined and simplified financing process
Flexible terms with competitive rates and fee options
Short or long term loans structured to meet your individual cash flow needs
Helping land owners maximize benefits under Bill 7
Multi-family property ownership can be a great investment opportunity and fulfilling way to provide the people of our islands an affordable place to call home. Bank of Hawaii's team of professionals has the wealth of experience and knowledge to serve as your resource and guide through every step of the process. Whether you're a first time developer or have prior development experience, take advantage of this limited time opportunity now before this pilot program expires!
Construction-to-permanent loan for apartment buildings which may include land acquisition financing
Develop affordable rentals with five or more units on lots up to 20,000 square feet
Competitive and flexible rates and terms under this program, with fixed rates of up to 10 years and reduced origination fees
Lower equity requirements relative to cost of your project to keep more money in your pocket
Program tailored for the individuals with varying levels of housing development experience, from novice to experts in the industry
Work with a team of experts with years of experience in affordable housing developments around the state to guide you from start to finish
About Bill 7:
For many in our community, there are too few affordable places available to call home. Fortunately, Bill 7 legislation helps to address our island's need for affordable rental housing. Whether you are a new multi-family investor or an established commercial property investor, Bank of Hawaii's team of experts will help small property owners and developers harness the Bill 7 legislation to meet the community's affordable housing needs.
Income Limits & Maximum Rents:
At least 80 percent of units in your new development must be rented to tenants earning 100 percent of Area Median Income (AMI) or less, at no more than 100 percent AMI rents, as determined by the Department of Housing and Urban Development.
Benefits of Bill 7
90-day expedited permitting process
Increased density (up to 80% of lot)
Potential property tax waiver for 10 years
Waiver of wastewater hookup fee
Waiver of park dedication fee
Parking and elevator requirements waived
Your Guide to Bill 7
Bill 7 gives incentives to property owners who develop affordable rental housing on Oahu—everything from tax breaks to exemptions from building code requirements. If you own mixed-use property on Oahu, Bill 7 could be a fast track to make improvements and boost its value. Download our e-book to discover how you could benefit from this program and how to get started.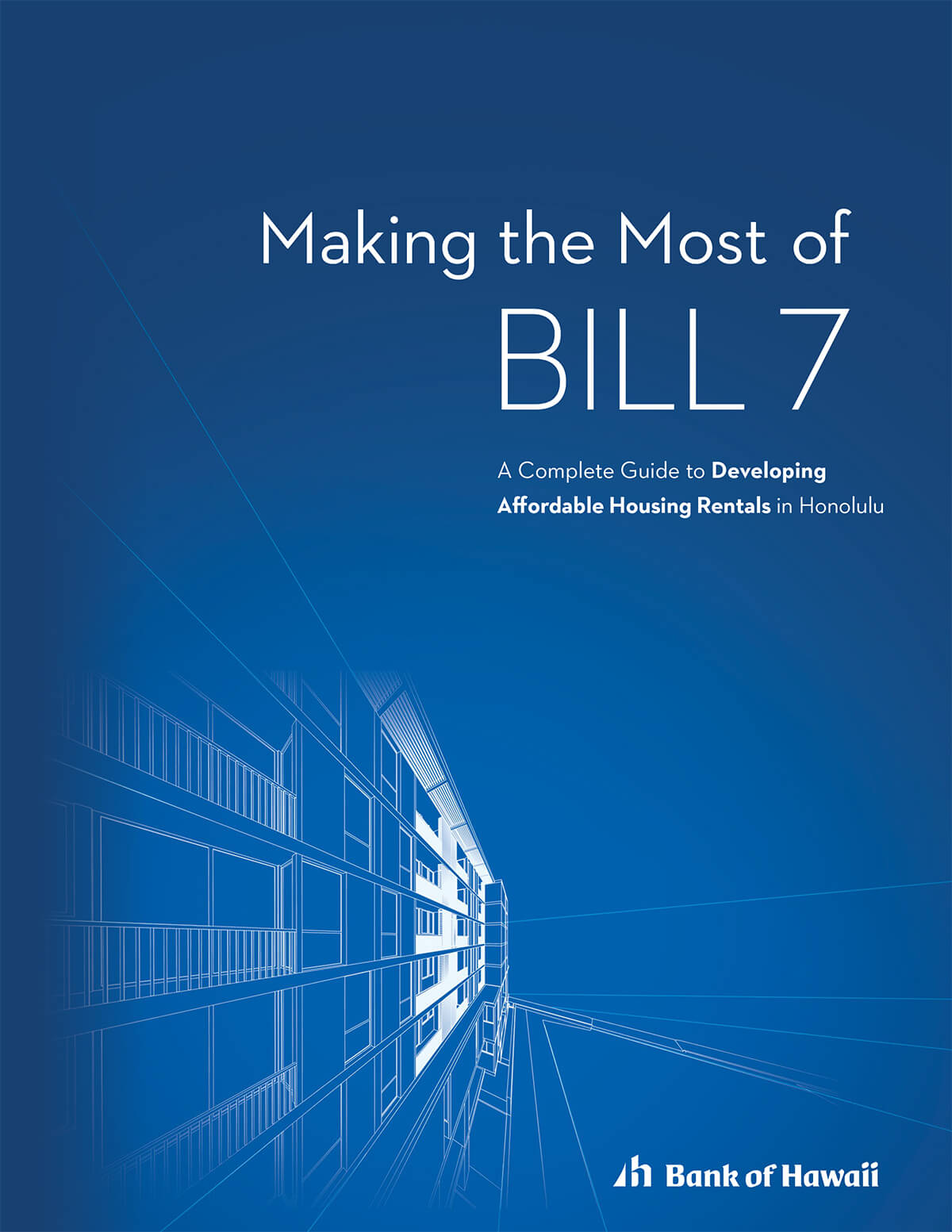 You're about to exit BOH.com
Links to other sites are provided as a service to you by Bank of Hawaii. These other sites are neither owned nor maintained by Bank of Hawaii. Bank of Hawaii shall not be responsible for the content and/or accuracy of any information contained in these other sites or for the personal or credit card information you provide to these sites.