Insights & Stories
Leading Women: Danene Lunn on Finding Success in Hawaii Fashion
Reading time: 7 Minutes
March 13th, 2021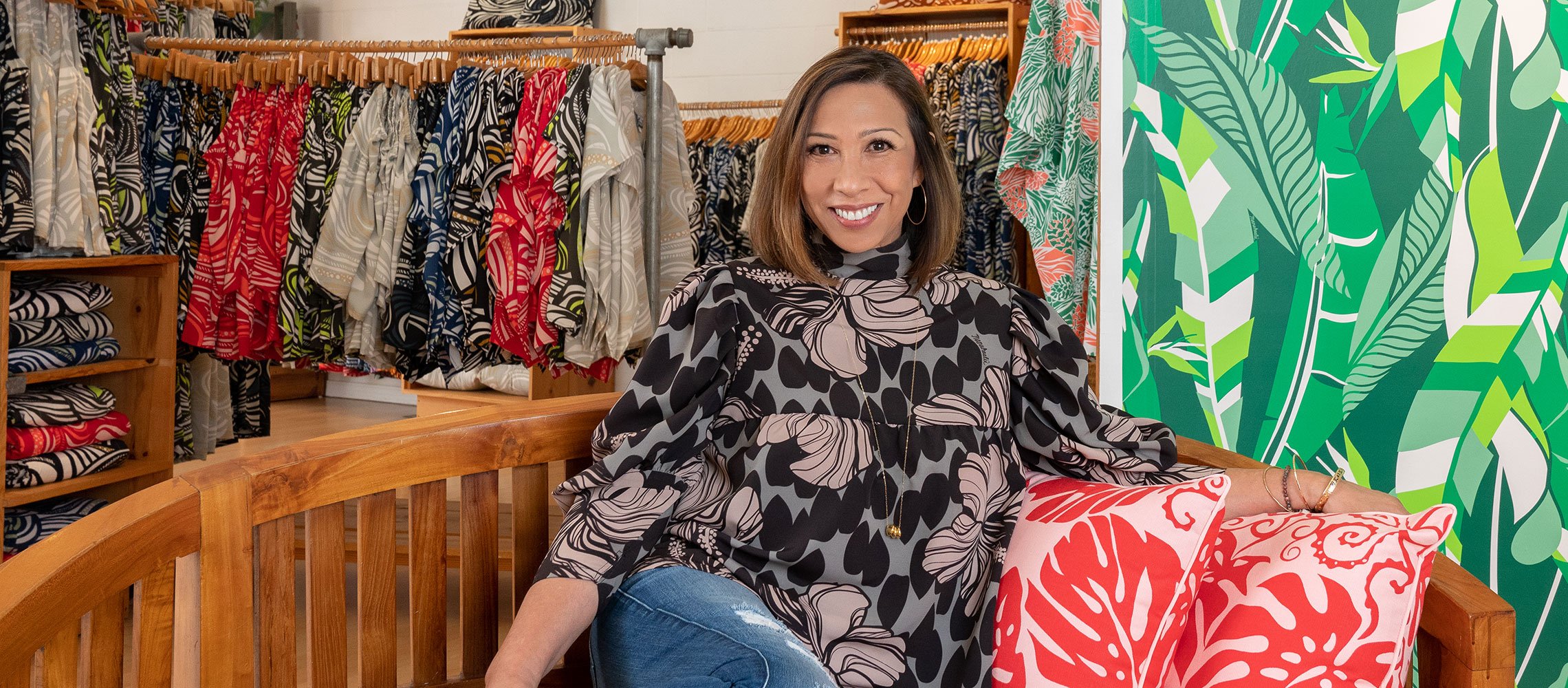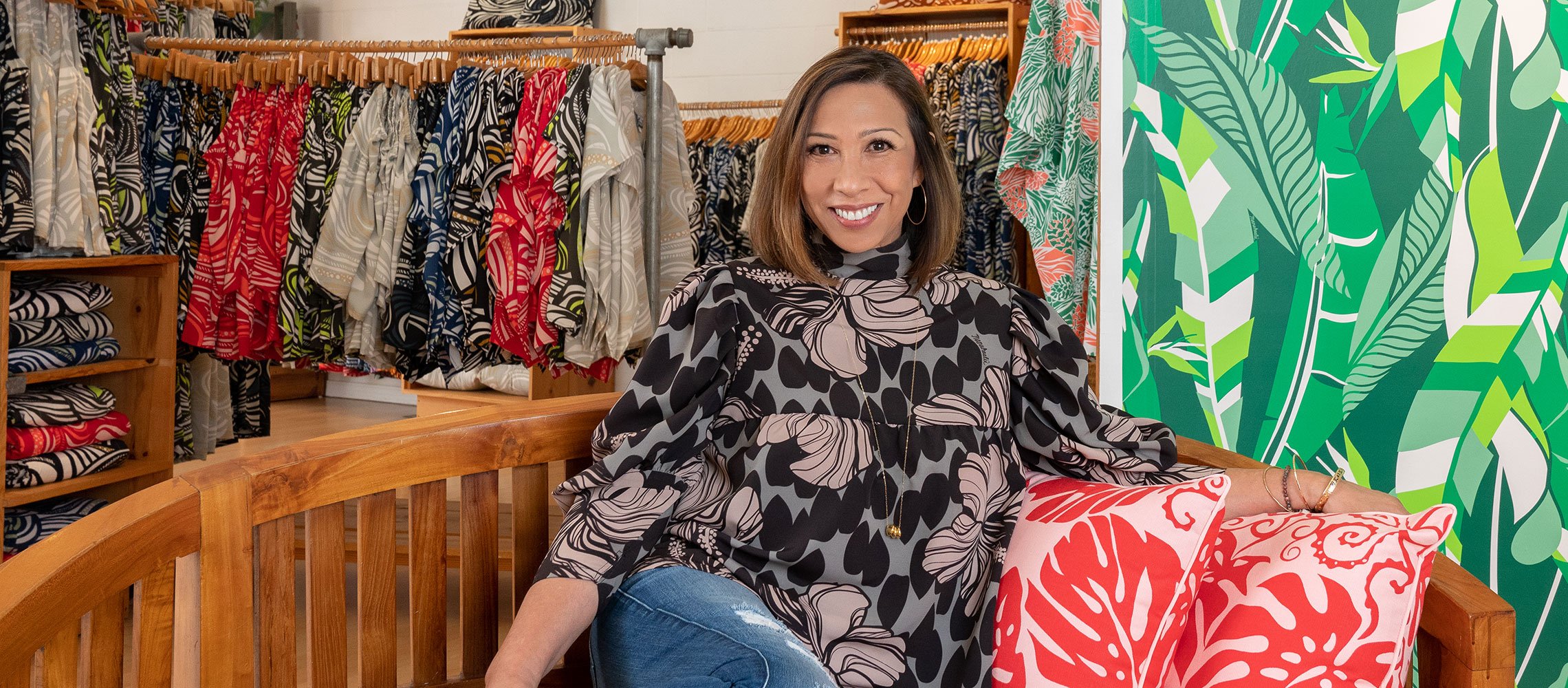 Danene Lunn remembers the first time she applied for a business loan. It was the 1980s, and the loan officer asked her to bring her husband next time, to co-sign. "I'll always remember that," Lunn says. "It had nothing to do with my business license, my work or the amount of money I had or needed. They just wanted to see my husband."
That incident is just one of many challenges she's faced as the owner of Manuhealiʻi, an influential Hawaiʻi brand selling contemporary aloha-inspired wear and accessories. In her 36 years in business, Lunn says she has learned to be confident in both her creative and her financial decisions. But she's also repeatedly encountered ethnic and gender stereotyping.
"People made assumptions because of the way I look as Hawaiian-Chinese, especially back then," she says. "During our home purchase, they listed me on the application as 'housewife with a cottage industry,'" she says. "That was a hard pill to swallow! I had built up my self-esteem in my business, and to see someone pass me off as a housewife rather than a business owner ... well, it was a good lesson."
Lunn has been vindicated by Manuhealiʻi's success as a leading local boutique with major sway in Hawaiʻi's fashion scene, re-shaping the old-school image of aloha wear and making it accessible for all ages.
And the business continues to evolve. What started out in 1985 as selling T-shirts and tote bags at craft fairs has grown into two brick-and-mortar stores in Kailua and Punahou, an online shop and a monthly new collection of womenswear, accessories, active wear, childrenswear and, soon, home goods.
A Lineage of Creativity
While Lunn has faced stereotyping because of her Hawaiian and Chinese identity, her background has also been a source of personal inspiration.
Creative energy has always been in her blood, Lunn says, noting she comes from a long line of creative Chinese women. "You make something from nothing, or you make something new from something else. That's just how I grew up," she says. She was inspired to pursue fashion by her grandmother, who worked in retail for womenswear, and her mother, who was a fabric representative, selling fabric for local textile companies during the 1970s.
The oldest of four siblings, Lunn moved to Hawaiʻi from California at six years old and was already a fashion devotee in elementary school. She remembers being the only girl in class wearing cute boots; everyone else was wearing slippers. "I was a seven-year-old giving fashion advice to my peers, like 'Oh, that mini skirt would look so much better with boots!'"
She graduated high school from St. Andrews Priory and studied fashion design at Honolulu Community College. There, she learned everything from sketching patterns to merchandising. It was during her final year at HCC when she started Manuhealiʻi, often coming in early and staying late to make use of the school's industrial sewing machines and cut tables.
Bringing Cultural Stories to Light
One of Lunn's motivations for founding her own clothing company was that the local fashion industry at the time was sorely lacking in Hawaiʻi-inspired clothes that a younger generation would want to wear. "As a 20-year-old, I wanted to wear something that would speak to my culture and lifestyle, but all I could find were muʻu muʻu or something for an older generation," Lunn says. "I wanted to design something women my age would wear," she says. Decades later, she's still designing for all ages, drawing inspiration from her children and grandchildren.
Another design ethos that has helped Manuhealiʻi stand the test of time is Lunn's use of cultural elements in her work. She says that much of her work is inspired by hula, music and color.
The intricate patterns that grace Manuhealiʻi's clothes are inspired from Hawai'i stories and cultural practices that Lunn believes need to be preserved. Her designs draw on details from nature, too, such as a bold kalo print dress, a playful monstera romper or an intricate opihi-shell aloha shirt.
"When I come up with ideas for each collection, I think of things that are important to us. Let's celebrate this design with intention, celebrating our culture and family. Those are important to me," she says. "What do we need to see more respect for? What do we need to bring light to?"
In one collection, Ke'ala I Kahiki, for example, Lunn chose to highlight the Hōkūleʻa and its sister canoe Hikianalia, paying homage to the Native Hawaiians' ancient methods of navigation that brought them successfully to this Island chain in the middle of the Pacific. "It was such a good way to honor the past and spread aloha," she says.
A Family Business
Many working mothers find it challenging to balance family and career, sacrificing time with one for the other. But Lunn found a solution for herself by bridging the two worlds.
Her husband Pono and son Lōkahi run graphic design and create Manuhealiʻi's unique prints, bringing Lunn's creative ideas to life. Her oldest son Laʻamea handles the accounting and inventory, and middle son Keaka and his wife Randie run the website and social media.
"I'm especially proud that every year we've been able to grow and balance our business goals with our family life," she says. "I've never had to miss out on family moments—that was always important."
That's not to say there hasn't been a lot of hard work and sacrifice along the way. Even when her children were young, she learned to make do with her limited time. "That was my upbringing: You did what you needed to do to feed your children," she says. Sleep was always optional, especially when she had just started the business and was managing college, too.
Lunn would wake up at 11:30 p.m. to work until the early morning hours, cutting and designing material on the kitchen table. Working after everyone went to bed freed time during the day to pick up kids and help with homework.
The long hours and intense efforts have paid off, and today Danene wears the title of business owner and boss proudly. "I've always been raised with the idea that women can do anything a man can, if not better," says Lunn. "Women need to build each other up; that's how we get strong."
She's learned over the course of her career to express herself firmly and gracefully, even during meetings that may feel hostile. "We women need to express our ideas more and we need to express it as truth. Honestly, the women I hang out with, we believe that you do what you gotta do, and that it's going to get done. It's a hopeful perspective. You just have to show others that your hope is stronger than other people's ability to put you down."
Thriving in a Time of COVID
Lunn credits the brand's longevity—even during a pandemic—to her family's ability to evolve and adapt. Her children had fortunately set up a strong online presence for Manuhealiʻi before the arrival of COVID-19 in Hawaiʻi, which helped them stay afloat when the pandemic forced stores to shut down.
Lunn also updated her designs to fit the times. Since factories worldwide slowed down production of buttons, elastics, zippers and other notions, Lunn re-designed her garments to incorporate fewer of these elements and focused on creating comfortable apparel customers could wear while working or studying at home. "Luckily for us, we've been able to thrive because most of our manufacturing is done locally. I'm very proud that we're still busy and able to keep our business," she says.
What does the future hold for Lunn? "Right now, we're trying to figure out a succession plan and have my kids eventually take over," she says. As far as personal goals go, she feels she's already achieved them all. "As a designer, this is my life," Lunn says. "I love that I can work with my family and with my husband, every day. This is the life I've intended and designed, and I want to continue sharing our inspiration and connecting with our customers."
You're about to exit BOH.com
Links to other sites are provided as a service to you by Bank of Hawaii. These other sites are neither owned nor maintained by Bank of Hawaii. Bank of Hawaii shall not be responsible for the content and/or accuracy of any information contained in these other sites or for the personal or credit card information you provide to these sites.