Insights & Stories
Kumu Micah Kamohoalii produces 2022 Goodwill Goes GLAM Fashion Show
Reading time: 8 Minutes
August 11th, 2022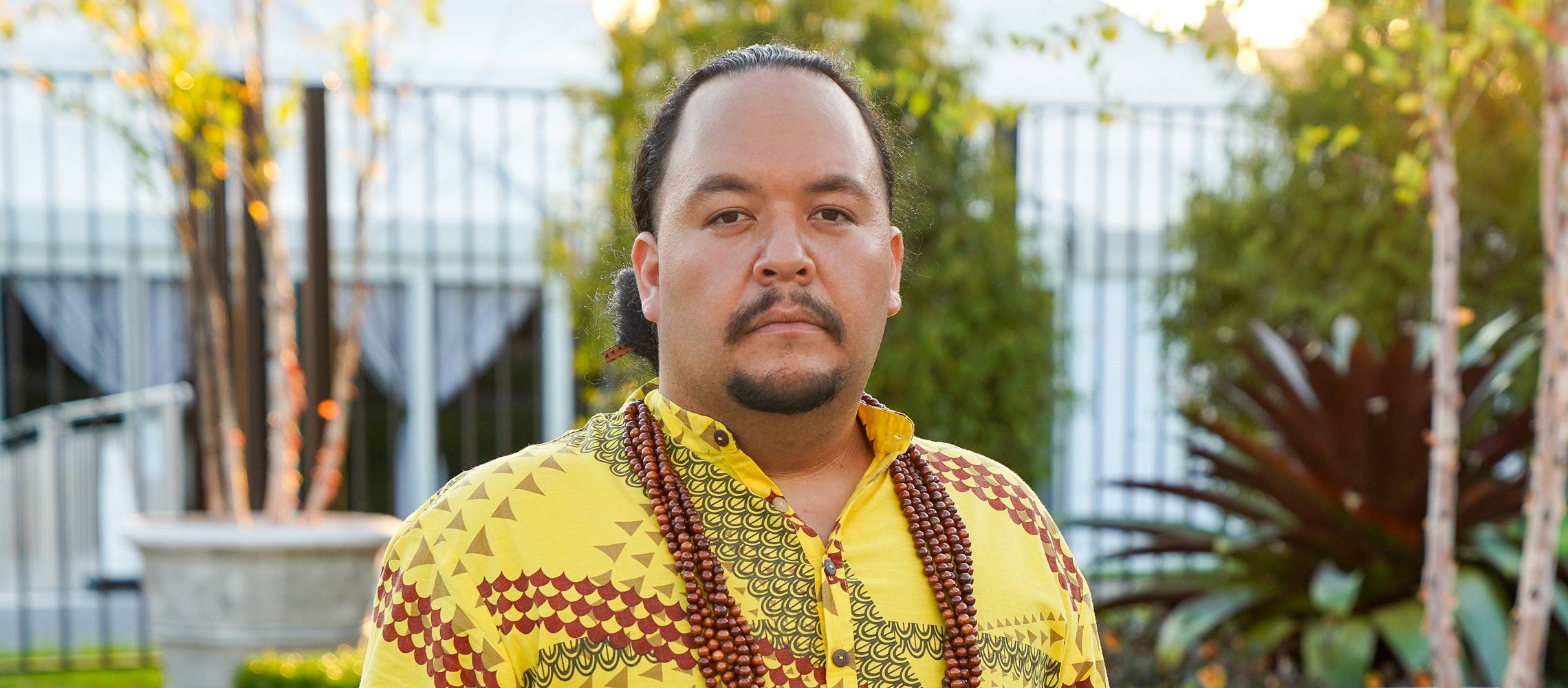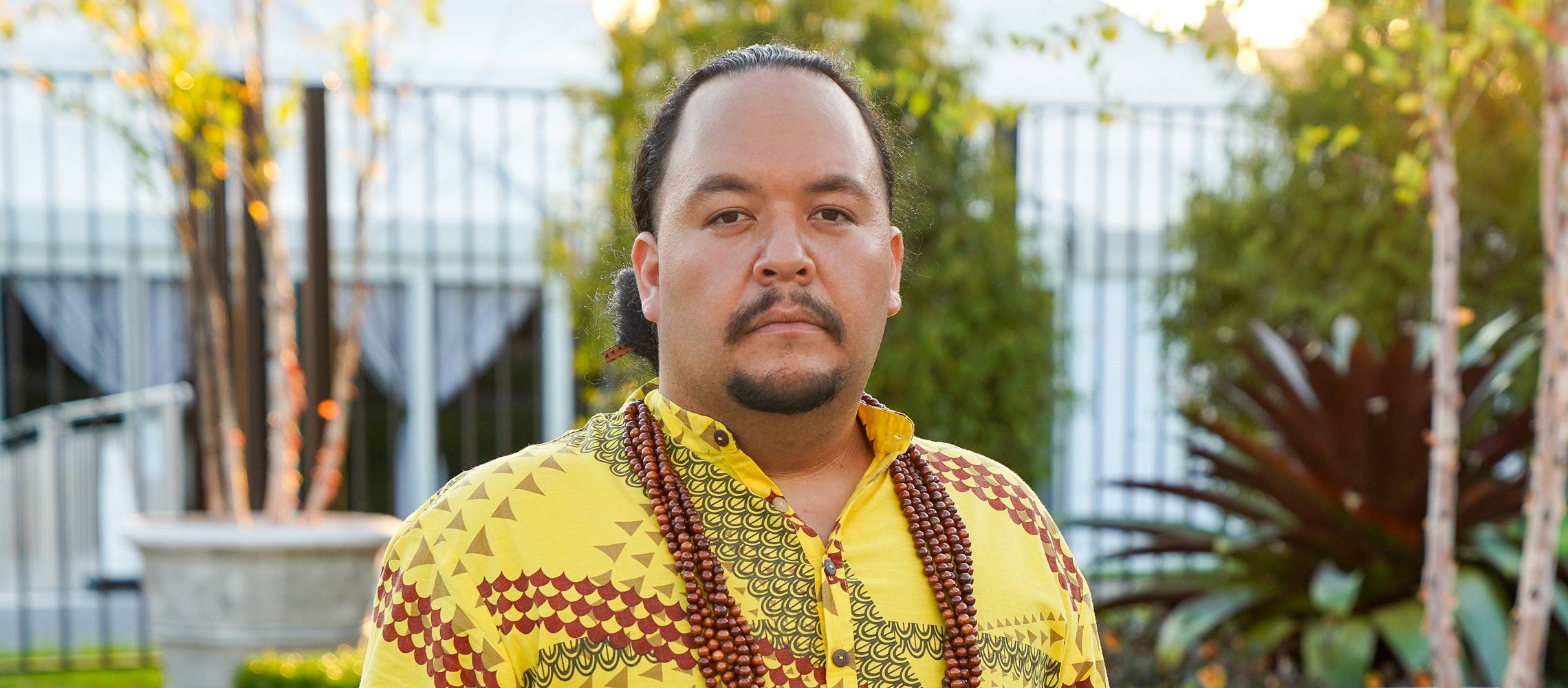 This is the Micah Kamohoalii moment. The kapa artist, kumu hula, and fashion designer has been creating one-of-a-kind garments that have long been sought after by fans across Hawaii. Now, he's gaining national and international attention after appearing at New York Fashion Week.
"At first it was weird for me, because we don't do anything for the recognition," he recalls of the invitation to present his collection last year. "Then I said, Ok, I'll do it for Hawaii."
Kamohoalii has been selected as the designer to produce this year's Goodwill Goes GLAM fashion show. He's the first neighbor island based designer to lead the event.
Goodwill Goes GLAM returns in-person this year from Aug. 18-20 at the Blaisdell Exhibition Hall. It includes the GLAM! Gala and fashion show on Aug 18, as well as a VIP sale. The event is a fundraiser for Goodwill Hawaii, with all proceeds staying in the islands to help people who are looking for jobs through education, training, and support.
A TV special of the fashion show event will be broadcast Sept. 18 on KFVE-TV and Sept. 25 on KGMB-TV. The Bank of Hawaii Foundation has been the presenting sponsor since the event's inception in 2012.
For Kamohoalii, the invitation to produce the show came as a surprise.
"I said what? 'Goodwill Goes GLAM'?" he laughs. "I never heard of it before because I live on Hawaii Island."
But when he learned more about it, he was excited to take part. His chosen theme is "The Art of the Holoku."
Holoku are stately, European-style gowns first popularized by women of the Hawaiian monarchy and royal court. They feature a full-length silhouette with a long train, and often had full sleeves and a yoke. Traditionally they were made from rich fabrics like velvet and taffeta. "It's a beautiful, Hawaiian regal look," he says.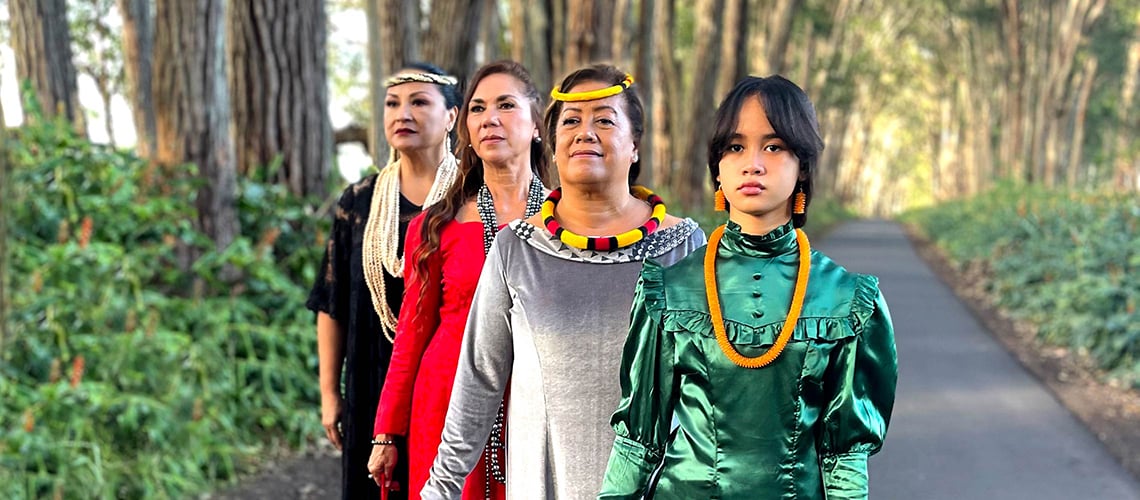 He recalls falling in love with the style as a child, watching his grandmother and aunts dress in their holoku to attend formal balls and fundraising galas.
Years later when he was asked to organize a fundraiser for a local scholarship fund, he took inspiration from his grandmother and decided to make it a holoku ball.
However, his excitement was dimmed when only one person showed up in holoku attire and Kamohoalii so generously gave that person all the prizes. Friends told him they didn't own holoku or know where to find them.
"I was like, uh, I guess that means I'm going to have to make dresses for everybody," he says with a laugh.
Kamohoalii scoured Goodwill stores across Hawai'i Island, Oahu, California, and Las Vegas in search of wedding dresses and other vintage gowns. Then he set about transforming them into holoku -- making alterations, adding embellishments, and dying them vibrant, rich colors fit for royalty.
He ended up creating around 50 dresses which he rented out for the ball, with the money being added to the scholarship fund, and the ball was so popular it became a yearly event.
Years later, Kamohoalii was getting ready to retire that original collection of dresses when Goodwill Goes GLAM called and asked him to produce the show and come up with a theme. A lightbulb went off.
"I said, 'How about the Art of the Holoku' he says. "They said, 'Nobody's done that, that sounds fabulous.' I said, 'Great, I got all my dresses from Goodwill already!'"
For the fashion show, which traditionally features designs created from thrifted pieces, Kamohoalii plans to use many of those original dresses, "and just glam them all up." He'll be restyling them to create new looks, including modifying some of the original fabric by adding touches of his signature, kapa-inspired prints.
"I'm excited," he says. "It's about the art of dressing in royal fashion."
Kamohoalii says his inspiration as a fashion designer is rooted in his family's legacy as kapa makers.
"That's how my clothing started," he recalls.
He remembers learning from his grandparents about how to harvest and prepare wauke, pound it into kapa, and shape it into garments. They showed him how to dye sheets of kapa a rainbow of colors using natural ingredients like roots, leaves, and berries, and how to carve stamps into bamboo slats and press them into the material to make prints with natural dyes.
A key lesson was that certain prints, like the triangle design that represents their family's identity and ancestral connection with the shark god of the same name, were spiritually significant and shouldn't be used casually.
"They told us, you can't just print anything just because it looks cool," he says. "It tells a story, and you can't just tell anybody's story, you have to tell your own."
Kamohoalii's career as a fashion designer took off when he created a couture kapa gown for his cousin Kainani Kahaunaele to wear to the 2011 Na Hoku Hanohano Awards.
"Everyone was like, can you make more? Can I have a suit? Can I have a jacket?" he says.
Knowing he couldn't make enough kapa to keep up with the requests, he began hand-printing kapa-inspired designs on cloth, and selling handmade, one-of-a-kind garments. After more than a decade doing everything by hand, he finally decided to start having clothes manufactured to meet demand.
Then came the call from New York Fashion Week. With the show, which featured local models of all ages, shapes and sizes, and drew national attention, Kamohoalii made a dramatic entrance to the world stage.
"We got a standing ovation," he recalls. "When we got off the stage, we were crying. It blew open the doors. It was nuts."
While Kamohoalii initially hesitated to do the show because it felt "selfish," in the end he said it was an honor to represent Hawai'i and empower other local designers to dream big.
For his next move, the designer will be taking his creations to Europe, with shows in the London, Paris, and Milan fashion weeks this fall. Kamohoalii says his inspiration for the shows will be the historical relationship between the Hawaiian monarchy and the royal families of Europe. Designs will feature styles like a classic London trench coat ensemble created with traditional kapa prints. Dezigns by Kamohoalii has retail locations at Windward Mall and Pearlridge Center, for more information, please visit Dezigns by Kamohoalii.
"I'm serving them their own fashion -- in our fabric," he says.
You're about to exit BOH.com
Links to other sites are provided as a service to you by Bank of Hawaii. These other sites are neither owned nor maintained by Bank of Hawaii. Bank of Hawaii shall not be responsible for the content and/or accuracy of any information contained in these other sites or for the personal or credit card information you provide to these sites.