Year in Review
Steering a Course to a Resilient Recovery
There is no denying that every aspect of life has been affected by the COVID-19 pandemic. It has brought about immense change, which, in some ways, has been beneficial. While we are still navigating uncertainties, there are also clear opportunities to chart a path and help empower our employees, customers and community to a successful future.
During this unprecedented time, Bank of Hawaii employees have embraced new skills that have improved the way we operate. Our experience in serving generations of Hawaii's people combined with innovative banking solutions allows us to explore and develop new opportunities to help improve lives.
Our growth helps fuel a growing island economy. That's why we work alongside our stakeholders—colleagues, customers, shareholders and community—to advance and accelerate positive long-term change, united in the certainty that success can and must be mutual. At our core, it's the people and organizations we work with every day who keep us focused on responding to change—and who partner with us to create it.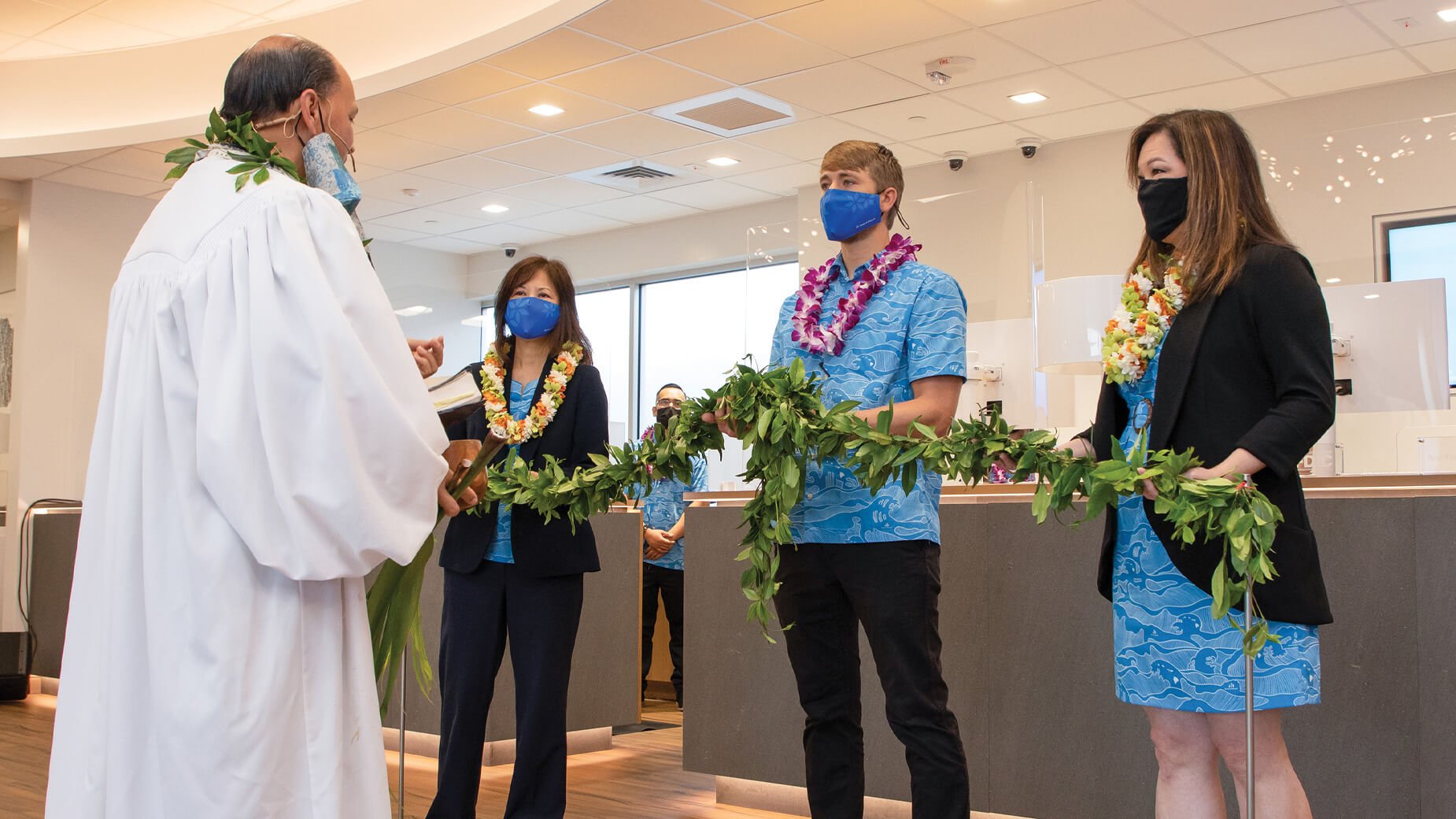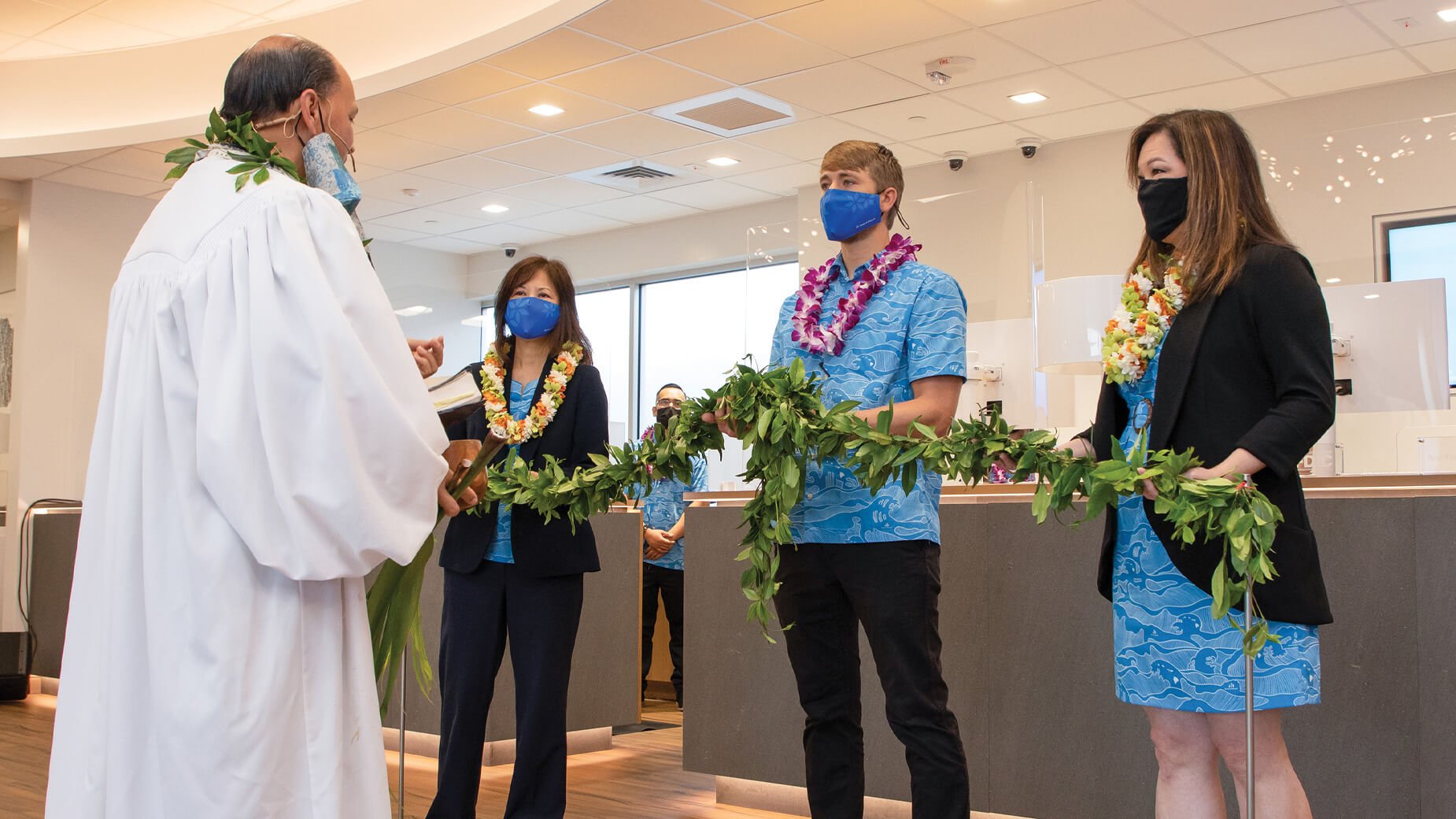 Kahu Kordell Kekoa blesses BOH's new Mililani Branch with Sr. EVP of Branch Banking Jill Higa, Mililani Branch Manager Matt Nealis and Sr. EVP of Consumer Banking Group Dana Takushi.
Safety First During COVID-19
Health and safety remain the top priorities at Bank of Hawaii. In 2021, BOH extended existing protocols established at the start of the pandemic to keep employees and customers safe. We continued to follow guidelines for mask wearing and social distancing in our facilities and branches, retained plexiglass shields at desks and teller stations, and upgraded doors to become hands-free. We also continued to reserve specific times at our branches to serve kupuna and other vulnerable customers, along with their caregivers.
As providers of essential services, our employees were among the first to become eligible to receive vaccines. Prompted by an alarming increase in COVID-19 cases during the summer, BOH now requires employees to provide proof of vaccination or undergo weekly COVID-19 testing. BOH covers the cost for unvaccinated employees opting for weekly testing.
Unwavering Financial Support
Bank of Hawaii continued its steadfast financial support to help customers and businesses weather the economic challenges of the pandemic.
In 2021, BOH participated in the second round of the Small Business Administration's Paycheck Protection Program (PPP). The expertise and diligence of our PPP team enabled us to process more than 3,400 PPP loans totaling over $287 million in 2021. The combined BOH PPP loans processed in 2020 and 2021 were almost 8,000 loans totaling over $830 million.
By the end of 2021, BOH had processed more than 7,500 PPP loan forgiveness applications totaling more than $700 million in federal funding through this special program to assist Hawaii businesses.
Specialized Loan Assistance
Bank of Hawaii's focus is to maintain long-term relationships with our customers and provide relevant financial services as their needs change. So, when customers experienced financial hardships related to COVID-19, we created an emergency loan program for a wide array of products, including residential mortgages, home equity credit lines, auto loans and installment loans. This loan program was initiated at the beginning of the pandemic and offered special payment deferments from March 2020 through June 2021—far longer than the typical 90 days offered in our marketplace. In addition, we offered loan deferrals to our commercial clients, which helped these customers for up to 18 months, compared to the usual six months in our market. These programs supported a variety of local business owners, including landlords who were able to support their tenants.
Transforming Customer Experience (CX)
Today's customers have more choices than ever before. As the digital transformation of banking services continues to surge, Bank of Hawaii remains committed to developing new products and services as well as new ways to deliver them to ensure convenience and accessibility for our customers.
To better understand our customers' perspectives, Bank of Hawaii invested in gathering first-hand feedback at interaction touchpoints that included in-person, digital and telephone interactions. Our Customer Experience (CX) initiative was launched at the end of 2020 after a year of analyzing feedback and extensive employee training.
In 2021, we continued gathering feedback via more than 20,000 surveys that identified opportunities for future growth and service improvements, with our employees coming together to design those solutions. We plan to continue transforming customer experiences so interactions are natural, useful and personalized to anticipate unmet customer needs.
Improving Business Operations Through Digitalization
As we improve how we connect with our customers through our CX initiative, we also look for opportunities to improve our operations overall. By focusing on operational excellence, we have found ways to reduce waste, improve quality and optimize the way we work together to provide long-term value to our customers.
Operational excellence includes digitizing our processes not only to create better services and products for our customers, but also to create more efficiency in our daily workflow. In 2020, as more employees worked from home and fewer came into the office to retrieve mail, a BOH team set up a new digital system within weeks to deliver mail to inboxes.
In 2021, more than 66,000 pieces of mail were scanned and emailed directly to the intended recipients. Because of the improved delivery time, employees were able to take appropriate action more efficiently. Confidential materials are identified, safeguarded and delivered utilizing secure measures.
Investing in Call Center Operations
Our Call Center continues to be one of our essential customer service touchpoints. In 2021, we began exploring new ways to improve customer call center experiences. The goal was to better integrate Call Center services with our digital and branch services in a seamless partnership. To accomplish this, we increased staffing, updated training, streamlined processes and invigorated our management and team engagement efforts. This investment has decreased customer wait times by 64% just from May through October 2021, resulting in an average wait time of less than five minutes in the fourth quarter.
Our Call Center will continue implementing new activities and training to empower agents to provide personalized and timely support in solving customer concerns and providing other improved customer experiences.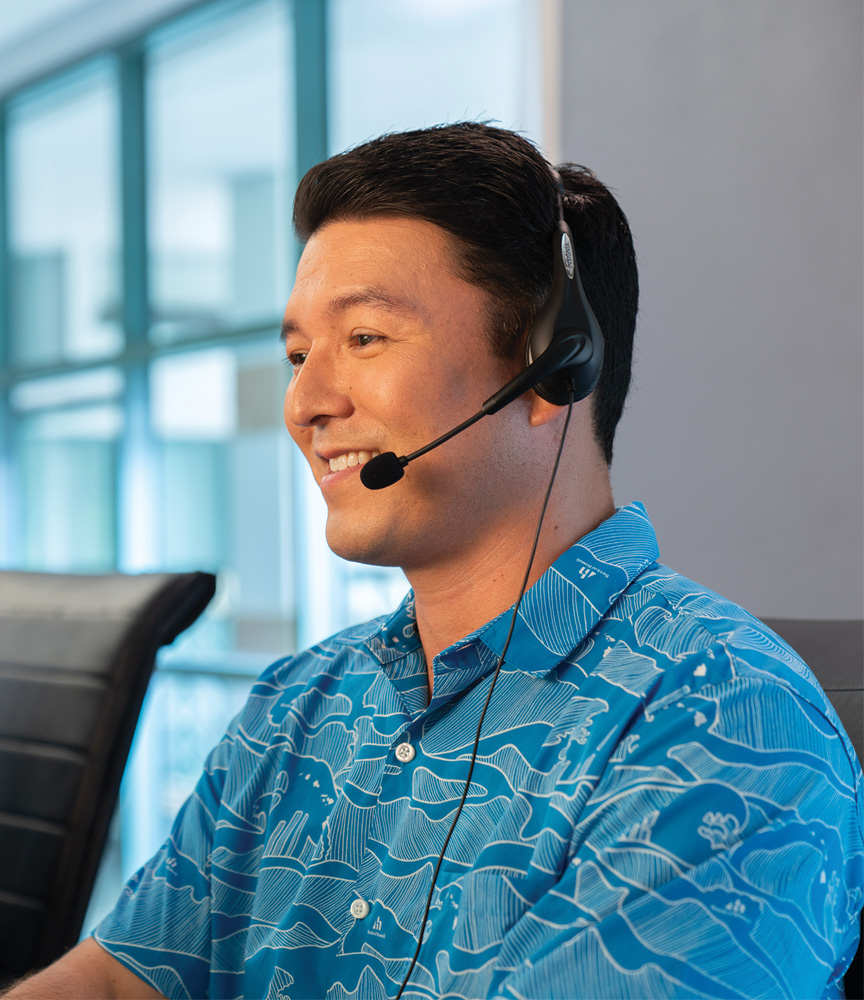 Branches Continue to Transform in a Modern World
As customers choose to use digital options for more of their banking services, our branches continue to provide valuable opportunities to create more connections with customers and enhance their experience.
At the start of the pandemic, we launched Bank by Appointment to facilitate in-branch interactions and provide customers an option for a dedicated time and location for their banking needs. The online system enables customers to book an inperson or telephone appointment at a location and time that is most convenient for them. Appointments can be made with specialists in a wide range of banking services for The Private Bank, Trust, Bankoh Investment Services Inc., mortgages, merchant services, commercial real estate and digital sales.
These dedicated appointment times eliminate the need to stand in line for specialized services and provide a personalized and more efficient banking experience. In 2021, more than 25,000 appointments were booked, and about 1,700 were mortgagerelated.
Continued Investment in Branch of Tomorrow
Bank of Hawaii's Mililani Branch opened on March 22, 2021. The new Mililani Branch is located in the Town Center of Mililani and replaces the former branch in Mililani Shopping Center. It includes special features, such as enhanced air quality systems, intended to keep employees and customers safe throughout the pandemic and beyond. It also provides improved energy efficiencies and upgraded technology (including free Wi-Fi and easy-deposit ATMs). Bank of Hawaii has been serving the Mililani community since opening its first branch in the area in May 1970.
The new Waialae-Kahala Banking Center opened on May 3, 2021. The branch is located on the first floor of the newly constructed three-story building and features our Branch of Tomorrow upgrades. The second and third floors opened on Aug. 30, 2021, with the second floor housing The Private Bank offices and the third floor containing conference rooms and office spaces. Bank of Hawaii has been serving the Waialae-Kahala community for more than 60 years.
Branch of Tomorrow Response to the Pandemic
Ensuring that customers in all our communities have access to excellent financial services is part of Bank of Hawaii's ongoing commitment. In early 2021, six additional branches that had been temporarily closed due to the pandemic were reopened.
Due to dramatic changes in customer behavior that include a proliferation of digital banking and reduced in-person branch transactions, the decision was made to keep 12 BOH in-store branches permanently closed. A growing shift toward mobile and online platforms, card usage, and digital payment options were accelerated by the pandemic.
First Branch of Tomorrow Opens on Hawaii Island
Bank of Hawaii's 12th Branch of Tomorrow opened in the Niumalu Marketplace Safeway on May 24, 2021. This in-store branch is the first Branch of Tomorrow on Hawaii Island. BOH has been serving the Kona community for 99 years, since acquiring the First Bank of Hilo and opening the Kona Branch in December 1922. The 438-square-foot Safeway Niumalu Marketplace Branch is the 10th BOH branch on Hawaii Island. Bank of Hawaii is continuing its commitment to the Branch of Tomorrow format, with our Hilo Branch scheduled to open in 2022.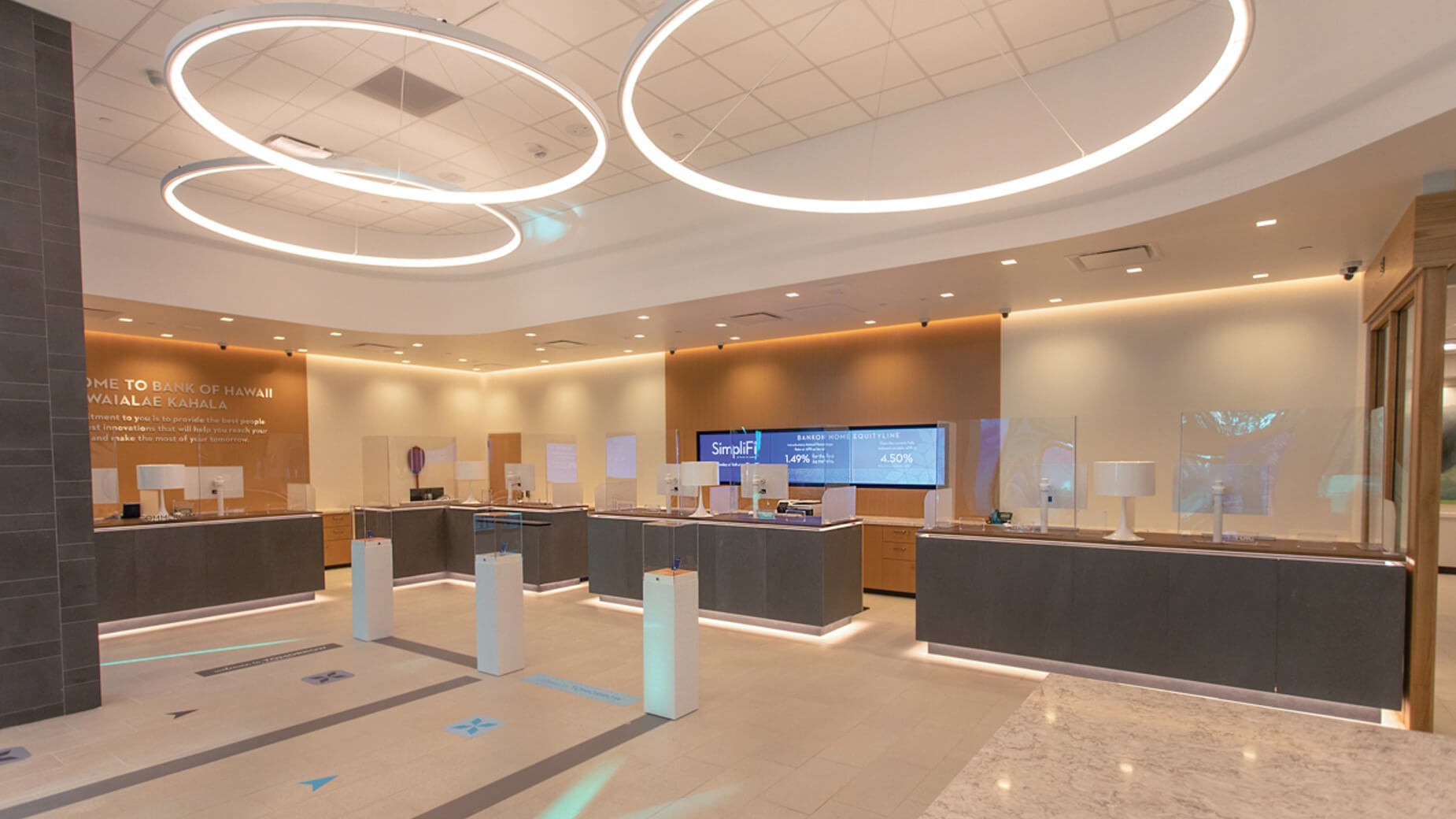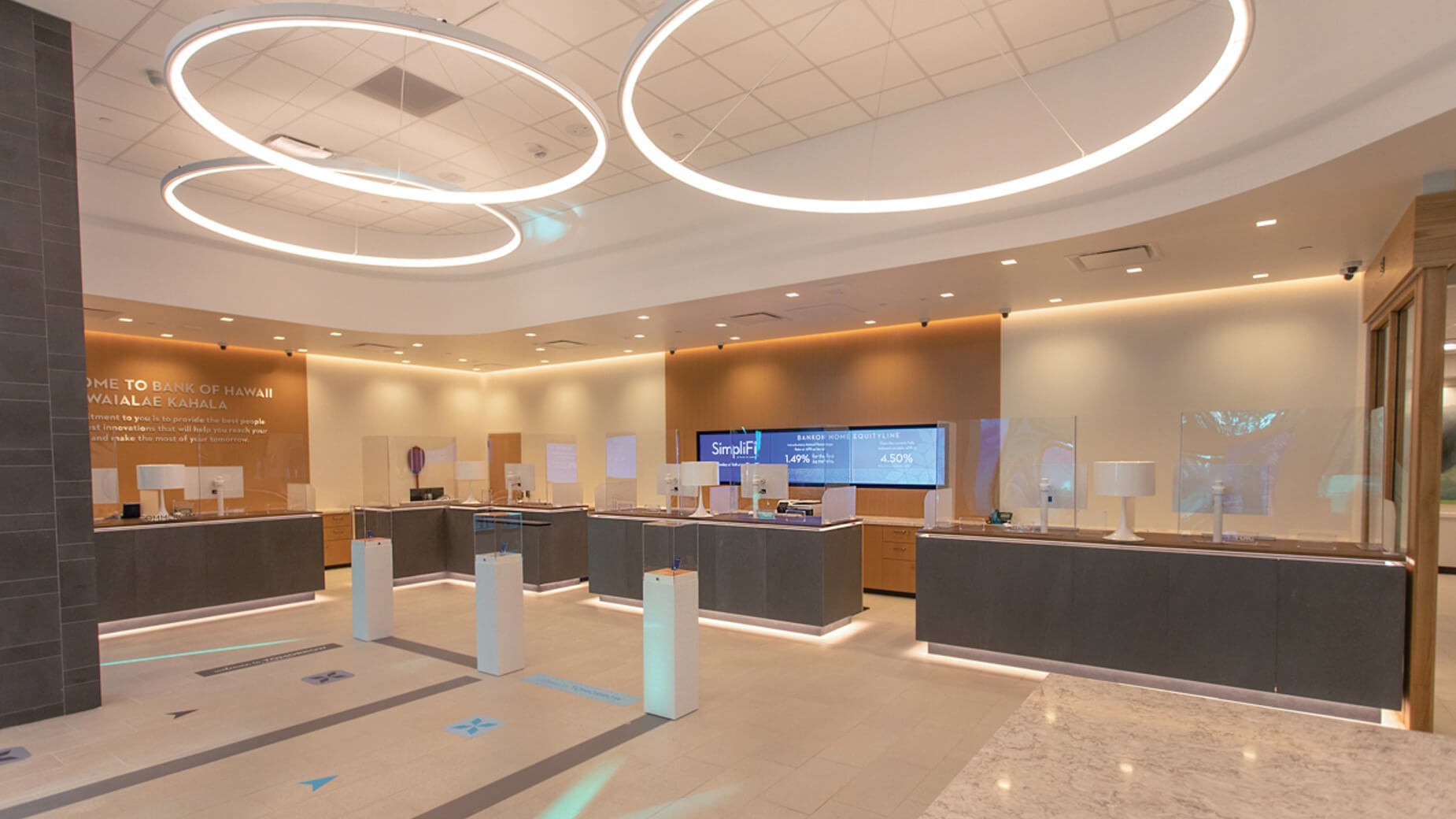 BOH's new three-story Waialae-Kahala Branch opened in May 2021.
Our Expanded Digital Transformation
The COVID-19 pandemic accelerated customers' embrace of digital banking at Bank of Hawaii, and our extensive investment in these tools made it easy for customers to make the switch. Bank of Hawaii continues to provide more modern banking options for its customers and is focused on making digital banking simpler, safer and more convenient. BOH is constantly evolving to fit our customers' preferences and lifestyles, and is accessible online by computer, tablet and smartphone.
BOH delivered a safe, touchless way for debit card customers to pay for in-person purchases at retailers with new contactless debit cards.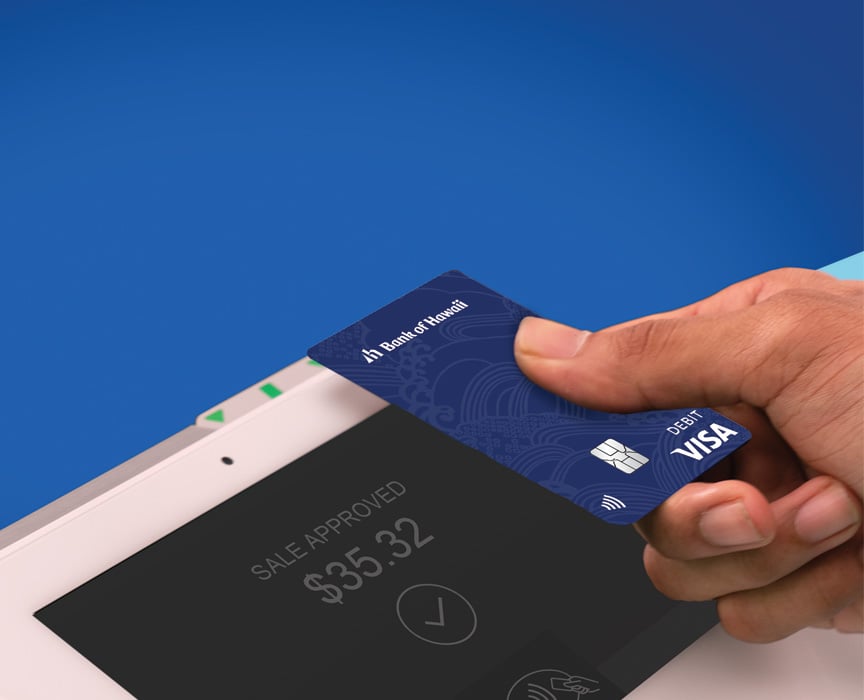 SimpliFi Continues to Expand
SimpliFi by Bank of Hawaii is our digital banking platform that launched in 2018 with our online mortgage application, SimpliFi Mortgage. Today, SimpliFi by Bank of Hawaii has grown to help customers manage additional aspects of their finances online including opening accounts, buying a home, setting a budget and more.
New Digital Features
With digital convenience and safety in mind, in February BOH invested in issuing new contactless versions of its debit cards to its customers rather than waiting for their cards to expire. The cards offer a touchless way for debit card customers to pay for in-person purchases at retailers by simply waving or tapping their card at merchant terminals with the contactless symbol.
In May, BOH launched Zelle in its mobile banking app for Guam and Saipan customers, providing them with a safe, person-toperson payment option. Payments are typically available within minutes when both parties are already enrolled in Zelle. Bank of Hawaii previously added Zelle to its app for Hawaii customers in 2019.
A Place to Call Home
Owning a home is a major milestone in building a better future, but there's a severe shortage of affordable homes in Hawaii. Bank of Hawaii is well-positioned to offer solutions and work with homebuyers (including first-time homebuyers) to streamline the process of becoming a homeowner. BOH also works with developers by providing financing for projects that include affordable housing units.
Building Wealth Through Mortgage and Home Equity Lending
Because owning a home—and utilizing that equity—is how many people build wealth, Bank of Hawaii continues to invest in making the process of obtaining a mortgage or refinancing as easy and accessible as possible. BOH continues to be a leader both in home equity and residential lending. In 2021, we surpassed 2020 mortgage production by 6%, and home equity lending by 67%, making it a record-breaking year for both. According to Title Guaranty Hawaii, this positions Bank of Hawaii as the residential real estate leader in Hawaii.
SimpliFi by Bank of Hawaii is a convenient online resource for customers buying or building a home, or using the equity in their current home for other expenses. This digital service also includes resources—such as access to experts—to help new homebuyers become informed about what is needed when purchasing their first home.
BOH offers specialized financing options, including government loans and construction loans. We are proud to be the only Hawaii-based lender providing loans for Department of Hawaiian Home Lands lessees. Thanks to our mortgage team's depth of experience, we are able to streamline the complexities of the loan process.
Supporting Affordable Housing for Residents and Developers
Hawaii has a limited supply of affordable housing due to the high costs of land and construction, and Honolulu is one of the most expensive cities in the U.S. According to the National Low Income Housing Coalition, almost 70% of the demand is from households earning less than 30% of the area median income.
Bank of Hawaii continues to support affordable, permanent housing through construction funding and lending. We are committed to investing in new opportunities to create more homes across the state, especially during the pandemic. BOH continues to be a market leader in increasing the supply of new, affordable housing developments. In 2021, the bank supported the acquisition or start of construction for nearly 800 affordable housing units (490 on Oahu, 201 on Maui and 101 on Hawaii Island), with almost 800 more in the pipeline.
Three affordable housing construction projects on Maui were assigned more than $87 million in funding from BOH. Urban Housing Communities, LLC and the nonprofit Ikaika Ohana are the partners developing all three projects. Groundbreaking was held this year on 89 units at Kaiaulu O Kupuohi in Lahaina. In Kihei, financing was confirmed for 64 units at Kaiaulu O Halele'a-Phase 1, and another 56 units at Kaiaulu O Halele'a-Phase 1B. The new construction will have a mix of one- to four-bedroom apartments, all of which are specifically designed to provide housing for families with incomes between 30% and 60% of the area median income.
On Oahu, BOH provided bond financing and equity investment for affordable kupuna rental housing in Moiliili in Honolulu. Construction started in September 2021 for a new, six-story apartment building with 80 studio and 24 one-bedroom units reserved for seniors 55 and older with incomes between 30% and 60% of the area median income. Ho'okahua Development LLC, a partnership between the nonprofit Hawaiian Community Development Board and 3 Leaf Holdings, LLC, is the developer of this project, which offers convenient access to a range of services plus employment opportunities and educational resources. The project is targeted for tenants to move in 2023.
Helping Business Prepare for the Future
For some people, preparing for the future means planning for different stages of their lives. For others, it means being ready to handle the unexpected. While we can't predict the future, we can help plan for it. The experienced team of financial advisors at Bankoh Investment Services, Inc. has been helping generations of Hawaii's people—and their businesses—anticipate the future by protecting their assets, growing their wealth and preparing for retirement.
During the pandemic, three of our most seasoned Certified Financial Planners, with combined experience of nearly 100 years, took a hands-on approach by assisting with the BOH PPP application and forgiveness process to ensure that local businesses got the help they needed from this special program.
Our financial advisors take the time to develop a relationship with clients and get to know them on business and personal levels. Establishing this foundational relationship is necessary to provide the valuable insights and guidance needed to craft a holistic plan customized to a client's specific needs and concerns. For businesses, this can mean insurance planning, including key-person insurance policies for owners, top executives and others critical to a company's success. Our team offers guidance on sales agreements for buying or selling a business, and professional disability and long-term care insurance.
They also offer a wealth of retirement planning options to ensure a financially fit future. In addition to traditional 401(k)s and Defined Benefits Plans, they can also help set up retirement plans designed specifically for small business owners—solutions such as Simplified Employee Pension plans (SEP IRAs), Savings Incentive Match Plans for Employees (SIMPLE IRAs), and Cash Balance Pension plans.
At Bankoh Investment Services, Inc., our clients enjoy the best of both worlds—local and personalized investment expertise combined with access to large and well-established mainland investment and insurance providers. It is through these strategic partnerships that we are able to provide our clients with a comprehensive and competitive suite of investment and insurance solutions that can be customized for growth, protection and wealth transfer.
You're about to exit BOH.com
Links to other sites are provided as a service to you by Bank of Hawaii. These other sites are neither owned nor maintained by Bank of Hawaii. Bank of Hawaii shall not be responsible for the content and/or accuracy of any information contained in these other sites or for the personal or credit card information you provide to these sites.