Insights & Stories
3 Sneaky Expenses to Keep an Eye on While Traveling
Reading time: 2 Minutes
May 1st, 2018
Imagine coming back from a vacation and having your cell phone shut down because of a $15,000 cell phone bill. That's what happened to finance and travel writer Holly Porter Johnson when she returned from a trip to Bora Bora.
Being the seasoned traveler that she is, she purchased a plan from her cell phone company that covered multiple countries. Unfortunately, she assumed Bora Bora was on the list of countries with coverage when it actually wasn't.
The fact is there are a few sneaky expenses that can make your travels far more expensive than they need to be. Here are just a few to keep an eye on, and what to do about them.
Cell Phone Charges
Roaming fees can give you a harsh surprise if you are not careful. Even in Johnson's case where she had a specific plan that allowed for international travel, she was caught off guard.
Each cell provider has its own plan for international travel. The catch is, you need to check your carrier's list to make sure your travel destination is covered. Nevertheless, the list leaves room for error. For example, most countries in the Caribbean are covered when it comes to a foreign travel plan. But the plan doesn't include Puerto Rico or the U.S. Virgin Islands, which are U.S. territories.
It's a good idea to check your coverage with your cell phone provider before traveling abroad. See if they have an international plan, or whether using Wi-Fi, when available, will be the best option.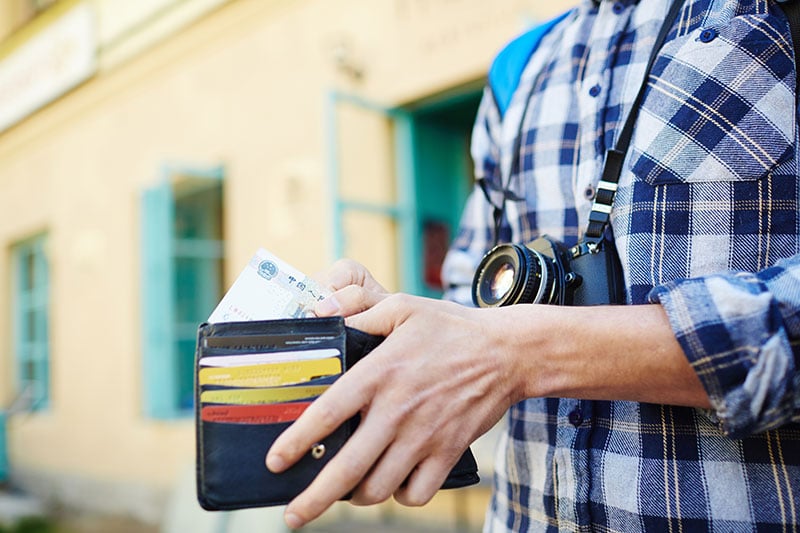 Foreign Transaction Fees
Credit card fees are another expense that can dampen your vacation vibes. Depending on the credit card, you could be hit with a foreign transaction fee when purchasing from non-U.S. retailers. While the fee may not seem like much, a 3% fee, for example, can quickly add up when it's applied every time you use the card.
One way around this issue is to obtain a credit card with no foreign transaction fee.
Conversion Fees
In addition to transaction fees, you may also get hit with a conversion fee. This isn't determined by the card issuer, but rather the payment processor. The rate may also depend on which country you visit. The best way to avoid unexpected conversion fees is to research this information ahead of time. For example, Visa® has an online calculator where you can determine whether or not a conversion fee applies.
If you're traveling with cash, you may want to do a currency exchange before traveling to your destination. This gives you the opportunity to shop around for the best rates. Avoid exchanging your bills at the airport, where conversion rates tend to be the highest.
---
Visa is a registered trademark of Visa International Service Association.
e-Bankoh
Need help? Call 1-888-643-3888
Your privacy
We use cookies to improve your experience on our site, show you personalized content, and analyze our traffic. By continuing to use this site, you agree to our use of cookies as described in our Online Privacy Policy.
You're about to exit BOH.com
Links to other sites are provided as a service to you by Bank of Hawaii. These other sites are neither owned nor maintained by Bank of Hawaii. Bank of Hawaii shall not be responsible for the content and/or accuracy of any information contained in these other sites or for the personal or credit card information you provide to these sites.