Insights & Stories
Osaka: A Trove of Foodie and Cultural Bliss Any Time of Year
Reading time: 4 Minutes
February 23rd, 2018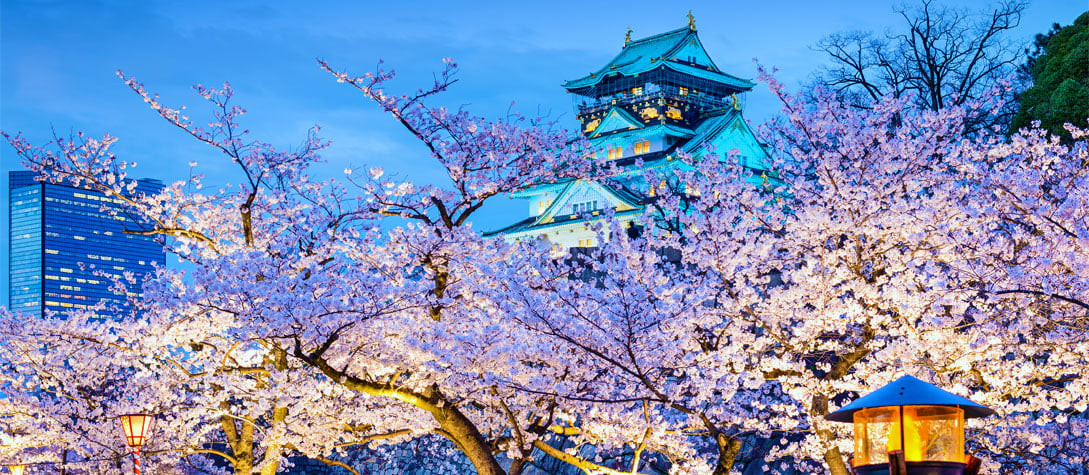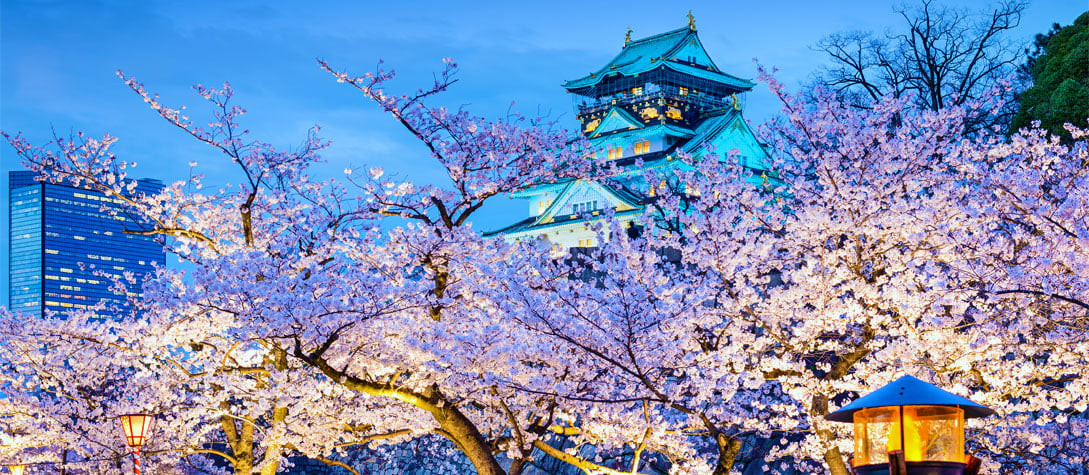 Osaka is well-known in Asia as a hub of cultural activity and worthwhile attractions, yet the city is often overlooked by overseas visitors. It's time for that to change. After all, Osaka is just a nonstop flight away from Honolulu on Hawaiian Airlines.
This major port city is the largest metropolitan area in Japan after Tokyo, and teems with historical landmarks, scenic walking areas, bustling street markets, parks, museums, onsen (hot springs), Shinto shrines and exquisite restaurants featuring traditional Japanese cuisine. The most prominent historical landmark is the 16th century Osaka Castle, a vision of ancient Japanese architecture with its geometric layers of pointed roofs.
When to visit?
Anytime! While Osaka summers burst with activity, you'll find delight in any month. April brings sakura season, where a stroll at so-named Sakuranomiya Park will enchant you with 5,000 cherry trees sprawling for miles on the banks of Okawa River. Osaka Castle is also resplendent with floral beauty at this time, housing hundreds more sakura trees in its Nishinomaru Garden.
Foliage in autumn is every bit as beautiful. November finds maple leaves turning hues of red and gold—a gorgeous time for sightseeing. To fully appreciate nature's colorful flora this time of year, meander through picturesque Daisen and Osaka Castle parks.
Winters in Osaka are mild and pleasant, and rich with adventures to be had. Come mid-November, Osaka lights up its trees, streets, parks and buildings in a spectacular, luminous display. At the heart of the season is a string of dazzling light shows, together referred to as The Osaka Festival of the Lights, which is one of the major illumination events in the world. If you find yourself in Osaka as February approaches, don't miss Setsubun—a Buddhist ceremony that dates back centuries, complete with ritualistic celebration welcoming the arrival of spring.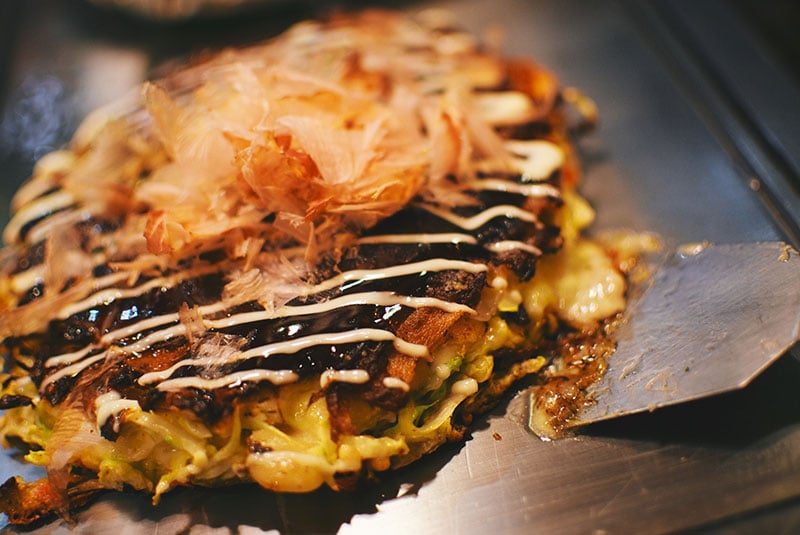 Traditional Delicacies
Whatever the month, when you travel to Osaka, your taste buds will be tantalized. Osaka is ground zero for mouthwatering Japanese dishes—it's where foodies experience heaven. The legendary food scene has gained the city renown as the food capital of Japan, popularly termed the "Nation's Kitchen." Michelin restaurants are aplenty here, and while street food might lack in five-star ambiance, offerings are diverse and flavorful. Remember the name of one street: Dotonbori. That's all you need to know to find some of the best street food you'll ever taste anywhere in the world.
Dotonbori, the street, runs along the Dotonbori canal just a few blocks, and after 5 p.m. the entire area becomes Foodie Central. The relatively small stretch of roadway is packed with a dizzying mass of street vendors, snack stalls, tiny cafes and restaurants, distinguished by the impressive lines that form at their entrances. Try okonomiyaki, one of the staples of Osaka cuisine, an unforgettably delicious cabbage pancake peppered with a variety of other ingredients.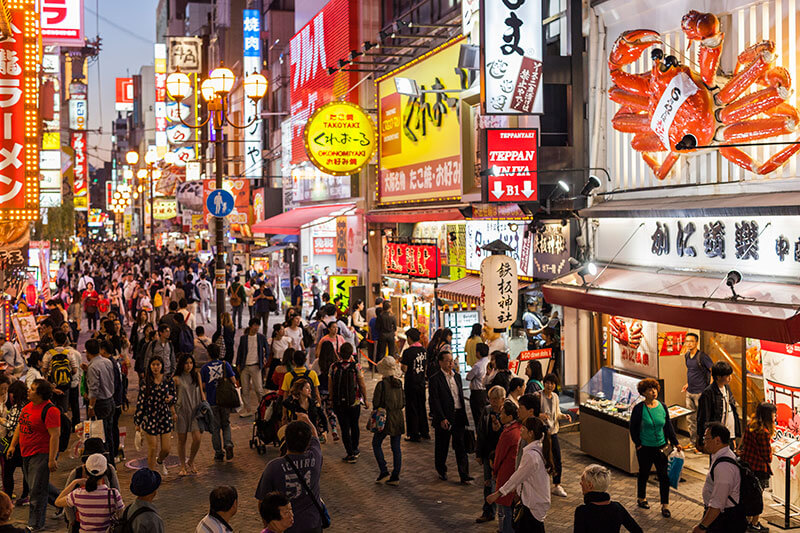 Immersive Cultural Getaways
Now that you've seen and tasted Osaka, get ready for a tranquil respite. Head to Kyoto and Nara, two ancient capitals of Japan, just minutes from Osaka.
Kyoto, which is north of Osaka, is a must-visit destination if you're looking to experience formal Japanese tradition. Kyoto provides the opportunity to explore numerous shrines, parks, imperial palaces and temples, or the pleasure of attending a multi-course kaiseki dining and geisha tea ceremony.
Meanwhile, Nara, east of Osaka, boasts several shrines, temples and other historic monuments that together comprise a World Heritage Site. Many additional Nara buildings are also considered national treasures. And, if that's not enough of an allure, tame deer approach visitors as they wander freely about the city, especially in Nara Park, to the delight of visitors of all ages.
A tad further south from Nara is one of Japan's holiest mountains, Koya. At its peak is Shojoshin-in Temple, with guest-room lodging run by resident Buddhist monks, and those staying at Shojoshin-in are welcome to participate in the daily meditation practices.
A variety of traditional meals is available to guests, as are tours of the temple and grounds, which feature hot springs and an ancient mausoleum. Surrounded by wild nature and gardens best described as mystical—with moss- and fern-framed stone steps that lead past reflecting pools and delicately manicured greenery—the temple offers a serene, meditative experience away from the buzz of the city.
Have extra time?
If you have plenty of travel time, there are so many things to do in Osaka that there's no such thing as getting bored. If you're a baseball fan, watch a game shoulder to shoulder with Orix Buffaloes fans under the roof of Osaka Dome (aka Kyocera Dome), a monster of a stadium resembling a giant flying saucer. If you're a spa worshiper, visiting onsen is a must–where you can luxuriate in mineral baths and hot springs overlooking incredible nature vistas. Meat lover? Well, even if you're not, visit Kobe, a fascinating seaside city, whose fire-red Ikuta Shrine dates to the third century, and where an antique cable car can whisk you to the top of Mount Rokko for unforgettable views.
And yet, we've barely scratched the surface. It's time to pack your bags, board a plane ... and discover your own Osaka!
---
The mention of any individuals or businesses is not an indication of affiliation or endorsement by Bank of Hawaii. The individuals and owners of any other trademarks, logos, brands or other designations of origin shown, named or mentioned herein did not sponsor, endorse or preview this article.
You're about to exit BOH.com
Links to other sites are provided as a service to you by Bank of Hawaii. These other sites are neither owned nor maintained by Bank of Hawaii. Bank of Hawaii shall not be responsible for the content and/or accuracy of any information contained in these other sites or for the personal or credit card information you provide to these sites.