Celebrating 125 Years
Steering a Course to a Resilient Recovery
While the world is very different from 1897 when three friends opened the doors to Hawaii's newest bank, what makes Bank of Hawaii special remains the same. Our commitment to our employees, customers and shareholders, and investing in the well-being of our island home is at the core of who we are.
Bank of Hawaii's practice is to keep moving forward while remaining true to our vision and values. While our original founders—Peter Cushman Jones, Charles Montague Cooke and Joseph Ballard Atherton—couldn't have imagined today's digital banking environment, we feel sure that they would recognize their legacy of service and the underlying values of excellence, integrity, respect, innovation, commitment and teamwork that continue to guide us today.
As we continue to progress, our anniversary gives us an opportunity to look back and celebrate some of our accomplishments and milestones.
Celebrating today for a Better Tomorrow
Throughout our 125th anniversary year, we celebrated our history and milestones made possible by the dedication and teamwork of many employees over the years. And because the story of Bank of Hawaii is also about looking forward, we continue to celebrate by supporting our communities for a better tomorrow.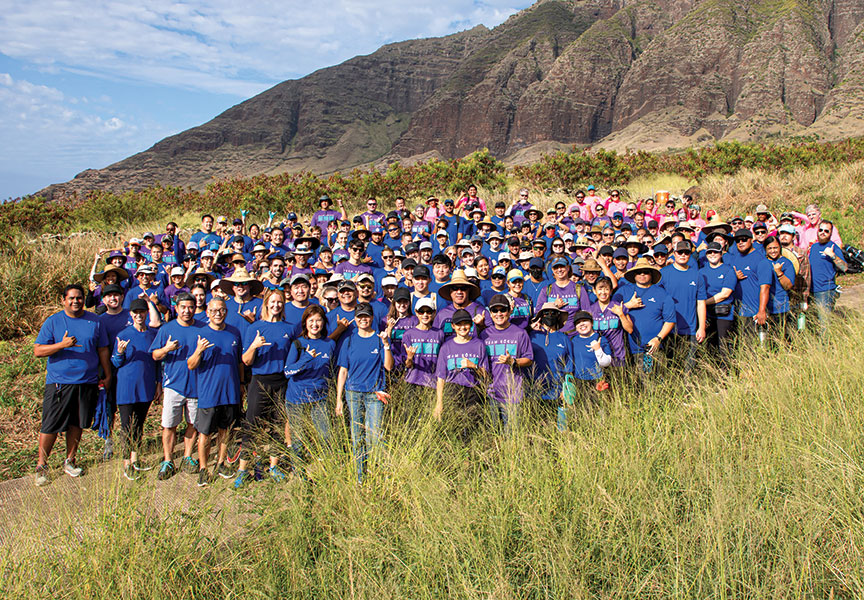 Celebrating Employees
Our employees are the key to our success and accomplishments over the past 125 years. To acknowledge and celebrate their essential role in helping meet this milestone, employees were invited to select a commemorative anniversary gift, and gift cards were given away each month as prizes in a bank history trivia game.
Additionally, every Friday during August, the bank treated employees to lunch. O'ahu employees at our downtown Honolulu and Hale O Kapolei locations ordered from visiting food trucks, while teammates at O'ahu branches, on neighbor islands and in the West Pacific received specially catered meals.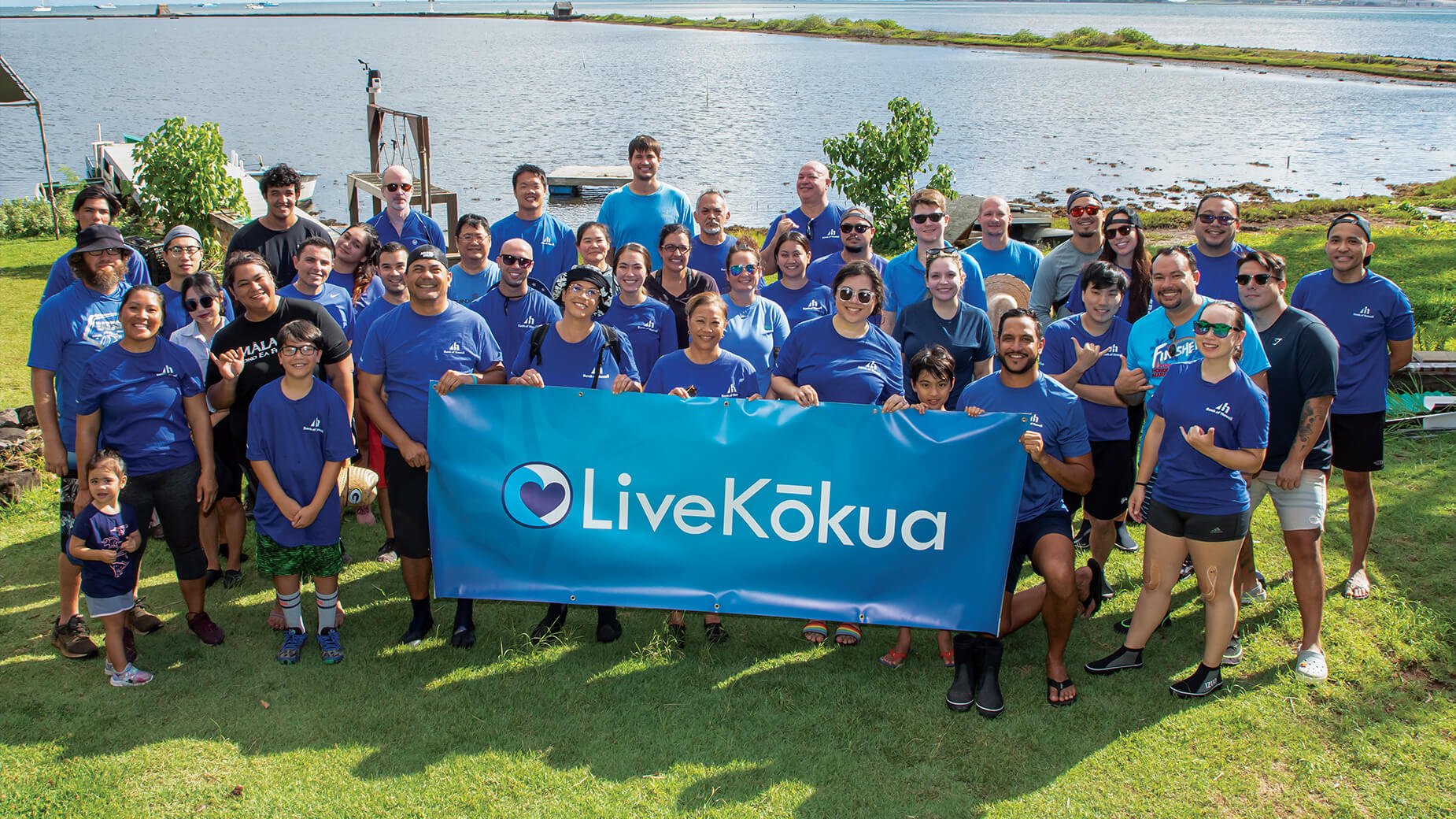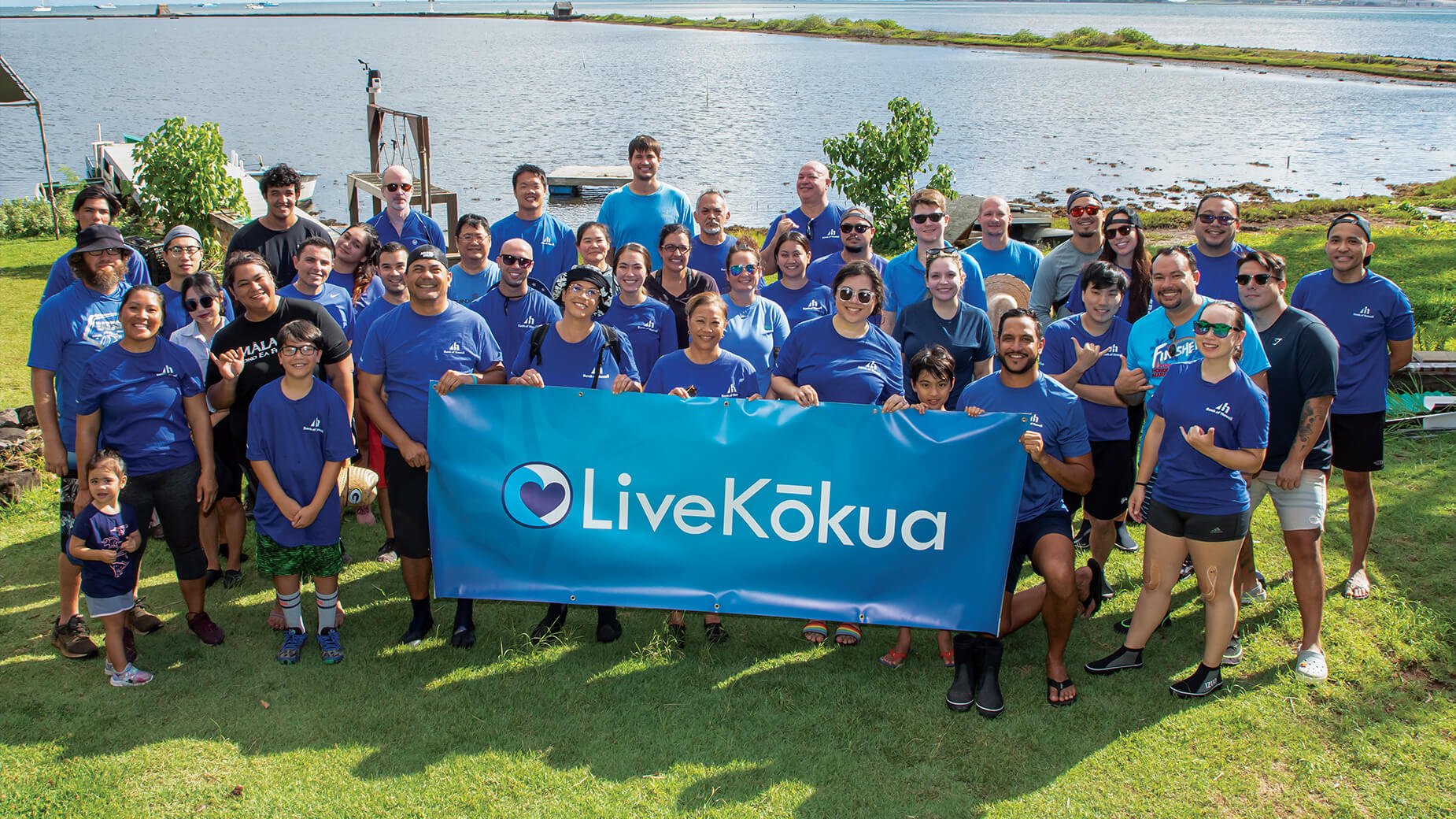 Our newly formed Native Hawaiian ERG volunteered at Paepae o Heeia in Windward Oahu.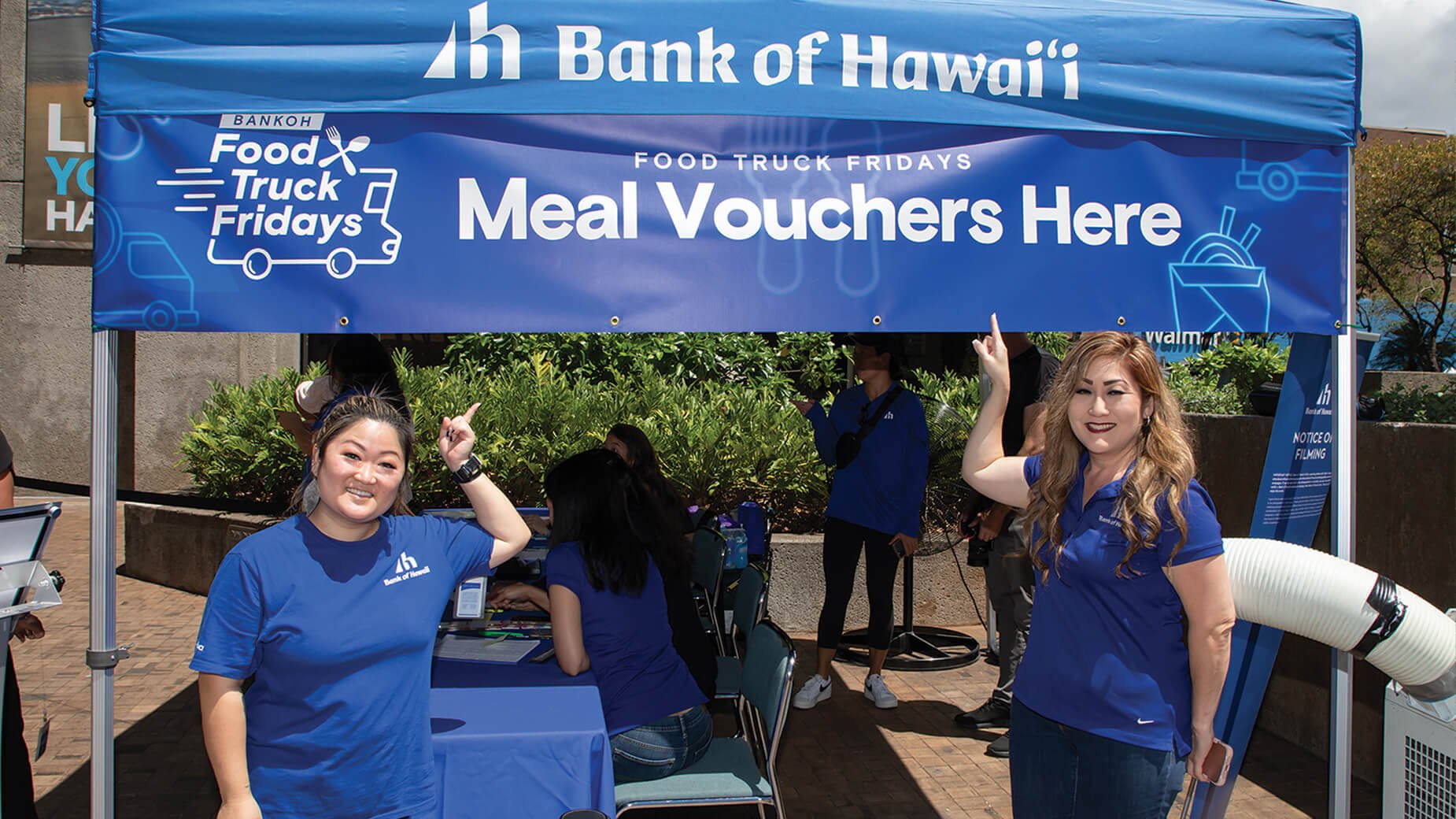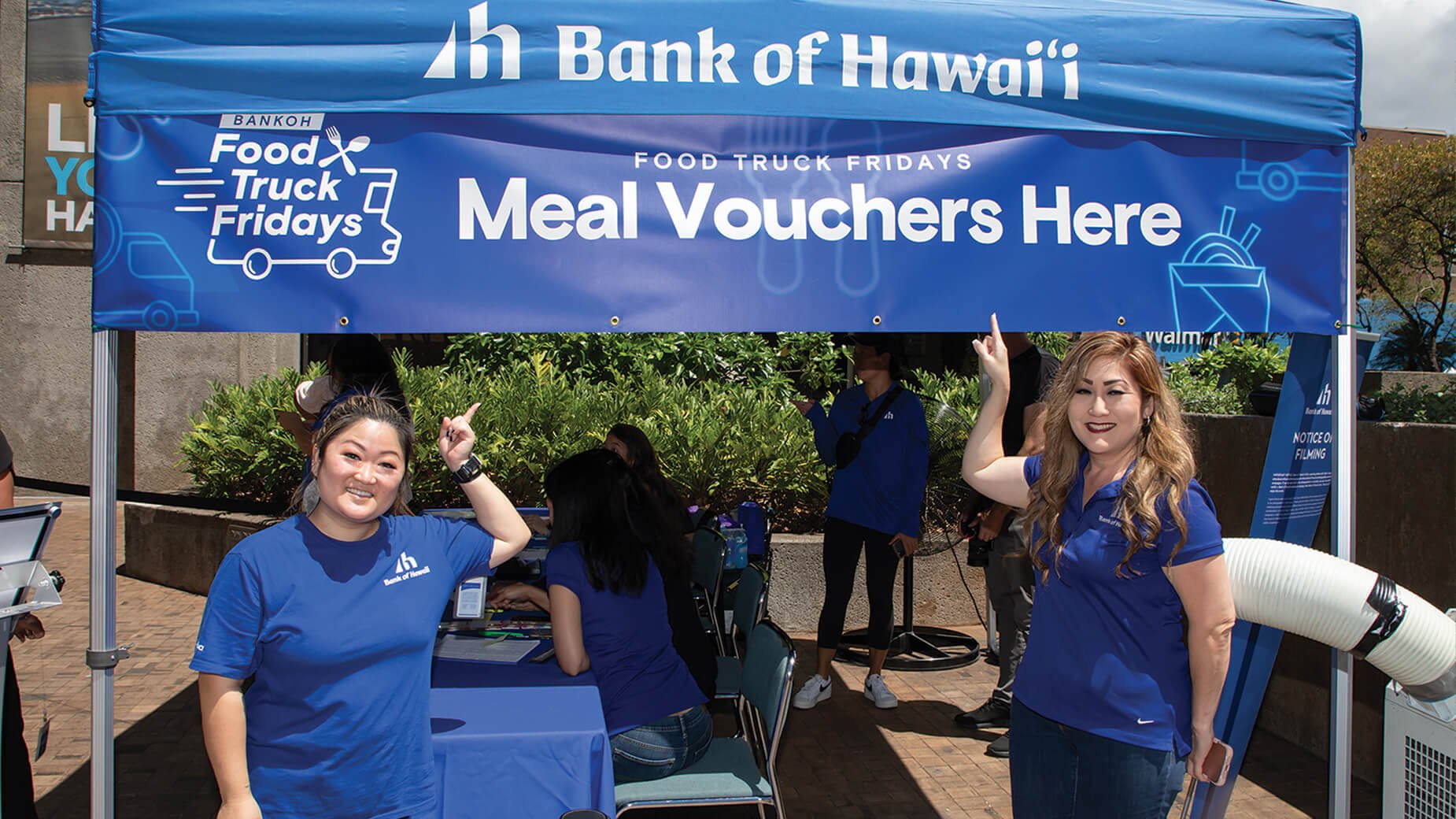 Sheri Morishige and Sherry Serrano helped distribute lunch vouchers to employees in downtown Honolulu.
Celebrating our Community
Aloha for Community
Bank of Hawaii Foundation gave each Bank of Hawai'i employee the opportunity to select a nonprofit to receive $125. This resulted in a contribution totaling $218,750 to nonprofits across Hawaii and the West Pacific Region. The 237 nonprofits selected by our employees span a wide range of organizations with compelling missions; Child & Family Service, Lanakila Meals on Wheels, and K9 Kokua were the top three chosen.
Planting Trees for Sustainability
As part of our ongoing commitment to preserving the environment and to help address climate change, Bank of Hawaii partnered with 12 nonprofits to plant more than 6,500 trees, the equivalent of more than 125 trees per week throughout 2022. These organizations planted trees statewide across Hawaii, as well as on Guam, Saipan and Palau, and reflect all the island communities the bank serves. This initiative culminated on Arbor Day on Nov. 5, when hundreds of bank volunteers, along with Hawaiian Airlines employees, planted 2,000 native trees at the Waianae Kai Forest Reserve for Bank of Hawaii's annual Community Service Day. Our overall tree planting support totaled $126,202.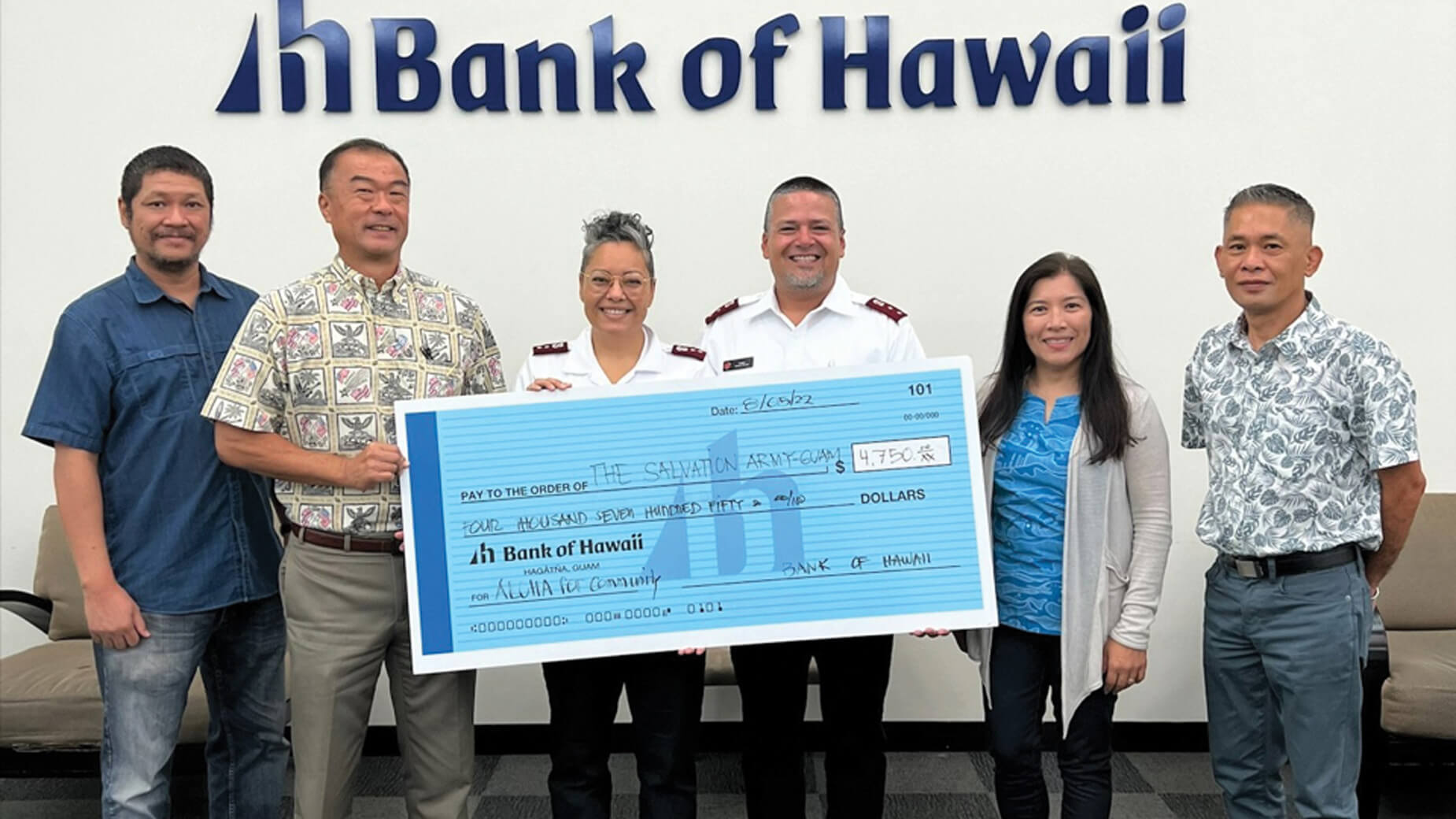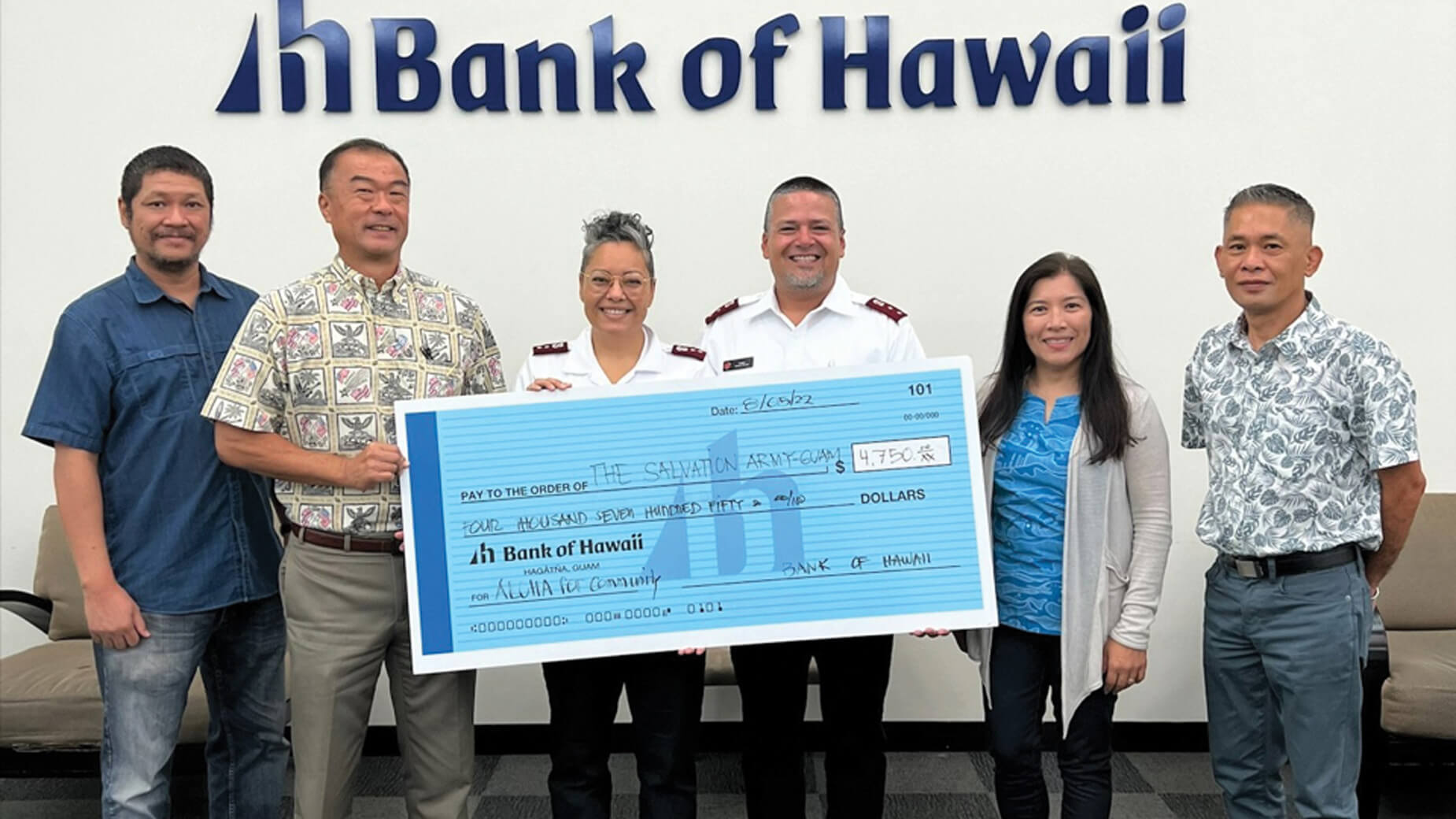 Mark Tokito (second from left), Erlinda Alegre (second from right) and Rowell Comia (far right) presented The Salvation Army with a grant on behalf of the bank's Aloha for Community.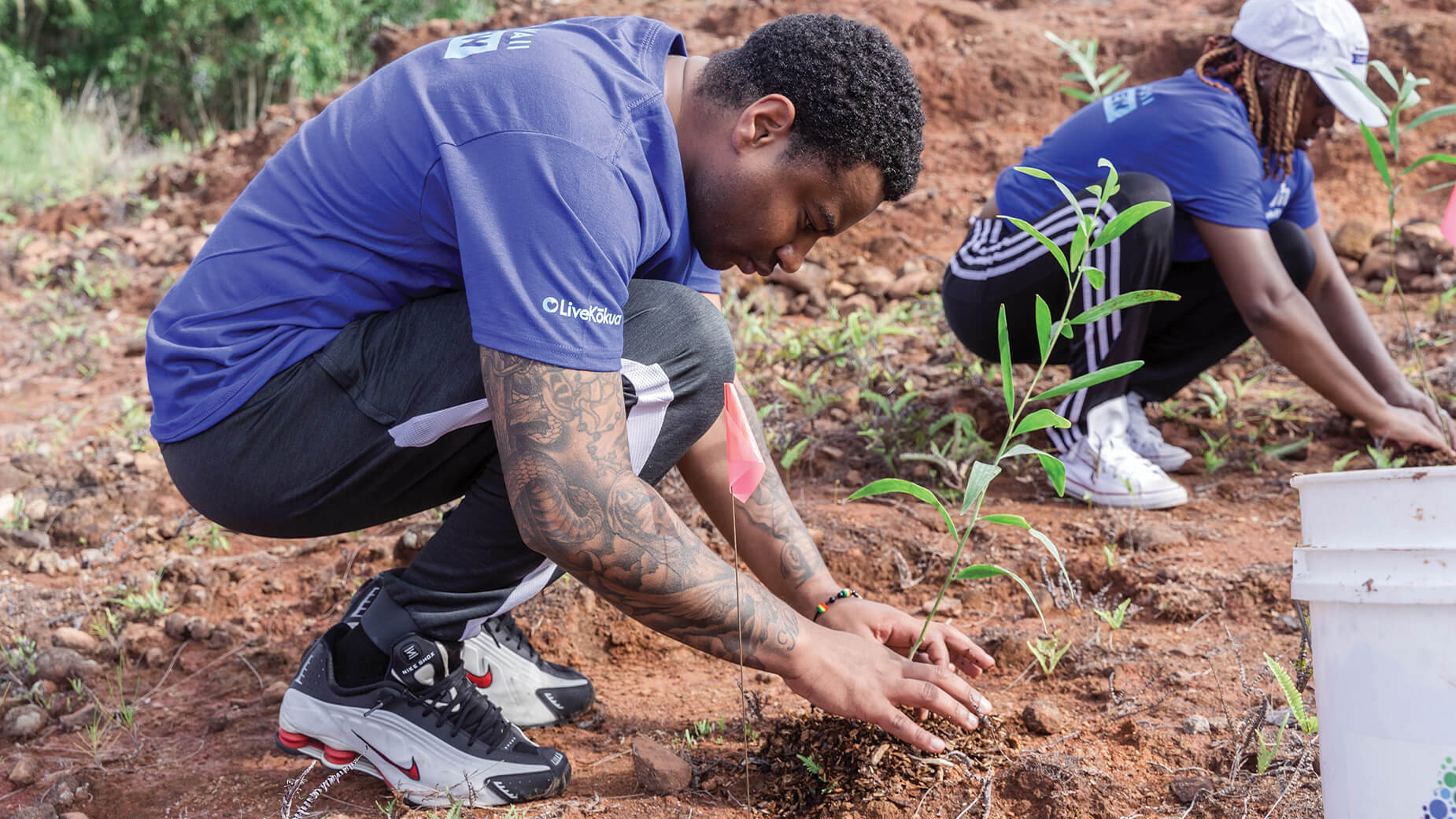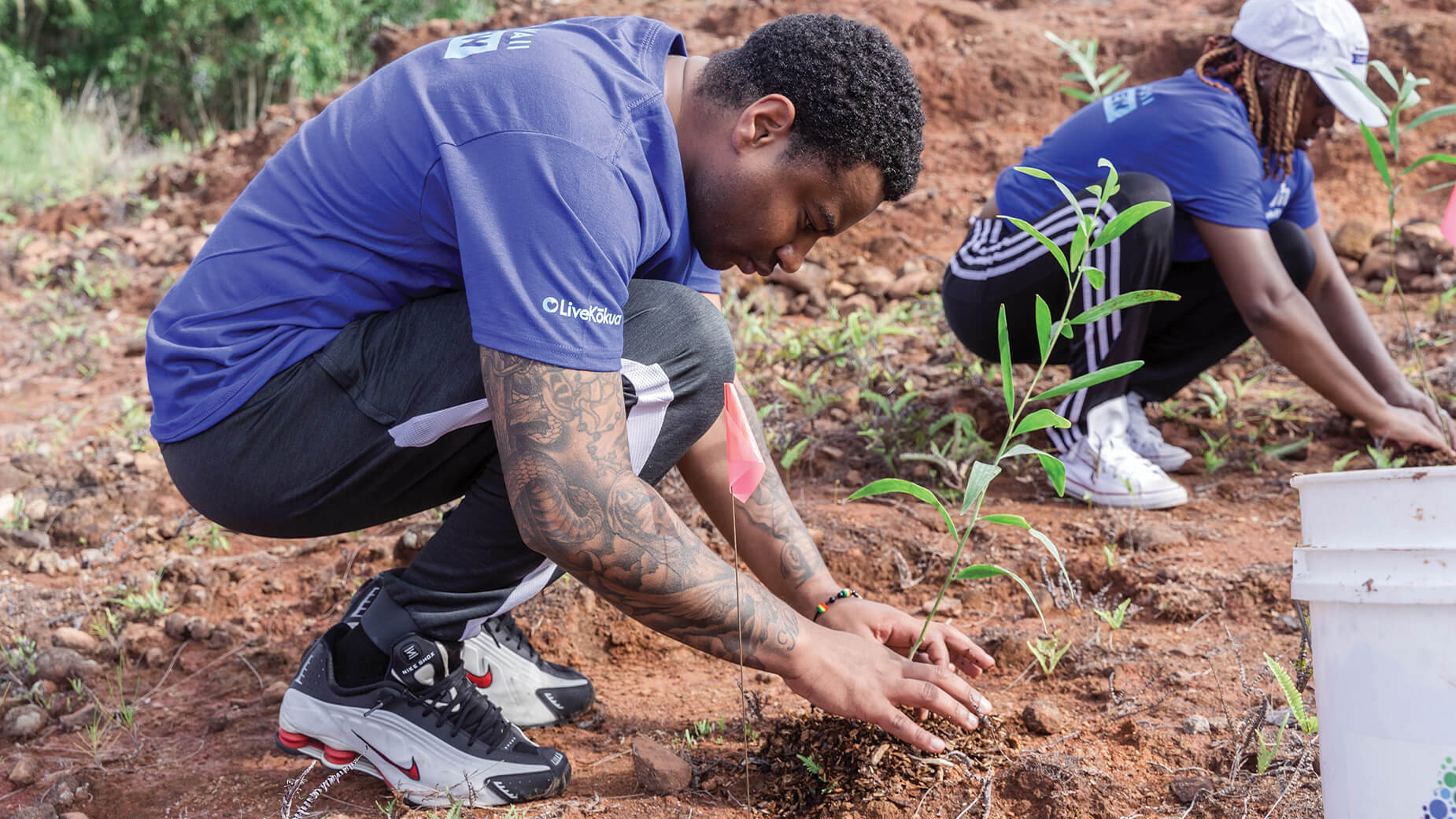 Damarly Dunkley of the Harmon Branch and her husband, Aric, were among more than 70 volunteers who planted trees to protect Guam's watersheds.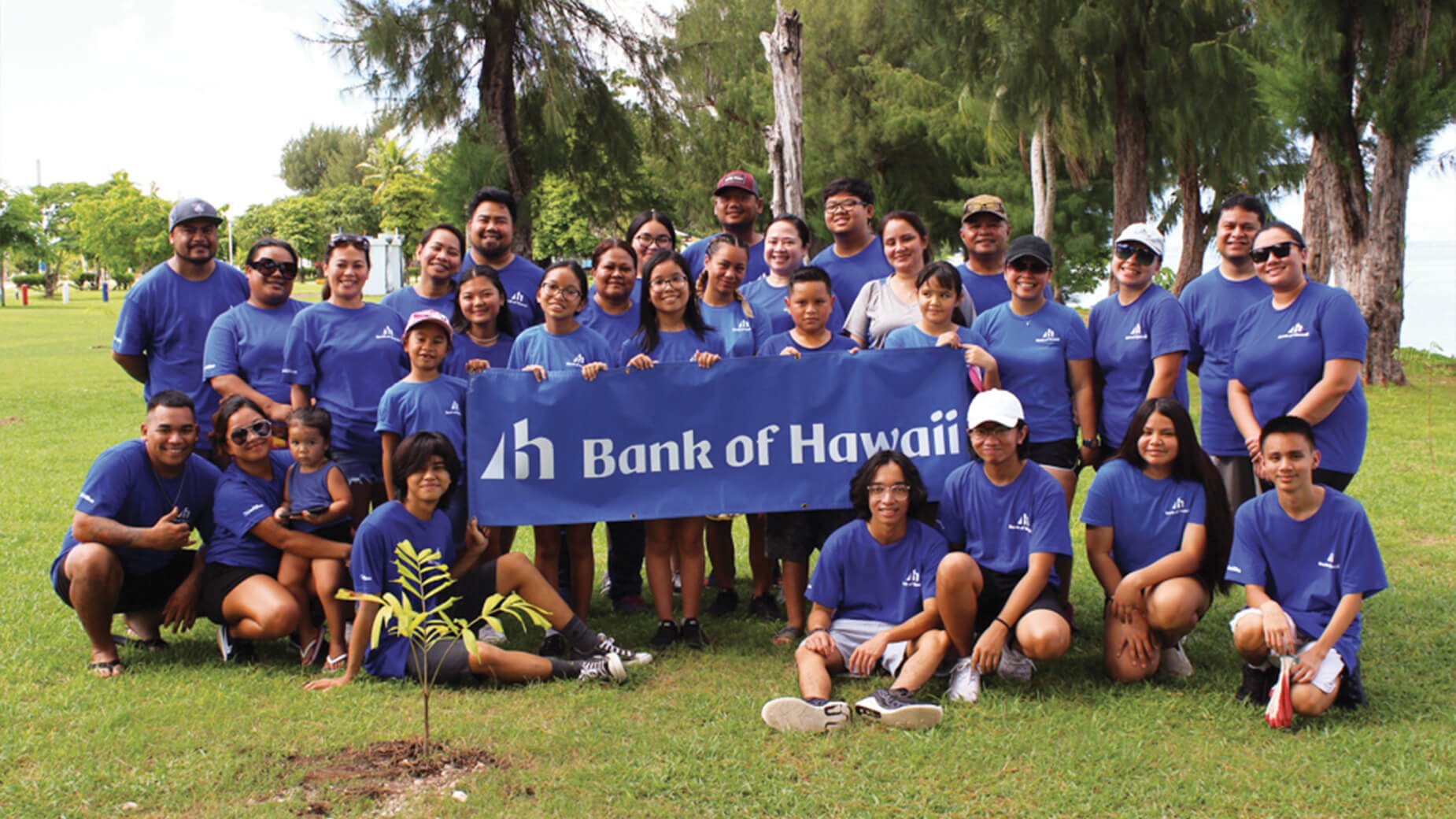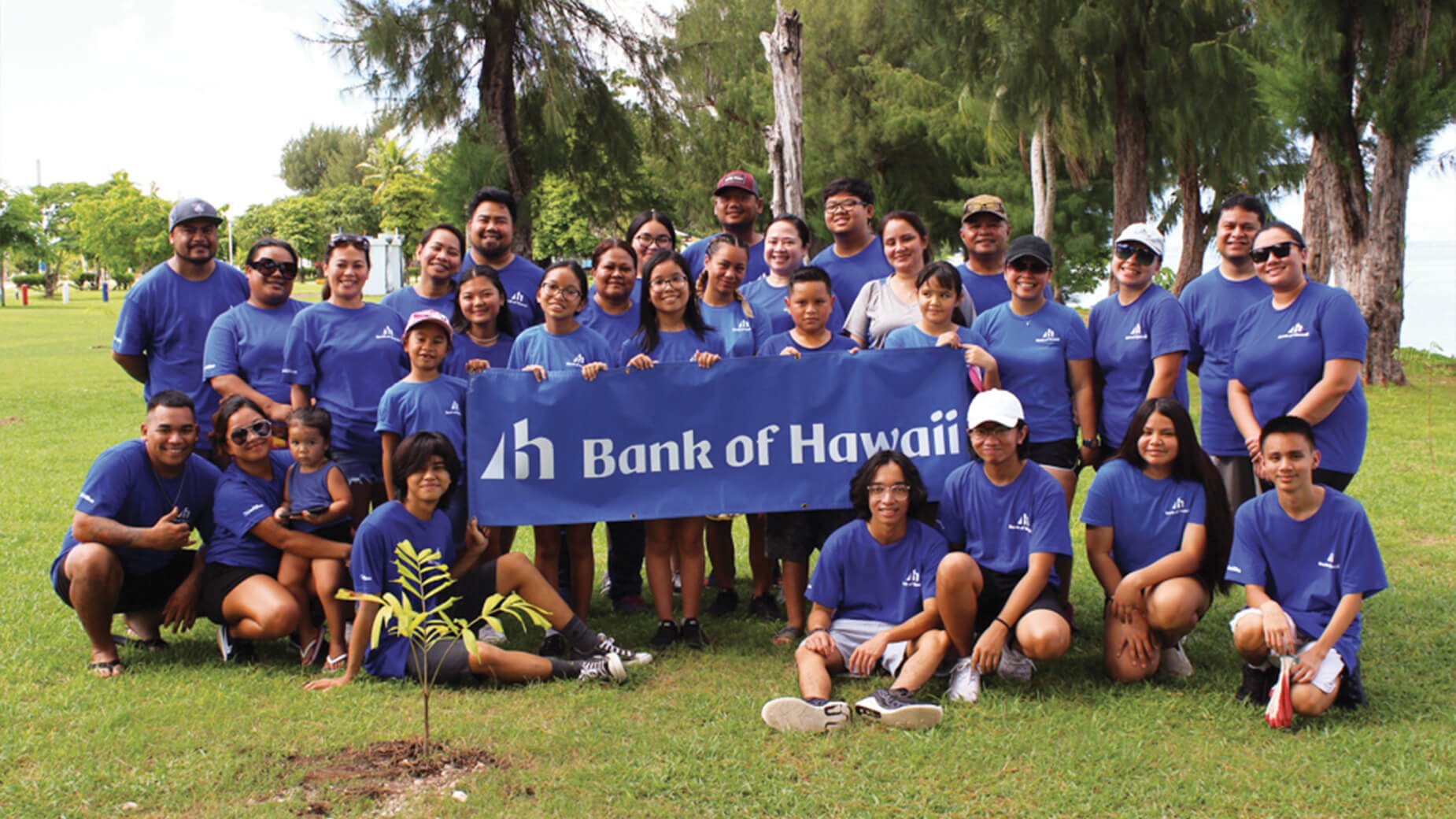 Bank volunteers joined Mariana Islands Nature Alliance (MINA) to plant trees along Kilili Beach in Saipan.
125 Mahalo Moments
To express our gratitude to organizations and people we're honored to support, we shared "Mahalo Moments" on our social media channels throughout our anniversary year. All 125 snapshots highlighted individuals and nonprofits who inspire us by making a difference in our communities every day. To learn more about our 125-year history, visit www.boh.com/125 for details on Bank of Hawaii's accomplishments, milestones and community support, as well as videos highlighting stories of our bank ohana.
You're about to exit BOH.com
Links to other sites are provided as a service to you by Bank of Hawaii. These other sites are neither owned nor maintained by Bank of Hawaii. Bank of Hawaii shall not be responsible for the content and/or accuracy of any information contained in these other sites or for the personal or credit card information you provide to these sites.